Abstract
Background
Hepatic resection often results in delirium in preoperatively self-sufficient elderly people. The association of frailty with postoperative delirium remains unclear, and preoperative risk assessment, including frailty, of postoperative delirium has not been established.
Methods
This prospective multicenter study included 295 independently living patients aged ≥ 65 years scheduled for initial hepatic resection. All patients answered the phenotypic frailty index Kihon Checklist, which is a self-reporting list of 25 questions, within a week before surgery. The risk factors for postoperative delirium were investigated. Patients who scored ≥ 4 in the Intensive Care Delirium Screening Checklist were designated as having postoperative delirium.
Results
Delirium developed after liver resection in 22 of 295 patients (7.5%). Total Kihon Checklist score (≥ 6 points), age (≥ 75 years), and serum albumin concentration (≤ 3.7 g/dL) were the independent risk factors for postoperative delirium. The proportion of patients with postoperative delirium was 0% in those with no applicable risk factors, 3.2% in those with one applicable risk factor, 12.0% in those with two applicable risk factors, and 40.9% in those with all three factors (p < 0.001). The area under the receiver operating characteristic curve for this risk assessment for predicting postoperative delirium was 0.842.
Conclusion
The use of these three factors for preoperative risk assessment may be effective in predicting and preparing for delirium after hepatic resection in elderly patients.
Access options
Buy single article
Instant access to the full article PDF.
US$ 39.95
Tax calculation will be finalised during checkout.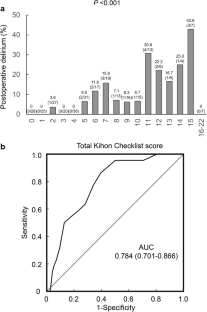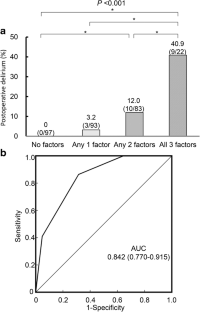 References
1.

Schenning KJ, Deiner SG. Postoperative Delirium in the Geriatric Patient. Anesthesiol Clin 2015;33:505–516.

2.

Nozawa A, Kubo S, Takemura S, Sakata C, Urata Y, Nishioka T, Kinoshita M, Hamano G, Uenishi T, Suehiro S. Hepatic resection for hepatocellular carcinoma in super-elderly patients aged 80 years and older in the first decade of the 21st century. Surg Today 2015;45:851–857.

3.

Kaibori M, Matsui K, Ishizaki M, Saito T, Kitade H, Matsui Y, Kwon AH. Hepatic resection for hepatocellular carcinoma in the elderly. J Surg Oncol 2009;99:154–160.

4.

Wang WL, Zhu Y, Cheng JW, Li MX, Xia JM, Hao J, Yu L, Lv Y, Wu Z, Wang B. Major hepatectomy is safe for hepatocellular carcinoma in elderly patients with cirrhosis. Eur J Gastroenterol Hepatol 2014;26:444–451.

5.

Tanaka S, Ueno M, Iida H, Kaibori M, Nomi T, Hirokawa F, Ikoma H, Nakai T, Eguchi H, Kubo S. Preoperative assessment of frailty predicts age-related events after hepatic resection: a prospective multicenter study. J Hepatobiliary Pancreat Sci 2018;25:377–387.

6.

Korc-Grodzicki B, Root JC, Alici Y. Prevention of post-operative delirium in older patients with cancer undergoing surgery. J Geriatr Oncol 2015;6:60–69.

7.

Leslie DL, Marcantonio ER, Zhang Y, Leo-Summers L, Inouye SK. One-year health care costs associated with delirium in the elderly population. Arch Intern Med 2008;168:27–32.

8.

Jackson JC, Gordon SM, Hart RP, Hopkins RO, Ely EW. The association between delirium and cognitive decline: a review of the empirical literature. Neuropsychol Rev 2004;14:87–98.

9.

Quinlan N, Rudolph JL. Postoperative delirium and functional decline after noncardiac surgery. J Am Geriatr Soc 2011;59 Suppl 2:S301–304.

10.

Veiga D, Luis C, Parente D, Abelha F. Outcome after hepatectomy-delirium as an independent predictor for mortality. BMC Anesthesiol 2013;13:4.

11.

Raats JW, van Eijsden WA, Crolla RM, Steyerberg EW, van der Laan L. Risk Factors and Outcomes for Postoperative Delirium after Major Surgery in Elderly Patients. PLoS One 2015;10:e0136071.

12.

Dasgupta M, Dumbrell AC. Preoperative risk assessment for delirium after noncardiac surgery: a systematic review. J Am Geriatr Soc 2006;54:1578–1589.

13.

Inouye SK. Delirium in older persons. N Engl J Med 2006;354:1157–1165.

14.

Inouye SK, Charpentier PA. Precipitating factors for delirium in hospitalized elderly persons. Predictive model and interrelationship with baseline vulnerability. JAMA 1996;275:852–857.

15.

Yashin AI, Ukraintseva SV, De Benedictis G, Anisimov VN, Butov AA, Arbeev K, Jdanov DA, Boiko SI, Begun AS, Bonafe M, Franceschi C. Have the oldest old adults ever been frail in the past? A hypothesis that explains modern trends in survival. J Gerontol A Biol Sci Med Sci 2001;56:B432–442.

16.

Arai H, Satake S. English translation of the Kihon Checklist. Geriatr Gerontol Int 2015;15:518–519.

17.

Fukutomi E, Okumiya K, Wada T, Sakamoto R, Ishimoto Y, Kimura Y, Kasahara Y, Chen WL, Imai H, Fujisawa M, Otuka K, Matsubayashi K. Importance of cognitive assessment as part of the "Kihon Checklist" developed by the Japanese Ministry of Health, Labor and Welfare for prediction of frailty at a 2-year follow up. Geriatr Gerontol Int 2013;13:654–662.

18.

Satake S, Senda K, Hong YJ, Miura H, Endo H, Sakurai T, Kondo I, Toba K. Validity of the Kihon Checklist for assessing frailty status. Geriatr Gerontol Int 2016;16:709–715.

19.

Tanaka S, Iida H, Ueno M, Hirokawa F, Nomi T, Nakai T, Kaibori M, Ikoma H, Eguchi H, Shinkawa H, Maehira H, Hayami S, Kubo S. Preoperative risk assessment for loss of independence following hepatic resection in elderly patients: A prospective multicenter study. Ann Surg 2019.

20.

Bergeron N, Dubois MJ, Dumont M, Dial S, Skrobik Y. Intensive Care Delirium Screening Checklist: evaluation of a new screening tool. Intensive Care Med 2001;27:859–864.

21.

Xue QL, Bandeen-Roche K, Varadhan R, Zhou J, Fried LP. Initial manifestations of frailty criteria and the development of frailty phenotype in the Women's Health and Aging Study II. J Gerontol A Biol Sci Med Sci 2008;63:984–990.

22.

Dindo D, Demartines N, Clavien PA. Classification of surgical complications: a new proposal with evaluation in a cohort of 6336 patients and results of a survey. Ann Surg 2004;240:205–213.

23.

Holm S. A simple sequentially rejective multiple test procedure. Scand J Statist 1979;6:65–70.

24.

Bansal S, Buring JE, Rifai N, Mora S, Sacks FM, Ridker PM. Fasting compared with nonfasting triglycerides and risk of cardiovascular events in women. JAMA 2007;298:309–316.

25.

Kanda Y. Investigation of the freely available easy-to-use software 'EZR' for medical statistics. Bone Marrow Transplant 2013;48:452–458.

26.

O'Keeffe ST, Ni Chonchubhair A. Postoperative delirium in the elderly. Br J Anaesth 1994;73:673–687.

27.

Fried LP, Tangen CM, Walston J, Newman AB, Hirsch C, Gottdiener J, Seeman T, Tracy R, Kop WJ, Burke G, McBurnie MA. Frailty in older adults: evidence for a phenotype. J Gerontol A Biol Sci Med Sci 2001;56:M146–156.

28.

Satake S, Shimokata H, Senda K, Kondo I, Toba K. Validity of Total Kihon Checklist Score for Predicting the Incidence of 3-Year Dependency and Mortality in a Community-Dwelling Older Population. J Am Med Dir Assoc 2017;18:552 e551–552 e556.

29.

Ambagtsheer R, Visvanathan R, Cesari M, Yu S, Archibald M, Schultz T, Karnon J, Kitson A, Beilby J. Feasibility, acceptability and diagnostic test accuracy of frailty screening instruments in community-dwelling older people within the Australian general practice setting: a study protocol for a cross-sectional study. BMJ Open 2017;7:e016663.

30.

Morley JE, Arai H, Cao L, Dong B, Merchant RA, Vellas B, Visvanathan R, Woo J. Integrated Care: Enhancing the Role of the Primary Health Care Professional in Preventing Functional Decline: A Systematic Review. J Am Med Dir Assoc 2017;18:489–494.

31.

Jang IY, Jung HW, Lee CK, Jang KH, Cho EI, Jung JJ, Park E, Kim J, Lee YS, Lee E, Kim DH. Korean version of the Fatigue, Resistance, Ambulation, Illnesses and Loss of weight questionnaire versus the Modified Kihon Checklist for Frailty Screening in Community-Dwelling Older Adults: The Aging Study of PyeongChang Rural Area. Geriatr Gerontol Int 2017;17:2046–2052.

32.

Maseda A, Lorenzo-Lopez L, Lopez-Lopez R, Arai H, Millan-Calenti JC. Spanish translation of the Kihon Checklist (frailty index). Geriatr Gerontol Int 2017;17:515–517.

33.

Dickson LR. Hypoalbuminemia in delirium. Psychosomatics 1991;32:317–323.

34.

Marcantonio ER, Goldman L, Mangione CM, Ludwig LE, Muraca B, Haslauer CM, Donaldson MC, Whittemore AD, Sugarbaker DJ, Poss R, et al. A clinical prediction rule for delirium after elective noncardiac surgery. JAMA 1994;271:134–139.

35.

Rich MW, Keller AJ, Schechtman KB, Marshall WG, Jr., Kouchoukos NT. Increased complications and prolonged hospital stay in elderly cardiac surgical patients with low serum albumin. Am J Cardiol 1989;63:714–718.

36.

Yoshimura Y, Kubo S, Shirata K, Hirohashi K, Tanaka H, Shuto T, Takemura S, Kinoshita H. Risk factors for postoperative delirium after liver resection for hepatocellular carcinoma. World J Surg 2004;28:982–986.

37.

Miller D, Lewis SR, Pritchard MW, Schofield-Robinson OJ, Shelton CL, Alderson P, Smith AF. Intravenous versus inhalational maintenance of anaesthesia for postoperative cognitive outcomes in elderly people undergoing non-cardiac surgery. Cochrane Database Syst Rev 2018;8:CD012317.

38.

Vlisides PE, Thompson A, Kunkler BS, Maybrier HR, Avidan MS, Mashour GA. Perioperative Epidural Use and Risk of Delirium in Surgical Patients: A Secondary Analysis of the PODCAST Trial. Anesth Analg 2019;128:944–952.

39.

Lynch EP, Lazor MA, Gellis JE, Orav J, Goldman L, Marcantonio ER. The impact of postoperative pain on the development of postoperative delirium. Anesth Analg 1998;86:781–785.

40.

Morrison RS, Magaziner J, Gilbert M, Koval KJ, McLaughlin MA, Orosz G, Strauss E, Siu AL. Relationship between pain and opioid analgesics on the development of delirium following hip fracture. J Gerontol A Biol Sci Med Sci 2003;58:76–81.

41.

Poon RT, Fan ST, Lo CM, Liu CL, Lam CM, Yuen WK, Yeung C, Wong J. Improving perioperative outcome expands the role of hepatectomy in management of benign and malignant hepatobiliary diseases: analysis of 1222 consecutive patients from a prospective database. Ann Surg 2004;240:698–708; discussion 708-610.

42.

Imamura H, Seyama Y, Kokudo N, Maema A, Sugawara Y, Sano K, Takayama T, Makuuchi M. One thousand fifty-six hepatectomies without mortality in 8 years. Arch Surg 2003;138:1198–1206; discussion 1206.

43.

Tanaka S, Kubo S, Kanazawa A, Takeda Y, Hirokawa F, Nitta H, Nakajima T, Kaizu T, Kaneko H, Wakabayashi G. Validation of a difficulty scoring system for laparoscopic liver resection: A multicenter analysis by the Endoscopic Liver Surgery Study Group in Japan. J Am Coll Surg 2017;225:249–258.

44.

Tanaka S, Kawaguchi Y, Kubo S, Kanazawa A, Takeda Y, Hirokawa F, Nitta H, Nakajima T, Kaizu T, Kaibori M, Kojima T, Otsuka Y, Fuks D, Hasegawa K, Kokudo N, Kaneko H, Gayet B, Wakabayashi G. Validation of index-based IWATE criteria as an improved difficulty scoring system for laparoscopic liver resection. Surgery 2019;165:731–740.

45.

Siddiqi N, Stockdale R, Britton AM, Holmes J. Interventions for preventing delirium in hospitalised patients. Cochrane Database Syst Rev 2007:CD005563.

46.

Rockwood K, Cosway S, Carver D, Jarrett P, Stadnyk K, Fisk J. The risk of dementia and death after delirium. Age Ageing 1999;28:551–556.

47.

Inouye SK, Bogardus ST, Jr., Charpentier PA, Leo-Summers L, Acampora D, Holford TR, Cooney LM, Jr. A multicomponent intervention to prevent delirium in hospitalized older patients. N Engl J Med 1999;340:669–676.

48.

Janssen TL, Alberts AR, Hooft L, Mattace-Raso F, Mosk CA, van der Laan L. Prevention of postoperative delirium in elderly patients planned for elective surgery: systematic review and meta-analysis. Clin Interv Aging 2019;14:1095–1117.

49.

Clegg A, Siddiqi N, Heaven A, Young J, Holt R. Interventions for preventing delirium in older people in institutional long-term care. Cochrane Database Syst Rev 2014:CD009537.

50.

Velanovich V, Antoine H, Swartz A, Peters D, Rubinfeld I. Accumulating deficits model of frailty and postoperative mortality and morbidity: its application to a national database. J Surg Res 2013;183:104–110.
Acknowledgments
We thank Drs. Tokuji Ito, Takayoshi Nishioka, Toru Miyazaki, and Shigekazu Takemura of the Department of Hepato-Biliary-Pancreatic Surgery, Osaka City University Graduate School of Medicine, Osaka, Japan; Yoshihiro Inoue of the Department of General and Gastroenterological Surgery, Osaka Medical College; Dr. Daisuke Hokuto of the Department of Surgery, Nara Medical University; Dr. Masataka Matsumoto of the Department of Surgery, Faculty of Medicine, Kinki University; Dr. Morihiko Ishizaki of the Department of Surgery, Hirakata Hospital, Kansai Medical University; Dr. Rei Morimura of the Division of Digestive Surgery, Department of Surgery, Kyoto Prefectural University of Medicine; and Dr. Takehiro Noda of the Department of Gastroenterological Surgery, Graduate School of Medicine, Osaka University for their significant contributions to the manuscript. Moreover, we are indebted to all the surgeons who participated in this study for their collection of data for the Osaka Liver Surgery Study Group.
Funding
This work was supported by the Health, Labour and Welfare Policy Research Grants from the Ministry of Health, Labour, and Welfare of Japan (Policy Research for Hepatitis Measures [H30-Kansei-Shitei-003]).
Additional information
Publisher's Note
Springer Nature remains neutral with regard to jurisdictional claims in published maps and institutional affiliations.
About this article
Cite this article
Ishihara, A., Tanaka, S., Ueno, M. et al. Preoperative Risk Assessment for Delirium After Hepatic Resection in the Elderly: a Prospective Multicenter Study. J Gastrointest Surg 25, 134–144 (2021). https://doi.org/10.1007/s11605-020-04562-1
Received:

Accepted:

Published:

Issue Date:
Keywords
Frailty

Hypoalbuminemia

Healthcare support

Transfer