Abstract
Purpose
To investigate the long-term results of shunt surgery in the treatment of Budd-Chiari Syndrome.
Methods
Medical records of patients treated with Budd-Chiari Syndrome between 1993 and 2006 were reviewed.
Results
Thirty-seven patients (26 female, 11 male) were identified, with a median age of 30 years (range 14–51). Median duration of symptoms was 3 months (range 1 month to 10 years). Twenty-five patients, all in acute or subacute stages of disease, were treated surgically. Constructed shunts were mesoatrial in 17, portocaval in five (one was converted from a failed portorenal shunt) and mesocaval in three. Median portal pressure decreased from 44 cm H2O (range 31–55) to 20 cm H2O (range 5–27). Seven patients (28%) died in the perioperative period. Eighteen patients (72%) were followed up for a median of 186 months (24–241 months). Seven patients died during follow-up, five due to reasons related to the underlying cause and treatment. Remaining 11 patients (61%) were alive at a median of 18 years (13–25 years) with patent shunts. One-, 5-, and 10-year survival rates in patients undergoing shunt surgery were 78%, 72%, and 66%, respectively.
Conclusion
Portosystemic shunts may still be considered when expertise for transjugular intrahepatic portosystemic shunt or liver transplantation is not available.
This is a preview of subscription content, log in to check access.
Access options
Buy single article
Instant access to the full article PDF.
US$ 39.95
Price includes VAT for USA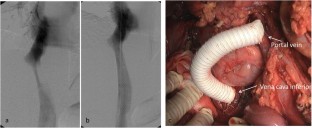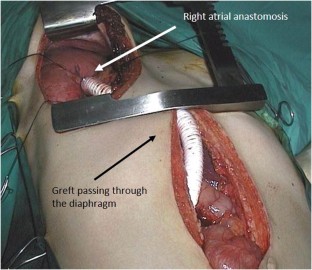 References
1.

Hadenge A, Poliquın M, Vilgrain V, Erlinger S, Benhamou JP, Belgithi J. The changing scene of the hepatic vein thrombosis: Recognition of asymptomatic cases. Gastroenterology 1994; 106: 1042–47

2.

Orloff M,Orloff MS, Daily PO.: Long-term results of treatment of Budd-Chiari syndrome with portal decompression. Arch Surg 1992; 127: 1182–87

3.

Slakey DP, Klein AS, Venbrux AC, Cameron JL. Budd-Chiari syndrome: current management options. Ann Surg 2001; 233: 522–7

4.

Tang TJ, Batts KP, de Groen PC, van Hoek B, Haagsman GB, Janssen HL. The prognostic value of histology in the assessment of patients with Budd- Chiari Syndrome. J Hepatol 2001; 35: 338–43

5.

Senzolo M, Cholongitas EC, Patch D, Burroughs AK. Update on the classification, assessment of prognosis and therapy of Budd-Chiari syndrome. Nat Clin Pract Gastroenterol Hepatol. 2005;2:182–190

6.

Klein AS, Molmenti EP. Surgical treatment of Budd-Chiari syndrome. Liver Transplant 2003; 9: 891–6

7.

Emre A, Kalaycı G, Özden İ,Bilge O,Acarlı K,Kaymakoğlu S, et al. Mesoatrial shunt in Budd-Chiari syndrome. Am J Surg 2000; 179: 304–8

8.

Hidaka M, Eguchi S. Budd-Chiari syndrome: Focus on surgical treatment. Hepatol Res 2017 Feb;47(2):142–8. https://doi.org/10.1111/hepr.12752.

9.

Emre A, Özden İ, Poyanlı A, Bilge O. Vena cava stenting and portorenal shunt in Budd-Chiari syndrome: combination of the "modern" and "classical". Dig Surg 2001; 18: 223–5

10.

Martin LG, Henderson JM, Millikan WJ Jr, Casarella WJ, Kaufman SL. Angioplasty for long-term treatment of patients with Budd-Chiari syndrome. AJR Am J Roentgenol 1990;154(5):1007–10.

11.

Wu T, Wang L, Xiao Q, Wang B, Li S, Li X, Zhang J. Percutaneous balloon angioplasty of inferior vena cava in Budd-Chiari syndrome-R1. Int J Cardiol 2002;83(2):175–8.

12.

Qi X, Yang M, Fan D, Han G. Transjugular intrahepatic portosystemic shunt in the treatment of Budd-Chiari syndrome: a critical review of literatures. Scand J Gastroenterol. 2013 Jul;48(7):771–84. https://doi.org/10.3109/00365521.2013.777775

13.

Bai M, Qi XS, Yang ZP, Yang M, Fan DM, Han GH. TIPS improves liver transplantation-free survival in cirrhotic patients with refractory ascites: an updated meta-analysis. World J Gastroenterol. 2014 Mar 14;20(10):2704–14. https://doi.org/10.3748/wjg.v20.i10.2704

14.

Colombato LA, Spahr L, Martinet JP, Dufresne MP, Lafortune M, Fenyves D, et al. Hemodynamic adaptation two months after transjugular intrahepatic portosystemic shunt (TIPS) in cirrhotic patients. Gut 1996; 39: 600–4

15.

Colombato L. The role of transjugular intrahepatic portosystemic shunt (TIPS) in the management of portal hipertension. J Clin Gastroenterol 2007; 41(Suppl 3): 344–51

16.

Moon DB, Lee SG. Liver transplantation. Gut Liver. 2009 Sep;3(3):145–65. https://doi.org/10.5009/gnl.2009.3.3.145

17.

Orloff MJ, Isenberg JL, Wheeler HO, Daily PO, Girard B. Budd-Chiari syndrome revisited: 38 years' experience with surgical portal decompression. J Gastrointest Surg 2012; 16: 286–300

18.

Mentha G, Giostra E, Majno PE, Bechstein WO, Neuhaus P, O'Grady J, et al. Liver transplantation for Budd-Chiari syndrome: A European study on 248 patients from 51 centres. J Hepatol. 2006 Mar;44(3):520–8

19.

Segev DL, Nguyen GC, Locke JE, Simpkins CE, Montgomery RA, Maley WR, et al. Twenty years of liver transplantation for Budd-Chiari syndrome: a national registry analysis. Liver Transpl. 2007 Sep;13(9):1285–94

20.

Ulrich F, Steinmüller T, Lang M, Settmacher U, Müller AR, Jonas S, et al. Liver transplantation in patients with advanced Budd-Chiari syndrome. Transplant Proc 2002; 34: 2278

21.

Sorensen MB, Bille-Frahe NE, Christiansen L, Malmstrom J, Nielsen OV. Hemodynamics in patients undergoing portacaval shunt operations. Acta Anesthesiol Scand 1982; 26: 425–8

22.

Tanju S, Erden A, Ceyhan K, Soygür İT, Bozkaya H, Erden İ. Contrast-enhanced MR angiography of benign regenerative nodules following TIPS shunt procedure in Budd-Chiari syndrome. Turk J Gastroenterol 2004; 15: 173–7

23.

Ibarrola C, Castellano VM, Colina F. Focal hyperplastic hepatocellular nodules in hepatic venous outflow obstruction: a clinicopathological study of four patients and 24 nodules. Histopathology 2004; 44: 172–9

24.

Deltenre P, Denninger MH, Hillair S, Guillin MC, Casadeval N, Briere Erlinger SJ, et al. Factor V Leiden related Budd-Chiari syndrome. Gut 2001; 48: 264–8

25.

Casals-Hatem D, Vilgrain V, Genin P, Denninger MH, Durand F, Belgithi J, et al. Arterial and portal circulation and parenchymal changes in Budd- Chiari Syndrome. A study in 17 explanted livers. Hepatology 2003; 37: 510–9

26.

Qi X, Ren W, Wang Y, Guo X, Fan D. Survival and prognostic indicators of Budd-Chiari syndrome: a systematic review of 79 studies. Expert Rev Gastroenterol Hepatol. 2015 Jun;9(6):865–75. https://doi.org/10.1586/17474124.2015.1024224
Ethics declarations
Conflict of Interest
None of the authors have any financial relationship with any organization or sponsorship for this research. All authors state that they have full control of all primary data and they agree to allow the journal to review their data if requested.
Declaration
This study has not been published previously; it is not under consideration for publication elsewhere and if accepted, it will not be published elsewhere in the same form, in English or in any other language, including electronically without the written consent of the copyright-holder.
Additional information
Publisher's Note
Springer Nature remains neutral with regard to jurisdictional claims in published maps and institutional affiliations.
About this article
Cite this article
Serin, K.R., Tekant, Y. & Emre, A. Is There Still a Role for Surgical Shunts in the Treatment of Budd-Chiari Syndrome? A 25-Year Experience. J Gastrointest Surg 24, 1359–1365 (2020). https://doi.org/10.1007/s11605-020-04524-7
Received:

Accepted:

Published:

Issue Date:
Keywords
Liver surgery

Portal hypertension

Surgical shunt