Abstract
Background
The association of national quality benchmarking metrics with postoperative outcomes following complex surgery remains unknown. We assessed the relationship between the "quality trifactor" of Leapfrog minimum volume standards, Hospital Safety Grade A, and Magnet Recognition with outcomes of Medicare patients undergoing pancreatectomy.
Methods
The Standard Analytic Files (SAF) merged with Leapfrog Hospital Survey and Leapfrog Safety Scores Denominator Files were reviewed to identify Medicare patients who underwent pancreatic procedures between 2013 and 2015. Primary outcomes were overall and serious complications, as well as 30- and 90-day mortality. Multivariable logistic regression analyses were conducted to evaluate possible associations among hospitals meeting the quality trifactor and short-term outcomes.
Results
Among 4853 Medicare patients, 909 (18.7%) underwent pancreatectomy at hospitals meeting the quality trifactor. Among 260 hospitals, 7.3% (n = 19) met the quality trifactor. Safety Grade A (48.8%, n = 127) was the most commonly met criterion followed by Magnet Recognition (36.2%, n = 94); the Leapfrog minimum volume standards were achieved by 25% (n = 65) of hospitals. Patients undergoing surgery at hospitals that were only Safety Grade A and Magnet designated, but did not meet Leapfrog criteria, had higher odds of serious complications (OR 1.59, 95% CI 1.00–2.51). In contrast, patients undergoing treatment at hospitals having all three designations (i.e., the quality trifactor) had 40% and 39% lower odds of both serious complications (OR 0.60, 95% CI 0.37–0.97) and 90-day mortality (OR 0.61, 95% CI 0.42–0.89), respectively. In turn, patients undergoing pancreatectomy at quality trifactor hospitals had higher odds of experiencing the composite quality measure textbook outcome (OR 1.28, 95% CI 1.03–1.59) versus patients undergoing pancreatectomy at non-trifactor hospitals.
Conclusion
While Safety Grade A and Magnet designation alone were not associated with higher odds of an optimal composite outcome following pancreatectomy, compliance with Leapfrog criteria to achieve the "quality trifactor" metric was associated with lower odds of serious complications and mortality.
Access options
Buy single article
Instant access to the full article PDF.
US$ 39.95
Tax calculation will be finalised during checkout.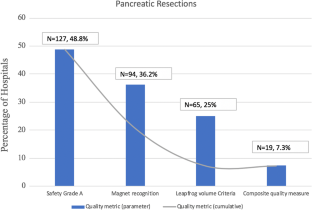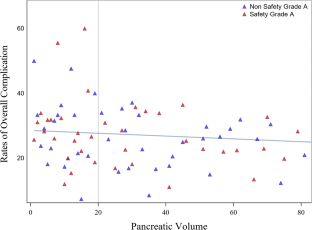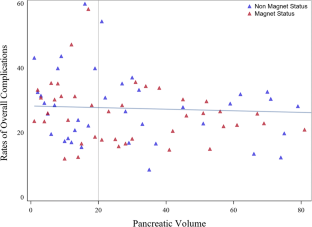 References
1.

Leapfrog Group: Volume standards. https://www.leapfroggroup.org/sites/default/files/Files/LeapfrogHospitalSurvey_ProposedChanges_2019_Final.pdf Accessed 23rd September, 2019. Accessed.

2.

Merkow RP, Chung JW, Paruch JL, Bentrem DJ, Bilimoria KY. Relationship between cancer center accreditation and performance on publicly reported quality measures. Ann Surg. 2014;259(6):1091–1097.

3.

Schmaltz SP, Williams SC, Chassin MR, Loeb JM, Wachter RM. Hospital performance trends on national quality measures and the association with Joint Commission accreditation. J Hosp Med. 2011;6(8):454–461.

4.

Chen J, Rathore SS, Radford MJ, Krumholz HM. JCAHO accreditation and quality of care for acute myocardial infarction. Health Aff (Millwood). 2003;22(2):243–254.

5.

Knutson AC, McNamara EJ, McKellar DP, Kaufman CS, Winchester DP. The role of the American College of Surgeons' cancer program accreditation in influencing oncologic outcomes. J Surg Oncol. 2014;110(5):611–615.

6.

Galvin RS, Delbanco S, Milstein A, Belden G. Has the Leapfrog Group had an impact on the health care market? Health Aff (Millwood). 2005;24(1):228–233.

7.

The differences between the Leapfrog Hospital Safety Grade & Leapfrog Hospital Survey. https://www.hospitalsafetygrade.org/for-hospitals/HospitalFAQ#What%20is%20the%20Leapfrog%20Hospital%20Safety%20Grade? Published 2018. Accessed.

8.

Friese CR, Xia R, Ghaferi A, Birkmeyer JD, Banerjee M. Hospitals in 'Magnet' program show better patient outcomes on mortality measures compared to non-'Magnet' hospitals. Health Aff (Millwood). 2015;34(6):986–992.

9.

McHugh MD, Kelly LA, Smith HL, Wu ES, Vanak JM, Aiken LH. Lower mortality in magnet hospitals. Med Care. 2013;51(5):382–388.

10.

Idrees JJ, Johnston FM, Canner JK, et al. Cost of major complications after liver resection in the United States: are high-volume centers cost-effective? Ann Surg. 2019;269(3):503–510.

11.

Gonzalez AA, Ghaferi AA. Hospital Safety Scores: do grades really matter? JAMA Surg. 2014;149(5):413–414.

12.

Kernisan LP, Lee SJ, Boscardin WJ, Landefeld CS, Dudley RA. Association between hospital-reported Leapfrog Safe Practices Scores and inpatient mortality. JAMA. 2009;301(13):1341–1348.

13.

Merath K, Chen Q, Bagante F, et al. Textbook outcomes among Medicare patients undergoing hepatopancreatic surgery. Ann Surg. 2018.

14.

Merath K, Chen Q, Bagante F, et al. A multi-institutional international analysis of textbook outcomes among patients undergoing curative-intent resection of intrahepatic cholangiocarcinoma. JAMA Surg. 2019:e190571.

15.

Kolfschoten NE, Kievit J, Gooiker GA, et al. Focusing on desired outcomes of care after colon cancer resections; hospital variations in 'textbook outcome'. Eur J Surg Oncol. 2013;39(2):156–163.

16.

Osborne NH, Nicholas LH, Ryan AM, Thumma JR, Dimick JB. Association of hospital participation in a quality reporting program with surgical outcomes and expenditures for Medicare beneficiaries. JAMA. 2015;313(5):496–504.

17.

Iezzoni LI, Daley J, Heeren T, et al. Using administrative data to screen hospitals for high complication rates. Inquiry. 1994;31(1):40–55.

18.

Mehta R, Ejaz A, Hyer JM, et al. The impact of dedicated cancer centers on outcomes among Medicare beneficiaries undergoing liver and pancreatic cancer surgery. Ann Surg Oncol. 2019.

19.

Ghaferi AA, Osborne NH, Birkmeyer JD, Dimick JB. Hospital characteristics associated with failure to rescue from complications after pancreatectomy. J Am Coll Surg. 2010;211(3):325–330.

20.

Chen Q, Merath K, Olsen G, et al. Impact of post-discharge disposition on risk and causes of readmission following liver and pancreas surgery. J Gastrointest Surg. 2018.

21.

Mise Y, Day RW, Vauthey JN, et al. After pancreatectomy, the "90 days from surgery" definition is superior to the "30 days from discharge" definition for capture of clinically relevant readmissions. J Gastrointest Surg. 2016;20(1):77–84; discussion 84.

22.

Mayo SC, Shore AD, Nathan H, et al. Refining the definition of perioperative mortality following hepatectomy using death within 90 days as the standard criterion. HPB (Oxford). 2011;13(7):473–482.

23.

Duke CC, Smith B, Lynch W, Slover M. The effects of hospital safety scores, total price, out-of-pocket cost, and household income on consumers' self-reported choice of hospitals. J Patient Saf. 2017;13(4):192–198.

24.

Stephanie Kumpunen LT, Ricardo Rodrigues. Public reporting in health and long-term care to facilitate provider choice http://www.euro.who.int/__data/assets/pdf_file/0020/263540/Public-reporting-in-health-and-long-term-care-to-facilitate-provider-choice-Eng.pdf?ua=1 Accessed 23rd Septemeber, 2019. Published 2014. Accessed.

25.

Qian F, Lustik SJ, Diachun CA, Wissler RN, Zollo RA, Glance LG. Association between Leapfrog safe practices score and hospital mortality in major surgery. Med Care. 2011;49(12):1082–1088.

26.

Smith SN, Reichert HA, Ameling JM, Meddings J. Dissecting Leapfrog: how well do Leapfrog Safe Practices Scores correlate with hospital compare ratings and penalties, and how much do they matter? Med Care. 2017;55(6):606–614.

27.

Hwang W, Derk J, LaClair M, Paz H. Hospital patient safety grades may misrepresent hospital performance. J Hosp Med. 2014;9(2):111–115.

28.

Goode CJ, Blegen MA, Park SH, Vaughn T, Spetz J. Comparison of patient outcomes in Magnet® and non-Magnet hospitals. J Nurs Adm. 2011;41(12):517–523.

29.

Mills AC, Gillespie KN. Effect of Magnet hospital recognition on 2 patient outcomes. J Nurs Care Qual. 2013;28(1):17–23.

30.

Kutney-Lee A, Stimpfel AW, Sloane DM, Cimiotti JP, Quinn LW, Aiken LH. Changes in patient and nurse outcomes associated with magnet hospital recognition. Med Care. 2015;53(6):550–557.

31.

Reames BN, Ghaferi AA, Birkmeyer JD, Dimick JB. Hospital volume and operative mortality in the modern era. Ann Surg. 2014;260(2):244–251.

32.

Sosa JA, Bowman HM, Gordon TA, et al. Importance of hospital volume in the overall management of pancreatic cancer. Ann Surg. 1998;228(3):429–438.

33.

Gouma DJ, van Geenen RC, van Gulik TM, et al. Rates of complications and death after pancreaticoduodenectomy: risk factors and the impact of hospital volume. Ann Surg. 2000;232(6):786–795.

34.

Hyder O, Dodson RM, Nathan H, et al. Influence of patient, physician, and hospital factors on 30-day readmission following pancreatoduodenectomy in the United States. JAMA Surg. 2013;148(12):1095–1102.

35.

Hata T, Motoi F, Ishida M, et al. Effect of hospital volume on surgical outcomes after pancreaticoduodenectomy: a systematic review and meta-analysis. Ann Surg. 2016;263(4):664–672.

36.

Idrees JJ, Merath K, Gani F, et al. Trends in centralization of surgical care and compliance with National Cancer Center Network guidelines for resected cholangiocarcinoma. HPB (Oxford). 2019;21(8):981–989.

37.

Diaz A, Schoenbrunner A, Cloyd J, Pawlik TM. Geographic distribution of adult inpatient surgery capability in the USA. J Gastrointest Surg. 2019.
Additional information
Publisher's Note
Springer Nature remains neutral with regard to jurisdictional claims in published maps and institutional affiliations.
Electronic Supplementary Material
About this article
Cite this article
Merath, K., Mehta, R., Tsilimigras, D.I. et al. Quality of Care Among Medicare Patients Undergoing Pancreatic Surgery: Safety Grade, Magnet Recognition, and Leapfrog Minimum Volume Standards—Which Quality Benchmark Matters?. J Gastrointest Surg 25, 269–277 (2021). https://doi.org/10.1007/s11605-019-04504-6
Received:

Accepted:

Published:

Issue Date:
Keywords
Pancreas

Pancreatectomy

Quality of care

Leapfrog

Magnet Recognition