Access options
Buy single article
Instant access to the full article PDF.
US$ 39.95
Tax calculation will be finalised during checkout.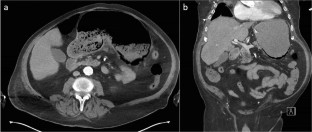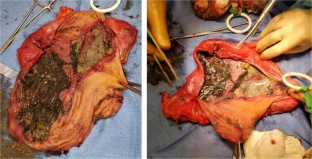 References
1.

Sharma A, Mukewar S, Chari ST, Wong Kee Song LM. Clinical Features and Otcomes of Gastric Ischemia. Dig Dis Sci 2017; 62(12):3550–3556.

2.

Tang S-J, Daram SR, Wu R, Bhaijee F. Pathogenesis, diagnosis, and management of gastric ischemia. Clin Gastroenterol Hepatol 2014; 12:246–252.

3.

Sahoo MR, Kumar AT, Jaiswal S, Bhajubal SN. Acute Dilatation, Ischemia, and Necrosis of Stomach without perforation. Case Reports in Surgery 2013; 1–4.
Additional information
Publisher's Note
Springer Nature remains neutral with regard to jurisdictional claims in published maps and institutional affiliations.
About this article
Cite this article
Damani, T., Sant, V.R. & Shah, P.C. Extensive Gastric Necrosis in the Setting of Phytobezoar Causing Gastric Outlet Obstruction. J Gastrointest Surg 24, 2167–2168 (2020). https://doi.org/10.1007/s11605-019-04497-2
Received:

Accepted:

Published:

Issue Date: