Abstract
Background
Hepaticojejunostomy anastomotic stricture (HJAS) is an important complication of biliary reconstructive surgery but has no standard treatment. We aimed to evaluate the outcomes of endoscopic treatment for benign HJAS and identify the risk factors for its recurrence.
Methods
This study retrospectively analyzed 176 patients who underwent endoscopic retrograde cholangiopancreatography (ERCP) for HJAS between April 2008 and March 2016. The outcome of endoscopic biliary stenting combined with balloon dilation (EBS group) and balloon dilation alone (balloon group) was evaluated.
Results
The scope was successfully inserted into the HJ site in 93.8% patients (165/176), and 139 patients underwent endoscopic treatment after HJAS was confirmed. Successful biliary drainage was achieved in 137 patients by using ERCP and rendezvous procedures. Among these, 103 patients were included in balloon group and 34 patients were in EBS group. HJAS was resolved in 132 patients; five died from recurrence of primary disease. The 1 (3)-year bile duct patency rates in the balloon and EBS groups were 62.5% (46.6%) and 89.4% (84.7%), respectively (p = 0.015). Univariate analysis showed that balloon dilation (p = 0.009) and early HJAS formation (time from surgery to ERCP < 1 year) (p = 0.02) were risk factors for HJAS recurrence. In the multivariate analysis, balloon dilatation was identified as independent risk factors for HJAS recurrence.
Conclusions
Balloon dilation without stent deployment and early HJAS formation are risk factors for HJAS recurrence after endoscopic treatment. Stent deployment might be recommended for definite resolution of HJAS.
This is a preview of subscription content, log in to check access.
Access options
Buy single article
Instant access to the full article PDF.
US$ 39.95
Price includes VAT for USA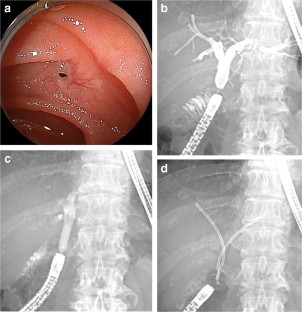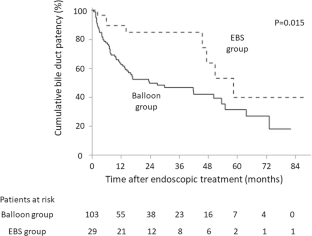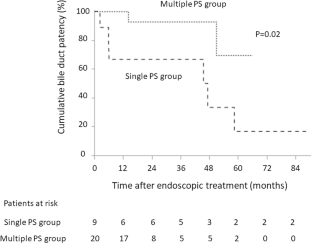 References
1.

Lee AY, Gregorius J, Kerlan RK Jr. et al. Percutaneous transhepatic balloon dilation of biliary enteric anastomotic strictures after surgical repair of iatrogenic bile duct injuries. PLoS One 2012; 7: e46478.

2.

Kim JH, Lee SK, Kim MH et al. Percutaneous management of resistant biliary-enteric anastomotic strictures with the use of a combined cutting and conventional balloon cholangioplasty protocol: a single-center experience. Gastrointest Endosc 2003; 58: 733–738.

3.

Bonnel DH, Fingerhut AL. Percutaneous transhepatic balloon dilatation of benign bilioenteric strictures: long-term results in 110 patients. Am J Surg 2012; 203: 675–683.

4.

Fontein D, Gibson R, Collier N et al. Two decades of percutaneous transjejunal biliary intervention for benign biliary disease: a review of the intervention nature and complications. Insights Imaging 2011: 2; 557–565.

5.

Park BK, Jeon TJ, Jayaraman V, et al. Endoscopic Retrograde Cholangiopancreatography in Patients with Previous Pancreaticoduodenectomy: A Single-Center Experience. Dig Dis Sci. 2016; 61: 293–302.

6.

Shimatani M, Hatanaka H, Kogure H, et al. Diagnostic and Therapeutic Endoscopic Retrograde Cholangiography Using a Short-Type Double-Balloon Endoscope in Patients With Altered Gastrointestinal Anatomy: A Multicenter Prospective Study in Japan. Am J Gastroenterol. 2016; 111: 1750–1758.

7.

Tomoda T, Tsutsumi K, Kato H, et al. Outcomes of management for biliary stricture after livingdonor liver transplantation with hepaticojejunostomy using short-type double-balloon enteroscopy. Surg Endosc. 2016; 30: 5338–5344.

8.

Sanada Y, Mizuta K, Yano T, et al. Double-balloon enteroscopy for bilioenteric anastomotic stricture after pediatric living donor liver transplantation. Transpl Int. 2011; 24: 85–90.

9.

Itokawa F, Itoi T, Ishii K, et al. Single-and double-balloon enteroscopy-assisted endoscopic retrograde cholangiopancreatography in patients with Roux-en-Y plus hepaticojejunostomy anastomosis and Whipple resection. Dig Endosc. 2014; 26: 136–143.

10.

Calvo MM, Bujanda L, Heras I et al. The rendezvous technique for the treatment of choledocholithiasis. Gastrointest Endosc 2001:54; 511–513.

11.

Cotton PB, Eisen GM, Aabakken L et al. A lexicon for endoscopic adverse events: report of an ASGE workshop. Gastrointest Endosc 2010; 71: 446–454.

12.

Sakakihara I, Kato H, Muro S et al. Double-balloon enteroscopy for choledochojejunal anastomotic stenosis after hepato-biliary-pancreatic operation. Dig Endosc 2015; 27: 146–154.

13.

Miyata E, Yamauchi H, Kida M et al. Successful endoscopic dilation of severe bilioenteric strictures with a wire-guided diathermic dilator and short-type single-balloon enteroscope. Endoscopy 2015; 47: E94–95.

14.

Zepeda-Gómez S, Baron TH. Benign biliary strictures: current endoscopic management. Nat Rev. Gastroenterol Hepatol 2011; 8: 573–581.

15.

Huszár O, Kokas B, Mátrai P, et al. Meta-analysis of the long term success rate of different interventions in benign biliay strictures. PLoS One 2017; 12: e0169618.
Ethics declarations
Conflict of Interest
The authors declare that they have no conflict of interest.
Additional information
Publisher's Note
Springer Nature remains neutral with regard to jurisdictional claims in published maps and institutional affiliations.
About this article
Cite this article
Tomoda, T., Kato, H., Miyamoto, K. et al. Comparison Between Endoscopic Biliary Stenting Combined with Balloon Dilation and Balloon Dilation Alone for the Treatment of Benign Hepaticojejunostomy Anastomotic Stricture. J Gastrointest Surg 24, 1352–1358 (2020). https://doi.org/10.1007/s11605-019-04297-8
Received:

Accepted:

Published:

Issue Date:
Keywords
Hepaticojejunostomy anastomotic stricture (HJAS)

Endoscopic retrograde cholangiopancreatography (ERCP)

Endoscopic biliary stenting (EBS)