Abstract
Objective
To determine the feasibility and efficacy of single-channel gastroscopy, double-channel gastroscopy, and double gastroscopy in treating submucosal tumors in the cardia and gastric fundus.
Methods
The data of 77 patients with submucosal tumors (SMTs) in the cardia and gastric fundus parts of the stomach who underwent single-channel gastroscopy, double-channel gastroscopy, and double gastroscopy were retrospectively analyzed. The observed therapeutic effect, complications, and local recurrence from these three groups were then compared.
Results
All lesions were completely taken out under endoscopy, and the operation time for single-channel gastroscopy group was 20–90 min with an average of 44.5 min, and the postoperative hospitalization time was 5–9 days with an average of 7.5 days. The operation time for the double-channel gastroscopy group was 40–110 min with an average of 60.5 min, and the postoperative hospitalization time was 7–10 days with an average of 8.3 days, whereas the operation time of double gastroscopy group was 35–120 min with an average of 66.3 min, and the postoperative hospitalization time was 7–10 days with an average of 8.5 days. No patient was required to be transferred to the General Surgery Department for continuous treatment. Bleeding was noted from all the patients during operation, and hemostasis was performed successfully. Postoperative bleeding was not observed in any of the cases. Full-thickness resection was performed in all the three groups. No residual or recurrent lesions were detected via reexamination of gastroscopy in all the patients.
Conclusion
Single-channel gastroscopy, double-channel gastroscopy, and double gastroscopy present potential capability with distinctive advantages in the endoscopic treatment of submucosal tumors of the cardia and gastric fundus, and it also shows that appropriate operation methods should be selected based on the situation of an individual patient.
This is a preview of subscription content, log in to check access.
Access options
Buy single article
Instant access to the full article PDF.
US$ 39.95
Price includes VAT for USA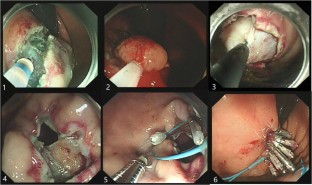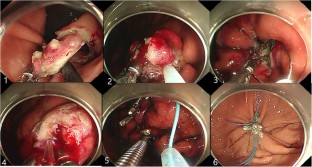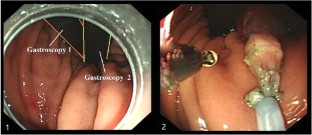 References
1.

Goto O, Kambe H, Niimi K, Mochizuki S, Asada-Hirayama I, Minatsuki C, Ono S, Kodashima S, Yamamichi N, Yamaji Y, Fujishiro M, Koike K. Discrepancy in diagnosis of gastric submucosal tumor among esophagogastroduodenoscopy, CT, and endoscopic ultrasonography: a retrospective analysis of 93 consecutive case. Abdom Imaging 2012;37:1074–1078.

2.

Chun SY, Kim KO, Park DS, Lee IJ, Park JW, Moon SH, Baek IH, Kim JH, Park CK, Kwon MJ. Endoscopic submucosal dissection as a treatment for gastric subepithelial tumors that originate from the muscularispropria layer: a preliminary analysis of appropriate indications. Surg Endosc 2013;27 (9): 3271–3279.

3.

Liu BR, Song JT, Kong LJ, Pei FH, Wang XH, Du YJ. Tunneling endoscopic muscularis dissection for subepithelial tumors originating from the muscularis propria of the esophagus and gastric cardia. Surg Endosc 2013;27(11):4354–4359.

4.

Ponsaing LG, Kiss K, Hansen MB. Classification of submucosal tumors in the gastrointestinal tract. World J Gastroenterol 2003;13(24):3311–3315.

5.

Park JM, Ahn CW, Yi X, Hur H, Lee KM, Cho YK, Han SU. Efficacy of endoscopic ultrasonography for prediction of tumor depth in gastric cancer. J Gastric Cancer 2011;11(2):109–115.

6.

Zhang JS, Ye LP, Wang CY, Lin MH. Endoscopic submucosal enucleation of small gastric gastrointestinal stromal tumors with cross-shaped incision: report of sixty-nine cases. Hepatogastroenterology 2012;59(114):440–443.

7.

Toyonaga T, Man-IM, East JE, Nishino E, Ono W, Hirooka T, Ueda C, Iwata Y, Sugiyama T, Dozaiku T, Hirooka T, Fujita T, Inokuchi H, Azuma T. 1635 Endoscopic submucosal dissection cases in esophagus, stomach, and colorectum: complication rates and long-term outcomes. Surg Endosc 2013;27(3);1000–1008.

8.

Wang SS, Shen L. Efficacy of endoscopic submucosal excavation for gastrointestinal stromal tumors in cardia. Surg Laparosc Endosc Percutan Techn 2017;26(6):493–496.

9.

Jang YS, Lee BE, Kim GH, Park DY, Jeon HK, Baek DH, Kim DU, Song GA. Factors associated with outcomes in Endoscopic Submucosal Dissection of gastric cardia tumors. Medicine(Baltimore) 2015;94(1):e1201

10.

Wang SS, Shen L. Progress of endoscopic submucosal dissection in the treatment of cardia lesions Chin J Dig Endosc 2016;33(1):60–62.

11.

Demetri GD, Benjamin RS, Blanke CD, Blay JY, Casali P, Choi H, Corless CL, Debiec-Rychter M, DeMatteo RP, Ettinger DS, Fisher GA, Fletcher CD, Gronchi A, Hohenberger P, Hughes M, Joensuu H, Judson I, Le Cesne A, Maki RG, Morse M, Pappo AS, Pisters PW, Raut CP, Reichardt P, Tyler DS, Van den Abbeele AD, von Mehren M, Wayne JD, Zalcberg J; NCCN Task Force. NCCN Task Force report: engagement of patients with gastrointestinal stromal tumor (GIST)—update of the NCCN clinical practice guidelines. J Nath Compr Canc Netw 2007;5 Suppl 2:S1-29;quiz S30.

12.

Fujishiro M, Yahagi N, Kakushima N, Kodashima S, Muraki Y, Ono S, Kobayashi K, Hashimoto T, Yamamichi N, Tateishi A, Shimizu Y, Oka M, Ogura K, Kawabe T, Ichinose M, Omata M. Successful nonsurgical management of perforation complicating endoscopic submucosal dissection of gastrointestinal epithelial neoplasms. Endoscopy 2006; 38 (10): 1001–6.

13.

Shi Q, Chen T, Zhong YS, Zhou PH, Ren Z, Xu MD, Yao LQ. Complete closure of large gastric defects after endoscopic full-thickness resection, using endoloop and metallic clip interrupted suture. Endoscopy 2013;45 (5):329–34.

14.

Zhang Y, Fang ZN, Wu J. Endoscopic purse-string suture for the gastric wall defect after full-thickness resection. Chin J Gastrointest Surg 2015;18(2):150–154.

15.

Kohoutova D , Rembacken BJ. Trick for endoloop positioning before polypectomy by using a double-channel gastroscope. Gastrointest Endosc 2016;83 (1): 253.
Acknowledgments
I want to express my gratitude to all those who helped me during the writing of this thesis. I gratefully acknowledge the help of my supervisor, Dr. Shen Lei, who provided valuable suggestions and advice for the manuscript preparation. Without his instruction, insightful criticism, and expert guidance, the completion of this thesis would not have been possible. Dr. Hesheng Luo also gave valuable suggestions for the manuscript. Also, I gratefully acknowledge colleagues, who work in the Endoscopy Center of Renmin Hospital of Wuhan University; they gave me huge help.
Additional information
Publisher's Note
Springer Nature remains neutral with regard to jurisdictional claims in published maps and institutional affiliations.
About this article
Cite this article
Wang, S., Luo, H. & Shen, L. Clinical Efficacy of Single-Channel Gastroscopy, Double-Channel Gastroscopy, and Double Gastroscopy for Submucosal Tumors in the Cardia and Gastric Fundus. J Gastrointest Surg 24, 1307–1313 (2020). https://doi.org/10.1007/s11605-019-04286-x
Received:

Accepted:

Published:

Issue Date:
Keywords
Gastroscopy

Double-channel gastroscopy

Double gastroscopy

Cardia

Gastric fundus