Abstract
Background
Management of asymptomatic, nonfunctioning small pancreatic neuroendocrine tumors (PNETs) is controversial because of their overall good prognosis, and the morbidity and mortality associated with pancreatic surgery. Our aim was to compare the outcomes of resection with expectant management of patients with small asymptomatic PNETs.
Methods
Retrospective review of patients with nonfunctioning asymptomatic PNETs < 2 cm that underwent resection or expectant management at the Tel-Aviv Medical Center between 2001 and 2018.
Results
Forty-four patients with small asymptomatic, biopsy-proven low-grade PNETs with a KI67 proliferative index < 3% were observed for a mean of 52.48 months. Gallium67DOTATOC-PET scan was completed in 32 patients and demonstrated uptake in the pancreatic tumor in 25 (78%). No patient developed systemic metastases. Two patients underwent resection due to tumor growth, and true tumor enlargement was evidenced in final pathology in one of them. Fifty-five patients underwent immediate resection. Significant complications (Clavien–Dindo grade ≥ 3) developed in 10 patients (18%), mostly due to pancreatic leak, and led to one mortality (1.8%). Pathological evaluation revealed lymphovascular invasion in 1 patient, lymph node metastases in none, and a Ki67 index ≥ 3% in 5. No case of tumor recurrence was diagnosed after mean follow-up of 52.8 months.
Conclusions
No patients with asymptomatic low-grade small PNETs treated by expectant management were diagnosed with regional or systemic metastases after a 52.8-month follow-up. Local tumor progression rate was 2.1%. Surgery has excellent long-term outcomes, but it harbors significant morbidity and mortality. Observation can be considered for selected patients with asymptomatic, small, low grade PNETs.
This is a preview of subscription content, log in to check access.
Access options
Buy single article
Instant access to the full article PDF.
US$ 39.95
Price includes VAT for USA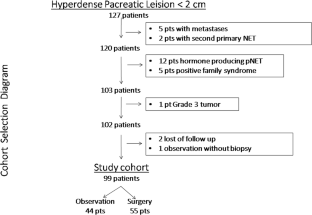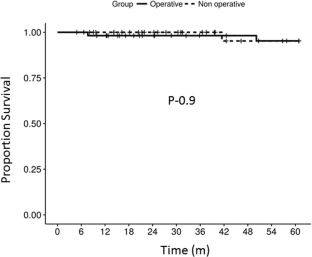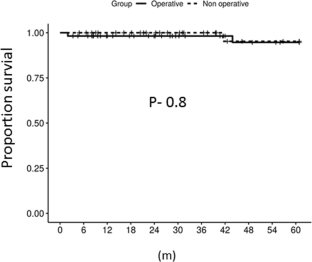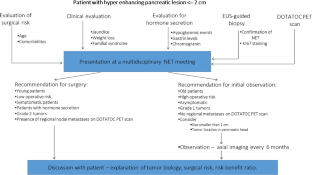 References
1.

Sadot E, Reidy-Lagunes DL, Tang LH, Do RKG, Gonen M, D'Angelica MI et al. Observation versus Resection for Small Asymptomatic Pancreatic Neuroendocrine Tumors: A Matched Case-Control Study. Ann Surg Oncol 2016; 23: 1361–1370.

2.

Sallinen V, Haglund C, Seppänen H. Outcomes of resected nonfunctional pancreatic neuroendocrine tumors: Do size and symptoms matter? Surgery 2015; 158: 1556–1563.

3.

Jann H, Roll S, Couvelard A, Hentic O, Pavel M, Müller-Nordhorn J et al. Neuroendocrine tumors of midgut and hindgut origin: tumor-node-metastasis classification determines clinical outcome. Cancer 2011; 117: 3332–3341.

4.

Rindi G, Petrone G, Inzani F. The 2010 WHO classification of digestive neuroendocrine neoplasms: a critical appraisal four years after its introduction. Endocr Pathol 2014; 25: 186–192.

5.

Dhall D, Mertens R, Bresee C, Parakh R, Wang HL, Li M et al. Ki-67 proliferative index predicts progression-free survival of patients with well-differentiated ileal neuroendocrine tumors. Hum Pathol 2012; 43: 489–495.

6.

McCall CM, Shi C, Cornish TC, Klimstra DS, Tang LH, Basturk O et al. Grading of well-differentiated pancreatic neuroendocrine tumors is improved by the inclusion of both Ki67 proliferative index and mitotic rate. Am J Surg Pathol 2013; 37: 1671–1677.

7.

Dindo D, Demartines N, Clavien P-A. Classification of surgical complications: a new proposal with evaluation in a cohort of 6336 patients and results of a survey. Ann Surg 2004; 240: 205–213.

8.

Fléjou J-F. [WHO Classification of digestive tumors: the fourth edition]. Ann Pathol 2011; 31: S27-31.

9.

Rindi G, Klöppel G, Alhman H, Caplin M, Couvelard A, de Herder WW et al. TNM staging of foregut (neuro) endocrine tumors: a consensus proposal including a grading system. Virchows Arch Int J Pathol 2006; 449: 395–401.

10.

Sallinen V, Le Large TYS, Galeev S, Kovalenko Z, Tieftrunk E, Araujo R et al. Surveillance strategy for small asymptomatic non-functional pancreatic neuroendocrine tumors – a systematic review and meta-analysis. HPB 2017; 19: 310–320.

11.

Zhang IY, Zhao J, Fernandez-Del Castillo C, Braun Y, Razmdjou S, Warshaw AL et al. Operative Versus Nonoperative Management of Nonfunctioning Pancreatic Neuroendocrine Tumors. J Gastrointest Surg Off J Soc Surg Aliment Tract 2016; 20: 277–283.

12.

Gaujoux S, Partelli S, Maire F, D'Onofrio M, Larroque B, Tamburrino D et al. Observational study of natural history of small sporadic nonfunctioning pancreatic neuroendocrine tumors. J Clin Endocrinol Metab 2013; 98: 4784–4789.

13.

Lee LC, Grant CS, Salomao DR, Fletcher JG, Takahashi N, Fidler JL et al. Small, nonfunctioning, asymptomatic pancreatic neuroendocrine tumors (PNETs): role for nonoperative management. Surgery 2012; 152: 965–974.

14.

Kuo EJ, Salem RR. Population-level analysis of pancreatic neuroendocrine tumors 2 cm or less in size. Ann Surg Oncol 2013; 20: 2815–2821.

15.

Gratian L, Pura J, Dinan M, Roman S, Reed S, Sosa JA. Impact of extent of surgery on survival in patients with small nonfunctional pancreatic neuroendocrine tumors in the United States. Ann Surg Oncol 2014; 21: 3515–3521.

16.

Ferrone CR. Lymphadenectomy for pancreatic neuroendocrine tumors: is that the relevant debate? Ann Surg 2014; 259: 213–214.

17.

Hashim YM, Trinkaus KM, Linehan DC, Strasberg SS, Fields RC, Cao D et al. Regional lymphadenectomy is indicated in the surgical treatment of pancreatic neuroendocrine tumors (PNETs). Ann Surg 2014; 259: 197–203.

18.

Bilimoria KY, Talamonti MS, Tomlinson JS, Stewart AK, Winchester DP, Ko CY et al. Prognostic score predicting survival after resection of pancreatic neuroendocrine tumors: analysis of 3851 patients. Ann Surg 2008; 247: 490–500.

19.

Kazanjian KK, Reber HA, Hines OJ. Resection of pancreatic neuroendocrine tumors: results of 70 cases. Arch Surg Chic Ill 1960 2006; 141: 765–769; discussion 769-770.

20.

Tomassetti P, Campana D, Piscitelli L, Casadei R, Santini D, Nori F et al. Endocrine pancreatic tumors: factors correlated with survival. Ann Oncol 2005; 16: 1806–1810.

21.

neuroendocrine.pdf. https://www.nccn.org/professionals/physician_gls/pdf/neuroendocrine.pdf. Accessed 19 March 2019.

22.

Hu B-Y, Wan T, Zhang W-Z, Dong J-H. Risk factors for postoperative pancreatic fistula: Analysis of 539 successive cases of pancreaticoduodenectomy. World J Gastroenterol 2016; 22: 7797–7805.

23.

Cameron JL, Riall TS, Coleman J, Belcher KA. One thousand consecutive pancreaticoduodenectomies. Ann Surg 2006; 244: 10–15.

24.

Smith JK, Ng SC, Hill JS, Simons JP, Arous EJ, Shah SA et al. Complications after pancreatectomy for neuroendocrine tumors: a national study. J Surg Res 2010; 163: 63–68.

25.

Unno J, Kanno A, Masamune A, Kasajima A, Fujishima F, Ishida K et al. The usefulness of endoscopic ultrasound-guided fine-needle aspiration for the diagnosis of pancreatic neuroendocrine tumors based on the World Health Organization classification. Scand J Gastroenterol 2014; 49: 1367–1374.

26.

Sugimoto M, Takagi T, Hikichi T, Suzuki R, Watanabe K, Nakamura J et al. Efficacy of endoscopic ultrasonography-guided fine needle aspiration for pancreatic neuroendocrine tumor grading. World J Gastroenterol 2015; 21: 8118–8124.

27.

Farrell JM, Pang JC, Kim GE, Tabatabai ZL. Pancreatic neuroendocrine tumors: accurate grading with Ki-67 index on fine-needle aspiration specimens using the WHO 2010/ENETS criteria. Cancer Cytopathol 2014; 122: 770–778.

28.

Hasegawa T, Yamao K, Hijioka S, Bhatia V, Mizuno N, Hara K et al. Evaluation of Ki-67 index in EUS-FNA specimens for the assessment of malignancy risk in pancreatic neuroendocrine tumors. Endoscopy 2014; 46: 32–38.

29.

Hofman MS, Kong G, Neels OC, Eu P, Hong E, Hicks RJ. High management impact of Ga-68 DOTATATE (GaTate) PET/CT for imaging neuroendocrine and other somatostatin expressing tumours. J Med Imaging Radiat Oncol 2012; 56: 40–47.

30.

Gabriel M, Decristoforo C, Kendler D, Dobrozemsky G, Heute D, Uprimny C et al. 68Ga-DOTA-Tyr3-octreotide PET in neuroendocrine tumors: comparison with somatostatin receptor scintigraphy and CT. J Nucl Med Off Publ Soc Nucl Med 2007; 48: 508–518.
Ethics declarations
Conflict of Interest
The authors declare that they have no conflict of interest.
Additional information
Publisher's Note
Springer Nature remains neutral with regard to jurisdictional claims in published maps and institutional affiliations.
About this article
Cite this article
Barenboim, A., Lahat, G., Nachmany, I. et al. Resection Versus Observation of Small Asymptomatic Nonfunctioning Pancreatic Neuroendocrine Tumors. J Gastrointest Surg 24, 1366–1374 (2020). https://doi.org/10.1007/s11605-019-04285-y
Received:

Accepted:

Published:

Issue Date:
Keywords
Neuronedocrine tumors

Obervation

Pancreatic resection