Abstract
Objective
To compare the efficacy of omentoplasty with non-omentoplasty in the prevention of postoperative anastomotic leakage, and to investigate the safety of omentoplasty.
Methods
Literature searches were performed of the Medline, EMBASE, and Cochrane Library databases. Studies that compared the efficacy of omentoplasty and non-omentoplasty after esophagectomy were selected. A meta-analysis was performed on anastomotic leakage, anastomotic stenosis, hospital mortality, and length of hospital stay. Results were reported as odds ratio (OR), weighted mean difference (WMD), or relative risk (RR), with 95% confidence intervals.
Results
Six studies involving a total of 1608 patients met inclusion criteria. Compared with the non-omentoplasty group, the incidence of anastomotic leakage in the omentoplasty group (OR, 0.37; 95% CI, 0.23–0.60; P < 0.0001) was significantly reduced and the length of hospital stay (WMD, 2.13; 95% CI, 3.57–0.69; P = 0.004) was significantly shortened. However, there was no significant difference in the incidence of anastomotic strictures (OR, 0.82; 95% CI, 0.37–1.80; P = 0.61) or in-hospital mortality (OR, 0.61; 95% CI, 0.25–1.51; P = 0.29).
Conclusions
Omentoplasty after esophagectomy is a safe and effective method to prevent anastomotic leakage.
This is a preview of subscription content, log in to check access.
Access options
Buy single article
Instant access to the full article PDF.
US$ 39.95
Price includes VAT for USA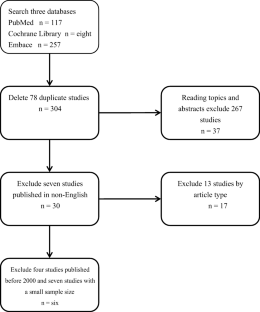 References
1.

Rutegard M, Lagergren P, Rouvelas I, Lagergren J. Intrathoracic anastomotic leakage and mortality after esophageal cancer resection: a population-based study. Ann Surg Oncol. 2012. 19(1): 99–103.

2.

Lerut T, Coosemans W, Decker G, De Leyn P, Nafteux P, van Raemdonck D. Anastomotic complications after esophagectomy. Dig Surg. 2002. 19(2): 92–8.

3.

Junemann-Ramirez M, Awan MY, Khan ZM, Rahamim JS. Anastomotic leakage post-esophagogastrectomy for esophageal carcinoma: retrospective analysis of predictive factors, management and influence on longterm survival in a high volume centre. Eur J Cardiothorac Surg. 2005. 27(1): 3–7.

4.

Patil PK, Patel SG, Mistry RC, Deshpande RK, Desai PB. Cancer of the esophagus: esophagogastric anastomotic leak--a retrospective study of predisposing factors. J Surg Oncol. 1992. 49(3): 163–7.

5.

Alanezi K, Urschel JD. Mortality secondary to esophageal anastomotic leak. Ann Thorac Cardiovasc Surg. 2004. 10(2): 71–5.

6.

Peracchia A, Bardini R, Ruol A, Asolati M, Scibetta D. Esophagovisceral anastomotic leak. A prospective statistical study of predisposing factors. J Thorac Cardiovasc Surg. 1988. 95(4): 685–91.

7.

Chalmers PJ, Newing RK. Influence of omentum transposition on experimental tumors. J Surg Oncol. 1986. 32(3): 135–7.

8.

John H, Buchmann P. Improved perineal wound healing with the omental pedicle graft after rectal excision. Int J Colorectal Dis. 1991. 6(4): 193–6.

9.

Jesus EC, Karliczek A, Matos D, Castro AA, Atallah AN. Prophylactic anastomotic drainage for colorectal surgery. Cochrane Database Syst Rev. 2004. (4): CD002100.

10.

Higgins JP, Thompson SG. Quantifying heterogeneity in a meta-analysis. Stat Med. 2002. 21(11): 1539–58.

11.

DerSimonian R, Laird N. Meta-analysis in clinical trials. Control Clin Trials. 1986. 7(3): 177–88.

12.

Sepesi B, Swisher SG, Walsh GL, et al. Omental reinforcement of the thoracic esophagogastric anastomosis: an analysis of leak and reintervention rates in patients undergoing planned and salvage esophagectomy. J Thorac Cardiovasc Surg. 2012. 144(5): 1146–50.

13.

Ye P, Cao JL, Li QY, et al. Mediastinal transposition of the omentum reduces infection severity and pharmacy cost for patients undergoing esophagectomy. J Thorac Dis. 2016. 8(7): 1653–60.

14.

Zhou D, Liu QX, Deng XF, et al. Anastomotic reinforcement with omentoplasty reduces anastomotic leakage for minimally invasive esophagectomy with cervical anastomosis. Cancer Manag Res. 2018. 10: 257–263.

15.

Zheng QF, Wang JJ, Ying MG, Liu SY. Omentoplasty in preventing anastomotic leakage of oesophagogastrostomy following radical oesophagectomy with three-field lymphadenectomy. Eur J Cardiothorac Surg. 2013. 43(2): 274–8.

16.

Bhat MA, Dar MA, Lone GN, Dar AM. Use of pedicled omentum in esophagogastric anastomosis for prevention of anastomotic leak. Ann Thorac Surg. 2006. 82(5): 1857–62.

17.

Dai JG, Zhang ZY, Min JX, Huang XB, Wang JS. Wrapping of the omental pedicle flap around esophagogastric anastomosis after esophagectomy for esophageal cancer. Surgery. 2011. 149(3): 404–10.

18.

Thakur B, Zhang CS, Tan ZB. Omentoplasty versus no omentoplasty for esophagogastrostomy after surgery for cancer of cardia and esophagus. Indian J Cancer. 2004. 41(4): 167–9.

19.

Zhang QX, Magovern CJ, Mack CA, Budenbender KT, Ko W, Rosengart TK. Vascular endothelial growth factor is the major angiogenic factor in omentum: mechanism of the omentum-mediated angiogenesis. J Surg Res. 1997. 67(2): 147–54.

20.

Adams W, Ctercteko G, Bilous M. Effect of an omental wrap on the healing and vascularity of compromised intestinal anastomoses. Dis Colon Rectum. 1992. 35(8): 731–8.

21.

Jurkiewicz MJ, Arnold PG. The omentum: an account of its use in the reconstruction of the chest wall. Ann Surg. 1977. 185(5): 548–54.

22.

Chen L, Liu F, Wang K, Zou W. Omentoplasty in the prevention of anastomotic leakage after oesophagectomy: a meta-analysis. Eur J Surg Oncol. 2014. 40(12): 1635–40.

23.

Horstmann O, Verreet PR, Becker H, Ohmann C, Roher HD. Transhiatal oesophagectomy compared with transthoracic resection and systematic lymphadenectomy for the treatment of oesophageal cancer. Eur J Surg. 1995. 161(8): 557–67.

24.

Boshier PR, Anderson O, Hanna GB. Transthoracic versus transhiatal esophagectomy for the treatment of esophagogastric cancer: a meta-analysis. Ann Surg. 2011. 254(6): 894–906.

25.

Wiggins T, Markar SR, Arya S, Hanna GB. Anastomotic reinforcement with omentoplasty following gastrointestinal anastomosis: A systematic review and meta-analysis. Surg Oncol. 2015. 24(3): 181–6.

26.

Zhang Z, Xu X, Ni H. Small studies may overestimate the effect sizes in critical care meta-analyses: a meta-epidemiological study. Crit Care. 2013. 17(1): R2.

27.

Nuesch E, Trelle S, Reichenbach S, et al. Small study effects in meta-analyses of osteoarthritis trials: meta-epidemiological study. BMJ. 2010. 341: c3515.
Additional information
Publisher's Note
Springer Nature remains neutral with regard to jurisdictional claims in published maps and institutional affiliations.
Electronic Supplementary Material
About this article
Cite this article
Tuo, G., Jin, G., Pang, Y. et al. Omentoplasty Decreases Leak Rate After Esophagectomy: a Meta-analysis. J Gastrointest Surg 24, 1237–1243 (2020). https://doi.org/10.1007/s11605-019-04284-z
Received:

Accepted:

Published:

Issue Date:
Keywords
Omentoplasty

Esophagectomy

Anastomotic leakage

Meta-analysis