Abstract
Purpose
We assessed the association of tumor size with patient survival following diagnosis of solitary hepatocellular carcinoma without vascular invasion.
Methods
The overall population comprised 638 patients who initially underwent hepatic resection with curative intent for a solitary hepatocellular carcinoma without macroscopic vascular invasion (487 had no microscopic vascular invasion). We set 5 cm as the tumor cutoff size for a solitary tumor based on the Milan criteria, and we used a multivariate Cox proportional hazards model and propensity score matching to evaluate the impact of tumor size on survival.
Results
Tumor size was significantly associated with a proportional increase in cancer-specific survival in the overall population (P = 0.001) and the subgroup with no microscopic vascular invasion (P = 0.029); however, multivariate analysis revealed no significant risk associated with recurrence-free survival (P = 0.055 and 0.59, respectively). After propensity score matching, the cancer-specific survival of patients with tumors > 5 cm was significantly worse than for those with tumors ≤ 5 cm in the overall population (P = 0.0077); the corresponding 2-year cumulative recurrence rates were 45.8% and 23.5%, respectively (P = 0.0027). Finally, the proportions of extrahepatic to total recurrences were 8% for those with tumors ≤ 5 cm and 29.1% for those with tumors > 5 cm in the unmatched overall population (P < 0.001).
Conclusion
Tumor size was associated with recurrence within 2 years of surgery and with poor cancer-specific survival in patients with solitary hepatocellular carcinoma, even in the absence of microscopic vascular invasion.
This is a preview of subscription content, log in to check access.
Access options
Buy single article
Instant access to the full article PDF.
US$ 39.95
Price includes VAT for USA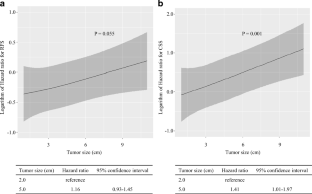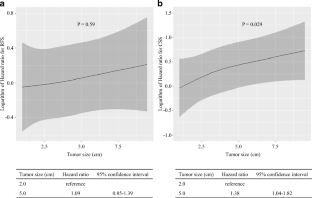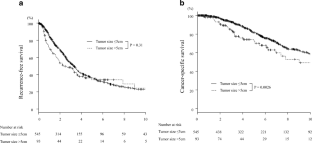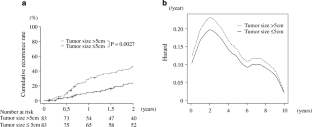 References
1.

Kokudo T, Hasegawa K, Matsuyama Y, Takayama T, Izumi N, Kadoya M, Kudo M, Ku Y, Sakamoto M, Nakashima O, Kaneko S, Kokudo N. Survival benefit of liver resection for hepatocellular carcinoma associated with portal vein invasion. J Hepatol 2016;65(5): 938–943.

2.

Ishizawa T, Hasegawa K, Aoki T, Takahashi M, Inoue Y, Sano K, Imamura H, Sugawara Y, Kokudo N, Makuuchi M. Neither multiple tumors nor portal hypertension are surgical contraindications for hepatocellular carcinoma. Gastroenterology 2008;134(7): 1908–1916.

3.

Tung-Ping Poon R, Fan ST, Wong J. Risk factors, prevention, and management of postoperative recurrence after resection of hepatocellular carcinoma. Ann Surg 2000;232(1): 10–24.

4.

Vauthey JN, Lauwers GY, Esnaola NF, Do KA, Belghiti J, Mirza N, Curley SA, Ellis LM, Regimbeau JM, Rashid A, Cleary KR, Nagorney DM. Simplified staging for hepatocellular carcinoma. J Clin Oncol 2002;20: 1527–1536.

5.

Lim C, Mise Y, Sakamoto Y, Yamamoto S, Shindoh J, Ishizawa T, Aoki T, Hasegawa K Sugawara Y, Makuuchi M, Kokudo N. Above 5 cm, size does not matter anymore in patients with hepatocellular carcinoma. World J Surg 2014;38(11): 2910–2918.

6.

Tsai TJ, Chau GY, Lui WY, Tsay SH, King KL, Loong CC, Hsia CY, Wu CW. Clinical significance of microscopic tumor venous invasion in patients with resectable hepatocellular carcinoma. Surgery 2000;127(6): 603–608.

7.

Chun YS, Pawlik TM, Vauthey JN. 8th Edition of the AJCC Cancer Staging Manual: Pancreas and Hepatobiliary Cancers. Ann Surg Oncol 2018;25(4): 845–847.

8.

Shindoh J, Andreou A, Aloia TA, Zimmitti G, Lauwers GY, Laurent A, Nagorney DM, Belghiti J, Cherqui D, Poon RT, Kokudo N, Vauthey JN. Microvascular invasion does not predict long-term survival in hepatocellular carcinoma up to 2 cm: reappraisal of the staging system for solitary tumors. Ann Surg Oncol 2013;20(4): 1223–1229.

9.

Marrero JA, Kulik LM, Sirlin CB, Zhu AX, Finn RS, Abecassis MM, Roberts LR, Hemibach JK. Diagnosis, Staging, and Management of Hepatocellular Carcinoma: 2018 Practice Guidance by the American Association for the Study of Liver Diseases. Hepatology 2018;68(2): 723–750.

10.

Mazzaferro V, Regalia E, Doci R, Andreola S, Pulvirenti A, Bozzetti F, Montalto F, Ammatuna M, Morabito A, Gennari L. Liver transplantation for the treatment of small hepatocellular carcinomas in patients with cirrhosis. N Engl J Med 1996;334(11): 693–699.

11.

Huang WJ, Jeng YM, Lai HS, Sheu FY, Lai PL, Yuan RH. Tumor size is a major determinant of prognosis of resected stage I hepatocellular carcinoma. Langenbecks Arch Surg 2015;400(6): 725–734.

12.

Hwang S, Lee YJ, Kim KH, Ahn CS, Moon DB, Ha TY, Song GW, Jung DH, Lee SG. The Impact of Tumor Size on Long-Term Survival Outcomes After Resection of Solitary Hepatocellular Carcinoma: Single-Institution Experience with 2558 Patients. J Gastrointest Surg 2015;19(7): 1281–1290.

13.

Kluger MD, Salceda JA, Laurent A, Tayar C, Duvoux C, Decaens T, Luciani A, Van Nhieu JT, Azoulay D, Cherqui D. Liver resection for hepatocellular carcinoma in 313 Western patients: tumor biology and underlying liver rather than tumor size drive prognosis. J Hepatol 2015;62(5): 1131–1140.

14.

Utsunomiya T, Shimada M, Kudo M, Ichida T, Matsui O, Izumi N, Matsuyama Y, Sakamoto M, Nakashima O, Ku Y, Takayama T, Kokudo N; Liver Cancer Study Group of Japan. A comparison of the surgical outcomes among patients with HBV-positive, HCV-positive, and non-B non-C hepatocellular carcinoma: a nationwide study of 11,950 patients. Ann Surg 2015;261(3): 513–520.

15.

Kudo M, Kitano M, Sakurai T, Nishida N. General Rules for the Clinical and Pathological Study of Primary Liver Cancer, Nationwide Follow-Up Survey and Clinical Practice Guidelines: The Outstanding Achievements of the Liver Cancer Study Group of Japan. Dig Dis 2015;33(6): 765–770.

16.

Desmet VJ, Gerber M, Hoofnagle JH, Manns M, Scheuer PJ. Classification of chronic hepatitis: diagnosis, grading and staging. Hepatology 1994;19(6): 1513–1520.

17.

Knodell RG, Ishak KG, Black WC, Chen TS, Craig R, Kaplowitz N, Kiernan TW, Wollman J. Formulation and application of a numerical scoring system for assessing histological activity in asymptomatic chronic active hepatitis. Hepatology 1981;1(5): 431–435.

18.

Strasberg SM, Phillips C. Use and dissemination of the brisbane 2000 nomenclature of liver anatomy and resections. Ann Surg 2013;257(3): 377–382.

19.

Leyrat C, Caille A, Donner A, Giraudeau B. Propensity score methods for estimating relative risks in cluster randomized trials with low-incidence binary outcomes and selection bias. Stat Med 2014;33(20): 3556–3575.

20.

Portolani N, Coniglio A, Ghidoni S, Giovanelli M, Benetti A, Tiberio GA, Giulini SM. Early and late recurrence after liver resection for hepatocellular carcinoma: prognostic and therapeutic implications. Ann Surg 2006;243(2): 229–235.

21.

Di Sandro S, Sposito C, Lauterio A, Najjar M, Droz Dit Busset M, Buscemi V, Flores Reyes M, De Carlis R, Mazzaferro V, De Carlis L. Proposal of Prognostic Survival Models before and after Liver Resection for Hepatocellular Carcinoma in Potentially Transplantable Patients. J Am Coll Surg 2018;226:1147–1159.

22.

Thng Y, Tan JK, Shridhar IG, Chang SK, Madhavan K, Kow AW. Outcomes of resection of giant hepatocellular carcinoma in a tertiary institution: does size matter? HPB (Oxford) 2015;17(11): 988–993.

23.

Zhang H, Yuan SX, Dai SY, Zhang JM, Huang X, Lu CD, Lu JH, Wu FQ, Lau WY, Wu MC, Yang T, Shen F. Tumor size does not independently affect long-term survival after curative resection of solitary hepatocellular carcinoma without macroscopic vascular invasion. World J Surg 2014;38(4): 947–957.

24.

Ueno M, Uchiyama K, Ozawa S, Hayami S, Shigekawa Y, Tani M, Yamaue H. Adjuvant chemolipiodolization reduces early recurrence derived from intrahepatic metastasis of hepatocellular carcinoma after hepatectomy. Ann Surg Oncol 2011;18(13): 3624–3631.

25.

Sasaki K, Shindoh J, Margonis GA, Nishioka Y, Andreatos N, Sekine A, Hashimoto M, Pawlik TM. Effect of Background Liver Cirrhosis on Outcomes of Hepatectomy for Hepatocellular Carcinoma. JAMA Surg 2017;152(3): e165059.

26.

Taketomi A, Toshima T, Kitagawa D, Motomura T, Takeishi K, Mano Y, Kayashima H, Sugimachi K, Aishima S, Yamashita Y, Ikegami T, Gion T, Uchiyama H, Soejima Y, Madeda T, Shirabe K, Maehara Y. Predictors of extrahepatic recurrence after curative hepatectomy for hepatocellular carcinoma. Ann Surg Oncol 2010;17(10): 2740–2746.

27.

Takeishi K, Maeda T, Tsujita E, Yamashita Y, Harada N, Itoh S, Harimoto N, Ikegami T, Yoshizumi T, Shirabe K, Maehara Y. Predictors of intrahepatic multiple recurrences after curative hepatectomy for hepatocellular carcinoma. Anticancer Res 2012;35(5): 3061–3066.
Funding
This work was supported by the Health, Labour and Welfare Policy Research Grants from the Ministry of Health, Labour, and Welfare of Japan (Policy Research for Hepatitis Measures [H30-Kansei-Shitei-003]).
Ethics declarations
The study was conducted in accordance with the guidelines of our institutional ethics committee and the Declaration of Helsinki.
Conflict of Interest
The authors declare that they have no conflict of interest.
Additional information
Publisher's Note
Springer Nature remains neutral with regard to jurisdictional claims in published maps and institutional affiliations.
About this article
Cite this article
Shinkawa, H., Tanaka, S., Takemura, S. et al. Tumor Size Drives the Prognosis After Hepatic Resection of Solitary Hepatocellular Carcinoma Without Vascular Invasion. J Gastrointest Surg 24, 1040–1048 (2020). https://doi.org/10.1007/s11605-019-04273-2
Received:

Accepted:

Published:

Issue Date:
Keywords
Hepatocellular carcinoma

Tumor size

Extrahepatic recurrence

Prognosis