Abstract
Introduction
To investigate the potential prognostic value of image analysis of pelvic bone metastasis in newly diagnosed prostate cancer patients.
Methods
Data from 69 patients with both bone scintigraphy and pelvic CT images were selected for this analysis. Open source software (3D Slicer version 4.8.1.) was used for image analysis. Metastatic pelvic bone lesions were manually contoured, and radiomic features were extracted. As risk factors for overall survival (OS) and cause-specific survival (CSS), 105 radiomic features and clinical risk factors including age, initial prostate-specific antigen, Gleason score, TNM stage, lactate dehydrogenase (LDH), hemoglobin (Hb), alkaline phosphatase, extent of disease, visceral metastases, and radiotherapy were assessed by uni- and multivariate analyses.
Results
Median follow-up was 41 months (range 0–157 months). Five-year overall survival and cause-specific survival rate were 37.9% and 43.5%, respectively. After multivariate analysis, LDH, Hb, and "maximum 2D diameter" defined as maximum tumor size in the axial plane were detected as risk factors for OS. Gleason sum, LDH, and maximum 2D diameter were detected as risk factors for CSS.
Conclusion
Maximum 2D diameter was detected as a significant prognostic factor for metastatic prostate cancer patients.
This is a preview of subscription content, log in to check access.
Access options
Buy single article
Instant access to the full article PDF.
US$ 39.95
Price includes VAT for USA
Subscribe to journal
Immediate online access to all issues from 2019. Subscription will auto renew annually.
US$ 99
This is the net price. Taxes to be calculated in checkout.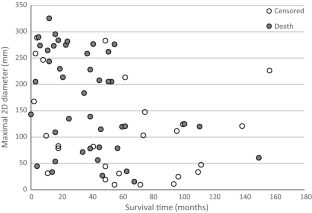 Availability of data and materials
The datasets generated and/or analyzed during the current study are not publicly available.
Abbreviations
OS:

Overall survival

CSS:

Cause-specific survival

LDH:

Lactate dehydrogenase

Hb:

Hemoglobin

EOD:

Extent of disease

ALP:

Alkaline phosphatase
References
1.

Pound CR, Partin AW, Eisenberger MA, Chan DW, Pearson JD, Walsh PC. Natural history of progression after PSA elevation following radical prostatectomy. JAMA. 1999;281(17):1591–7.

2.

Parker CC, James ND, Brawley CD, et al. Radiotherapy to the primary tumour for newly diagnosed, metastatic prostate cancer (STAMPEDE): a randomised controlled phase 3 trial. Lancet. 2018;392:2353–66.

3.

Sweeney CJ, Chen YH, Carducci M, et al. Chemohormonal therapy in metastatic hormone-sensitive prostate cancer. N Engl J Med. 2015;373(8):737–46.

4.

Gandaglia G, Karakiewicz PI, Briganti A, et al. Impact of the site of metastases on survival in patients with metastatic prostate cancer. Eur Urol. 2015;68(2):325–34.

5.

Koizumi M, Motegi K, Koyama M, Terauchi T, Yuasa T, Yonese J. Diagnostic performance of a computer-assisted diagnosis system for bone scintigraphy of newly developed skeletal metastasis in prostate cancer patients: search for low-sensitivity subgroups. Ann Nucl Med. 2017;31(7):521–8.

6.

Soloway MS, Hardeman SW, Hickey D, et al. Stratification of patients with metastatic prostate cancer based on extent of disease on initial bone scan. Cancer. 1988;61(1):195–202.

7.

Batson OV. The function of the vertebral veins and their role in the spread of metastases. Ann Surg. 1940;112(1):138–49.

8.

Hess KR, Varadhachary GR, Taylor SH, et al. Metastatic patterns in adenocarcinoma. Cancer. 2006;106(7):1624–33.
Ethics declarations
Conflict of interest
The authors declare that they have no conflict of interest.
Ethics approval and consent to participate
This study was approved by the institutional review board of Kitasato University School of Medicine (B17-245). No consent was required as this study used anonymized registry data.
Consent for publication
Not applicable.
Additional information
Publisher's Note
Springer Nature remains neutral with regard to jurisdictional claims in published maps and institutional affiliations.
About this article
Cite this article
Hayakawa, T., Tabata, K., Tsumura, H. et al. Size of pelvic bone metastasis as a significant prognostic factor for metastatic prostate cancer patients. Jpn J Radiol (2020). https://doi.org/10.1007/s11604-020-01004-5
Received:

Accepted:

Published:
Keywords
Prostate cancer

Radiomics

Bone metastasis

Computed tomography

Pelvis