Abstract
Objectives
To correlate contrast-enhanced ultrasound (CEUS) features with pathological prognostic factors of breast invasive ductal carcinomas (IDCs).
Methods
169 patients who were admitted to our hospital with confirmed IDCs diagnosed between August 2017 and June 2019 were selected. CEUS indicators included the time of contrast agent entered the lesion, the degree of enhancement, the boundary of the lesion, whether there was perfusion defect and nourishing blood vessels, and etc. These parameters correlated with traditional prognostic factors (tumour size, histological grade, axillary lymph node status) and immunohistochemical biomarkers (ER, PR, c-erbB-2, Ki-67, and TOPO-II).
Results
Perfusion defects after enhancement were predictive factors of PR negative expression (r = − 0.318, OR = 0.239) and TOPO-II overexpression (r = 0.284, OR = 3.577). Centripetal enhancement was negatively correlated with ER expression (r = − 0.350, OR = 0.246). The lesions with a larger range after enhancement than the conventional ultrasound had a higher histological grade (r = 0.215). Perfusion defects were positively correlated with lymph node metastasis (r = 0.221) and negatively correlated with the expression of ER and PR (r = − 0.342, r = − 0.318).
Conclusions
Contrast-enhanced ultrasound features of IDCs have a certain correlation with pathological prognostic factors, which is conducive in assessing the prognosis of these patients.
This is a preview of subscription content, log in to check access.
Access options
Buy single article
Instant access to the full article PDF.
US$ 39.95
Price includes VAT for USA
Subscribe to journal
Immediate online access to all issues from 2019. Subscription will auto renew annually.
US$ 99
This is the net price. Taxes to be calculated in checkout.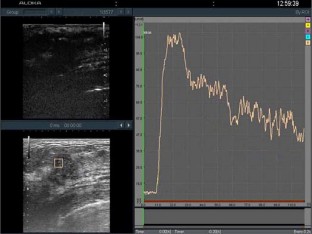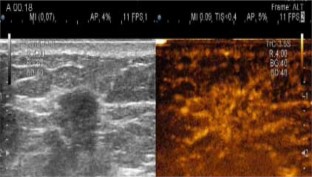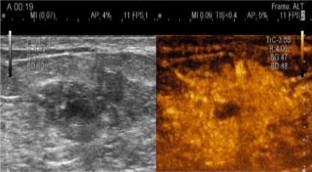 References
1.

Siegel RL, Miller KD, Jemal A. Cancer statistics, 2018. CA Cancer J Clin. 2018;68:7–30.

2.

Zhang YX, Wang XM, Kang S, et al. Contrast-enhanced ultrasonography in qualitative diagnosis of sentinel lymph node metastasis in breast cancer: a meta-analysis. J Cancer Res Ther. 2015;11(4):697–703.

3.

Yi M, Huo L, Koenig KB, et al. Which threshold for ER positivity? A retrospective study based on 9639 patients. Ann Oncol. 2014;25(5):1004–11.

4.

Liu S, Chia SK, Mehl E, et al. Progesterone receptor is a significant factor associated with clinical outcomes and effect of adjuvant tamoxifen therapy in breast cancer patients. Breast Cancer Res Treat. 2010;119(1):53–61.

5.

Tsai-Pflugfelder M, Liu LF, Liu AA, et al. Cloning and sequencing of cDNA encoding human DNA topoisomerase II and localization of the gene to chromosome region 17q21-22. Proc Natl Acad Sci USA. 1988;85(19):7177–81.

6.

Ji CL, Li XL, He YP, et al. Quantitative parameters of contrast-enhanced ultrasound in breast invasive ductal carcinoma: the correlation with pathological prognostic factors. Clin Hemorheol Microcirc. 2017;66(4):333–45.

7.

Ma X, Liu R, Zhu C, Zhang J, Ling W. Diagnostic value of contrast-enhanced sonography for differentiation of breast lesions: a meta-analysis. J Ultrasound Med. 2016;35(10):2095–102.

8.

Amioka A, Masumoto N, Gouda N, Kajitani K, Shigematsu H, Emi A, Kadoya T, Okada M. Ability of contrast-enhanced ultrasonography to determine clinical responses of breast cancer to neoadjuvant chemotherapy. Jpn J Clin Oncol. 2016;46(4):303–9.

9.

Zhao J, Zhang J, Zhu QL, et al. The value of contrast-enhanced ultrasound for sentinel lymph node identification and characterisation in pre-operative breast cancer patients: a prospective study. Eur Radiol. 2018;28(4):1654–61.

10.

Zhao YX, Liu S, Hu YB, et al. Diagnostic and prognostic values of contrast-enhanced ultrasound in breast cancer: a retrospective study. Onco Targets Ther. 2017;10:1123–9.

11.

Elston CW, Ellis IO. Pathological prognostic factors in breast cancer. I. The value of histological gra- de in breast cancer: experience from a large study with long-term follow-up. Histopathology. 2002;41(3A):154–61.

12.

Iwamoto T, Booser D, Valero V, et al. Estrogen receptor (ER) mRNA and ER-related gene expression in breast cancers that are 1% to 10% ER-positive by immunohistochemistry. J Clin Oncol. 2012;30(7):729–34.

13.

de Azambuja E, Cardoso F, de Castro G Jr, et al. Ki-67 as prognostic marker in early breast cancer: a meta-analysis of published studies involving 12,155 patients. Br J Cancer. 2007;96(10):1504–13.

14.

Wolff AC, Hammond ME, Schwartz JN, et al. American Society of Clinical Oncology/College of American Pathologists guideline recommendations for human epidermal growth factor receptor 2 testing in breast cancer. Arch Pathol Lab Med. 2007;131(1):18–43.

15.

Cady B, StoneSchuler JQ, Thakur R, et al. The new era in breastcancer:invasion, size, and nodal involvement dramatically decreasing as a result of mammographics Greening. Arch Surg. 1996;131(3):301–8.

16.

Wang Z, Zhou Q, Liu J, et al. Tumor size of breast invasive ductal cancer measured with contrast-enhanced ultrasound predicts regional lymph node metastasis and N stage. Int J Clin Exp Pathol. 2014;7(10):6985–91.

17.

Christgen M, Länger F, Kreipe H. Histological grading of breast cancer. Pathologe. 2016;37(4):328–36.

18.

Cunha S, Gano L, Morais GR, et al. Progesterone receptor targeting with radiolabelled steroids: an approach in predicting breast cancer response to therapy. J Steroid Biochem Mol Biol. 2013;137(223–2):41.

19.

Gown AM. Current issues in ER and HER2 testing by IHC in breast cancer. Mod Pathol. 2008;21(Suppl 2):S8–15.

20.

Polley MY, Leung SC, McShane LM, et al. An international Ki67 reproducibility study. J Natl Cancer Inst. 2013;105(24):1897–906.

21.

Mori N, Ota H, Mugikura S, et al. Luminal-type breast cancer: correlation of apparent diffusion coefficients with the Ki-67 labeling index. Radiology. 2015;274(1):66–73.

22.

Tokiniwa H, Horiguchi J, Takata D, et al. Topoisomerase II alpha expression and the Ki-67 labeling index correlate with prognostic factors in estrogen receptor-positive and human epidermal growth factor type-2-negative breast cancer. Breast Cancer. 2012;19(4):309–14.

23.

Au FW, Ghai S, Lu FI, et al. Histological grade and immunohistochemical biomarkers of breast cancer: correlation to ultrasound features. J Ultrasound Med. 2017;36(9):1883–94.

24.

Szabó BK, Saracco A, Tánczos E, et al. Correlation of contrast-enhanced ultrasound kinetics with prognostic factors in invasive breast cancer. Eur Radiol. 2013;23(12):3228–36.
Ethics declarations
Conflict of interests
The authors have no conflicts of interest with any person or organization.
Additional information
Publisher's Note
Springer Nature remains neutral with regard to jurisdictional claims in published maps and institutional affiliations.
About this article
Cite this article
Li, J., Yuan, M., Yang, L. et al. Correlation of contrast-enhanced ultrasound features with prognostic factors in invasive ductal carcinomas of the breast. Jpn J Radiol (2020). https://doi.org/10.1007/s11604-020-00994-6
Received:

Accepted:

Published:
Keywords
Contrast-enhanced ultrasound

Prognostic factors

Invasive ductal carcinoma of the breast