Abstract
The 8th edition of American Joint Committee on Cancer's (AJCC) Cancer Staging Manual was modified by incorporating depth of invasion (DOI) in the T categorization of oral cavity cancer. This is because DOI is strongly associated with cervical lymph node metastasis, which is the most important negative prognostic factor of oral cavity cancer. This major change in the AJCC Cancer Staging Manual caused re-staging of T category in several cases. Although, the DOI on MRI and CT (radiological DOI; r-DOI) strongly correlated with pathological DOI (p-DOI), it is often 2–3 mm larger than p-DOI. Due to this variance, estimation of p-DOI based on r-DOI may not be accurate. However, when a lesion is undetectable on MRI, p-DOI was often smaller than 4 mm. On the other hand, when MRI depicts lesions with styloglossus and hyoglossus muscle invasion, p-DOI was always larger than 4 mm. These correlations between MRI findings and p-DOI are important when assessing the need for elective neck dissection, as the National Comprehensive Cancer Network (NCCN) recommends elective neck dissection in cases with DOI greater than 4 mm.
Access options
Buy single article
Instant access to the full article PDF.
US$ 39.95
Tax calculation will be finalised during checkout.
Subscribe to journal
Immediate online access to all issues from 2019. Subscription will auto renew annually.
US$ 79
Tax calculation will be finalised during checkout.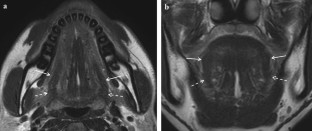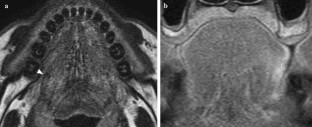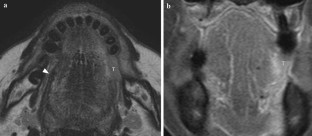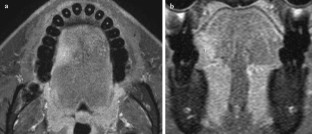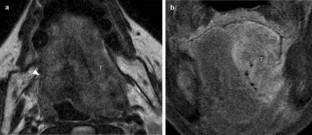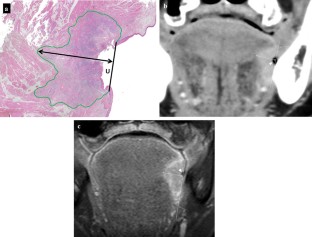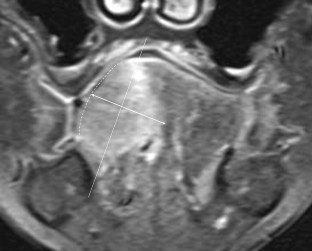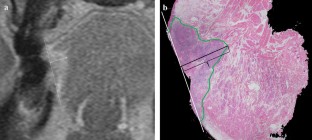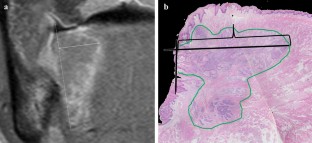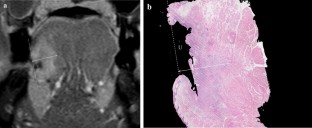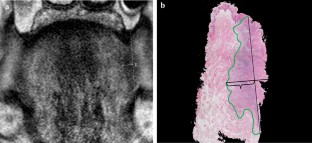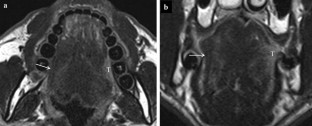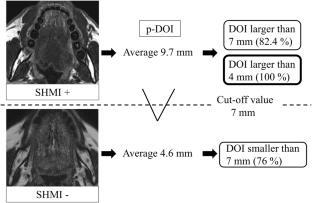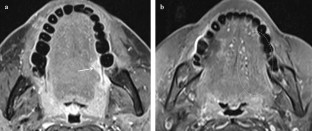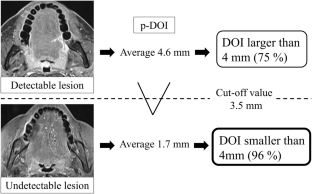 References
1.

Cancer Research UK, https://www.cancerresearchuk.org/health-professional/cancer-statistics/statistics-by-cancer-type/head-and-neck-cancers/incidence#heading-Four, (Accessed 3 2019)

2.

Iwai H, Kyomoto R, Ha-Kawa SK, Lee S, Yamashita T. Magnetic resonance determination of tumor thickness as predictive factor of cervical metastasis in oral tongue carcinoma. Laryngoscope. 2002;112:457–61.

3.

Layland MK, Sessions DG, Lenox J. The influence of lymph node metastasis in the treatment of squamous cell carcinoma of the oral cavity, oropharynx, larynx, and hypopharynx: No versus N+. Laryngoscope. 2005;115:629–39.

4.

Snow GB, Annyas AA, van Slooten EA, Bartelink H, Hart AA. Prognostic factors of neck node metastasis. Clinical Otolaryngol Allied Sci. 1982;7:185–92.

5.

Grandi C, Alloisio M, Moglia D, Podrecca S, Sala L, Salvatori P, et al. Prognostic significance of lymphatic spread in head and neck carcinoma: therapeutic implications. Head Neck Surg. 1985;8:67–73.

6.

Fukano H, Matsuura H, Hasegawa Y, Nakamura S. Depth of invasion as a predictive factor for cervical lymph node metastasis in tongue carcinoma. Head Neck. 1997;19:205–10.

7.

Pentenero M, Gandolfo S, Carrozzo M. Importance of tumor thickness and depth of invasion in nodal involvement and prognosis of oral squamous cell carcinoma: a review of the literature. Head Neck. 2005;27:1080–91.

8.

Yuen AP, Lam KY, Wei WI, Lam KY, Ho CM, Chow TL, et al. A comparison of the prognostic significance of tumor diameter, length, width, thickness, area, volume, and clinicopathological features of oral tongue carcinoma. Am J Surg. 2000;180:139–43.

9.

D'Cruz AK, Vaish R, Kapre N, Dandekar M, Gupta S, Hawaldar R, et al. Elective versus therapeutic neck dissection in node-negative oral cancer. N Engl J Med. 2015;373:521–9.

10.

Ridge JA, Lydiatta WM, Patel SG, Glastonbury CM, Brandwein-Gensler M, Ghossein RA, et al. Lip and oral cavity. In: Amin MB, Edge S, Greene F, Byrd DR, Brookland RK, Washington MK, et al., editors. AJCC cancer staging manual. 8th ed. New York: Springer; 2017. p. 79–94.

11.

NCCN Clinical Practice Guidelines in Oncology Head and Neck Cancers v.3. 2019, https://www.nccn.org/professionals/physician_gls/pdf/head-and-neck.pdf (Accessed 11 Feb 2020)

12.

Lip and Oral Cavity. In: Edge SB, Byrd DR, Compton CC, Fritz AG, Greene FL, Trotti A, editors. AJCC cancer staging manual. 7th ed. New York: Springer; 2010. p. 29–94.

13.

Patel RS, Clark JR, Dirven R, Wyten R, Gao K, O'Brien CJ. Prognostic factors in the surgical treatment of patients with oral carcinoma. ANZ J Surg. 2009;79:19–22.

14.

Huang SH, Hwang D, Lockwood G, Goldstein DP, O'Sullivan B. Predictive value of tumor thickness for cervical lymph-node involvement in squamous cell carcinoma of the oral cavity: a meta-analysis of reported studies. Cancer. 2009;115:1489–97.

15.

Ganly I, Goldstein D, Carlson DL, Patel SG, O'Sullivan B, Lee N, et al. Long-term regional control and survival in patients with "low-risk," early stage oral tongue cancer managed by partial glossectomy and neck dissection without postoperative radiation: the importance of tumor thickness. Cancer. 2013;119:1168–76.

16.

Tan WJ, Chia CS, Tan HK, Soo KC, Iyer NG. Prognostic significance of invasion depth in oral tongue squamous cell carcinoma. ORL J Otorhinolaryngol Relat Spec. 2012;74:264–70.

17.

General rules for clinical and pathological studies on oral cancer, 2nd ed. Japanease Society of Oral Oncology, Tokyo: Kanehara-shuppan; 2019, pp. 114–7. [in Japanese].

18.

Murakami R, Shiraishi S, Yoshida R, Sakata J, Yamana K, Hirosue A, et al. Reliability of MRI-derived depth of invasion of oral tongue cancer. Acad Radiol. 2018;26:180–6.

19.

Mao MH, Wang S, Feng ZE, Li JZ, Li H, Qin LZ, et al. Accuracy of magnetic resonance imaging in evaluating the depth of invasion of tongue cancer. A prospective cohort study. Oral Oncol. 2019;91:79–84.

20.

Baba A, Okuyama Y, Yamauchi H, Ikeda K, Ogino N, Kozakai A, et al. Magnetic resonance imaging findings of styloglossus and hyoglossus muscle invasion; relationship to depth of invasion and clinical significance as a predictor of advisability of elective neck dissection in node negative oral tongue cancer. Eur J Radiol. 2019;118:19–24.

21.

Baba A, Okuyama Y, Ikeda K, Kozakai A, Suzuki T, Saito H, et al. Undetectability of oral tongue cancer on magnetic resonance imaging; clinical significance as a predictor to avoid unnecessary elective neck dissection in node negative patients. Dentomaxillofac Radiol. 2019;48:20180272.

22.

Baba A, Ojiri H, Ogane S, Hashimoto K, Inoue T, Takagiwa M, et al. Usefulness of contrast-enhanced CT in the evaluation of depth of invasion in oral tongue squamous cell carcinoma: comparison with MRI. Oral Radiol. 2020. https://doi.org/10.1007/s11282-020-00429-y[published online ahead of print, 2020 Feb 21].

23.

Tetsumura A, Yoshino N, Amagasa T, Nagumo K, Okada N, Sasaki T. High-resolution magnetic resonance imaging of squamous cell carcinoma of the tongue: an in vitro study. Dentomaxillofac Radiol. 2001;30:14–211.

24.

Lam P, Au-Yeung KM, Cheng PW, Wei WI, Yuen AP, Trendell-Smith N, et al. Correlating MRI and histologic tumor thickness in the assessment of oral tongue cancer. AJR Am J Roentgenol. 2004;182:803–8.

25.

Preda L, Chiesa F, Calabrese L, Latronico A, Bruschini R, Leon ME, et al. Relationship between histologic thickness of tongue carcinoma and thickness estimated from preoperative MRI. Eur Radiol. 2006;16:2242–8.

26.

Alsaffar HA, Goldstein DP, King EV, de Almeida JR, Brown DH, Gilbert RW, et al. Correlation between clinical and MRI assessment of depth of invasion in oral tongue squamous cell carcinoma. J Otolaryngol Head Neck Surg. 2016;45:61.

27.

Madana J, Laliberté F, Morand GB, Yolmo D, Black MJ, Mlynarek AM, et al. Computerized tomography-based tumor-thickness measurement is useful to predict postoperative pathological tumor thickness in oral tongue squamous cell carcinoma. J Otolaryngol Head Neck Surg. 2016;44:49.

28.

Johnson RE, Sigman JD, Funk GF, Robinson RA, Hoffman HT. Quantification of surgical margin shrinkage in the oral cavity. Head Neck. 1997;19:281–6.
Acknowledgements
This article was presented in part at the 104th annual meeting of the Radiological Society of North America (RSNA) in Chicago, 2018. It received a Cum Laude for educational exhibit.
Funding
This research received no specific grant from any funding agency in the public, commercial, or not-for-profit sectors.
Ethics declarations
Conflict of interest
All authors declare that they have no conflict of interest.
Human rights statement
All procedures followed were in accordance with the ethical standards of the responsible committee on human experimentation (institutional and national) and with the Helsinki Declaration of 1975, as revised in 2008.
Additional information
Publisher's Note
Springer Nature remains neutral with regard to jurisdictional claims in published maps and institutional affiliations.
About this article
Cite this article
Baba, A., Hashimoto, K., Kayama, R. et al. Radiological approach for the newly incorporated T staging factor, depth of invasion (DOI), of the oral tongue cancer in the 8th edition of American Joint Committee on Cancer (AJCC) staging manual: assessment of the necessity for elective neck dissection. Jpn J Radiol 38, 821–832 (2020). https://doi.org/10.1007/s11604-020-00982-w
Received:

Accepted:

Published:

Issue Date:
Keywords
CT

MRI

Depth of invasion

Head and neck

Oral tongue cancer