Abstract
Three-dimensional (3D) porous nanomaterials are promising candidate for supercapacitor electrodes owing to their rich specific surface area and rapid electron transport rates. Herein, we report a simple mixed solvent-thermal process and one-step carbonization for the controllable synthesis of 3D hierarchically porous nanomaterials with a diverse porous microstructure consisting of nickel cobaltate, graphene, and polyurethane foam (PGNC). Significantly, PGNC exhibits a sea urchin 3D porous structure, which originates from the synergetic effect of hierarchical, interconnected pore structure with a distinctive unit structure composed of polyols and isocyanates, abundant amount of doped N atoms and surface opened channels with proper degree of graphitization, displays extraordinary electrochemical performances such as an ultrahigh reversible specific capacity of ca.1900 F·g−1 at a current density of 1.0 A·g−1 and excellent cycling stability (ca. 83% capacitance retention after 5000 charge/discharge cycles). Moreover, an asymmetric supercapacitor based on PGNC as positive electrode and the mixture of activated carbon with graphite as negative electrode manifested a high energy density of ca.52 Wh·kg−1 at a power density of 375 W·kg−1 in 6 M KOH aqueous electrolyte. Even at a higher power density of 3750 W·kg−1, the energy density can still reach 26 Wh·kg−1.
This is a preview of subscription content, log in to check access.
Access options
Buy single article
Instant access to the full article PDF.
US$ 39.95
Price includes VAT for USA
Subscribe to journal
Immediate online access to all issues from 2019. Subscription will auto renew annually.
US$ 99
This is the net price. Taxes to be calculated in checkout.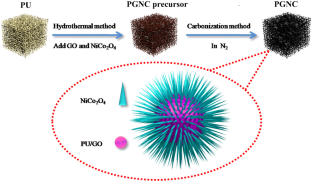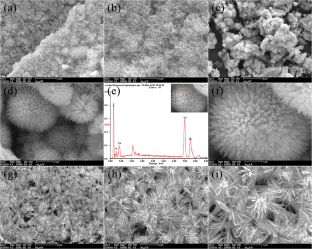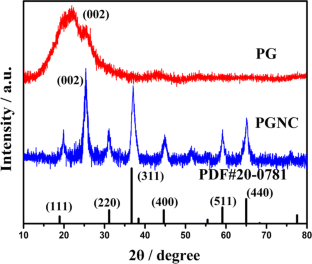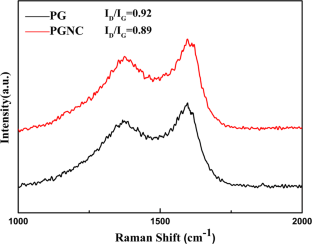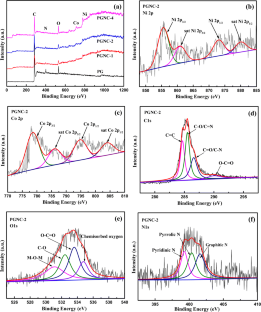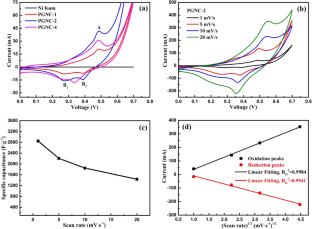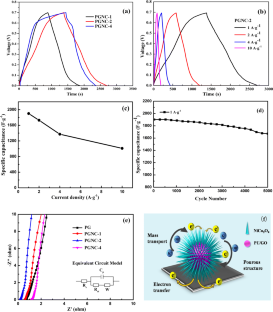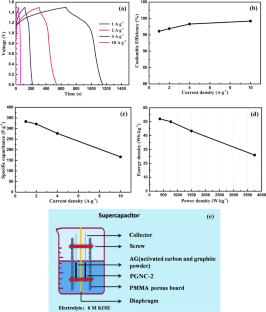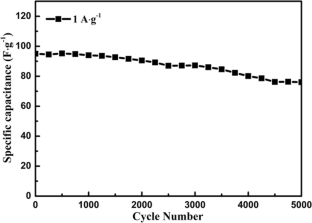 Funding
This research was funded by the National Key Research and Development Program of China (grant numbers 2017YFD0500706 and 2017YFD0500603), the National Natural Science Foundation of China (grant numbers 31570929 and 31771000), the Natural Science Foundation of Heilongjiang Province (grant number C2017058), the Innovation Foundation of Harbin (grant number 2017RAXXJ001), the Key Scientific Technological Planning Project of Harbin (grant number 2016AB3BN036), and Heilongjiang University Students Innovation and Entrepreneurship Training Program (grant number 201910212031 and 201910212179).
Ethics declarations
Conflict of interest
The authors declare that they have no conflict of interest.
Additional information
Publisher's note
Springer Nature remains neutral with regard to jurisdictional claims in published maps and institutional affiliations.
Electronic supplementary material
About this article
Cite this article
Meng, Q., Zhang, J., Wang, W. et al. A waste utilization strategy for preparing high-performance supercapacitor electrodes with sea urchin-like structure. Ionics 26, 3565–3577 (2020). https://doi.org/10.1007/s11581-020-03456-1
Received:

Revised:

Accepted:

Published:

Issue Date:
Keywords
3D porous structure

Polyurethane foam

Mixed solvent-thermal process

Supercapacitor

Nickel cobaltate doped