Development of electrospun PAN/CoS nanocomposite membrane electrolyte for high-performance DSSC
Abstract
In the present work, we prepared electrospun polyacrylonitrile (PAN)/ cobalt sulfide (CoS) nanocomposite membranes by encapsulating different weight percentage (1, 2, and 3 wt%) of CoS nanoparticles in PAN nanofibers for dye-sensitized solar cells (DSSCs). The electrospun PAN/CoS nanocomposite membranes (esCPMs) were activated by immersing in an ionic liquid electrolyte containing 0.5 M LiI, 0.05 M I2, 0.5 M 4-tert butylpyridine and 0.5 M 1-butyl-3-methylimidazolium iodide in acetonitrile to obtain their corresponding nanocomposite membrane electrolytes (esCPMEs). The influences of CoS content on the physical and electrochemical properties of esPM were investigated. The addition of CoS nanoparticles reduced the degree of partial crystallinity of esPM to an amorphous state. An electrochemical impedance and Tafel polarization measurements revealed that the esCPME has high electrocatalytic activity with enhanced ionic conductivity. The 2 wt% CoS encapsulated esCPME ensured the effective charge transfer at the electrode/electrolyte interface with the lower electron recombination rate in DSSC, which ultimately increased the photoconversion efficiency (7.41%) at an incident light intensity of 100 mW cm−2.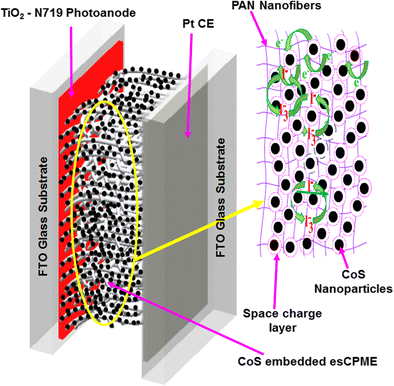 Keywords
Electrospinning 
Polyacrylonitrile 
Cobalt sulfide 
Polymer membrane electrolyte 
Photovoltaic performance 
Notes
Acknowledgements
Mr. MV is grateful to the Department of Science and Technology (DST), New Delhi for providing Fellowship under DST-Inspire Award (IF160290).
Funding
The authors gratefully acknowledge the Council of Scientific and Industrial Research (CSIR), New Delhi for their financial support (Ref. No. 01/2810/14/EMR-II, dt. 24/11/2014).
Copyright information
© Springer-Verlag GmbH Germany, part of Springer Nature 2018