Hybrid MnO2/CNT nanocomposite sheet with enhanced electrochemical performance via surfactant-free wet chemical route
Abstract
In this work, manganese dioxide (MnO
2
) were grown onto the surface of multi-walled carbon nanotubes (CNT) forming nanocomposite binder-free sheet, employing wet chemical synthesis method. The structural analysis and morphology of as-synthesised MnO
2
/CNT-NS (nanocomposite sheet) was characterised using X-ray diffraction, X-ray photoelectron spectroscopy and transmission electron microscopy techniques. Moreover, the electrochemical behaviour of nanocomposite sheet was investigated and it showed high specific capacity of 910.2 F/g and high cyclic stability which was ascribed to its hybrid structure which have benefits of both the high capacity of MnO
2
and high conductivity of CNT. This nanocomposite sheet can be a promising electrode material for energy storage devices.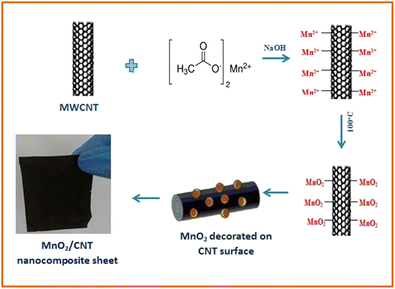 Keywords
MnO2/CNT 
Nanocomposite 
XRD 
XPS 
TEM 
Electrochemical behaviour 
Notes
Acknowledgements
This work is supported by the Department of Science and Technology (DST-SERB), India, for the financial assistance under the scheme of Early Career Research (ECR) Award Ref: ECR/2015/000143.
Copyright information
© Springer-Verlag GmbH Germany 2017