Electrochemical and microstructural investigations on an as-cast and solution-annealed Al–Mg–Sn–Ga alloy as anode material in sodium chloride solution
Abstract
In this research, the electrochemical properties of a stir cast Al-0.65Mg-0.15Sn-0.05Ga (wt.%) alloy as an anode material in 3 wt.% NaCl solution was examined by potentiodynamic polarization and electrochemical impedance spectroscopy (EIS). The corrosion behavior of the material was also evaluated using self-corrosion rate, hydrogen evolution, open circuit and closed circuit potentials, and anode efficiency measurements. In addition, the microstructure of the material was studied using scanning electron microscopy (SEM) and the intermetallic particles were analyzed by energy dispersive spectrometer (EDS). The results showed that tin inclusions were formed within the grains and along the grain boundaries and the dissolution of aluminum substrate was occurred preferentially around these particles leading to form round pits. The dissolution of alloy was accompanied by hydrogen gas evolution from cathodic tin particles. Polarization measurements showed active behavior with considerably negative corrosion potential value without any passive region. The obtained impedance results showed an increase in the impedance values due to the coverage of anode surface by reaction products during immersion. A sample of the alloy which was subjected to homogenizing annealing at 570 °C showed more active behavior by providing more negative open and closed circuit potential values and improved anode efficiencies at higher impressed currents, but evolved higher amounts of hydrogen compared to the as-cast anode.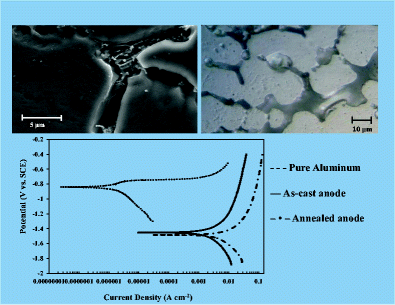 Keywords
Aluminum alloy anode 
Corrosion 
Electrochemical behavior 
Polarization 
Electrochemical impedance spectroscopy 
Heat treatment 
Notes
Compliance with ethical standards
Conflict of interest
The authors declare that they have no conflict of interest.
Copyright information
© Springer-Verlag Berlin Heidelberg 2017