Abstract
Much has been written in recent years on Muslim art practices in which there is an overt mobilizing urge to use music/art as a tool for communicating a moral-religious message, or a deliberate intention to transform individual subjects into better Muslims. But what of other forms of Muslim music-making that not only lack such a mission, but which are actually at odds with the project of art as piety mobilization or as missionary apologetics? Taking a vibrant artistic community of practice in contemporary Istanbul as its case study, this article analyzes how this practice of art relates to current debates in anthropology around Islam, piety, and music production. The paper argues that participation in this project of musical Islam fosters in practitioners an explorative way of knowing both music and Islam – a way of knowing one through the other.
This is a preview of subscription content, log in to check access.
Access options
Buy single article
Instant access to the full article PDF.
US$ 39.95
Price includes VAT for USA
Subscribe to journal
Immediate online access to all issues from 2019. Subscription will auto renew annually.
US$ 99
This is the net price. Taxes to be calculated in checkout.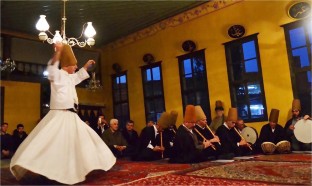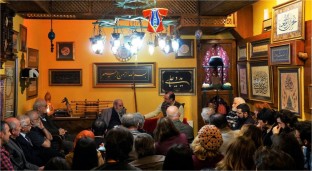 Notes
1.

I refer to him throughout this article using the honorific title Salih Hoca ('master').

2.

3.

Van Nieuwkerk expresses this concern of the piety projects with the authorization and prescription of 'correct' practice when she writes: "Pious productions … enable the realization of the virtuous self in an embodied way within the discursive field of the 'appropriate.' Pious art is thus for both producers and consumers a sensory means for ethical self-making in accordance with religious ideologies" (2011: 18).

4.

As I highlight these analytical and conceptual framings dominant in this literature, I also acknowledge the contributions of other scholars in the field where concerns about the legality of music and discourses that promote apologetics are not shared by all Muslim artists (Stokes 2013; Schaefer 2015; Shannon 2006; Gill 2018; Racy 2003). However, as Hill observes, within the anthropology of Islam, there has been a particular tendency over the last decade to focus on "discursive reasoning based on authoritative texts," when the study of Islamic practice is concerned (2016: 270). According to Hill, this analytical privileging is reinforced by the Asadian conceptualization of Islam as 'discursive tradition' that has been taken up by these studies. Asad remarks that "a practice is Islamic because it is authorized by the discursive traditions of Islam, and is so taught to Muslims whether by an alim, a khatib, a Sufi shaykh, or an untutored parent" (1986: 15). Here the emphasis is on the authorization of practice based on the authoritative texts. Like Hill, my concern here is the implications of this privileging of one particular conceptualization of Islam that shapes the debates surrounding music and Islam.

5.

For an account of professional musicians moving between sacred and secular contexts, see Shannon (2006) on Syrian music.

6.

Sohbet is a key and long-standing disciplinary practice in Islam, with a rich presence in the social worlds of Sufi orders (Silverstein 2008). It refers minimally to spiritual conversation between a mürşid and disciples. The intimate, face-to-face dialogue it fosters is conceived as conducive for the moral transformation of the disciple. Sohbet is accorded so much value in the pedagogical practices of some Sufi orders that, as one Sufi master describes it, "it is the greatest namaz, which cannot be made up later" ("kazası olmayan en büyük namaz") (Filiz 2009: 246).

7.

"The divine reality [hakikat] is utterly transcendent, yet everything that exists (kesret) is a manifestation of that reality (vahdet)", says Ibn Arabi (Lapidus 1992: 21).

8.

As Ortony remarks, "in the process of comprehending the statement I in some sense "reconstruct" the event described and I do so by bringing to bear a great deal of what I already know, not just about the language, but about the world … What I invoke is largely experiential, perceptual and cognitive, and to this extent generally similar, but probably almost never identical, to what others invoke" (1975: 47). The experience of meaning-making is largely mediated by our horizons of the past.

9.

As The Melodies of Listening to Music (1972), a book published in Pakistan for the use of qawwali performers, notes: "The metaphorical is the bridge to reality" (cited in Ernst 1999: 112). See Pinto's (2019) recent article on a Sufi brotherhood in Syria for a discussion on how metaphors and paradoxes are central to the communication and transmission of Islamic knowledge.

10.

The Qur'an of course is also full of analogies and allegories, as it says for example in the Sura An-Nur 24, in the Light verse 35: "And Allah speaks to mankind in allegories, for Allah is Knower of all things."

11.

See Gill (2018) for the generation of an alternative masculinity created by exposure to communal music-making amongst Ottoman classical musicians.

12.

There is no pressure to disguise the pleasure that music-making provides by using pious discourses, Hadis quotes or legalistic justifications.

13.

14.

Qur'anic verse (Bakara) 2:195.

15.

In making this distinction, Ahmed does not suggest that these two modes of authority that have been historically in operation in societies of Muslims – explorative authority and prescriptive authority – are exclusive. For his discussion of how a discourse may be informed by both see Ahmed (2016: 284-5).

16.

Gill's (2018) work has also plumbed aesthetic and moral questions that emerge in the sort of non-legalistic contexts that I investigate. Her practices of muhabbet, listening and music-making that her Muslim male interlocutors in Istanbul engage with also present us with a worthy model of Islamic explorative discourses and their long trajectory in Turkey.

17.
References
Ackfeldt, A. (2012). "Imma march' toward Ka'ba": Islam in Swedish hip-hop. Contemporary Islam, 6, 283–296.

Ahmed, S. (2016). What is Islam? The importance of being Islamic. Princeton, NJ: Princeton University Press.

Alagha, J. (2016). Shi'a discourses on performing arts: Maslaha and cultural politics in Lebanon. In K. van Nieuwkerk, M. Levine, & M. Stokes (Eds.), Islam and popular culture (pp. 169–186). Austin: University of Texas Press.

Alim, S. H. (2006). Re-inventing Islam with unique modern tones: Muslim hip hop artists as verbal mujahidin. Souls: A Critical Journal of Black Politics, Culture, and Society, 8, 45–58.

Asad, T. (1986). The idea of an anthropology of Islam. Occasional papers series. Washington, D.C.: Georgetown University Center for Contemporary Arab Studies.

Barendregt, B. (2012). Sonic discourses on Muslim Malay modernity: The Arqam sound. Contemporary Islam, 6, 315–340.

Bayat, A. (2005). What is post-Islamism. ISIM Review, 16, 5.

Berg, C. (2012). Tunes of religious resistance? Understanding Hamas music in a conflict context. Contemporary Islam, 6, 297–314.

Berg, C. (2014). Where heaven meets earth. Music and Islam in everyday life and encounters. In G. Marranci (Ed.), Studying Islam in practice (pp. 135–149). New York: Routledge.

Boubekeur, A. (2007). Post-Islamist culture: A new form of mobilization? History of Religions, 47, 75–95.

Bush, J. A. (2017). An offer of pleasure: Islam, poetry, and the ethics of religious difference in a Kurdish home. American Ethnologist, 44, 516–527.

Düzen, N.E. 2018. "Turkey's Nationalist Agenda for Seizing Cultural Hegemony." Jadaliyya (available on-line: http://www.jadaliyya.com/Print/37680).

Ernst, C. W. (1999). Teachings of Sufism. Boston and London: Shambhala.

Feldman, W. (1996). Music of the ottoman court: Makam, composition and the early ottoman instrumental repertoire. Berlin: Verlag für Wissenschaft und Bildung.

Filiz, L. (2009). Noktanın Sonsuzluğu (Vol. 4). Istanbul: Pan.

Fiscella, A. T. (2012). From Muslim punks to taqwacore: An incomplete history of punk Islam. Contemporary Islam, 6, 255–281.

Foucault, M. (1994). The order of things: An archaeology of the human sciences. New York: Vintage.

George, K. M. (2009). Ethics, iconoclasm, and Qur'anic art in Indonesia. Cultural Anthropology, 24, 589–621.

Gill, D. (2018). Listening, Muhabbet, and the practice of masculinity. Ethnomusicology, 62, 171–205.

Henkel, H. (2007). The location of Islam: Inhabiting Istanbul in a Muslim way. American Ethnologist, 34, 57–70.

Hill, J. (2016). "Baay is the spiritual leader of the rappers": Performing Islamic reasoning in Senegalese Sufi hip-hop. Contemporary Islam, 10, 267–287.

Hirschkind, C. (2006). The ethical soundscape: Cassette sermons and Islamic Counterpublics. New York: Columbia University Press.

Joulili, J. (2012). Halal arts, What's in a concept? Material Religion. The Journal of Objects, Art and Belief, 8, 402–403.

Kelsay, J. (2007). Arguing the just war in Islam. Cambridge: Harvard University Press.

Laan, N. ter 2016. "Islam is there to make people free": Islamist musical narratives of freedom and democracy in the Moroccan spring. In K. van Nieuwkerk, M. L. and M. Stokes (eds.), Islam and Popular Culture (81–99). Austin: University of Texas Press.

Lakoff, G., & Johnson, M. (1980). Metaphors we live by. Chicago: University of Chicago Press.

Lapidus, L. M. (1992). Sufism and ottoman Islamic society. In R. Lifchez (Ed.), The dervish lodge: Architecture, art, and Sufism in ottoman Turkey (pp. 15–32). Berkeley: University of California Press.

LeVine, M. (2008). Heavy metal Muslims: The rise of a post-Islamist public sphere. Contemporary Islam, 2, 229–249.

Lewisohn, L. (1997). The sacred music of Islam: Samā' in the Persian Sufi tradition. Ethnomusicology Forum, 6, 1–33.

Lewisohn, L. (Ed.). (2010). Hafiz and the religion of love in classical Persian poetry. London: I. B. Tauris.

Mahmood, S. (2005). Politics of piety: The Islamic revival and the feminist subject. Princeton, NJ: Princeton University Press.

Marsden, M. (2005). Living Islam. Muslim religious experience in Pakistan's North-West Frontier. Cambridge: Cambridge University Press.

Massad, J. (2005). Liberating songs: Palestine put to music. In T. Swedenburg & R. L. Stein (Eds.), Palestine, Israel, and the politics of popular culture (pp. 175–201). Durham, NC: Duke University Press.

Morris, J. W. (2008). Imagining Islam: Intellect and imagination in Islamic philosophy, poetry and painting. Religion and the Arts, 12, 294–318.

Nakissa, A. (2019). The anthropology of Islamic law: Education, ethics, and legal interpretation. Oxford: Oxford University Press.

van Nieuwkerk, K. (2011). Artistic developments in the Muslim cultural sphere: Ethics, aesthetics, and the performing arts. In K. van Nieuwkerk (Ed.), Muslim rap, halal soaps, and revolutionary theater: Artistic developments in the Muslim world (pp. 1–24). Austin: University of Texas Press.

van Nieuwkerk, K. (2012). Popularizing Islam or Islamizing popular music: New developments in Egypt's wedding scene. Contemporary Islam, 6, 235–254.

van Nieuwkerk, K. (2013). Performing piety. Austin: University of Texas Press.

van Nieuwkerk, K., Levine, M., & Stokes, M. (2016). Introduction: Islam and popular culture. In K. van Nieuwkerk, M. Levine, & M. Stokes (Eds.), Islam and popular culture (pp. 1–20). Austin: University of Texas Press.

Ortony, A. (1975). Why metaphors are necessary and not just Nice. Educational Theory, 25, 45–53.

Otterbeck, J. (2012). Wahhabi ideology of social control versus a new publicness in Saudi Arabia. Contemporary Islam, 6, 341–353.

Otterbeck, J., & Ackfeldt, A. (2012). Music and Islam. Contemporary Islam, 6, 227–233.

Pinto, P. G. (2019). Metaphors and paradoxes: Secrecy, power and subjectification in Sufi initiation in Aleppo, Syria. Contemporary Islam, 13, 67–83.

Prentice, R. (2012). "No one ever showed me nothing": Skill and self-making among Trinidadian garment workers. Anthropology & Education Quarterly, 43, 400–414.

Racy, A. J. (2003). Making music in the Arab world: The culture and artistry of Tarab. Cambridge: Cambridge University Press.

Schaefer, J. P. R. (2015). Middle eastern music and new media. In S. Altorki (Ed.), A companion to the anthropology of the Middle East. New York: Wiley-Blackwell.

Sennett, R. (2009). The craftsman. London: Penguin.

Senay, B. (2017). Textual Ecologies in Islam: Improvising the Perfect Qur'an in Calligraphy. Journal of Religious and Political Practice, 3, 46–56.

Senay, B. (2020). Musical ethics and Islam: The art of playing the ney. Urbana, IL: University of Illinois Press.

Shannahan, D. V., & Hussain, Q. (2011). Rap on 'l'Avenue'; Islam, aesthetics, authenticity and masculinities in the Tunisian rap scene. Contemporary Islam, 5, 37–58.

Shannon, J. (2006). Among the jasmine trees: Music and modernity in contemporary Syria. Middletown, CT: Wesleyan University Press.

Silverstein, B. (2008). Disciplines of presence in modern Turkey: Discourse, companionship, and the mass mediation of Islamic practice. Cultural Anthropology, 23, 118–153.

Stokes, M. (2013). New Islamist popular culture in Turkey. In K. Salhi (Ed.), Culture and identity in the Muslim world: Performance, politics and piety. Rouledge: Abingdon, Oxon.

Tekelioğlu, O. (1996). The rise of a spontaneous synthesis: The historical background of Turkish popular music. Middle Eastern Studies, 32, 194–216.

Turner, B. S. (2008). Introduction: The price of piety. Contemporary Islam, 2, 1–6.

Winegar, J. (2014). Civilizing Muslim youth: Egyptian state culture programmes and Islamic television preachers. Journal of the Royal Anthropological Institute, 20, 445–465.
Additional information
Publisher's note
Springer Nature remains neutral with regard to jurisdictional claims in published maps and institutional affiliations.
About this article
Cite this article
Senay, B. "We Aren't that type of Muslim": exploring Islam and music-making in Istanbul. Cont Islam (2020). https://doi.org/10.1007/s11562-020-00449-9
Keywords
Islam

Music

Turkey

Sufism

Metaphor

Exploration