Abstract
The interaction between rice, Oryza sativa, and rice blast fungus, Magnaporthe oryzae, is triggered by an interaction between the protein products of the host resistant gene, and the pathogen avirulence gene. This interaction follows the 'gene-for-gene' concept. The resistant gene has effectively protected rice plants from rice blast infection. However, the resistant genes usually break down several years after the release of the resistant rice varieties because the fungus has evolved to new races. The objective of this study is to investigate the nucleotide sequence variation of the AVR-Pita1 gene that influences the adaption of rice blast fungus to overcome the resistant gene, Pi-ta. Thirty rice blast fungus isolates were collected in 2005 and 2010 from infected rice plants in northern and northeastern Thailand. The nucleotide sequences of AVR-Pita1 were amplified and analyzed. Phylogenetic analysis was conducted using the MEGA 5.0 program. The results showed a high level of nucleotide sequence polymorphisms and the positive genetic selection pressure in Thai rice blast isolates. The details of sequence variation analysis were described in this article. The information from this study can be used for rice blast resistant breeding program in the future.
Access options
Buy single article
Instant access to the full article PDF.
US$ 39.95
Tax calculation will be finalised during checkout.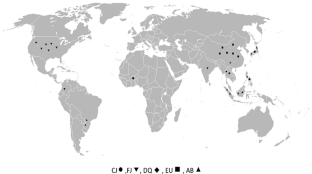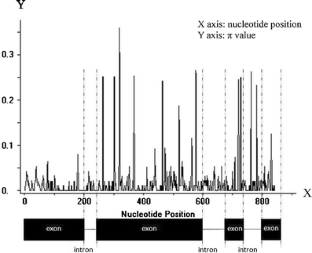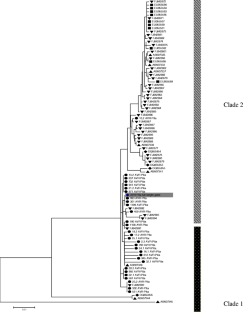 References
Ashikawa I, Hayashi N, Yamane H, Kanamori H, Wu J, Matsumoto T, Ono K, Yano M (2008) Two adjacent nucleotide-binding-site leucine-rich-repeat class genes are required to confer Pikm-specific rice blast resistance. Genetics 180:2267–2276

Ballini E, Morel JB, Droc G, Price A, Courtois B, Notteghem JL, Tharreau D (2008) A genome-wide meta-analysis of rice blast resistance genes and quantitative trait loci provides new insights into partial and complete resistance. Mol Plant Microbe Interact 21:859–868

Bryan GT, Wu K, Farrall L, Jia Y, Hershey HP, McAdams SA, Faulk KN, Donaldson GK, Tarchini R, Valent B (2000) A single amino acid difference distinguishes resistant and susceptible alleles of rice blast resistance gene Pi-ta. Plant Cell 12:2033–2045

Bureau of Rice Research and Development, Rice Department, Thailand (2010) Khao Dawk Mali 105: 59 p

Chen X, Shang J, Chen D, Lei C, Zou Y, Zhai W, Liu G, Xu J, Ling Z, Cao G, Ma B, Wang Y, Zhao X, Li S, Zhu L (2006) A β-lectin receptor kinase gene conferring rice blast resistance. Plant J 46:794–804

Chuma I, Isobe C, Hotta Y, Ibaragi K, Futamata N, Motoaki K, Yoshida K, Terauchi R, Fujita Y, Nakayashiki H, Valent B, Tosa Y (2011) Multiple translocation of the AVR-Pita1 effector gene among chromosomes of the rice blast fungus Magnaporthe oryzae and related species. PLoS Pathogens 7(7):e1002147. doi:10.1371/journal.ppat.1002147

Correll JC, Harp TL, Guerber JC, Zeigler RS, Liu B, Cartwright RD, Lee FN (2000) Characterization of Pyricularia grisea in the United States using independent genetic and molecular markers. Phytopathology 90:1396–1404

Couch BC, Kohn LM (2002) A multilocus gene genealogy concordant with host preference indicates segregation of a new species, Magnaporthe oryzae, from M. grisea. Mycologia 94:683–693

Dai Y, Jia Y, Correll J, Wang X, Wang Y (2010) Diversification and evolution of the avirulence gene AVR-Pita1 in field isolates of Magnaporthe oryzae. Fungal Genet Biol 37:973–980

Dioh W, Tharreau D, Notteghem JL, Orbach M, Lebrun MH (2000) Mapping of avirulence genes in the rice blast fungus, Magnaporthe grisea, with RFLP and RAPD markers. Mol Plant Microbe Interact 13:217–227

Farman ML, Leong SA (1998) Chromosome walking to the AVR1-CO39 avirulence gene of Magnaporthe grisea: discrepancy between the physical and genetic maps. Genetics 150:1049–1058

Flor HH (1971) Current status of the gene-for-gene concept. Annu Rev Phytopatho l 9:275–296

Fu YX, Li WH (1993) Statistical tests of neutrality of mutations. Genetics 133:693–709

Fudal I, Bohnert HU, Tharreau D, Lebrun MH (2005) Transposition of MINE, a composite retrotransposon, in the avirulence gene ACE1 of the rice blast fungus Magnaporthe grisea. Fungal Genet Biol 42:761–772

Hall TA (1999) BioEdit: a user-friendly biological sequence alignment editor and analysis program for Windows 95/98/NT. Nucleic Acids Symp Ser 41:95–98

Hayashi K, Yoshida H (2009) Refunctionalization of the ancient rice blast disease resistance gene Pit by the recruitment of a retrotransposon as a promoter. Plant J 57:413–425

Huang CL, Hwang SY, Chiang YC, Lin TP (2008) Molecular evolution of the Pi-ta gene resistant to rice blast in wild rice (Oryza rufipogon). Genetics 179:1527–1538

Hulbert SH, Webb CA, Smith SM, Sun Q (2001) Resistance gene complexes: evolution and utilization. Annu Rev Phytopathol 39:285–312

Jia Y, McAdams SA, Bryan GT, Hershey HP, Valent B (2000) Direct interaction of resistance gene and avirulence gene products confers rice blast resistance. EMBO J 19:4004–4014

Jia Y, Wang Z, Fjellstrom RG, Moldenhauer KAK, Azam MA, Correll J, Lee FN, Xia Y, Rutger JN (2004) Rice Pi-ta gene confers resistance to the major pathotypes of rice blast fungus in the United States. Phytopathology 94:296–301

Jia Y, Lee F, McClung A (2009) Determination of resistance spectra to US races of Magnaporthe oryzae causing blast in a recombinant inbred line population. Plant Dis 93:639–644

Kang S, Sweigard JA, Valent B (1995) The PWL host specificity gene family in the blast fungus Magnaporthe grisea. Mol Plant Microbe Interact 8:939–948

Kang S, Lebrun MH, Farrall L, Valent B (2001) Gain of virulence caused by insertion of a Pot3 transposon in a Magnaporthe grisea avirulence gene. Mol Plant Microbe Interact 14:671–674

Kato H, Yamamoto M, Yamaguchi-Ozaki T, Kadouchi H, Iwamoto Y, Nakayashiki H, Tosa Y, Mayama S, Mori N (2000) Pathogenicity, mating ability and DNA restriction fragment length polymorphisms of Pyricularia populations isolated from Gramineae, Bambusideae and Zingiberaceae plants. J Gen Plant Pathol 66:30–47

Khang CH, Park SY, Lee YH, Valent B, Kang S (2008) Genome organization and evolution of the AVR-Pita1 avirulence gene family in the Magnaporthe grisea species complex. Mol Plant Microbe Interact 21:658–670

Lauge R, De Wit PJGM (1998) Fungal avirulence genes: structure and possible functions. Fungal Genet Biol 24:285–297

Lee FN, Cartwright RD, Jia Y, Correll JC, Moldenhauer KA, Gibbons JW, Boyett V, Zhou E, Boza E, Seyran E (2005) A preliminary characterization of the rice blast fungus on 'Banks' rice. In: Norman RJ, Meullenet JF, Moldenhauer KAK. (Eds.), B.R. Wells Rice Research Studies 2004, Arkansas Agricultural Experiment Station Research Series 529:103–110

Lee SK, Song MY, Seo YS, Kim HK, Ko S, Cao PJ, Suh JP, Yi G, Roh JH, Lee S, An G, Hahn TR, Wang GL, Ronald P, Jeon JS (2009) Rice Pi5-mediated resistance to Magnaporthe oryzae requires the presence of two coiled-coil–nucleotide-binding-leucine-rich repeat genes. Genetics 181:1627–1638

Li W, Wang B, Wu J, Lu G, Hu Y, Zhang X, Zhang Z, Zhao Q, Feng Q, Zhang H, Wang Z, Wang GL, Han B, Wang Z, Zhou B (2009) The Magnaporthe oryzae avirulence gene AVRPiz-t encodes a predicted secreted protein that triggers the immunity in rice mediated by the blast resistance gene Piz-t. Mol Plant Microbe Interact 22:411–420

Lin F, Chen S, Que Z, Wang L, Liu X, Pan Q (2007) The blast resistance gene Pi37 encodes a nucleotide binding site-leucine-rich repeat protein and is a member of a resistance gene cluster on rice chromosome 1. Genetics 177:1871–1880

Liu X, Lin F, Wang L, Pan Q (2007) The in silico map-based cloning of Pi36, a rice coiled-coil nucleotide-binding site leucine-rich repeat gene that confers race specific resistance to the blast fungus. Genetics 176:2541–2549

McDowell JM, Woffenden BJ (2003) Plant disease resistance genes: recent insights and potential applications. Trends in Biotechnology 21:178–183

Miyamoto M, Ando I, Rybka K, Kodama O, Kawasaki S (1996) High resolution mapping of the indica-derived rice blast resistance genes Pi-b. Mol Plant Microbe Interact 9:6–13

Moldenhauer KAK, Lee FN, Norman RJ, Helms RJ, Well RH, Dilday RH, Rohman PC, Marchetti MA (1990) Registration of 'Katy' rice. Crop Sci 30:747–748

Nei M (1987) Molecular Evolutionary Genetics. Columbia University, New York

Orbach MJ, Farrall L, Sweigard JA, Chumley FG, Valent B (2000) A telomeric avirulence gene determines efficacy for the rice blast resistance gene Pi-ta. Plant Cell 12:2019–2032

Qu S, Liu G, Zhou B, Bellizzi M, Zeng L, Dai L, Han B, Wang GL (2006) The broad-spectrum blast resistance gene Pi9 encodes a nucleotide-binding site-leucine-rich repeat protein and is a member of a multigene family in rice. Genetics 172:1901–1914

Rice Department, Thailand (2009) Weekly report on current status of disease and pest in rice. 9-15 October, 2009

Rozas J, Sanchez-DelBarrio JC, Messeguer X, Rozas R (2003) DnaSP, DNA polymorphism analyses by the coalescent and other methods. Bioinformatics 19:2496–2497

Shang J, Tao Y, Chen X, Zou Y, Lei C, Wang J, Li X, Zhao X, Zhang M, Lu Z, Xu J, Cheng Z, Wan J, Zhu L (2009) Identification of a new rice blast resistance gene, Pid3, by genome wide comparison of paired nucleotide-binding-site leucine-rich-repeat genes and their pseudogene alleles between the two sequenced rice genomes. Genetics 182:1303–1311

Silué D, Nottenghem JL, Tharreau D (1992) Evidence for a gene-for-gene relationship in the Oryza sativa-Magnaporthe grisea pathosystem. Phytopathology 82:577–580

Skamnioti P, Gurr SJ (2009) Against the grain: safeguarding rice from rice blast disease. Trends in Biotechnology 27:141–150

Smitamana P, Gypmantasiri P, Phumsathit W, Panyafu S, Boonchitsirikul G, Na Lampang A (2000) Exploiting biodiversity for sustainable rice pest management, biodiversity and its relation to rice blast epidemics; Chiang Mai Valley site, Thailand. Chiang Mai University and Phitsanulok Rice Research Center, Chiang Mai

Srikeaw I (2011) Rice blast resistance genes screening in landrace Thai rice including Pid2, Pi36 and Pi2. Master Thesis, Kasetsart University 135 p

Sweigard JA (1995) Identification, cloning, and characterization of PWL2, a gene for host species specificity in the rice blast fungus. Plant Cell 7:1221–1233

Tajima F (1989) Statistical method for testing the neutral mutation hypothesis by DNA polymorphism. Genetics 123:585–595

Takahashi M, Ashizawa T, Hiravae K, Moriwaki J, Sone T, Sonoda R, Noguchi MT, Nagashima S, Ishikawa K, Arai M (2010) One of two major paralogs of AVRPita1 is functional in Japanese rice blast isolates. Phytopathology 100:612–618

Tamura K, Peterson D, Peterson N, Stecher G, Nei M, Kurmar S (2011) MEGA5: Molecular evolutionary genetics analysis using Maximum Likelihood, Evolutionary Distance, and Maximum Parsimony methods. Molecular Biology and Evolution 28:2731–2739

Tharreau D, Fudal I, Andriantsimialona D, Santoso D, Utami D, Fournier E, LeBrun MH, Notteghem JL (2009) World population structure and migration of the rice blast fungus Magnaporthe oryzae. In: Wang GL, Valent B (eds) Advances in Genetics, Genomics and Control of Rice Blast Disease. Springer, Dordrecht, pp 209–215

Tosa Y, Osue J, Eto Y, Oh HS, Nakayashiki H, Mayama S, Leong SA (2005) Evolution of an avirulene gene, AVR1-CO39, concomintant with the evolution and differentiation of Magnaporthe oryzae. Mol Plant Microbe Interact 18:1148–1160

Wang X, Yano M, Yamanouchi U, Iwamoto M, Monna L, Hayasaka H, Katayose Y, Sasaki T (1999) The Pi-b gene for rice blast resistance belongs to the nucleotide binding and leucine-rich repeat class of plant disease resistance genes. The Plant J 19:55–64

Watterson GA (1975) On the number of segregating sites in genetical models without recombination. Theor Popul Biol 7:256–276

Yoshida K, Saitoh H, Fujisawa S, Kanzaki H, Matsumura H, Yoshida K, Tosa Y, Chuma L, Takano Y, Win J, Kamoun S, Terauchi R (2009) Association genetics reveals three novel avirulence genes from the rice blast fungal pathogen Magnaporthe oryzae. Plant Cell 21:1573–1591

Zeigler RS, Thome J, Nelson RJ, Levy M, Correa-Victoria FJ (1994) Lineage exclusion: a proposal for linking blast population analysis to resistance breeding. In: Zeiler RS, Leong SA, Teng PS (eds) Rice blast disease. CAB International, Cambridge, UK, pp 267–296

Zhou B, Qu S, Liu G, Dolan M, Sakai H, Lu G, Bellizzi M, Wang G (2006) The eight amino acid differences within three leucine-rich repeats between Pi2 and Piz-t resistance proteins determine the resistance specificity to Magnaporthe grisea. Mol Plant Microbe Interact 19:1216–1228

Zhou E, Jia Y, Singh P, Correll JC, Lee FN (2007) Instability of the Magnaporthe oryzae avirulence gene AVR-Pita1 alters virulence. Fungal Genet Biol 44:1024–1034
Acknowledgments
We thank Mr. A.J. Warner, Mr. N. Rasmi and Mr. W. Kaonongbua for critically and grammatically reviewing the manuscript. This research was supported by grants from Kasetsart University Research and Development Institute (KURDI), Faculty of Science and Graduate School, Kasetsart University and Ubon Ratchathani University.
Additional information
Data deposition: The sequences reported in this paper have been deposited in the GenBank database (GenBank ID: JQ409300–JQ409329).
Electronic supplementary materials
Below is the link to the electronic supplementary material.
About this article
Cite this article
Kasetsomboon, T., Kate-Ngam, S., Sriwongchai, T. et al. Sequence variation of avirulence gene AVR-Pita1 in rice blast fungus, Magnaporthe oryzae . Mycol Progress 12, 617–628 (2013). https://doi.org/10.1007/s11557-012-0867-1
Received:

Revised:

Accepted:

Published:

Issue Date:
Keywords
Nucleotide variation

Rice blast disease

Avirulence gene

Rice blast fungus