Abstract
Purpose
Various options are available for the treatment of mitral valve insufficiency, including reconstructive approaches such as annulus correction through ring implants. The correct choice of general therapy and implant is relevant for an optimal outcome. Additional to guidelines, decision support systems (DSS) can provide decision aid by means of virtual intervention planning and predictive simulations. Our approach on virtual downsizing is one of the virtual intervention tools that are part of the DSS workflow. It allows for emulating a ring implantation based on patient-specific lumen geometry and vendor-specific implants.
Methods
Our approach is fully automatic and relies on a lumen mask and an annulus contour as inputs. Both are acquired from previous DSS workflow steps. A virtual surface- and contour-based model of a vendor-specific ring design (26–40 mm) is generated. For each case, the ring geometry is positioned with respect to the original, patient-specific annulus and additional anatomical landmarks. The lumen mesh is parameterized to allow for a vertex-based deformation with respect to the user-defined annulus. Derived from post-interventional observations, specific deformation schemes are applied to atrium and ventricle and the lumen mesh is altered with respect to the ring location.
Results
For quantitative evaluation, the surface distance between the deformed lumen mesh and segmented post-operative echo lumen close to the annulus was computed for 11 datasets. The results indicate a good agreement. An arbitrary subset of six datasets was used for a qualitative evaluation of the complete lumen. Two domain experts compared the deformed lumen mesh with post-interventional echo images. All deformations were deemed plausible.
Conclusion
Our approach on virtual downsizing allows for an automatic creation of plausible lumen deformations. As it takes only a few seconds to generate results, it can be added to a virtual intervention toolset without unnecessarily increasing the pipeline complexity.
This is a preview of subscription content, log in to check access.
Access options
Buy single article
Instant access to the full article PDF.
US$ 39.95
Price includes VAT for USA
Subscribe to journal
Immediate online access to all issues from 2019. Subscription will auto renew annually.
US$ 99
This is the net price. Taxes to be calculated in checkout.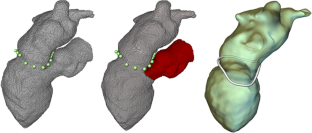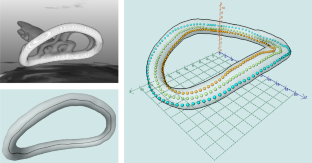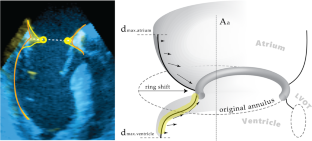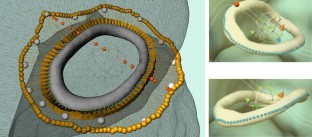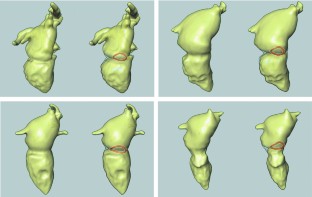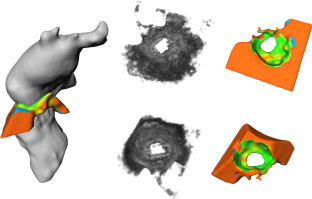 References
1.

Funkat A, Beckmann A, Lewandowski J, Frie M, Ernst M, Schiller W, Gummert JF, Cremer J (2014) Cardiac surgery in Germany during 2013: a report on behalf of the german society for thoracic and cardiovascular surgery. Thorac Cardiovasc Surg 62:380–392. https://doi.org/10.1055/s-0034-1383430

2.

Kay GL, Aoki A, Zubiate P, Prejean CA Jr, Ruggio JM, Kay JH (1994) Probability of valve repair for pure mitral regurgitation. J Thorac Cardiovasc Surg 108:871–879. https://doi.org/10.1016/S0022-5223(94)70185-7

3.

Mick SL, Keshavamurthy S, Gillinov AM (2015) Mitral valve repair versus replacement. Ann Cardiothorac Surg 4:230–237. https://doi.org/10.3978/j.issn.2225-319X.2015.03.01

4.

Nishimura RA, Otto CM, Bonow RO, Carabello BA, Erwin JP, Guyton RA, O'Gara PT, Ruiz CE, Skubas NJ, Sorajja P, Sundt TM, Thomas JD (2014) AHA/ACC guideline for the management of patients with valvular heart disease. J Am Coll Cardiol 63:57–185. https://doi.org/10.1016/j.jacc.2014.02.536

5.

Sündermann SH, Czesla M, Kempfert J, Walther T, Nataf P, Raanani E, Jacobs S, Alfieri O, Maisano F, Falk V (2017) Results of mitral valve repair with an adjustable annuloplasty ring 2 years after implantation. Heart Vessels 32:843–849. https://doi.org/10.1007/s00380-016-0934-7

6.

Glower DD (2012) Surgical approaches to mitral regurgitation. J Am Coll Cardiol 60:1315–1322, ISSN 0735-1097. https://doi.org/10.1016/j.jacc.2011.11.081

7.

Mesana TG, Lam BK, Chan V, Chen K, Ruel M, Chan K (2013) Clinical evaluation of functional mitral stenosis after mitral valve repair for degenerative disease: potential effect on surgical strategy. J Thorac Cardiovasc Surg 146:1418–1425. https://doi.org/10.1016/j.jtcvs.2013.08.011

8.

Magne J, Sénéchal M, Mathieu P, Dumesnil JG, Dagenais F, Pibarot P (2008) Restrictive annuloplasty for ischemic mitral regurgitation may induce functional mitral stenosis. J Am Coll Cardiol 51:1692–1701. https://doi.org/10.1016/j.jacc.2007.11.082

9.

Çomak E, Arslan A, Türkoğlu I (2007) A decision support system based on support vector machines for diagnosis of the heart valve diseases. Comput Biol Med 37:21–27. https://doi.org/10.1016/j.compbiomed.2005.11.002

10.

Tenenholtz NA, Hammer PE, Schneider RJ, Vasilyev NV, Howe RD (2011) On the design of an interactive, patient-specific surgical simulator for mitral valve repair. IEEE/RSJ Int Conf Intell Robots Syst. https://doi.org/10.1109/iros.2011.6095089

11.

Mansi T, Voigt I, Georgescu B, Zheng C, Mengue EA, Hackl M, Ionasec RI, Noack T, Seeburger J, Comaniciu D (2012) An integrated framework for finite-element modeling of mitral valve biomechanics from medical images: application to MitralClip intervention planning. Med Image Anal 16:1330–1346. https://doi.org/10.1016/j.media.2012.05.009

12.

Rim Y, Choi A, McPherson DD, Kim H (2015) Personalized computational modeling of mitral valve prolapse: virtual leaflet resection. PLoS ONE. https://doi.org/10.1371/journal.pone.0130906

13.

Labrosse M, Mesana T, Baxter I, Chan V (2014) Finite element analysis to model complex mitral valve repair. Asian Cardiovasc Thorac Ann 24:60–62. https://doi.org/10.1177/0218492314539334

14.

Wong VM, Wenk JF, Zhang Z, Cheng G, Acevedo-Bolton G, Burger M, Saloner DA, Wallace AW, Guccione JM, Ratcliffe MB, Ge L (2012) The effect of mitral annuloplasty shape in ischemic mitral regurgitation: a finite element simulation. Ann Thorac Surg 93:776–782. https://doi.org/10.1016/j.athoracsur.2011.08.080

15.

Ender J, Končar-Zeh J, Mukherjee C, Jacobs S, Borger MA, Viola C, Gessat M, Fassl J, Mohr FW, Falk V (2008) Value of augmented reality-enhanced transesophageal echocardiography (TEE) for determining optimal annuloplasty ring size during mitral valve repair. Ann Thorac Surg 86:1473–1478. https://doi.org/10.1016/j.athoracsur.2008.07.073

16.

Rausch MK, Zöllner AM, Genet M, Baillargeon B, Bothe W, Kuhl E (2017) A virtual sizing tool for mitral valve annuloplasty. Int J Numer Methods Biomed Eng. https://doi.org/10.1002/cnm.2788

17.

Choi A, Rim Y, Mun JS, Kim H (2014) A novel finite element-based patient-specific mitral valve repair: virtual ring annuloplasty. Bio-Med Mater Eng 24:341–347. https://doi.org/10.3233/BME-130816

18.

Stevanella M, Maffessanti F, Conti CA, Votta E, Arnoldi A, Lombardi M, Parodi O, Caiani EG, Redaelli A (2011) Mitral valve patient-specific finite element modeling from cardiac MRI: application to an annuloplasty procedure. Cardiovasc Eng Technol 2:66–76. https://doi.org/10.1007/s13239-010-0032-4

19.

Skornitzke S, Schummers G, Schreckenberg M, Ender J, Eibel S, Bungartz HJ, Kauczor HU, Stiller W (2015) Mass-spring systems for simulating mitral valve repair using 3D ultrasound images. Comput Med Imaging Graph 45:26–35. https://doi.org/10.1016/j.compmedimag.2015.07.009

20.

Augustin CM, Crozier A, Neic A, Prassl AJ, Karabelas E, Ferreira da Silva T, Fernandes JF, Campos F, Kuehne T, Plank G (2016) Patient-specific modeling of left ventricular electromechanics as a driver for haemodynamic analysis. EP Europace 18:121–129. https://doi.org/10.1093/europace/euw369

21.

Gao H, Feng L, Qi N, Berry C, Griffith BE, Luo X (2017) A coupled mitral valve-left ventricle model with fluid-structure interaction. Med Eng Phys 47:128–136. https://doi.org/10.1016/j.medengphy.2017.06.042

22.

Mansi T, Durrleman S, Bernhardt B, Sermesant M, Delingette H, Voigt I, Lurz P, Taylor AM, Blanc J, Boudjemline Y, Pennec X, Ayache N (2009) A statistical model of right ventricle in tetralogy of Fallot for prediction of remodelling and therapy planning. Med Image Comput Comput Assist Interv 12(Pt 1):214–221

23.

Mansi T, André B, Lynch M, Sermesant M, Delingette H, Boudjemline Y, Ayache N (2009) Virtual pulmonary valve replacement interventions with a personalised cardiac electromechanical model. In: Magnenat-Thalmann N, Zhang JJ, Feng DD (eds) Recent advances in the 3D physiological human. Springer, Heidelberg, pp 75–90. https://doi.org/10.1007/978-1-84882-565-9_5

24.

Tautz L, Neugebauer M, Hüllebrand M, Degener F, Sündermann S, Hennemuth A (2018) Extraction of open-state mitral valve geometry from CT volumes. Int J Comput Assist Radiol Surg. https://doi.org/10.1007/s11548-018-1831-6

25.

Bærentzen JA, Gravesen J, Anton F, Aanæs H (2012) Guide to computational geometry processing: foundations, algorithms, and methods. Springer, Berlin. ISBN 978-1-4471-4075-7

26.

Vohra HA, Whistance RN, Bezuska L, Livesey SA (2011) Initial experience of mitral valve repair using the Carpentier-Edwards Physio II annuloplasty ring. Eur J Cardiothorac Surg 39:881–885. https://doi.org/10.1016/j.ejcts.2010.10.004

27.

Timek TA, Lai DT, Liang D, Tibayan F, Langer F, Rodriguez F, Daughters GT, Ingels NB, Miller DC (2004) Effects of paracommissural septal–lateral annular cinching on acute ischemic mitral regurgitation. Circulation 110:79–84. https://doi.org/10.1161/01.CIR.0000138975.05902.a5

28.

Ritter F, Boskamp T, Homeyer A, Laue H, Schwier M, Link F, Peitgen HO (2011) Medical image analysis. IEEE Pulse 2:60–70. https://doi.org/10.1109/MPUL.2011.942929

29.

Schroeder W, Martin K, Lorensen B (2004) The visualization toolkit: an object-oriented approach to 3d graphics. Academic Press, Cambridge. ISBN 978-0123-8758-22

30.

Bothe W, Miller DC, Doenst T (2013) Sizing for mitral annuloplasty: where does science stop and voodoo begin? Ann Thorac Surg 95:1475–1483. https://doi.org/10.1016/j.athoracsur.2012.10.023
Acknowledgements
This work is part of the BMBF VIP+ project DSSMitral (partially funded by the German Federal Ministry of Education and Research under Grant 03VP00852).
Ethics declarations
Conflict of interest
The authors declare that they have no conflict of interest.
Informed consent
Informed consent was obtained from all individual participants included in the study.
About this article
Cite this article
Neugebauer, M., Tautz, L., Hüllebrand, M. et al. Virtual downsizing for decision support in mitral valve repair. Int J CARS 14, 357–371 (2019). https://doi.org/10.1007/s11548-018-1868-6
Received:

Accepted:

Published:

Issue Date:
Keywords
Mitral valve insufficiency

Annuloplasty

Computer-aided treatment

Virtual downsizing

Geometric processing

DSSMitral