Abstract
Purpose
To report high-resolution CT (HRCT) findings in our group of patients with exogenous lipoid pneumonia (ELP), confirmed with histopathological findings and clinical-anamnestic data, in order to describe the most common radiological patterns of this rare disorder.
Materials and methods
In this retrospective study, HRCT of 10 patients with ELP were evaluated by three radiologists. Diagnosis of ELP was made through CT, bronchiolo-alveolar lavage (BAL) and a pneumological examination associated with an accurate medical anamnesis. Five patients had a histologically proven ELP, through lung biopsy. All patients had a chronic exposition to substances made of animal fat or mineral/vegetable oils.
Results
In our cohort of patients with ELP, the following parenchymal patterns were observed: 8/10 patients had lung consolidation with adipose density (attenuation values < − 40 HU); 10/10 patients had multiple areas of ground glass opacity; 6/10 patients had smooth thickening of interlobular septa and ground glass opacities ("crazy-paving" pattern); 2/10 patients presented nodules > 2.5 cm with spiculated margins (tumor-like); 5/10 patients showed reactive lymph nodes enlargement. The oldest lesions were characterized by bronchiectasis and fibrosis around the lipidic consolidations.
Conclusion
Pulmonary alterations found in HRCT exams can be confused with other lung diseases (especially lung tumors) and they are always a challenge even for the most experienced radiologist. In our experience, although non-specific, consolidation areas with low HU values and crazy-paving pattern are frequently associated in ELP. These characteristics should alert the radiologist to consider ELP among the possible differential diagnoses, always correlating the results of CT examination with appropriate clinical-laboratory evaluations and an accurate anamnesis.
Access options
Buy single article
Instant access to the full article PDF.
US$ 39.95
Tax calculation will be finalised during checkout.
Subscribe to journal
Immediate online access to all issues from 2019. Subscription will auto renew annually.
US$ 79
Tax calculation will be finalised during checkout.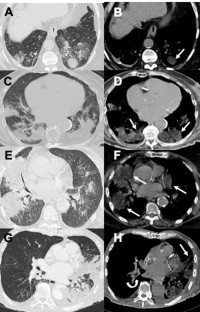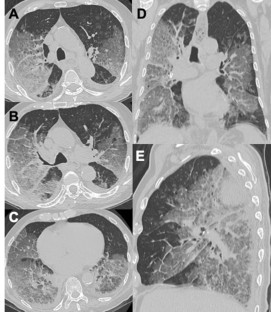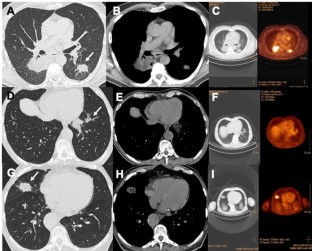 References
1.

Betancourt S, Martinez-Jimenez S, Rossi S et al (2010) Lipoid pneumonia: spectrum of clinical and radiologic manifestations. AJR 194:103–109

2.

Laurent F, Philippe JC, Vergier B et al (1999) Exogenous lipoid pneumonia: HRCT, MR and pathologic findings. Eur Radiol 9:1190–1196

3.

Marchiori E, Zanetti G, Mano C et al (2011) Exogenous lipoid pneumonia. Clinical and radiological manifestations. Respir Med 105:659–666

4.

Byerley JS, Hernandez ML, Leigh MW, Antoon JW (2016) Clinical approach to endogenous lipoid pneumonia. Clin Respir J 10(2):250–263

5.

Guo M, Liu J, Jiang B (2019) Exogenous lipid pneumonia in old people caused by aspiration: two case reports and literature review. Respir Med Case Rep 27:100850

6.

Franquet T, Giménez A, Rosòn N et al (2000) Aspiration diseases: findings, pitfalls and differential diagnosis. Radiographics 20:673–685

7.

Salaffi F, Di Carlo M, Carotti M et al (2018) Relationship between interstitial lung disease and oesophageal dilatation on chest high-resolution computed tomography in patients with systemic sclerosis: a cross sectional study. Radiol Med 123(9):655–663

8.

Baron SE, Haramati LB, Rivera VT (2003) Radiological and clinical findings in acute and chronic exogenous lipoid pneumonia. J Thorac Imaging 18(4):217–224

9.

Hadda V, Khilnani GC (2010) Lipoid pneumonia: an overview. Expert Rev Respir Med 4(6):799–807

10.

Ganso M, Goebel R, Melhorn S et al (2016) Lipoid pneumonia associated with lipid-containing nasal sprays and nose drops. Laryngorhinootologie 95(8):534–539

11.

Osman GA, Ricci A, Terzo F et al (2018) Exogenous lipoid pneumonia induced by nasal decongestant. Clin Respir J 12(2):524–531

12.

Franquet T, Giménez A, Bordes R et al (1998) The Crazy-paving pattern in exogenous lipoid pneumonia: ct-pathologic correlation. AJR 170:315–317

13.

Lee JS, Im JG, Song KS et al (1999) Exogenous lipoid pneumonia: high resolution CT findings. Eur Radiol 9(2):287–291

14.

Chardin D, Nivaggioni G, Viau P et al (2017) False positive 18FDG PET-CT results due to exogenous lipoid pneumonia secondary to oily drug inhalation: a case report. Medicine (Baltimora) 96(22):e6889

15.

Stern EJ (1992) Chronic, progressive, bibasilar infiltrates in a woman with constipation. Chest 102:263–265

16.

Zanetti G, Marchiori E, Davaus T et al (2007) Lipoid pneumonia in children following aspiration of mineral oil used in the treatment of constipation: high-resolution CT findings in 17 patients. Pediatr Radiol 37(11):1135–1139

17.

Rossi SE, Erasmus JJ, Volpacchio M et al (2003) "Crazy-paving" pattern at thin-section CT of the lungs: radiologic-pathologic overview. Radiographics 23:1509–1519

18.

Cozzi D, Bargagli E, Calabrò AG et al (2018) Atypical HRCT manifestations of pulmonary sarcoidosis. Radiol Med 123(3):174–184

19.

Cozzi D, Dini C, Mungai F et al (2019) Primary pulmonary lymphoma: imaging findings in 30 cases. Radiol Med 124(12):1262–1269

20.

Talwar A (2004) False-positive PET scan in a patient with lipoid pneumonia simulating lung cancer. Clin Nucl Med 29(7):426

21.

Sung S, Tazelaar HD, Crapanzano JP (2018) Adult exogenous lipoid pneumonia: a rare and underrecognized entity in cytology—a case series. Cytojournal 13:15–17

22.

Tukaram SJ, Sastry SDS, Metha RM (2018) Bronchoscopic segmental lavage for refractory lipoid pneumonia in a toddler. J Bronchol Interv Pulmonol 25(2):e19–e21

23.

Wells AU (2010) The clinical utility of bronchoalveolar lavage in diffuse parenchymal lung disease. Eur Respir Rev 19(117):237

24.

Meyer KC (2012) An official American Thoracic Society clinical practice guideline: the clinical utility of bronchoalveolar lavage cellular analyis in interstitial lung disease. Am J Respir Crit Care Med 185(9):1004

25.

Lau C, Abdelmalak BB, Farver CF, Culver DA (2016) Whole lung lavage for lipoid pneumonia. Thorax 71(1):1066–1067

26.

Sias SMA, Daltro PA, Marchiori E et al (2009) Clinic and radiological improvement of lipoid pneumonia with multiple bronchoalveolar lavages. Pediatr Pulmonol 44(4):309–315
Ethics declarations
Conflict of interest
The authors declare that they have no conflict of interest related to the publication of this article.
Ethical approval
All procedures performed in studies involvement human participants were in accordance with the ethical standards of the institutional and/or national research committee and with the 1964 Helsinki Declaration and its later amendments or comparable ethical standards. Informed consent was obtained from all individual participants included in the study.
Additional information
Publisher's Note
Springer Nature remains neutral with regard to jurisdictional claims in published maps and institutional affiliations.
About this article
Cite this article
Cozzi, D., Bindi, A., Cavigli, E. et al. Exogenous lipoid pneumonia: when radiologist makes the difference. Radiol med 126, 22–28 (2021). https://doi.org/10.1007/s11547-020-01230-x
Received:

Accepted:

Published:

Issue Date:
Keywords
Computed tomography

Lung

Pneumonia

HRCT