Abstract
Purpose
Evaluation of clinical and radiological effects of the therapeutic outcome of CT-guided pulsed radiofrequency (PRF) treatment adjacent to the lumbar dorsal root ganglion (DRG) for patients with chronic intractable lumbosacral radicular pain in a single-center prospective longitudinal study in order to evaluate predictive factors of safety and therapeutic success.
Materials and methods
Thirty patients, from 2016 to 2018, were enrolled (age: 42–80 aa, 66.7% men and 33.3% females) with low back pain, lumbosciatalgia and/or lumbocruralgia, resistant to previous medical and physical treatments for a period not < 3 months, failure of surgical and chemiodiscolysis with ozone oxygen therapy. Each patient was subjected to a clinical evaluation (antalgic walking, sensitive deficit, interviews with specific questionnaires: ODI, RDQ,VAS) and to a radiological evaluation with MRI examination, before and 30 days after the CT-guided PRF treatment. Measurements of the thickness of the involved and not involved DRG were taken using common postprocessing software of MRI examinations in order to have measurement parameters for comparison. We analyzed the clinical course using the paired samples T test in order to evaluate modification for each clinical and radiological parameter (statistical significance p < 0.05).
Results
Significant improvements of the clinical outcomes with a good resolution of the pain symptoms (VAS evaluation: The score fell from 68.47 to 39.17 with a difference of 29.3 and a reduction of the 42.79% in the perceived pain, p = 0.00000152). The thickness of DRG falls from an average media of 0.586–0.448 cm (p = 0.000085), with a difference of 0.138 cm and a percentage reduction of 22.30%.
Conclusions
PRF treatment of the DRG may be considered for patients with chronic severe lumbosacral radicular pain refractory to conventional medical management when other noninvasive or surgical procedures fail. It is minimally invasive, inexpensive and simple to perform with no complications.
Access options
Buy single article
Instant access to the full article PDF.
US$ 39.95
Tax calculation will be finalised during checkout.
Subscribe to journal
Immediate online access to all issues from 2019. Subscription will auto renew annually.
US$ 79
Tax calculation will be finalised during checkout.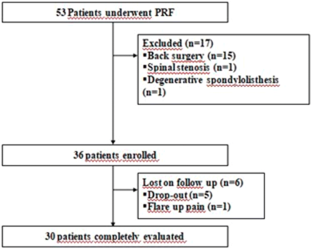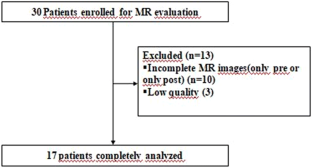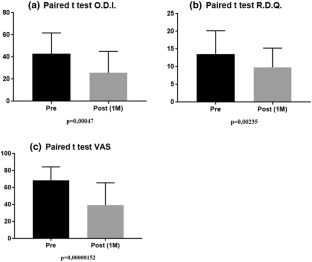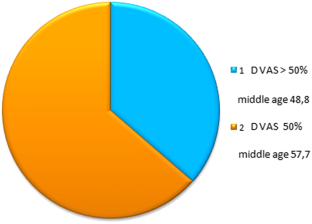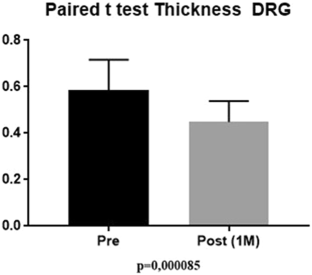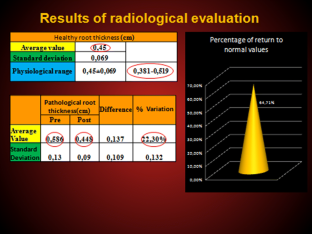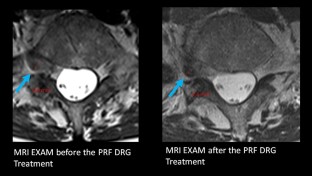 References
1.

Van Boxem K, Cheng J, Patijn J et al (2010) Lumbosacral radicular pain. Pain Pract 10:339–358. https://doi.org/10.1111/j.1533-2500.2010.00370.x

2.

Peul WC, Brand R, Thomeer RT et al (2008) Influence of gender and other prognostic factors on outcome of sciatica. Pain 138:180–191

3.

Haugen AJ, Brox JI, Grovle L et al (2012) Prognostic factors for non-success in patients with sciatica and disc herniation. BMC Musculoskelet Disord 13:183

4.

Grovle L, Haugen AJ, Keller A et al (2013) Prognostic factors for return to work in patients with sciatica. Spine J 13:1849–1857

5.

Doth AH, Hansson PT, Jensen MP et al (2010) The burden of neuropathic pain: a systematic review and meta-analysis of health utilities. Pain 149:338–344

6.

Abejon D, Garcia-del-Valle S, Fuentes ML et al (2007) Pulsed radiofrequency in lumbar radicular pain: clinical effects in various etiological groups. Pain Pract 7:21–26

7.

Teixeira A, Grandinson M, Sluijter M (2005) Pulsed radiofrequency for radicular pain due to a herniated intervertebral disc—an initial report. Pain Pract 5:111–115

8.

Munglani R (1999) The longer term effect of pulsed radiofrequency for neuropathic pain. Pain 80:437–439

9.

Sluijter ME, Cosman ER, Rittman IIWB, van Kleef M (1998) The effects of pulsed radiofrequency field applied to the dorsal root ganglion—a preliminary report. Pain Clin 11:109–117

10.

Simopoulos TT, Kraemer J, Nagda JV et al (2008) Response to pulsed and continuous radiofrequency lesioning of the dorsal root ganglion and segmental nerves in patients with chronic lumbar radicular pain. Pain Physician 11:137–144

11.

Van Boxem K, van Bilsen J, de Meij N et al (2011) Pulsed radiofrequency treatment adjacent to the lumbar dorsal root ganglion for the management of lumbosacral radicular syndrome: a clinical audit. Pain Med 12:1322–1330

12.

Van Zundert J, Patijn J, Kessels A et al (2007) Pulsed radiofrequency adjacent to the cervical dorsal root ganglion in chronic cervical radicular pain: a double blind sham controlled randomized clinical trial. Pain 127:173–182

13.

Deyo RA, Battie M, Beurskens AJ et al (1998) Outcome measures for low back pain research. A proposal for standardized use. Spine 23:2003–2013

14.

Boonstra AM, Schiphorst Preuper HR, Reneman MF et al (2008) Reliability and validity of the visual analogue scale for disability in patients with chronic musculoskeletal pain. Int J Rehabil Res 31:165–169

15.

Fairbank JC (2014) Oswestry disability index. Neurosurg Spine 20(2):239–241. https://doi.org/10.3171/2013.7.SPINE13288Epub 2013 Nov 22

16.

Carlsson AM (1983) Assessment of Chronic Pain. I. Aspects of the reliability and validity of the Visual Analogue Scale. Pain 16:87–101

17.

Brooks R (1996) EuroQol: the current state of play. Health Policy 37(1):53–72

18.

Herdman M, Gudex C, Lloyd A et al (2011) Development and preliminary testing of the new five-level version of EQ-5D (EQ-5D-5L). Qual Life Res 20(10):1727–1736. https://doi.org/10.1007/s11136-011-9903-xEpub 2011 Apr 9

19.

Janssen MF, Pickard AS, Golicki D et al (2013) Measurement properties of the EQ-5D-5L compared to the EQ-5D-3L across eight patient groups: a multi-country study. Qual Life Res 22(7):1717–1727. https://doi.org/10.1007/s11136-012-0322-4Epub 2012 Nov 25

20.

Fields RD (2009) New culprits in chronic pain. Sci Am 11:50–57

21.

Wall PD, Devor M (1983) Sensory afferent impulses originate from dorsal root ganglia as well as from the periphery in normal and nerve injured rats. Pain 17:321–339

22.

Mikeladze G, Espinal R, Finnegan R et al (2003) Pulsed radiofrequency application in treatment of chronic zygapophyseal joint pain. Spine J 3:360–362

23.

Liguori A, Galli F, Gurgitano M et al (2018) Clinical and instrumental assessment of herniated discs after nucleoplasty: a preliminary study. Acta Bio Med 89(1-S):220–229

24.

Sluijter ME, Racz G (2002) Technical aspects of radiofrequency. Pain Pract 2:195–200

25.

Chao SC, Lee HT, Kao TH et al (2008) Percutaneous pulsed radiofrequency in the treatment of cervical and lumbar radicular pain. Surg Neurol 70(1):59–65. https://doi.org/10.1016/j.surneu.2007.05.046Epub 2008 Jan 22

26.

Deer TR, Grigsby E, Weiner RL, Wilcosky B et al (2013) A prospective study of dorsal root ganglion stimulation for the relief of chronic pain. Neuromodulation 16:67–72

27.

Liem L, Russo M, Huygen FJ et al (2013) A multicenter, prospective trial to assess the safety and performance of the spinal modulation dorsal root ganglia neurostimulator system in the treatment of chronic pain. Neuromodulation 16:471–482

28.

Nijhuis H, Liem L, Huygen F (2013) A post-market cohort to assess the performance of a neurostimulator system for the management of intractable chronic back pain. Neuromodulation 16:e140

29.

Klase D, Thoma R, Baranidhara NG et al (2013) Does convergence of multi-segmental afferent inputs at the spinal lamina enable treatment of post herpetic neuralgia with dorsal root ganglion (DRG) stimulation possible. Poster No. 311 North American Neuromodulation Society, 17th Annual Meeting, December 5–8 2013, Las Vegas

30.

Burger K, Moser H, Liem L et al (2012) Spinal cord stimulation (SCS) of the dorsal root ganglion (DRG) in the treatment of post amputation pain. NANS 2012:145

31.

Bara GA, Maciaczyk J, Slotty P et al (2013) Dorsal root ganglion stimulation for treatment of phantom limb pain. Poster No. 420, NANS 2013

32.

Baranidharan G (2013) Reduction in dermatomal hyperalgesia in patients with visceral pain treated with spinal cord stimulation (SCS) of the dorsal root ganglion (DRG). Poster No. 360, NANS

33.

Gulve A, Eldabe S, Koneti K et al (2013) Dorsal root ganglion stimulation for the treatment of body wall pain: Middlesbrough experience. Poster No. 285, NANS

34.

Liem L, Demmel W, Thoma R et al (2013) Spinal cord stimulation (SCS) of the dorsal root ganglion (DRG) for chronic pain of the upper limbs—a multi-center case series. Neuromodulation 16:e141f

35.

Van Boxem K, de Meij N, Patijn J et al (2016) Predictive factors for successful outcome of pulsed radiofrequency treatment in patients with intractable lumbosacral radicular pain. Pain Med 17(7):1233–1240. https://doi.org/10.1093/pm/pnv052Epub 2016 Jan 20

36.

Van Boxem K, de Meij N, Kessels A, Van Kleef M, Van Zundert J (2015) Pulsed radiofrequency for chronic intractable lumbosacral radicular pain: a six-month cohort study. Pain Med 16(6):1155–1162. https://doi.org/10.1111/pme.12670Epub 2015 Jan 8PMID:25580669

37.

Watkins LR, Milligan ED, Maier SF (2001) Glial activation: a driving force for pathological pain. Trends Neurosci 24:450–455

38.

Hamann W, Abou-Sherif S, Thompson S et al (2006) Pulsed radiofrequency applied to dorsal root ganglia causes a selective increase in ATF3 in small neurons. Eur J Pain 10:171–176

39.

Sandkuhler J, Chen JG, Cheng G et al (1997) Low-frequency stimulation of afferent A delta fibers induces long-term depression at primary afferent synapses with substantia gelatinosa neurons in the rat. J Neurosci 17:6483–6491

40.

Huang RY, Liao CC, Tsai SY et al (2017) Rapid and delayed effects of pulsed radiofrequency on neuropathic pain: electrophysiological, molecular, and behavioral evidence supporting long-term depression. Pain Physician 20(2):E269–E283 PMID: 28158164
Ethics declarations
Conflict of interest
The authors declare that they have no conflict of interest.
Ethical standards
The study did not need to be approved by the ethics commission. The pulsed radiofrequency treatment used and described in our study represents already a possible therapy for neuropathic pain that can be delivered in a specific day surgery at our department, in accordance with the law and the national ethical guidelines of our country. All the treatments described in the study were performed in accordance with the ethical standards laid down in the 1964 Declaration of Helsinki and its later amendments. All patients gave their informed consent prior to their inclusion in the study. This article does not contain any studies with animals performed by any of the authors.
Informed consent
Informed consent was obtained from all individual participants included in the study.
Additional information
Publisher's Note
Springer Nature remains neutral with regard to jurisdictional claims in published maps and institutional affiliations.
About this article
Cite this article
Tortora, F., Negro, A., Russo, C. et al. Chronic intractable lumbosacral radicular pain, is there a remedy? Pulsed radiofrequency treatment and volumetric modifications of the lumbar dorsal root ganglia. Radiol med 126, 124–132 (2021). https://doi.org/10.1007/s11547-020-01212-z
Received:

Accepted:

Published:

Issue Date:
Keywords
Chronic radicular pain

Pulsed radiofrequency treatment effects

Dorsal root ganglion volumetric modifications

Pain relief