Abstract
The field efficacy of liquid formulations of Pseudomonas fluorescens, Purpureocillium lilacinum and Trichoderma viride was investigated against natural populations of potato cyst nematodes (PCNs) Globodera rostochiensis and Globodera pallida. Two field experiments were conducted using these biocontrol agents applied as seed treatment (ST) at 1 L t−1 of seed and soil drenching (SD) at 5 L ha−1. Their effect was compared with carbofuran 3 G at 1 kg a.i. ha−1. Results showed that all the tested biocontrol agents were capable to reduce PCN egg density or multiplication rate, root penetration and egg numbers cyst−1 at various levels. The biocontrol efficacy also varied according to their delivery method. P. fluorescens-ST was found causing the highest reduction of egg density (83.1–86.5%), multiplication rate (83.1–86.5%), root penetration (67.1–68.1%) and egg numbers cyst−1 (35.4–36.0%). Similar efficacy was observed in P. lilacinum-SD that reduced egg density by 80.9–85.0%, multiplication rate by 80.7–84.3%, root penetration by 62.0–64.4% and egg numbers cyst−1 by 44.3–49.3%. The potato plants from P. fluorescens-ST and P. lilacinum-SD plots were 31.1–49.5% taller than untreated plants which also resulted in 27.2–32.0% higher tuber yield in P. fluorescens-ST and 25.9–30.2% in P. lilacinum-SD plots. The root colonisation of introduced P. fluorescens was 8.6–13.1 times higher in ST than SD. The trend was vice versa in P. lilacinum that colonised 3.1–3.6 times better in SD method than as ST. Their efficacy was comparable to carbofuran application. It is concluded that P. fluorescens-ST at 1 L t−1 of seed and P. lilacinum-SD at 5 L ha−1 are highly effective for management of PCN under naturally infested field conditions.
Access options
Buy single article
Instant access to the full article PDF.
US$ 39.95
Tax calculation will be finalised during checkout.
Subscribe to journal
Immediate online access to all issues from 2019. Subscription will auto renew annually.
US$ 79
Tax calculation will be finalised during checkout.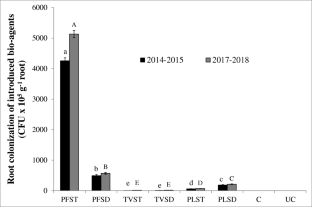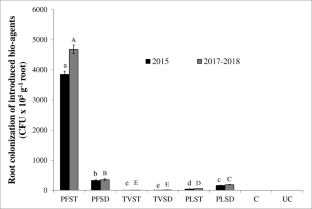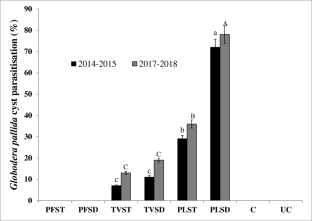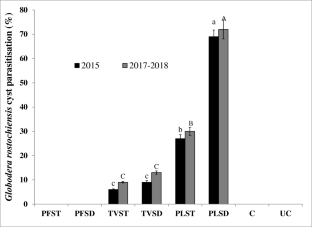 References
Anonymous (2013) Online database. (Available at http://www.agritech.tnau.ac.in/pdf/2013/cpg_horti_2013.pdf accessed 13 April, 2017)

Atkins SD, Clark IM, Sosnowska D, Hirsch PR, Kerry BR (2003) Detection and quantification of Plectosphaerella cucumerina, a potential biological control agent of potato cyst nematodes, by using conventional PCR, real-time PCR, selective media, and baiting. Appl Environ Microbiol 69(8):4788–4793

Bais HP, Weir TL, Perry LG, Gilroy S, Vivanco JM (2006) The role of root exudates in rhizosphere interactions with plants and other organisms. Annu Rev Plant Biol 57:233–266

Barker KR, Niblack TL (1990) Soil sampling methods and procedures for field diagnosis: plant nematology laboratory manual. The University of Massachusetts Agricultural Experiment Station, Amherst, MA

Brodie BB, Evans K, Franco J (1993) Nematode parasites of potatoes. In: Evans D, Trudgill L, Webster JM (eds) Plant parasitic nematodes in temperate agriculture. U.K., CAB International, Wallingford, pp 87–132

Cabanillas E, Barker KR, Daykin ME (1988) Histology of the interactions of Paecilomyces lilacinus with Meloidogyne incognita on tomato. J Nematol 20(3):362

Castillo JD, Lawrence KS, Kloepper JW (2013) Biocontrol of the reniform nematode by Bacillus firmus GB-126 and Paecilomyces lilacinus 251 on cotton. Pl Dis 97(7):967–976

Cobb NA (1918) Estimating the nematode population of soil - Agricultural Technology Circular 1. US Department of Agriculture, Batesville, USA

Couillerot O, Prigent-Combaret C, Caballero-Mellado J, Moënne-Loccoz Y (2009) Pseudomonas fluorescens and closely-related fluorescent pseudomonads as biocontrol agents of soil-borne phytopathogens. Lett Appl Microbiol 48(5):505–512

Cronin D, Moenne-Loccoz Y, Fenton A, Dunne C, Dowling DN, Ogara F (1997) Role of 2, 4-diacetylphloroglucinol in the interactions of the biocontrol pseudomonad strain F113 with the potato cyst nematode Globodera rostochiensis. Appl Environ Microbiol 63(4):1357–1361

Crow WT (2013) Effects of a commercial formulation of Paecilomyces lilacinus strain 251 on overseeded bermuda grass infested with Belonolaimus longicaudatus. J Nematol 45(3):223–227

Davide RG, Zorilla RA (1983) Evaluation of fungus, Paecilomyces lilacimus (Thom) Samson, for the biological control of the potato cyst nematode Globodera rostochiensisWoll as compared with some nematicides. Philipp Agric 66:137–139

Devrajan K, Seenivasan N, Selvaraj N (2003) Bio-management of root-knot nematode, Meloidogyne hapla, in carrot (Daucus carota L.). Indian J Nematol 33(1):6–8

Devrajan K, Seenivasan N, Selvaraj N, Rajendran G (2004) An integrated approach for the management of potato cyst nematodes, Globodera rostochiensis and G. pallida in India. Nematol Mediterr 32:67–70

Devrajan K, Prabhu S, Seenivasan N, Sudha A, Ramakrishnan S, Anita B (2011) Occurrence of native microbial antagonists against potato cyst nematodes in the Nilgiri Hills of Tamil Nadu. Potato J 38(1):67–72

Domsch KH, Gams W, Anderson TH (1980) Compendium of soil fungi, vol I. Academic Press, New York

FAOSTAT (2019) Online database. (available at http://faostat.fao.org. Accessed 13th to18th June, 2019)

Gomez KA, Gomez AA (1984) Statistical procedure for agricultural research, 2ndedn. John Wiley and Sons, New York

Jacobs H, Gray SN, Crump DH (2003) Interactions between nematophagous fungi and consequences for their potential as biological agents for the control of potato cyst nematodes. Mycol Res 107(1):47–56

Jatala P (1986) Biological control of plant-parasitic nematodes. Annu Rev Phytopathol 24(1):453–489

Khan MR, Goswami BK (1999) Nematicidal effect of culture filtrates of Paecilomyces lilacinus isolates on Meloidogyne incognita. Indian J Nematol 29:145–148

Kolombet LV, Zhigletsova SK, Kosareva NI, Bystrova EV, Derbyshev VV, Krasnova SP, Schisler D (2008) Development of an extended shelf-life, liquid formulation of the biofungicide Trichoderma asperellum. World J Microbiol Biotechnol 24(1):123–131

Lamovsek J, Urek G, Trdan S (2013) Biological control of root-knot nematodes (Meloidogyne spp.): microbes against the pests. Acta Agric Slov 101(2):263–275

Lima-Rivera DL, Lopez-Lima D, Desgarennes D, Velazquez-Rodriguez AS, Carrion G (2016) Phosphate solubilization by fungi with nematicidal potential. J Soil Sci Pl Nutri 16(2):507–524

Lorena Cardona N, Andrés Borrego D, Pamela Fernández E, Sánchez J, Cardona V, Montoya G (2014) Microbiological evaluation and pathogenicity of a liquid bio-formulation of the fungus Purpureocillium sp.(strain UdeA 0109) on Meloidogyne incognita-javanica stages. Biotecnol Apl 31(3):210–215

Mani MP, Rajeswari S, Kumar CS (1998) Management of the potato cyst nematodes, Globodera spp. through plant rhizosphere bacterium Pseudomonas fluorescens Migula. J Biol Control 12(2):131–134

Manikandan R, Saravanakumar D, Rajendran L, Raguchander T, Samiyappan R (2010) Standardization of liquid formulation of Pseudomonas fluorescens Pf1 for its efficacy against Fusarium wilt of tomato. Biol Control 54:83–89

Mendoza AR, Sikora RA, Kiewnick S (2007) Influence of Paecilomyces lilacinus strain 251 on the biological control of the burrowing nematode Radopholus similis in banana. Nematropica 37(2):203–214

Meyer SL, Halbrendt JM, Carta LK, Skantar AM, Liu T, Abdelnabby HM, Vinyard BT (2009) Toxicity of 2, 4-diacetylphloroglucinol (DAPG) to plant-parasitic and bacterial-feeding nematodes. J Nematol 41(4):274

Nagachandrabose S, Baidoo R (2017) A guide to introductory nematology. Nova Science Publisher, New York, USA, p 217

Nagesh M, Hussaini SS, Singh SP, Biswas SR (2003) Management of root-knot nematode, Meloidogyne incognita (Kofoid & White) Chitwood in chrysanthemum using Paecilomyces lilacinus (Thom) Samson in combination with neem cake. J Biol Control 17(2):125–131

Naserinasab F, Sahebani N, Etebarian HR (2011) Biological control of Meloidogyne javanica by Trichoderma harzianum BI and salicylic acid on tomato. Afr J Food Sci 5(4):276–280

Oostendorp M, Sikora RA (1989) Seed treatment with antagonistic rhizobacteria for the suppression of Heterodera schachtii early root infection of sugar beet. Rev Nematol 12(1):77–83

Patel DJ, Vyas RV, Patel BA, Patel RS (1995) Bioefficacy of Paecilomyces lilacinus in controlling Meloidogyne javanica (Pathotype 2) on groundnut. Intern Arachis Newsl 15(1):46

Prasad KK (1996) Determination of species and pathotypes of potato cyst nematodes in Nilgiri hills. J Indian Potato Assoc 23:40–45

Rao MS, Umamaheshwari R, Priti K, Rajinikanth R, Grace GN, Kamalnath M, Prabu P, Kumar RM, Chaya MK, Vidyashree (2016) Role of biopesticides in the management of nematodes and associated diseases in horticultural crops. In: Hakeem K, Akhtar M, Abdullah S (eds) Plant, Soil and Microbes. Springer, Cham. pp 117–148

Saravanakumar D, Samiyappan R (2006) ACC deaminase from Pseudomonas fluorescens mediated saline resistance in groundnut (Arachis hypogea) plants. J Appl Microbiol 102:1283–1292

Seenivasan N (2010) Bio-intensive management of Meloidogyne incognita and Macrophomina phaseolina disease complex in medicinal coleus. Indian J Pl Protec 38(2):186–192

Seenivasan N (2011) Efficacy of Pseudomonas fluorescens and Paecilomyces lilacinus against Meloidogyne graminicola infecting rice under system of rice intensification. Arch Phytopathol Pl Protec 44(15):1467–1482

Seenivasan N (2017a) Combined application of Pseudomonas fluorescens and Purpureocillium lilacinum liquid formulations to manage Globodera spp on potato. J Crop Protec 6(4):529–537

Seenivasan N (2017b) Management of Radopholus similis and Helicotylenchus multicinctus in ratoon banana grown under high-density planting systems. Intern J Fruit Sci 17(1):41–62

Seenivasan N (2017c) Status of potato cyst nematodes, Globodera spp infection on potato at Kodaikanal hills of Tamil Nadu, India and yield loss estimation. J Entomol Zool Stud 5(5):268–272

Seenivasan N (2018) Effect of concomitant application of Pseudomonas fluorescens and Purpureocillium lilacinum in carrot fields infested with Meloidogyne hapla. Arch Phytopathol Pl Protec 51(1–2):30–40

Seenivasan N, Devrajan K (2008) Management of Meloidogyne incognita on medicinal coleus by commercial biocontrol formulations. Nematol Mediterr 36:61–67

Seenivasan N, Murugan VT (2011a) Optimization of delivery methods for Pseudomonas fluorescens in management of rice root nematode, Hirschmanniella gracilis. Ann Pl Protec Sci 19(1):188–192

Seenivasan N, Murugan VT (2011b) Bio-management of reniform nematode-fusarium wilt disease complex in cotton. J Plant Prot Environ 8(1):90–96

Seenivasan N, Poornima K (2010) Bio-management of root-knot nematode, Meloidogyne incognita (Kofoid and White) Chitwood in jasmine (Jasminum sambac L.). Pest Manage Hortic Ecosys 16(1):34–40

Seenivasan N, Devrajan K, Selvaraj N (2007) Management of potato cyst nematodes, Globodera spp. through biological control. Indian J Nematol 37(1):27–29

Seenivasan N, David PMM, Vivekanandan P, Samiyappan R (2012) Biological control of rice root-knot nematode, Meloidogyne graminicola through mixture of Pseudomonas fluorescens strains. Biocontrol Sci Tech 22(6):611–632

Selvaraj S, Ganeshamoorthi P, Anand T, Raguchander T, Seenivasan N, Samiyappan R (2014) Evaluation of a liquid formulation of Pseudomonas fluorescens against Fusarium oxysporum f. sp. cubense and Helicotylenchus multicinctus in banana plantation. BioControl 59(3):345–355

Sharon E, Chet I, Viterbo A, Bar-Eyal M, Nagan H, Samuels GJ, Spiegel Y (2007) Parasitism of Trichoderma on Meloidogyne javanica and role of the gelatinous matrix. Eur J Pl Pathol 118(3):247–258

Siddiqui ZA, Mahmood I (1996) Biological control of plant parasitic nematodes by fungi: a review. Bioresour Technol 58(3):229–239

Siddiqui IA, Shaukat SS (2003) Suppression of root-knot disease by Pseudomonas fluorescens CHA0 in tomato: importance of bacterial secondary metabolite, 2, 4-diacetylpholoroglucinol. Soil Biol Biochem 35(12):1615–1623

Singh S, Pandey RK, Goswami BK (2013) Bio-control activity of Purpureocillium lilacinum strains in managing root-knot disease of tomato caused by Meloidogyne incognita. Biocontrol Sci Tech 23(12):1469–1489

Song Z, Shen L, Zhong Q, Yin Y, Wang Z (2016) Liquid culture production of microsclerotia of Purpureocillium lilacinum for use as bionematicide. Nematol 18(6):719–726
Funding
This work was supported by Tamil Nadu Agricultural University, Tamil Nadu, India, through university subproject no. CPPS/KDL/NEM/VEG/2014/001.
Ethics declarations
Conflict of Interest
The authors declare that they have no conflict of interest.
Additional information
Publisher's Note
Springer Nature remains neutral with regard to jurisdictional claims in published maps and institutional affiliations.
About this article
Cite this article
Nagachandrabose, S. Management of Potato Cyst Nematodes Using Liquid Bioformulations of Pseudomonas fluorescens, Purpureocillium lilacinum and Trichoderma viride. Potato Res. 63, 479–496 (2020). https://doi.org/10.1007/s11540-020-09452-2
Received:

Accepted:

Published:

Issue Date:
Keywords
Biocontrol

Globodera pallida
Globodera rostochiensis
Pseudomonas fluorescens
Purpureocillium lilacinum
Trichoderma viride