CEA Response and Depth of Response (DpR) to Predict Clinical Outcomes of First-Line Cetuximab Treatment for Metastatic Colorectal Cancer
Original Research Article
Abstract
Background
The decrease in carcinoembryonic antigen (CEA) level is faster and greater during cetuximab treatment than bevacizumab treatment and correlates with prolonged survival in patients with metastatic colorectal cancer (mCRC) who receive cetuximab.
Objective
We investigated if the degree of change in the CEA value can serve as a diagnostic tool for predicting survival, as well as tumor regression in mCRC patients treated with cetuximab combined regimen as first-line treatment.
Patients and Methods
Associations among the CEA decrease, depth of response (DpR), and clinical outcomes were evaluated in 113 patients with mCRC from two phase II trials of first-line therapy: the JACCRO CC-05 trial of cetuximab plus FOLFOX and the CC-06 trial of cetuximab plus SOX. Analysis was performed using Spearman's rank correlation coefficient. A 75% decrease in the CEA was used as the cut-off value to define the CEA response and discriminate CEA responders on the basis of the results of a previous study.
Results
Ninety-two patients were eligible for analyses of both CEA and DpR. The median CEA decrease was 67.4%, and the median time to CEA nadir was 2.8 months, which was similar to the median time to DpR of 3.0 months. The DpR was associated with PFS and OS (rs = 0.56, P < 0.0001; rs = 0.39, P = 0.0090, respectively); moreover, the CEA decrease correlated with PFS (rs = 0.56, P < 0.0001), as well as OS (rs = 0.35, P = 0.019). CEA responders had significantly longer PFS (11.8 vs. 5.5 months, hazard ratio [HR] 0.46, P = 0.0009) and slightly, but not significantly longer OS (36.2 vs. 23.5 months; HR 0.57; P = 0.072) than CEA non-responders. The CEA decrease was statistically significantly associated with the DpR (rs = 0.44, P < 0.0001).
Conclusions
Our study demonstrates that both DpR and CEA response correlate with clinical outcomes of first-line treatment with cetuximab. The CEA decrease may serve as a surrogate for DpR in patients who receive first-line cetuximab treatment (UMIN000004197, UMIN000007022).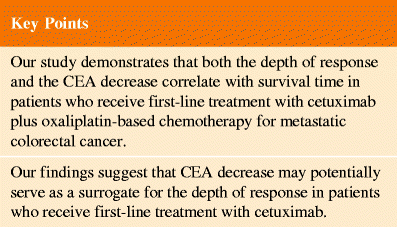 Notes
Acknowledgements
We thank the patients, their families, and the investigators who participated in the JACCRO CC-05 and CC-06 trials. We also thank Dr. Toshifusa Nakajima for trial support, Sachika Koyama for editorial assistance, and Peter Star (Medical Network K.K.) for English editorial support.
Compliance with Ethical Standards
All procedures performed in studies involving human participants were in accordance with the ethical standards of the institutional or national research committee (or both) and with the 1964 Helsinki declaration and its later amendments or comparable ethical standards.
Funding
This study was supported by the Japan Clinical Cancer Research Organization (JACCRO).
Conflict of Interest
Author Y.S. has received honoraria from Taiho Pharmaceutical, Chugai Pharma, Yakult Honsha, Takeda, and Merck Serono. Author W.I. has received consulting fees from Merck Serono, Daiichi Sankyo, Zeria Pharmaceutical, and Ono Pharmaceutical; research funding from Merck Serono, Taiho Pharmaceutical, Takeda, and Eisai; and honoraria from Taiho Pharmaceutical, Merck Serono, Chugai Pharma, Daiichi Sankyo, Takeda, Nippon Kayaku and Sawai Pharmaceutical Co. Author A.T. has received honoraria from Daiichi Sankyo, Taiho Pharmaceutical, Chugai Pharma, and Merck Serono. Author M.N. has received honoraria from Merck Serono, Takeda, Chugai Pharma, Taiho Pharmaceutical, Nippon Kayaku, Novartis, Yakult Honsha, Lilly Japan, Bristol-Myers Squibb, Bayer, Ajinomoto, Shionogi, Pfizer, and Ono Pharmaceutical. Author M.K. has received honoraria from Merck Serono, Takeda, Chugai Pharma, and Yakult Honsha. Author M.T. has received consulting fees from Taiho Pharmaceutical, Shionogi, AbbVie GK, Astra Zeneca Co., and Hisamitsu Pharma Co.; and honoraria from Mitsubishi Tanabe Pharma. The other authors have declared no conflicts of interest.
Copyright information
© Springer International Publishing AG 2017