The Current Landscape of Anaplastic Lymphoma Kinase (ALK) in Non-Small Cell Lung Cancer: Emerging Treatment Paradigms and Future Directions
Abstract
Tumorigenic rearrangements in anaplastic lymphoma kinase (
ALK
) account for 3–7% of all non-small cell lung cancers (NSCLC). Treatment with targeted tyrosine kinase inhibitors (TKIs) has shown impressive clinical responses. Crizotinib was the first agent approved for front-line therapy of
ALK
-rearranged NSCLC after it demonstrated superiority to chemotherapy in response rate, duration of response, and progression-free survival. However, eventually all patients progress on crizotinib therapy, with the central nervous system (CNS) being the most common site, which served as the impetus for the development of more potent next-generation ALK inhibitors. Currently, ceritinib, alectinib, and brigatinib are all approved for second-line therapy after progression on or intolerance to crizotinib. Investigations into whether the initiation of a second-generation ALK inhibitor as first-line therapy is the superior treatment paradigm has resulted in the approval of ceritinib as initial therapy. Alectinib has also shown impressive results as front-line therapy, as recently reported in two large randomized studies that compared it to crizotinib. There is a significant need to better understand the drivers of and mechanisms underlying resistance to ALK inhibitors. While specific mutations have been identified, there is currently only limited evidence that the identification of specific mutations should impact selection of the next ALK inhibitor. The best treatment option for patients who become TKI refractory is also unclear, though there is some evidence to suggests that these patients are not responsive to checkpoint inhibitors and may respond better to chemotherapy. Combination therapy with other classes of agents may help to overcome resistance mechanisms and should be investigated further.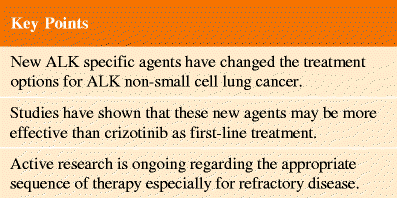 Notes
Compliance with Ethical Standards
Funding
Angel Qin is supported by the National Institute of Health Oncology Research Training Grant 5T32CA009357-35.
Conflicts of Interest
Angel Qin has no conflicts of interest to declare. Shirish Gadgeel has received consulting fees or honorarium from Genentech/Roche, Ariad, Pfizer, Novartis, and Astra-Zeneca.
Copyright information
© Springer International Publishing AG 2017