Abstract
Bioelectrical fetal heart activity being recorded from maternal abdominal surface contains more information than mechanical heart activity measurement based on the Doppler ultrasound signals. However, it requires extraction of fetal electrocardiogram from abdominal signals where the maternal electrocardiogram is dominant. The simplest technique for maternal component suppression is a blanking procedure, which relies upon the replacement of maternal QRS complexes by isoline values. Although, in case of coincidence of fetal and maternal QRS complexes, it causes a loss of information on fetal heart activity. Its influence on determination of fetal heart rate and the variability analysis depends on the sensitivity of the heart-beat detector used. The sensitivity is defined as an ability to detect the incomplete fetal QRS complex. The aim of this work was to evaluate the influence of the maternal electrocardiogram suppression method used on the reliability of FHR signal being calculated.
This is a preview of subscription content, log in to check access.
Access options
Buy single article
Instant access to the full article PDF.
US$ 39.95
Price includes VAT for USA
Subscribe to journal
Immediate online access to all issues from 2019. Subscription will auto renew annually.
US$ 199
This is the net price. Taxes to be calculated in checkout.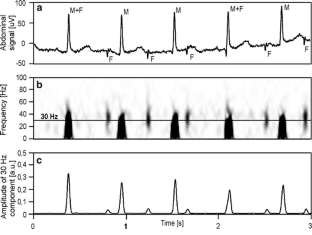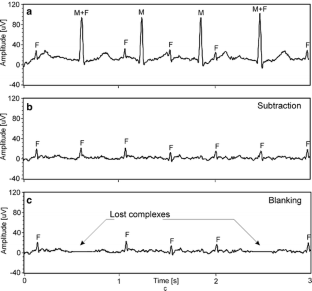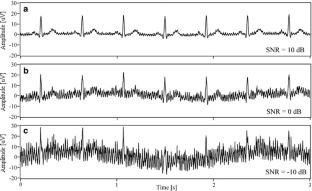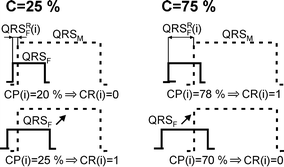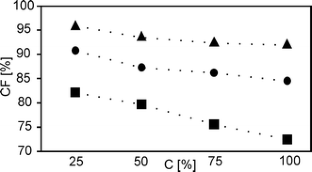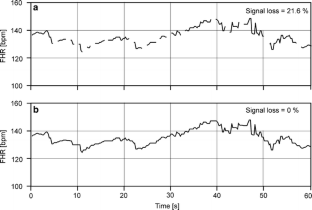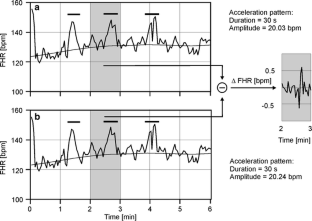 Abbreviations
ΔR :

Detection error of the R wave

ΔT F :

Variation of fetal T RR duration

ΔT M :

Variation of maternal T RR duration

C :

Class of rest component

CF:

Coincidence coefficient

CP:

Rest component of the fetal QRS complex

CR:

Marker of class membership

DE:

Percentage of the detected QRS complexes to their overall number

DFD :

Detection function based on combination of derivative of the FECG

DFF :

Detection function based on linear filtration of the FECG

FECG:

Fetal electrocardiogram

FHR:

Fetal heart rate

JTFA:

Joined time-frequency analysis

MECG:

Maternal electrocardiogram

N :

Number of all fetal QRS complexes in the signal

QRSF :

Width of fetal QRS complex

QRS RF :

Width of the fetal QRS complex after blanking

QRSM :

Width of maternal QRS complex

SNR:

Signal to noise ratio

T F :

Base value of fetal T RR interval

T M :

Base value of maternal T RR interval

T RR :

Time interval between two consecutive R waves
References
Afonso VX (1993) ECG QRS detection. In: Tompkins WJ (eds) Biomedical digital signal processing. PTR Prentice-Hall, Englewood Cliffs, pp 236–264

Azevedo S, Longini RL (1980) Abdominal-lead fetal electrocardiographic R-wave enhancement for heart rate determination. IEEE Trans Biomed Eng 27:255–260

Bergveld P, Meijer WJH (1981) A new technique for the suppression of the MECG. IEEE Trans Biomed Eng 28:348–354

Callaerts D, De Moor B, Vandewalle J, Sansen W (1990) Comparison of SVD method to extract the fetal electrocardiogram from cutaneous electrode signals. Med Biol Eng Comput 28:217–224

Friesen GM, Jannett TC, Jadallah MA, Yates AL, Quint SR, Nagle HT (1990) A comparison of the noise sensitivity of nine QRS detection algorithms. IEEE Trans Biomed Eng 37:85–98

Horoba K, Jezewski J, Matonia A, Gacek A, Bernys M, Wrobel J (2004) Fetal monitoring based on bioelectrical signals from maternal abdomen. Proc IFMBE LA Biomed Eng 5:1207–1210

Jezewski J, Horoba K, Wrobel J, Sikora J, Gacek A, Matonia A, Kupka T (2002a) Monitoring of mechanical and electrical activity of fetal heart: determination of the FHR. Arch Perinat Med 8:33–39

Jezewski J, Wrobel J, Horoba K, Cholewa D, Gacek A, Kupka T, Matonia A (2002b) Monitoring of mechanical and electrical activity of fetal heart: the nature of signals. Arch Perinat Med 8:40–46

Jezewski J, Wrobel J, Horoba K (2006) Comparison of doppler ultrasound and direct electrocardiography acquisition techniques for quantification of fetal heart variability. IEEE Trans Biomed Eng 53 (in press)

Kanjilal PP, Palit S, Saha G (1997) Fetal ECG extraction from single-channel maternal ECG using singular value decomposition. IEEE Trans Biomed Eng 44:51–59

Kohler BU, Hennig C, Orglmeister R (2002) The principles of software qrs detection—reviewing and comparing algorithm for detecting this important ECG waveform. IEEE Eng Med Biol Mag 21:42–57

Kotas M (1995) The investigation of QRS complex detection algorithms applied to fetal ECG signal. In: Proceedings of the international conference "SYMBIOSIS", pp 104–106

Kotas M (1996) Fetal QRS detection-quantitative investigation of a class of algorithms. Biocybern Biomed Eng 16:133–145

Matonia A, Jezewski J, Kupka T, Horoba K, Wrobel J (2003) Algorithm for recognition and suppression of interfering maternal electrocardiography. In: Proceedings of the computer recognition systems, pp 55–61

Matonia A, Jezewski J, Kupka T, Horoba K (2005a) Modelling of noninvasively recorded maternal and fetal electrocardiographic signals. Biocybern Biomed Eng 25:27–39

Matonia A, Kupka T, Jezewski J, Horoba K (2005b) Evaluation of the QRS detection algorithms in relation to fetal heart rate estimation. In: Proceedings of the IFMBE 11 1709, pp 1–5

Pan J, Tompkins WJ (1985) A real-time QRS detection algorithm. IEEE Trans Biomed Eng 32:230–236

Peters MJ, Crowe JA, Pieri JF, Quartero H, Hayes Gill BR, James D, Stinstra JG, Shakespeare S (2001) Monitoring the fetal heart non-invasively: a review of methods. J Perinat Med 29:408–416

Pieri JF, Crowe JA, Hayes Gill BR, Spencer CJ, Bhogal K, James DK (2001) Compact long-term recorder for the transabdominal fetal and maternal electrocardiogram. Med Biol Eng Comput 39:118–125

Rosen KG (2001) Intrapartum fetal monitoring and the fetal ECG—time for a change. Arch Perinat Med 7:7–12

Widrow B. Glover JR, McCool JM, Kaunitz J (1975) Adaptative noise cancelling—principles and applications. Proc IEEE Inst Electr Electron Eng 63:1692–1716

Wrobel J (2001) Evaluation of accuracy of fetal heart rate variability parameters in respect to registration methods: ultrasound and electrocardiography. PhD Thesis, Poznan University of Medical Sciences
Acknowledgment
Scientific work financed from the State Committee for Scientific Research resources in the years 2004–2006 as a research project No. 3 T11E 01726. Adam Matonia is a fellowship holder of the Foundation for Polish Sciences
About this article
Cite this article
Matonia, A., Jezewski, J., Kupka, T. et al. The influence of coincidence of fetal and maternal QRS complexes on fetal heart rate reliability. Med Bio Eng Comput 44, 393–403 (2006). https://doi.org/10.1007/s11517-006-0054-0
Received:

Accepted:

Published:

Issue Date:
Keywords
Fetal monitoring

Abdominal fetal electrocardiography

Fetal heart rate

Biomedical instrumentation