Abstract
Due to the advantage of improving the sensing performance, narrow-band metamaterial perfect absorbers (MPAs) have attracted much attention in the sensor field. Here, we propose an ultra-narrow-band infrared absorber (UNBIRA) based on localized surface plasmon resonance. The peak absorption of the UNBIRA exceeds 99% with the full width at half maximum (FWHM) of 1.94 nm and 6.32 nm for transverse electric (TE) wave and transverse magnetic (TM) wave in 1.5–1.8 μm. The corresponding Q-factors for TE wave and TM wave are 817 and 266, respectively. When used as an infrared refractive index sensor, the sensitivity of UNBIRA is as high as 1632.5 nm/RIU for TE wave and 1647.5 nm/RIU for TM wave. Accordingly, the figure of merits (FOMs) of 816.2/RIU for TE wave and 260.7/RIU for TM wave are achieved. This UNBIRA possesses a simple geometry structure and an excellent sensing performance, implying a great potential for application of ultra-narrow infrared sensing or detecting.
Access options
Buy single article
Instant access to the full article PDF.
US$ 39.95
Tax calculation will be finalised during checkout.
Subscribe to journal
Immediate online access to all issues from 2019. Subscription will auto renew annually.
US$ 79
Tax calculation will be finalised during checkout.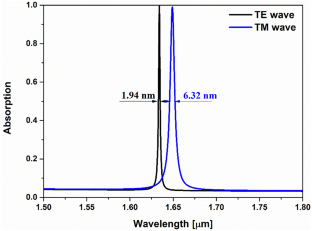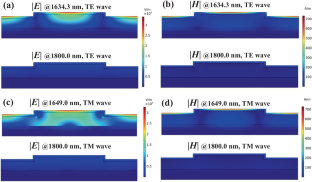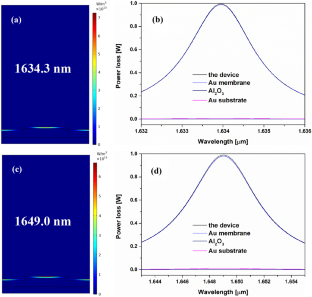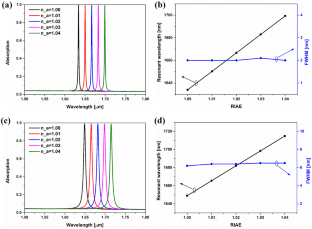 Data Availability
All data generated or analyzed during this study are included in this article.
Abbreviations
MPA:

Metamaterial perfect absorber

UNBIRA:

Ultra-narrow-band infrared absorber

FWHM:

Full width at half maximum

FOM:

The figure of merit

Q-factor:

Quality factor

MDM:

Metal-dielectric-metal

TE:

Transverse electric

TM:

Transverse magnetic

PML:

Perfectly matched layer

RIAE:

Refractive index of the ambient environment

RIU:

Refractive index change unit
Funding
This work was supported by the National Natural Science Foundation of China under Grant 61901268 and 61975209, the Sichuan Science and Technology Program under Grant 2020JDJQ0006, and Postdoctoral Foundation of China under Grant 2019M663464.
Ethics declarations
Conflict of Interest
The authors declare that they have no conflict of interest.
Additional information
Publisher's Note
Springer Nature remains neutral with regard to jurisdictional claims in published maps and institutional affiliations.
About this article
Cite this article
Yuan, L., Liao, J., Ren, A. et al. Ultra-narrow-band Infrared Absorbers Based on Surface Plasmon Resonance. Plasmonics (2021). https://doi.org/10.1007/s11468-021-01384-y
Received:

Accepted:

Published:
Keywords
Metamaterial

Ultra-narrow absorber

Refractive index sensor

Surface plasmon resonance