Abstract
In this paper, hyperbolic plasmonic responses of phosphorene under uniaxial strains have been explored within density functional theory. In the hyperbolic regime, plasmonic slab waveguide modes are found only along armchair direction. Then, uniaxial strains up to 10% have been applied along zigzag and armchair directions, which can significantly modify its plasmonic responses. Under appropriate strain, the signs of permittivities along two in-plane directions can be even reversed, causing switching of the propagating direction of the plasmonic modes into zigzag direction. Our investigations may give a general idea about how to control the hyperbolic plasmonic modes in phosphorene via strain.
Access options
Buy single article
Instant access to the full article PDF.
US$ 39.95
Tax calculation will be finalised during checkout.
Subscribe to journal
Immediate online access to all issues from 2019. Subscription will auto renew annually.
US$ 79
Tax calculation will be finalised during checkout.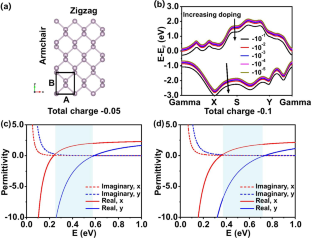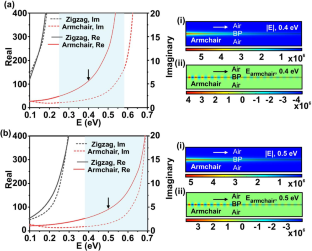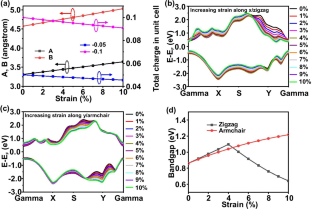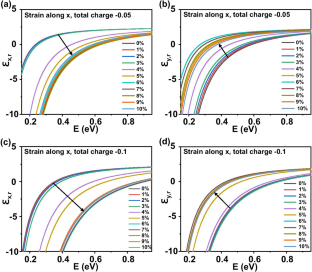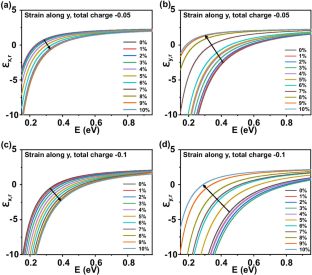 Data Availability
The data that support the findings of this study are available from the corresponding author upon reasonable request.
Acknowledgments
We thank Dr. C. Q. Shao for the use of their computer cluster.
Funding
This study was funded by National Natural Science Foundation of China (Grant No. 61805062).
Ethics declarations
Competing Interests
The authors declare that they have no competing interests.
Additional information
Publisher's Note
Springer Nature remains neutral with regard to jurisdictional claims in published maps and institutional affiliations.
About this article
Cite this article
Zhou, Y., Zhong, Z., Dai, M. et al. Reversed Hyperbolic Plasmonic Responses in Phosphorene Under Uniaxial Strain. Plasmonics (2021). https://doi.org/10.1007/s11468-020-01368-4
Received:

Accepted:

Published:
Keywords
Phosphorene

Plasmonics

Hyperbolic

Strain