Zusammenfassung
Hintergrund
Patienten mit diabetischem Fußsyndrom (DFS) weisen mit 70 % aller Majoramputationen in Deutschland ein erhöhtes Amputationsrisiko auf. Bei >50 % dieser Patientengruppe ist eine makrovaskuläre Komplikation hierfür mitursächlich. Zentrale Aufgabe und zugleich Herausforderung an die Gefäßchirurgie ist die Revaskularisation bei diesen oft multimorbiden, älteren Patienten zum Extremitätenerhalt.
Ziel der Arbeit
Ziel der Arbeit sind die Darstellung (1) einer praxisnahen Stufengefäßdiagnostik sowie (2) die Vorstellung gängiger gefäßchirurgischer Methoden zur Revaskularisation bei Patienten mit DFS und kritischer Ischämie.
Ergebnisse
Eine frühzeitige vaskuläre Diagnostik und Revaskularisation sind mit einer signifikant höheren Heilungsrate und einem niedrigeren Risiko einer Majoramputation assoziiert und daher für Patienten mit DFS und kritischer Ischämie zwingend zu fordern. Die Gefäßchirurgie bietet endovaskuläre, konventionell-chirurgische und Hybridverfahren zur Therapie der kritischen Ischämie beim DFS aus einer Hand an, sodass eine Revaskularisation, soweit sinnvoll, technisch fast immer machbar ist. Eine "endovascular-first"-Strategie setzt sich wegen der älteren, komorbiden Klientel durch, wobei jedoch auch konventionelle Verfahren, insbesondere kurze, distale ("distal origin") Bypässe aufgrund ihrer guten Langzeitergebnisse weiterhin ihre Berechtigung haben.
Schlussfolgerung
Eine moderne Gefäßchirurgie ist ein wichtiger Partner in der interdisziplinären Versorgung von Patienten mit DFS und sollte frühzeitig in die Behandlung eingebunden werden. Zeitnahe vaskuläre Diagnostik und Revaskularisation führen nachweislich zu einem langfristigen Erhalt der Extremität.
Abstract
Background
Patients with diabetic foot syndrome (DFS) have an increased risk for amputation and account for 70% of all major amputations in Germany. Macrovascular complications are causal in >50% of this patient group. A central task and at the same time a challenge for vascular surgery is the revascularization of these often multimorbid, older patients to maintain the extremities.
Objective
The aim of the work is therefore to present (1) a practical step-by-step vascular diagnosis and (2) common vascular surgical methods for revascularization in patients with DFS and critical ischemia.
Results
Early vascular diagnosis and revascularization is associated with a significantly higher healing rate and lower risk of major amputation and is therefore absolutely necessary for patients with DFS and critical ischemia. Vascular surgery offers endovascular, conventional surgical and hybrid procedures for the treatment of critical ischemia in DFS from a single source, so that revascularization, if possible, is technically feasible. An "endovascular first" strategy has become established because of the older, comorbid patient population. However, conventional procedures, especially distal origin bypasses, continue to be justified due to their good long-term results.
Conclusions
Modern vascular surgery is an important partner in the interdisciplinary care of patients with DFS and should be involved in treatment at an early stage. Prompt vascular diagnostics and revascularization have been shown to lead to long-term preservation of the extremity.
This is a preview of subscription content, log in to check access.
Access options
Buy single article
Instant access to the full article PDF.
US$ 39.95
Price includes VAT for USA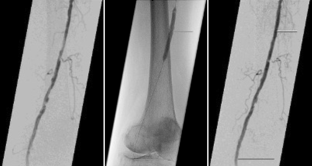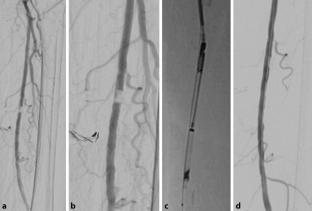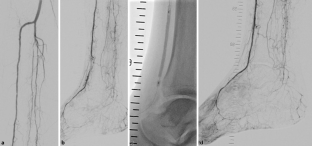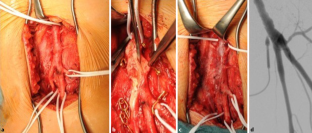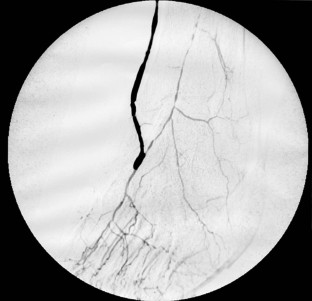 Literatur
1.

Butt T, Lilja E, Elgzyri T et al (2020) Amputation-free survival in patients with diabetic foot ulcer and peripheral arterial disease: Endovascular versus open surgery in a propensity score adjusted analysis. J Diabetes Complicat. https://doi.org/10.1016/j.jdiacomp.2020.107551

2.

Cheun TJ, Jayakumar L, Sideman MJ et al (2020) Outcomes of isolated inframalleolar interventions for chronic limb-threatening ischemia in diabetic patients. J Vasc Surg. https://doi.org/10.1016/j.jvs.2019.07.094

3.

Eckhardt A, Lobmann R (2015) Der diabetische Fuß: Interdisziplinäre Diagnostik und Therapie. Springer, Heidelberg

4.

Elgzyri T, Larsson J, Nyberg P et al (2014) Early revascularization after admittance to a diabetic foot center affects the healing probability of ischemic foot ulcer in patients with diabetes. Eur J Vasc Endovasc Surg 48:440

5.

Hinchliffe R, Brownrigg J, Apelqvist J et al (2016) IWGDF guidance on the diagnosis, prognosis and management of peripheral artery disease in patients with foot ulcers in diabetes. Diabetes Metab Res Rev 32:37

6.

Laird JR, Schneider PA, Tepe G et al (2015) Durability of treatment effect using a drug-coated balloon for femoropopliteal lesions: 24-month results of IN. PACT SFA. J Am Coll Cardiol 66:2329

7.

Morbach S, Mueller E, Reike H et al (2017) Diabetic foot syndrome. Diabetol Stoffwechs 12:S181

8.

Morbach S, Müller E, Reike H et al (2009) Diagnostik, Therapie, Verlaufskontrolle und Prävention des diabetischen Fußsyndroms. Diabetol Stoffwechs 4:301

9.

Neufang A, Dorweiler B, Espinola-Klein C et al (2003) Limb salvage in diabetic foot syndrome with pedal bypass using the in-situ technique. Zentralbl Chir 128:715

10.

Noronen K, Saarinen E, Albäck A et al (2017) Analysis of the elective treatment process for critical limb Ischaemia with tissue loss: diabetic patients require rapid revascularisation. Eur J Vasc Endovasc Surg 53:206

11.

Schneider PA, Laird JR, Doros G et al (2019) Mortality not correlated with paclitaxel exposure: an independent patient-level meta-analysis of a drug-coated balloon. J Am Coll Cardiol 73:2550

12.

Stavroulakis K, Borowski M, Torsello G et al (2018) One-year results of First-Line treatment strategies in patients with critical limb ischemia (CRITISCH Registry). J Endovasc Ther 25:320

13.

Tamayo T, Brinks R, Hoyer A et al. (2016) The Prevalence and Incidence of Diabetes in Germany: An Analysis of Statutory Health Insurance Data on 65 Million Individuals From the Years 2009 and 2010 (An analysis of statutory health insurance data on 65 million individuals from the years 2009 and 2010).

14.

Tepe G (2020) Increased risk of using drug-eluting balloons below the knee? The discussion continues. Cardiovasc Intervent Radiol. https://doi.org/10.1007/s00270-020-02447-z

15.

Wieker CM, Schönefeld E, Osada N et al (2016) Results of common femoral artery thromboendarterectomy evaluation of a traditional surgical management in the endovascular era. J Vasc Surg 64:995

16.

Zeller T, Langhoff R, Rocha-Singh KJ et al (2017) Directional atherectomy followed by a paclitaxel-coated balloon to inhibit restenosis and maintain vessel patency: twelve-month results of the DEFINITIVE AR study. Circ Cardiovasc Interv 10:e4848
Ethics declarations
Interessenkonflikt
J. Schade, C. Goerig und P. Geisbüsch geben an, dass kein Interessenkonflikt besteht.
Für diesen Beitrag wurden von den Autoren keine Studien an Menschen oder Tieren durchgeführt. Für die aufgeführten Studien gelten die jeweils dort angegebenen ethischen Richtlinien.
About this article
Cite this article
Schade, J., Goerig, C. & Geisbüsch, P. Diabetisches Fußsyndrom – gefäßchirurgische Aspekte und Herausforderungen. Diabetologe 16, 349–354 (2020). https://doi.org/10.1007/s11428-020-00628-5
Schlüsselwörter
Diabetischer Fuß

Revaskularisation

Endovaskuläre Verfahren

Vaskuläre Komplikationen

Bypässe distaler Herkunft ("distal origin bypass")
Keywords
Diabetic foot

Revascularization

Endovascular procedures

Diabetic angiopathies

Distal origin bypass