Abstract
This study aims to extend the learning advantages of game-based learning from formal education to informal learning, and to develop a role-playing game (RPG) to help students familiarize themselves with a new school. Several game elements and principles were considered during the design stage, and the tasks were embedded into a macro-context to simulate a virtual campus. A total of 110 junior high school students participated in the experiment, playing the game via two modes, single and peer mode. Overall, the findings showed that most students gave positive feedback on the game design regarding the dimensions of playability, usability, challenge, and gamefulness. Besides, the learners who used the single mode performed better on the post-tests than those who used peer mode. Despite learners in peer mode engaging in discussion and interaction during gameplay, without appropriate collaborative guidance, they may not have been able to achieve the expected learning goals. The study concludes that participation in the game activity captivated the students' learning attention and helped them learn in a more enjoyable way. Furthermore, the use of RPG in informal learning provided the students with opportunities to be exposed to an authentic campus, making it a good way to trigger effective learning through applying learned knowledge to solve the problems in the game. Future research work is also discussed.
This is a preview of subscription content, log in to check access.
Access options
Buy single article
Instant access to the full article PDF.
US$ 39.95
Price includes VAT for USA
Subscribe to journal
Immediate online access to all issues from 2019. Subscription will auto renew annually.
US$ 99
This is the net price. Taxes to be calculated in checkout.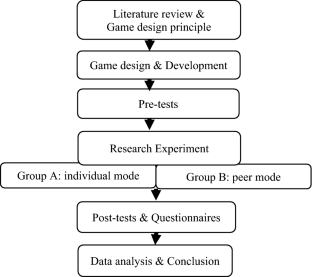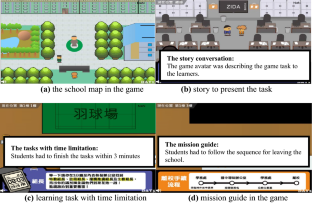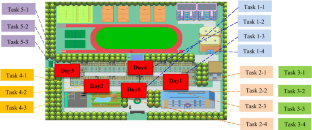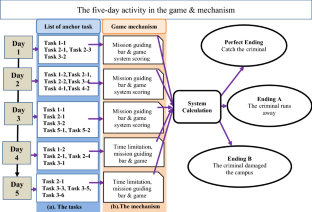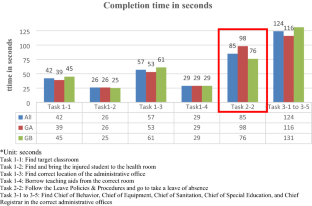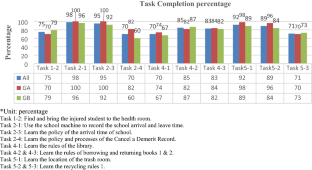 References
Adams, D. M., Mayer, R. E., MacNamara, A., Koenig, A., & Wainess, R. (2012). Narrative games for learning: Testing the discovery and narrative hypotheses. Journal of Educational Psychology,104(1), 235–249.

Ahmad, I., & Jaafar, A. (2012). Computer games: Implementation into teaching and learning. Procedia Social and Behavioral Sciences,59, 515–519.

Ahmad, W., Shafie, A., & Latif, M. (2010). Role-playing game-based learning in mathematics. The Electronic Journal of Mathematics & Technology,4(2), 184–196.

Akkerman, S., Admiraal, W., & Huizenga, J. (2009). Storification in history education: A mobile game in and about medieval Amsterdam. Computers & Education,52, 449–459.

Anderman, E., Missall, K., Hojnoski, R., Patrick, H., Drake, B., & Jarvis, P. (2009). School transitions. Retrieved from http://www.education.com/reference/article/school_transition

Bordini, R. A., & Otsuka, J. L. (2015). An educational adventure game for keyboard learning. In Paper presented at Advanced Learning Technologies (ICALT), 2015 IEEE 15th international conference, Hualien, Taiwan.

Brom, C., Šisler, V., Slussareff, M., Selmbacherová, T., & Hlávka, Z. (2016). You like it, you learn it: Affectivity and learning in competitive social role play gaming. International Journal of Computer-Supported Collaborative Learning,11(3), 313–348.

Cedefop, (2011). Glossary: Quality in education and training. Luxembourg: Publications Office.

Chen, C.-H., & Law, V. (2016). Scaffolding individual and collaborative game-based learning in learning performance and intrinsic motivation. Computers in Human Behavior,55, 1201–1212.

Chen, M.-H. M., Tsai, S.-T., & Chang, C.-C. (2016). Effects of educational role-playing and simulation games: Designing interactive carbon footprint curriculum for primary school students. Journal of Research in Education Sciences,61(4), 1–32.

Cheng, N. F. (2016). An investigation of the remedial teaching outcomes on using game-based learning system: A case study on the graphs of quadratic function (Unpublished master thesis). Department of information management. Taiwan: Nanhua University.

Chiu, M. M. (2008). Flowing toward correct contributions during groups' mathematics problem solving: A statistical discourse analysis. The Journal of the Learning Sciences,17(3), 415–463.

Costikyan, G. (2002, June). I have no words & i must design, toward a critical vocabulary for computer games. Proceedings of Computer Games and Digital Cultures Conference (pp. 9–33). Finland.

Coyne, R. (2003). Mindless repetition: learning from computer games. Design Studies,24, 199–212.

Delago, L., Machado, M., Brito F., Landgraf, G., Schroeder, M., et al. (2016, December) Learning lean philosophy through 3D game-based simulation. Proceedings of IEEE Winter Simulation Conference (pp. 3385–3392). Washington DC.

Dickey, M. D. (2006, July). Ninja Looting for instructional design: The design challenges of creating a game-based learning environment. Proceedings of ACM SIGGRAPH 2006 Conference, Boston.

Dockett, S., & Perry, B. (1999). Starting school: What matters for children, parents and educators? Australian Early Childhood Association Research in Practice,6(3), 1–18.

Dunlop, A. W., & Fabian, H. (2007). Informing transitions in the early years. Research, policy and practice. Maidenhead: Open University Press.

Einarsdóttir, J. (2007). Children's voices on the transition from preschool to primary school. In A.-W. Dunlop & H. Fabian (Eds.), Informing transitions in the early years. Research, policy and practice (pp. 74–91). Maidenhead: Open University Press.

Fisch, S. M. (2005, June). Making educational computer games educational. Proceedings of the 2005 Conference on Interaction Design and Children, Colorado: Boulder.

Funday Factory, (2019, January). Game design for kids. Retrieved from https://fundayfactory.com/media/147699/age-appropriate-game-design-for-children.pdf

Ganeson, K., & Ehrich, L. C. (2009). Transition into high school: A phenomenological study. Educational Philosophy and Theory, 41(1), 60–78.

Gee, J. P. (2007). What video games have to teach us about learning and literacy?. New York: Palgrave Macmillan.

Gribbons, B., & Herman, J. (1997). True and quasi-experimental designs. ERIC/AE digest.. Washington, DC: ERIC Clearinghouse on Assessment and Evaluation.

Grimshaw, J., Campbell, M. K., & Steen, N. (2000). Experimental and quasi-experimental designs for evaluating guideline implementation strategies. Family Practice,17(1), 11–18.

Hainey, T., Connolly, T. M., Boyle, E. A., Wilson, A., & Razak, A. (2016). A systematic literature review of games-based learning empirical evidence in primary education. Computers & Education,102, 202–223.

Hämäläinen, R. (2008). Designing and evaluating collaboration in a virtual game environment for vocational learning. Computers & Education,50(1), 98–109.

Hogle, J. G. (1996). Considering games as cognitive tools: In search of effective edutainment. Athens, GA: University of Georgia.

Jabbar, A. I. A., & Felicia, P. (2015). Gameplay engagement and learning in game-based learning: A systematic review. Review of Educational Research,85(4), 740–779.

Kapp, K. (2012). The gamification of learning and instruction: game-based methods and strategies for training and education. Pfeiffer Essential Resources for Training and HR Professiona: Wiley.

Kiili, K. (2005). Digital game-based learning: Toward an experiential gaming model. The Internet and Higher Education,8, 13–24.

Lai, T. L., & Peng, S. C. (2015). The effects of game-based learning on students' achievement in history learning. Research of Educational Communication and Technology,112, 41–49.

Lankoski, P. (2004). Character Design Fundamentals for Role-Playing Games. In M. Montola & J. Stenros (Eds.), Beyond role and play: Tools, toys, and theory for harnessing the imagination (pp. 139–148). Ropecon: Helsinki.

Lau, E. Y. H. (2014). Chinese parents' perceptions and practices of parental involvement during school transition. Early Child Development and Care, 184(3), 403–415.

Li, J. (2010). Does collaborative self-debriefing scaffold digital game-based learning better than individual self-debriefing does? (Unpublished master thesis). Faculty of Behavioural Sciences: University of Twente, Netherlands.

Li. C.T., Yan, J. W., & Hou, H. T. (2017). Designing a 3D educational game integrated with situated learning and multiple scaffolding for organic chemistry learning. Proceedings of the 25th International Conference on Computers in Education (pp. 16–18). New Zealand: Asia-Pacific Society for Computers in Education.

Liu, C. C., Cheng, Y. B., & Huang, C. W. (2011). The effect of simulation games on the learning of computational problem solving. Computers & Education,57(3), 1907–1918.

Lutz, S. L., Guthrie, J. T., & Davis, M. H. (2006). Scaffolding for engagement in elementary school reading instruction. The Journal of Educational Research,100(1), 3–21.

Martín-Sanjosé, J. F., Juan, M. C., Seguí, I., & García-García, I. (2015). The effects of computer-based games and collaboration in large groups vs. collaboration in pairs or traditional methods. Computers & Education,87, 42–54.

Mayer, R. E. (2009). Multimedia learning (2nd ed.). New York: Cambridge University Press.

Mayer, R. E. (2010). Applying the science of learning. Upper Saddle River, NJ: Pearson.

Mitchell, A., & Savill-smith, C. (2005). The use of computer and video games for learning. A review of the literature. Learning and Skills Development Agency: London.

Mitnik, R., Recabarren, M., Nussbaum, M., & Soto, A. (2009). Collaborative robotic instruction: A graph teaching experience. Computers & Education,53(2), 330–342.

Parker, J. D. A., Summerfeldt, L. J., Hogan, M. J., & Majeski, S. A. (2004). Emotional intelligence and academia success: Examining the transitionfrom high school to university. Personality and Individual Differences,36(1), 163–172.

Pérez-Sanagustín, M., Ramirez-Gonzalez, G., Hernández-Leo, D., Muñoz-Organero, M., Santos, P., Blat, J., et al. (2011). Discovering the campus together: A mobile and computer-based learning experience. Journal of Network and Computer Applications,35, 167–188.

Plass, J. L., Homer, B. D., & Kinzer, C. K. (2015). Foundations of game-based learning. Educational Psychologist,50(4), 258–283.

Plass, J. L., O'Keefe, P. A., Homer, B. D., Case, J., Hayward, E. O., & Stein, M. (2013). The impact of individual, competitive, and collaborative mathematics game play on learning, performance, and motivation. Journal of Educational Psychology,105(4), 1050–1066.

Prensky, M. (2001). Digital game-based learning. USA: McGraw-Hill.

Randi, M. A., & Carvalho, H. F. (2013). Learning through role-playing games: an approach for active learning and teaching. Revista Brasileira de Educação Médica,37, 80–88.

Rollings, A., & Adams, E. (2003). Andrew Rollings and Ernest Adams on game design. USA New Riders.

Sabourin, J. L., & Lester, J. C. (2014). Affect and engagement in game-based learning environments. Transactions on Affective Computing,5(1), 45–56.

Salen, K., & Zimmerman, E. (2004). Rules of play: Game design fundamentals. Cambridge: MIT Press.

Schell, J. (2014). The art of game design: A book of lenses. CRC Press, 2014. ISBN-13: 978-1466598645

Shaffer, D. W., Halverson, R., Squire, K. R., & Gee, J. P. (2005). Video games and the future of learning. Madison: University of Wisconsin–Madison, Wisconsin Center for Education Research (NJ1).

Shih, J. L., Chuang, C. W., Tseng, J. J., & Shih, B. J. (2010, April). Designing a role-play game for learning Taiwan history and geography. Proceeding of the 3rd IEEE International Conference on Digital Game and Intelligent Toy Enhanced Learning, Taiwan.

Sirpa, E. G., Lerkkanen, M. K., Puttonen, H. R., & Poikkeus, A. M. (2017). Children's beliefs concerning school transition. Early Child Development and Care,187(9), 1446–1459.

Smith, M. K., Wood, W. B., & Adams, W. K. (2009). Why peer discussion improves student performance on in-class concept questions. Science,323, 122–124.

Su, R. C. (2007). Research on digital education game design and evaluation (in Chinese). Management of information systems (Unpublished master thesis). Taiwan: National Chengchi University.

Sun, C. T., Wang, D. Y., & Chan, H. L. (2011). How digital scaffolds in games direct problem-solving behaviors. Computers & Education,57(3), 2118–2125.

Voida, A., Carpendale, S., & Greenberg, S. (2010, February). The individual and the group in console gaming. Proceedings of the 2010 ACM Conference on Computer Supported Cooperative Work (pp. 371–380). Georgia, USA: Savannah.

Voiskounsky, A. E., Yermolovaa, T. D., Yagolkovskiyb, S. R., & Khromova, V. M. (2017). Creativity in online gaming: Individual and dyadic performance in minecraft. Psychology in Russia: State of the Art,10(4), 144–161.

Wang, C. Y. (2015). The effects of board games on Taiwanese 6th graders' English spelling ability. Department of children English education (Unpublished master thesis). Taiwan: National Taipei University of Education.

Warren, R., Diller, D. E., Leung, A., Ferguson, W., & Sutton, J. L. (2005). Simulating scenarios for research on culture & cognition using a commercial role-play game. USA: Orlando.

Wen, C. T., Chang, C. J., Chang, M. H., Chiang, S. H. F., Liu, C. C., Hwang, F. K., et al. (2018). The learning analytics of model-based learning facilitated by a problem-solving simulation game. Instructional Science,46(6), 847–867.

Wong, N. C. (2003). A study of children's difficulties in transition to school in Hong Kong. Early Child Development and Care,173(1), 83–96.

Wong, Y. T., Chen, M. F., & Lou, Y. F. (2012). The effects of RPG jointed 5E learning cycle on junior high school students' chemical formula learning. International Journal on Digital Learning Technology,4(2), 23–37.

Wu, H. W. (2015). Examining the effects of using game-based APP for high school athletic-class students in learning physics (Unpublished master thesis). Taiwan: Department of Educational Technology, Tamkang University.

Wu, Y. J. (2016). Integrating board games into fourth-grade english classes: An action research study the graduate school of art and humanities instruction (Unpublished master thesis). Taiwan: National Taiwan University of Arts.
Acknowledgement
This research project is jointly funded by the Ministry of Science and Technology in Taiwan, 106-2511-S-032 -004- and 107-2511-H-032 -004 -MY2. The authors would like to thank the Ministry of Science and Technology for their support. The author would also like to thank teacher Shih-hung Young for the assistance in collecting the research data, and Shih-hung Young, Yi-Chen Lu and Ting Hsuan Wu for the assistance of collaborative game development.
Ethics declarations
Conflict of interest
The author declares that there is no conflict of interest of the study.
Additional information
Publisher's Note
Springer Nature remains neutral with regard to jurisdictional claims in published maps and institutional affiliations.
About this article
Cite this article
Wang, Y. Exploring the effects of designing a role-playing game with single and peer mode for campus learning. Education Tech Research Dev 68, 1275–1299 (2020). https://doi.org/10.1007/s11423-019-09726-8
Keywords
Game-based learning

Game design and development

Learning modes