Abstract
Adopting a sociocultural perspective, we construct a case study exploring how a middle school bilingual science teacher reflected and acted when engaged in dialogue, co-teaching, and a newly designed unit on plate tectonics. Sources of data include video of classroom interaction and audio recordings of daily debriefs between the bilingual science teacher and second author. Dialogic reflections between these individuals reveal how the new curriculum, the dialogue, and co-teaching with the second author mediated the teacher's emerging abilities to think and act in different ways at that sociohistorical moment in time. Based on these findings, we highly encourage professional development experiences to include ongoing dialogic reflection and co-teaching to "shake" teachers' views and practice. These initial connections can indicate inroads into helping teachers broaden understanding of bilingual science education.
This is a preview of subscription content, log in to check access.
Access options
Buy single article
Instant access to the full article PDF.
US$ 39.95
Price includes VAT for USA
Subscribe to journal
Immediate online access to all issues from 2019. Subscription will auto renew annually.
US$ 99
This is the net price. Taxes to be calculated in checkout.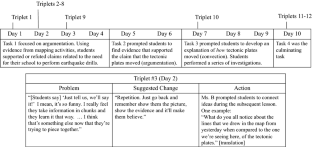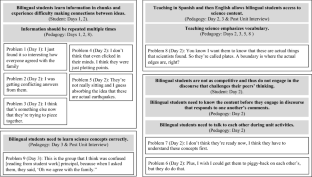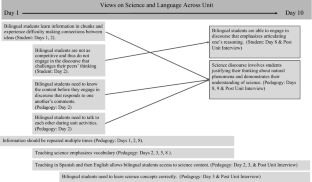 References
Akbari, R. (2007). Reflections on reflection: A critical appraisal of reflective practices in L2 teacher education. System,35, 192–207. https://doi.org/10.1016/j.system.2006.12.008.

Atkinson, D. (2010). Extended, embodied cognition and second language acquisition. Applied Linguistics,5(31), 599–622. https://doi.org/10.1093/applin/amq009.

Bakhtin, M. M. (1986). Speech genres and other late essays. Texas: University of Texas Press.

Brown, H., & Sawyer, R. (2016). Dialogic reflection: An exploration of its embodied, imaginative, and reflexive dynamic. In H. Brown, R. Sawyer, & R. Norris (Eds.), Forms of practitioner reflexivity: Critical, conversational, and arts-based approaches (pp. 1–12). New York: Palgrave Macmillan.

Charmaz, K. (2006). Constructing grounded theory: A practical guide through qualitative analysis. London: Sage.

de Jong, E., & Barko-Alva, K. (2015). Mainstream Teachers in Two-Way Immersion Programs: Becoming content and language teachers. In Y Freeman & D. Freeman (Eds.), Research on preparing inservice teachers to work effectively with emergent bilinguals (pp. 107–126). Emerald Group Publishing Limited.

Dewey, J. (2012). How we think: A restatement of the relation of reflective thinking to the educative process. Boston: Houghton Mifflin. (Original work published in 1933).

Gibbons, P. (2015). Scaffolding language scaffolding learning (2nd ed.). Portsmouth, NH: Heinemann Press.

Green, J. L., & Wallat, C. (1981). Mapping instructional conversations: A sociolinguistic ethnography. In J. L. Green & C. Wallat (Eds.), Ethnography and language in educational settings (pp. 161–205). Norwood, NJ: Ablex.

Hampton, E., & Rodriguez, R. (2001). Inquiry science in bilingual classrooms. Bilingual Research Journal,25(4), 461–478. https://doi.org/10.1080/15235882.2001.11074463.

Hudley, A. H. C., & Mallinson, C. (2017). "It's worth our time": A model of culturally and linguistically supportive professional development for K-12 STEM educators. Cultural Studies of Science Education,12(3), 637–660. https://doi.org/10.1007/s11422-016-9743-7.

It's About Time. (2004). Integrated coordinated science for the 21st century. Armonk, NY: Author.

Johnson, N. H., & Atwater, M. M. (2014). The impact of beliefs and actions on the infusion of culturally relevant pedagogy in science teacher education. In M. Atwater, M. Russell & Y M. Butler (Eds.), Multicultural science education: Preparing teachers for equity and social justice (pp. 81-102). Springer Netherlands. https://doi.org/10.1007/978-94-007-7651-7_6

Lantolf, J. P., Thorne, S. L., & Poehner, M. E. (2015). Sociocultural theory and second language development. In B. VanPatten & J. Williams (Eds.), Theories in second language acquisition: An introduction. London: Routledge.

Larrivee, B. (2000). Transforming teaching practice: Becoming the critically reflective teacher. Reflective Practice,1(3), 293–307. https://doi.org/10.1080/713693162.

Lave, J. (1993). The practice of learning. In S. Chaiklin & J. Lave (Eds.), Understanding practice (pp. 3–34). Cambridge: Cambridge University Press.

Lave, J., & Wenger, E. (1991). Situated learning: Legitimate peripheral participation. Cambridge: Cambridge University Press.

Lee, O. (2005). Science education with English language learners: Synthesis and research agenda. Review of Educational Research,75(4), 491–530. https://doi.org/10.3102/00346543075004491.

Lee, O., Quinn, H., & Valdés, G. (2013). Science and language for English language learners in relation to next generation science standards and with implications for common core state standards for English language arts and mathematics. Educational Researcher,42(4), 223–233. https://doi.org/10.3102/0013189X13480524.

Lemberger, N. (2002). Russian bilingual science learning: Perspectives from secondary students. International Journal of Bilingual Education and Bilingualism,5(1), 58–71. https://doi.org/10.1080/13670050208667746.

Mann, S., & Walsh, S. (2013). RP or 'RIP': A critical perspective on reflective practice. Applied Linguistics Review,4(2), 291–315. https://doi.org/10.1515/applirev-2013-0013.

Nelson, F., & Sadler, T. (2013). A third space for reflection by teacher educators: A heuristic for understanding orientations to and components of reflection. Reflective Practice,14(1), 43–57. https://doi.org/10.1080/14623943.2012.732946.

New York State Department of Education. (2012). NYS Bilingual Common Core language arts progressions. https://www.engageny.org/resource/new-york-state-bilingual-common-core-initiative

NGSS Lead States. (2013). Next generation science standards: For states, by states. Washington, DC: The National Academies Press.

New York State Education Department. (2014). Blueprint for English Language Learners Success. http://usny.nysed.gov/docs/blueprint-for-ell-success.pdf

Pajares, M. (1992). Teachers' beliefs and educational research: Cleaning up a messy construct. Review of Educational Research,62(3), 307–332. https://doi.org/10.3102/00346543062003307.

Poza, L. E. (2018). The language of ciencia: Translanguaging and learning in a bilingual science classroom. International Journal of Bilingual Education and Bilingualism,21(1), 1–19. https://doi.org/10.1080/13670050.2015.1125849.

Quinn, H. (2015). Science and engineering practices for equity: Creating opportunities for diverse students to learn science and develop foundational capacities. In O. Lee, E. Miller, & R. Januszyk (Eds.), NGSS for all students (pp. 7–19). Arlington, VA: NSTA Press.

Rashid, A. (2018). Dialogic reflection for professional development through conversation on a social networking site. Reflective Practice,19(1), 105–117. https://doi.org/10.1080/14623943.2017.1379385.

Richards, J. C. (1995). Towards reflective teaching. The Teacher Trainer, 33, 59–63. https://www.tttjournal.co.uk/back-articles/

Rodgers, C. (2002). Defining reflection: Another look at John Dewey and reflective thinking. Teachers College Record,104(4), 842–866.

Savasci, F., & Berlin, D. (2012). Science teacher beliefs and classroom practice related to constructivism in different school settings. Journal of Science Teacher Education,23, 65–86. https://doi.org/10.1007/s10972-011-9262-z.

Schön, D. (1983). The reflective practitioner, Basic Books, Inc.

Shin, S. J. (2018). Bilingualism in schools and in society: Language, identity, and policy. London: Routledge.

Stevenson, A. D., Martínez, A. J. G., Brkich, K. L., Flores, B. B., Claeys, L., & Pitts, W. (2017). Latinas' heritage language as a source of resiliency: Impact on academic achievement in STEM fields. Cultural Studies of Science Education, 1-13. https://doi.org/10.1007/s11422-016-9789-6

Stoddart, T., Pinal, A., Latzke, M., & Canaday, D. (2002). Integrating inquiry science and language development for English language learners. Journal of Research in Science Teaching,39(8), 664–687. https://doi.org/10.1002/tea.10040.

Swanson, L., Kang, E., & Bauler, C. (2016). Making science real: Supporting English learners in argumentation and explanation through authentic tasks. Science Scope,39(8), 27–34.

Valli, L. (1997). Listening to other voices: A description of teacher reflection in the United States. Peabody Journal of Education,72(1), 67–88. https://doi.org/10.1207/s15327930pje7201_4.

Van Manen, M. (1991). Reflectivity and the pedagogical moment: The normativity of pedagogical thinking and acting. Journal of Curriculum Studies,23(6), 507–536. https://doi.org/10.1080/0022027910230602.

Vygotsky, L. (1978). Mind in society: The development of higher psychological processes. Cambridge, MA: Harvard University Press.

Wheaton, M., & Ash, D. (2008). Exploring middle school girls' ideas about science at a bilingual marine science camp. Journal of Museum Education,33(2), 131–141.

Whipp, J. (2003). Scaffolding critical reflection in online discussions: Helping prospective teachers think deeply about field experiences in urban schools. Journal of Teacher Education,54(4), 321–333. https://doi.org/10.1177/0022487103255010.

Yin, R. K. (2003). Case study research: Design and methods. Thousand Oaks: Sage.

Yoon, B. (2008). Uninvited guests: The influence of teachers' roles and pedagogies on the positioning of English language learners in the regular classroom. American Educational Research Journal,45(2), 495–522. https://doi.org/10.3102/0002831208316200.

Yoon, H., & Kim, M. (2010). Collaborative reflection through dilemma cases of science practical work during practicum. International Journal of Science Education.,32(3), 283–301. https://doi.org/10.1080/09500690802516538.
Additional information
Publisher's Note
Springer Nature remains neutral with regard to jurisdictional claims in published maps and institutional affiliations.
Lead Editors: Wesley Pitts.
About this article
Cite this article
Swanson, L., Kang, E.J.S. & Bauler, C. Revealing a bilingual science teacher's dynamic views and practice about science and language teaching through dialogic reflections. Cult Stud of Sci Educ 15, 523–543 (2020). https://doi.org/10.1007/s11422-019-09937-8
Received:

Accepted:

Published:

Issue Date:
Keywords
Dialogic reflection

Science discourse

Bilingual education

Middle school science