Abstract
In this paper we introduce the concept of contextual mitigating factors (CMFs) as an analytical tool for interrogating the contextual landscapes that situate one's research. While we understand that much work has been done on the importance of identifying context in research programs, we continue to stress the importance of developing contextually rich and useful descriptions. The importance of developing contextually rich descriptions that are inclusive of CMFs in the research process to include research designs is underscored in this paper. In using the term context, we are referring to the conglomerate of CMFs that situate, define and occupy complex systems of multiple spaces that create, shape, and continuously modify, contextual landscapes. Complex systems thinking is our basis for understanding that CMFs are a continuous set of socio-historical-political contextual constructs, fluid and dynamic, simultaneously interweaving socially constructed places together. By doing so, we stress that conceptually it is important for a researcher to understand that context is positioned and, as such, all phenomena studied are situated. In order to fully grasp how data presented have been positioned, we underscore the importance of the development of radical doubt (RD) which leads to tactical understanding (TU) by both researchers and consumers of research. Commensurate to the development of RD and TU is understanding how both the researcher and consumer of research have been positioned by their ontological, epistemological and axiological frameworks. Through several examples we demonstrate how CMF analysis as a tool can contribute to researchers abilities to further enhance their analysis of the complexity of socio-educational phenomena such as the science, technology, engineering and mathematics intervention pipelines. Accordingly, we present CMF analysis as a framework with the intent of adding to existing methodologies as opposed to CMF analysis as an exclusive research pathway. We conclude by discussing implications for sponsoring agencies by drawing attention to the potential impact of CMF analysis on evaluating research designs.
Resumen
En este artículo presentamos el concepto de factores contextuales mitigantes (CMFs por sus siglas en inglés) como una herramienta analítica para interrogar los escenarios contextuales que sitúan la investigación de cada uno. Si bien entendemos que muchos investigadores han escrito sobre la importancia de identificar e incluir el contexto en programas de investigación, continuamos enfatizando la importancia de desarrollar descripciones contextuales detalladas y útiles. En este documento se subraya la importancia de desarrollar descripciones contextualmente enriquecidas, a través de la inclusión de CMFs, en el proceso de investigación incluyendo en el diseño de la misma investigación. Al utilizar el término contexto, nos referimos al conglomerado de CMFs que sitúan, definen y ocupan sistemas complejos de múltiples espacios que crean, configuran y modifican continuamente los escenarios contextuales. El modelo de sistemas de pensamiento complejo (CST por sus siglas en inglés) son nuestra base para entender que los CMFs son un continuo de construcciones contextuales socio-histórico-políticas, fluidas y dinámicas, que entrelazan lugares construidos socialmente. Asimismo, enfatizamos que para un investigador, es conceptualmente importante comprender que el contexto ocupa un lugar importante y, como tal, todos los fenómenos estudiados están situados. Con el fin de entender con profundidad cómo se han posicionado los datos presentados, resaltamos la importancia del desarrollo de la duda radical (RD por sus siglas en inglés) lo que conlleva al entendimiento táctico (TU por sus siglas en inglés), tanto por los investigadores como por los interesados-consumidores de investigaciones. Junto con el desarrollo de la RD y el TU, está el comprender cómo el investigador, así como los consumidores de investigaciones, entienden sus marcos ontológicos, epistemológicos y axiológicos. A través de varios ejemplos, demostramos cómo el análisis de los CMFs empleados como herramienta, puede contribuir a enriquecer y mejorar el análisis de la complejidad de los fenómenos socioeducativos mediante canales de intervención en ciencia, tecnología, ingeniería y matemáticas (STEM por sus siglas en inglés). Es así que presentamos el análisis de los CMFs como un marco con la intención de contribuir con las metodologías existentes y no como una vía exclusiva de investigación. Concluimos discutiendo las implicaciones para las instituciones financiadoras, llamando la atención sobre el impacto potencial del análisis de los CMFs en la evaluación de los diseños de investigación.
This is a preview of subscription content, log in to check access.
Access options
Buy single article
Instant access to the full article PDF.
US$ 39.95
Price includes VAT for USA
Subscribe to journal
Immediate online access to all issues from 2019. Subscription will auto renew annually.
US$ 99
This is the net price. Taxes to be calculated in checkout.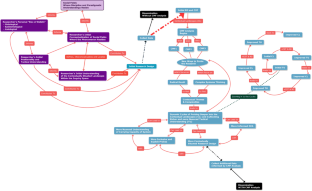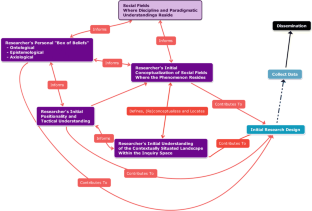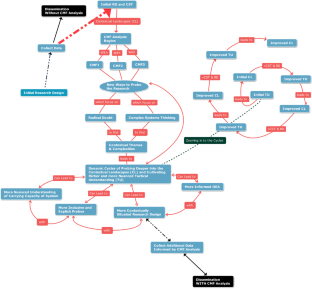 References
Baggini, J. (2002). René Descartes: Meditations on first philosophy (1641). In Philosophy: Key texts. London: Palgrave Macmillan. https://doi.org/10.1007/978-1-4039-1370-8_3.

Baum, A. (1984). Holons: Three conceptions. Systems Research,1, 145–150. https://doi.org/10.1002/sres.3850010207.

Bourdieu, P. (1976). Le sens pratique. Actes de la recherche en sciences sociales,2(1), 43–86.

Bourdieu, P. (1988). Cosas Dichas. Barcelona: Gedisa.

Braddock, J. H., II, & McPartland, J. (1981). Assessing school desegregation effects: New directions in research. Research in Sociology of Education and Socialization,3, 259–282.

Bronfenbrenner, U. (1979). The ecology of human development. Cambridge: Harvard University Press.

Brown, A. L. (1992). Design experiments: Theoretical and methodological challenges in creating complex interventions in classroom settings. The Journal of the Learning Sciences,2(2), 141–178.

Cashin, S. (2005). The failures of integration: How race and class are undermining the American dream. New York: Public Affairs.

Davis, B., & Sumara, D. (2006). Complexity and education. Inquiries into learning, teaching, and research. Mahwah, NJ: Lawrence Erlbaum Associates.

Gallard Martínez, A. J., & Antrop-González, A. (2013). The use of de jure to maintain a de facto status quo. Cultural Studies of Science Education,3, 991–996. https://doi.org/10.1007/s11422-013-9523-6.

Gallard Martínez, A., Pitts, W., Ramos de Robles, S. L., Milton Brkich, K., Flores Bustos, B., & Claeys, L. (2018). Discerning contextual complexities in STEM career pathways—Insights from successful Latinas. Manuscript submitted for publication.

Gruenewald, D. A. (2003). The best of both worlds: A critical pedagogy of place. Educational Researcher,32(4), 3–11. https://doi.org/10.3102/0013189X032004003.

Guba, E. G., & Lincoln. Y. S. (2005). Paradigmatic controversies, contradictions, and emerging influences. In N. Denzin & Y. Lincoln (Eds.), The SAGE handbook of qualitative research (3rd ed., pp. 191–216). Thousand Oaks, CA: SAGE Publications, Inc.

Harwell, M., & LeBeau, B. (2010). Student eligibility for a free lunch as an SES measure in education research. Educational Researcher,39(2), 120–131. https://doi.org/10.3102/0013189X10362578.

Kincheloe, J. L., McKinley, E., Lim, M., & Calabrese, A. (2006). A conversation on 'Sense of place' in science learning. Cultural Studies of Science Education,1, 143–160. https://doi.org/10.1007/s11422-005-9003-8.

Koestler, A. (1967). The ghost in the machine. London: Huchinson.

Ladson-Billings, G. (2006). From the achievement gap to the education debt: Understanding achievement in US schools. Educational Researcher,35(7), 3–12. https://doi.org/10.3102/0013189X035007003.

Levitt, P., & Schiller, N. G. (2004). Conceptualizing simultaneity: A transnational social field perspective on society. International Migration Review,38(145), 595–629.

Luhmann, N. (1995). Social systems. Palo Alto, CA: Stanford University Press.

Luttrell, V. L., Bufkin, J. L., Eastman, V. J., & Miller, R. (2010). Teaching scientific writing: Measuring student learning in an intensive APA skills course. Teaching of Psychology,37(3), 193–195. https://doi.org/10.1080/00986283.2010.488531.

Maanen, Van. (2011). Tales of the field: On writing ethnography. Chicago: The University of Chicago Press.

McPartland, J. (1969). The relative influence of school and of classroom desegregation on the academic achievement of ninth grade negro students. Journal of Social Issues,25(3), 93–102.

Mishler, E. (1979). Meaning in context: Is there another kind? Harvard Educational Review,49(6), 1–19. https://doi.org/10.17763/haer.49.1.b748n4133677245p.

Morales, E. (2018). LatinX: The new force in American politics and culture. New York: Penguin Random House.

National Science Foundation, National Center for Science and Engineering Statistics. (2013). Women, minorities, and persons with disabilities in science and engineering: 2013. Special Report NSF 13-304. Arlington, VA.

Peller, G. (2012). Critical race consciousness: The puzzle of representation. New York: Routledge.

Richards, M. P. (2017). The gerrymandering of school attendance zones and the racial and ethnic segregation of American public schools: A geospatial analysis. American Educational Research Journal,51(6), 1119–1157. https://doi.org/10.3102/0002831214553652.

Roth, W. M. (2007). Toward a dialectical notion and praxis of scientific literacy. Journal of Curriculum Studies,39(4), 377–398. https://doi.org/10.1080/00220270601032025.

Say, L., & Raine, R. (2007). A systematic review of inequalities in the use of maternal healthcare in developing countries: Examining the scale of the problem and the importance of context. Bulletin of the World Health Organization,85(10), 812–819.

Taylor, P. C. (2013). Research as transformative learning for meaning-centered professional development. In O. Kovbasyuk & P. Blessinger (Eds.), Meaning-centred education: International perspectives and explorations in higher education (pp. 168–185). New York, NY: Routledge.

Tobin, K. (2009). Sociocultural perspectives on science and science education. In Keynote address at 8th international congress on science teaching and learning, Barcelona, Spain.

Van Eijck, M., & Roth, W.-M. (2010). Towards a chronotopic theory of "place" in place-based education. Cultural Studies of Science Education,5, 869–898. https://doi.org/10.1007/s11422-010-9278-2.

Walker, V. S. (1996). Their highest potential: An African American school community in the segregated south. Chapel Hill: University of North Carolina Press.

Zirkel, S., Garcia, J., & Murphy, M. (2015). Experience-sampling research methods and their potential for education research. Educational Researcher,44(1), 7–16. https://doi.org/10.3102/0013189X14566879.
Additional information
Lead Editor: Emilia Alfonso.
About this article
Cite this article
Martínez, A.J.G., Pitts, W.B., Brkich, K.M. et al. How does one recognize contextual mitigating factors (CMFs) as a basis to understand and arrive at better approaches to research designs?. Cult Stud of Sci Educ 15, 545–567 (2020). https://doi.org/10.1007/s11422-018-9872-2
Received:

Accepted:

Published:

Issue Date:
Keywords
Contextual mitigating factors

Complex systems thinking

Radical doubt

Methodological agency

Tactical understanding
Palabras claves
Factores contextuales mitigantes

Sistemas de pensamiento complejo

Duda radical

Agencia metodológica

Entendimiento táctico