Abstract
Purpose
The aim of this study was to evaluate the neurotoxicity of psychoactive abused 2,5-dimethoxy-substituted phenethylamines "2C series" in monoaminergic neurons.
Methods
After the exposure to "2C series", 2,5-dimethoxy-4-propylthiophenethylamine (2C-T-7), 2,5-dimethoxy-4-isopropylthiophenethylamine (2C-T-4), 2,5-dimethoxy-4-ethylthiophenthylamine (2C-T-2), 2,5-dimethoxy-4-iodophenethylamine (2C-I) or 2,5-dimethoxy-4-chlorophenethylamine (2C-C), we examined their neurotoxicity, morphological changes, and effects of concomitant exposure to 3,4-methylenedioxymethamphetamine (MDMA) or methamphetamine (METH), using cultured neuronal dopaminergic CATH.a cells and serotonin-containing B65 cells.
Results
Single dose exposure to "2C series" for 24 h showed significant cytotoxicity as increase in lactate dehydrogenase (LDH) release from both monoaminergic neurons: 2C-T-7, 2C-C (EC50; 100 µM) > 2C-T-2 (150 µM), 2C-T-4 (200 µM) > 2C-I (250 µM) in CATH.a cells and 2C-T-7, 2C-I (150 µM) > 2C-T-2 (250 µM) > 2C-C, 2C-T-4 (300 µM) in B65 cells. The "2C series"-induced neurotoxicity in both cells was higher than that of MDMA or METH (EC50: ≥ 1–2 mM). In addition, apoptotic morphological changes were observed at relatively lower concentrations of "2C series". The concomitant exposure to non-toxic dose of MDMA or METH synergistically enhanced 2C series drugs-induced LDH release and apoptotic changes in B65 cells, but to a lesser extent in CATH.a cells. In addition, the lower dose of 2C-T-7, 2C-T-2 or 2C-I promoted reactive oxygen species production in the mitochondria of B65 cells, even at the early stages (3 h) without apparent morphological changes.
Conclusion
The 2,5-dimethoxy-substitution of "2C series" induced severe neurotoxicity in both dopaminergic and serotonin-containing neurons. The non-toxic dose of MDMA or METH synergistically enhanced its neurotoxicity in serotonergic neurons.
This is a preview of subscription content, log in to check access.
Access options
Buy single article
Instant access to the full article PDF.
US$ 39.95
Price includes VAT for USA
Subscribe to journal
Immediate online access to all issues from 2019. Subscription will auto renew annually.
US$ 99
This is the net price. Taxes to be calculated in checkout.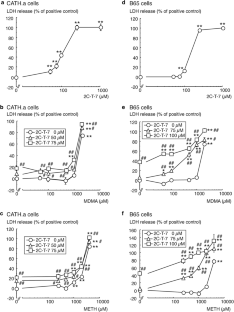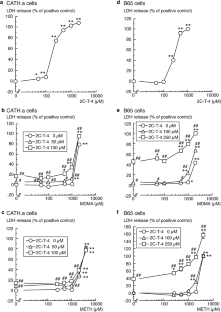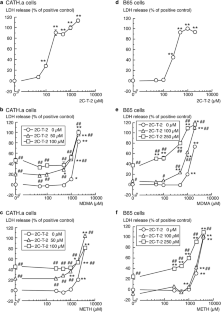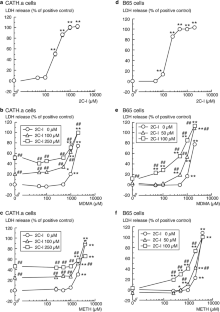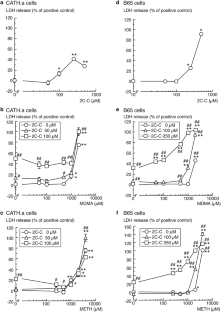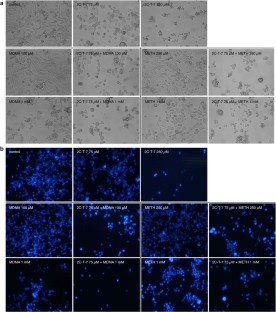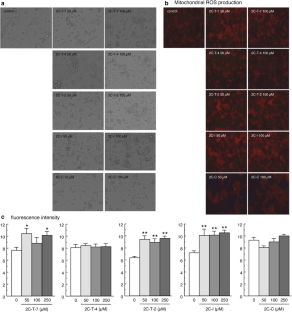 Acknowledgements
This work was supported by Health and Labour Sciences Research Grants for Research on Regulatory Science of Pharmaceuticals and Medical Devices (to M.A., M.F.) from the Japanese Ministry of Health, Labour and Welfare, and by a Research Grant from the Okayama Medical Foundation (to I.M.).
Ethics declarations
Conflict of interest
The authors declare that they have no conflict of interest.
Ethical approval
This article does not contain any studies with human participants performed by any of the authors.
Additional information
Publisher's Note
Springer Nature remains neutral with regard to jurisdictional claims in published maps and institutional affiliations.
Electronic supplementary material
Below is the link to the electronic supplementary material.
About this article
Cite this article
Asanuma, M., Miyazaki, I. & Funada, M. The neurotoxicity of psychoactive phenethylamines "2C series" in cultured monoaminergic neuronal cell lines. Forensic Toxicol 38, 394–408 (2020). https://doi.org/10.1007/s11419-020-00527-w
Received:

Accepted:

Published:

Issue Date:
Keywords
Psychoactive drugs

2,5-Dimethoxy-substituted phenethylamines

Neurotoxicity

Serotonin-containing neurons

Dopamine neurons

Reactive oxygen species