Abstract
Mephedrone (4-methylmethcathinone) was banned in the UK under the Misuse of Drugs Act in April 2010 and by the EU in December 2010. Banning drugs is intended to reduce harm by limiting access and causing a reduction in purity, although this may cause overdoses when users cannot predict the correct dose. In this study, 119 mephedrone samples from South Wales were collected between November 2011 and March 2013. Mephedrone purity was determined by gas chromatography–mass spectrometry, and cutting agents were identified using Fourier transform infrared spectroscopy (FTIR). Mean mephedrone purity was 68.2 %, with a standard deviation of 24.9 %. A clear time trend was observed, with mephedrone purity declining from the start of our collection period. The mean purity decreased from 80 % in the first 10 samples collected to 50 % in the last 10 samples collected. Cutting agents were identified in 48 samples by FTIR. The most common were monosodium glutamate, creatine, and sucrose. Three samples were found to contain both monosodium glutamate and sucrose and their purity was very low at 33 %, suggesting that they were cut in two phases. Surprisingly, no adulterants, such as the topical anesthetics that are used to cut cocaine, were detected. 4-Fluoromethcathinone and 4-methylethcathinone were the only other psychoactive substances detected.
Access options
Buy single article
Instant access to the full article PDF.
USD 39.95
Price includes VAT (USA)
Tax calculation will be finalised during checkout.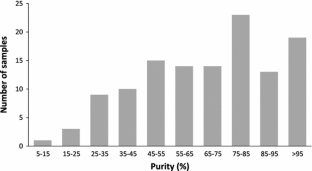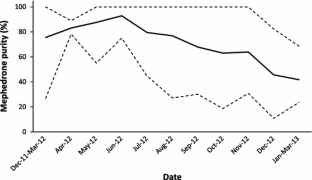 References
1.

Gustavsson D, Escher C (2009) Mephedrone—internet drug which seems to have to come and stay. Fatal cases in Sweden have drawn attention to previously unknown substance. Lakartidningen 106:2769–2771

2.

Advisory Council on the Misuse of Drugs (2010) ACMD report on the consideration of the cathinones. ACMD, London

3.

Sedefov R, Galleos A (2011) Report on the risk assessment of mephedrone in the framework of the Council Decision on new psychoactive substances. European Monitoring Commission on Drugs and Drug Abuse, Lisbon

4.

Brunt T, Poortman A, Niesink R, van den Vrink W (2011) Instability of the ecstacy market and a new kid on the block: mephedrone. J Pschychopharmacol 25:1543–1547

5.

Kikura-Hnajiri R, Uchiyama N, Kawamura M, Goda Y (2013) Change in the prevalence of synthetic cannabinoids and cathinone derivatives until early 2012. Forensic Toxicol 31:44–53

6.

Shima N, Katagi M, Kamata H, Matsuta S, Nakanishi K, Zaitsu K, Kamata T, Nishikoka H, Miki A, Tatsuno M, Sato T, Tsuchihashi H, Suzuki K (2013) Urinary excretion and metabolism of the newly encountered designer drug 3,4-dimethylcathinone in humans. Forensic Toxicol 31:101–112

7.

Measham F, Moore K, Newcombe R, Welch Z (2010) Tweaking, bombing, dabbing and stockpiling: the emergence of mephedrone and the perversity of prohibition. Drugs Alcohol Today 10:14–21

8.

Dybdal-Hargreaves N, Holder N, Ottoson P, Sweeney M, Williams T (2013) Mephedrone: public health risk, mechanisms of action and behaviorial effects. Eur J Pharmacol 714:32–40

9.

Zawilska J, Wojcieszak J (2013) Designer cathinone—an emerging class of novel recreational drugs. Forensic Sci Int 231:42–53

10.

Wood D, Davies S, Puchnarewicz M, Button J, Archer R, Ovaska H, Ramsey J, Lee T, Holt D, Dargan P (2010) Recreational use of mephedrone (4-methylmethcathinone, 4-MMC) with associated sympathomimetic toxicity. J Med Toxicol 6:327–330

11.

Adamowicz P, Tokarczyk B, Stanaszek R, Slopianka M (2013) Fatal mephedrone intoxication—a case report. J Anal Toxicol 37:37–42

12.

Cunningham J, Liu L, Calaghan R (2009) Impact of US and Canadian precursor regulation on methamphetamine purity in the United States. Addiction 104:441–453

13.

Camileri A, Johnston M, Brennan M, Davis S, Caldicott D (2010) Chemical analysis if four capsules containing the controlled substance analogues 4-methylmethcathinone, 2-fluoromethamphetamine, α-phthalimidopropiophenone and N-ethylcathinone. Forensic Sci Int 197:59–66

14.

Singh N, Day P, Katta V, Mohammed G, Lough W (2010) LC purity and related substances screening for mephedrone. J Pharm Pharmacol 62:1209–1210

15.

Leffler A, Smith P, de Armas A, Dorman F (2014) The analytical investigation of synthetic street drugs containing cathinone analogs. Forensic Sci Int 234:50–56

16.

Santali E, Cadogan A, Daeid N, Savage K, Sutcliffe O (2011) Synthesis, full chemical characterisation and development of validated methods for the quantification of (±)-4′-methylmethcathinone (mephedrone): a new "legal high". J Pharm Biomed Anal 56:246–255

17.

NHS Wales Informatics Service (2013) Profile of substance misuse in Wales 2012–13. Welsh Government, Cardiff

18.

Motbey C, Clemens K, Apetz N, Winstock A, Ramsey J, Li K, Wyatt N, Callaghan P, Bowen M, Cornish J, McGregor I (2013) High levels of intravenous mephedrone (4-methylmethcathinone) self-administration in rats: neurological consequences and comparison with methamphetamine. J Psychopharmacol 27:823–836

19.

Daly M (2012) Drone strikes. Druglink 27(6):8–11

20.

Jinap S, Hajeb P (2010) Glutamate. Its applications in food and contribution to health. Appetite 55:1–10

21.

Cooper R, Naclerio F, Allgrove J, Jimenez A (2012) Creatine supplementation with specific view to exercise/sports performance: an update. J Int Soc Sports Nutr 9:33–43
Acknowledgments
The study is part of the EU-International Training Network SEWPROF (Marie Curie-FP7-PEOPLE Grant #317205). The financial support of the European Union is gratefully acknowledged. The authors thank PC Alan Murphy of South Wales Police Force for collecting the samples used for this work.
Conflict of interest
There are no financial or other relations that could lead to a conflict of interest.
About this article
Cite this article
Miserez, B., Ayrton, O. & Ramsey, J. Analysis of purity and cutting agents in street mephedrone samples from South Wales. Forensic Toxicol 32, 305–310 (2014). https://doi.org/10.1007/s11419-014-0232-y
Received:

Accepted:

Published:

Issue Date:
Keywords
Mephedrone

4-Methylmethcathinone

Adulterant analysis

Cathinones

GC–MS

FTIR