Abstract
Caffeic acid and rosmarinic acid are common components of Labiatae plants, such as shiso (Perilla frutescens Britton var. crispa W. Deane) and Boraginaceae plants. These compounds have various pharmacological activities, such as anti-inflammatory, anti-anxiety, and anti-depressive activities, but the content of these compounds in perilla has not been studied in detail. This study investigated the caffeic acid and rosmarinic acid contents of several pure strains in genus Perilla. Perilla plants cultivated under a certain set of conditions had different caffeic acid and rosmarinic acid contents. For example, their contents were higher in P. setoyensis ("Setoegoma"), suggesting that the genetic background of the species greatly affects caffeic acid and rosmarinic acid contents. Several strains of P. frutescens var. crispa were cultivated at the Experimental Station for Medicinal Plants, Graduate School of Pharmaceutical Sciences, Kyoto University and differences in their caffeic acid and rosmarinic acid contents were also observed. The total content of anthocyanins, which are closely related to the leaf color of perilla, was measured as cyanidin-3-glucoside equivalents, and a weak positive correlation was observed between the content of rosmarinic acid, and the total content of total anthocyanins. Furthermore, the results suggest that luminosity and photon flux density of light during cultivation can affect rosmarinic acid content.
This is a preview of subscription content, log in to check access.
Access options
Buy single article
Instant access to the full article PDF.
US$ 39.95
Price includes VAT for USA
Subscribe to journal
Immediate online access to all issues from 2019. Subscription will auto renew annually.
US$ 99
This is the net price. Taxes to be calculated in checkout.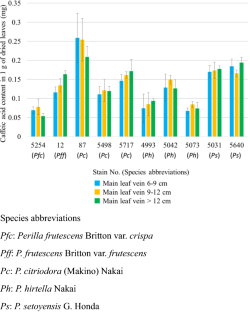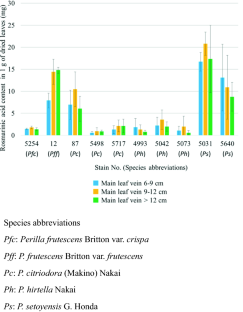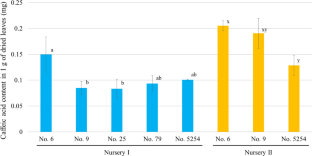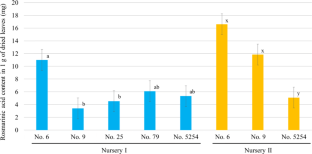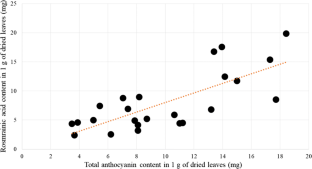 References
1.

Deguchi Y, Ito M (2020) Rosmarinic acid in Perilla frutescens and perilla herb analyzed by HPLC. J Nat Med 74:341–352

2.

Mudgal J, Mallik SB, Nampoothiri M, Kinra M, Hall S, Grant GD, Anoopkumar-Dukie S, Davey AK, Rao CM, Arora D (2020) Effect of coffee constituents, caffeine and caffeic acid on anxiety and lipopolysaccharide-induced sickness behavior in mice. J Funct Foods 64:103638

3.

Takeda H, Tsuji M, Inazu M, Egashira T, Matsumiya T (2002) Rosmarinic acid and caffeic acid produce antidepressive-like effect in the forced swimming test in mice. Eur J Pharmacol 449:261–267

4.

Kanemaki A, Otani M, Takano M, Fujimoto T, Okuhara H, Nomizu T, Kondo M, Kobayashi H, Tatsuzawa F, Nakano M (2018) Ectopic expression of the R2R3-MYB gene from Tricyrtis sp. Results in leaf color alteration in transgenic Pelargonium crispum. Sci Hortic 240:411–416

5.

The Ministry of Health, Labour and Welfare (2016) The Japanese pharmacopoeia, 17th edn. The Ministry of Health, Labour and Welfare, Tokyo, pp 1843–1844

6.

Yamamoto H, Sakakibara J, Nagatsu A, Sekiya K (1998) Inhibitors of arachidonate lipoxygenase from defatted perilla seed. J Agric Food Chem 46:862–865

7.

Sanbongi C, Takano H, Osakabe N, Sasa N, Natsume M, Yanagisawa R, Inoue K-I, Sadakane K, Ichinose T, Yoshikawa T (2004) Rosmarinic acid in perilla extract inhibits allergic inflammation induced by mite allergen, in a mouse model. Clin Exp Allergy 34:971–977

8.

Takeda H, Tsuji M, Miyamoto J, Matsumiya T (2002) Rosmarinic acid and caffeic acid reduce the defensive freezing behavior of mice exposed to conditioned fear stress. Psychopharmacology 164:233–235

9.

Lu N, Bernardo EL, Tippayadarapanich T, Takagaki M, Kagawa N, Yamori W (2017) Growth and accumulation of secondary metabolites in perilla as affected by photosynthetic photon flux density and electrical conductivity of the nutrient solution. Front Plant Sci 8(708):1–12
Additional information
Publisher's Note
Springer Nature remains neutral with regard to jurisdictional claims in published maps and institutional affiliations.
About this article
Cite this article
Deguchi, Y., Ito, M. Caffeic acid and rosmarinic acid contents in genus Perilla. J Nat Med (2020). https://doi.org/10.1007/s11418-020-01418-5
Received:

Accepted:

Published:
Keywords
Perilla frutescens

Caffeic acid

Rosmarinic acid

Anthocyanins