Abstract
Four new cucurbitane-type triterpenes were isolated from the fruit of Momordica charantia L. The structures of the new compounds were identified based on HR-ESI-MS and 1D- and 2D-NMR spectroscopic methods. The cytotoxicity of the isolated compounds was evaluated using three human cancer cell lines, HeLa, Caco2, and U87. Compound 3 exhibited significant cytotoxic activity against HeLa cells with an IC50 value of 11.18 μM. Additionally, the cytoprotective activity of these compounds was determined in vitro against H2O2-induced pancreatic injury. The results revealed that all the compounds obtained possess cytoprotective effects against H2O2-induced injury in MIN6 β-cells at a concentration of 10 μM.
Access options
Buy single article
Instant access to the full article PDF.
US$ 39.95
Tax calculation will be finalised during checkout.
Subscribe to journal
Immediate online access to all issues from 2019. Subscription will auto renew annually.
US$ 79
Tax calculation will be finalised during checkout.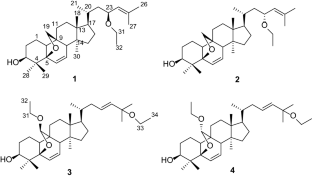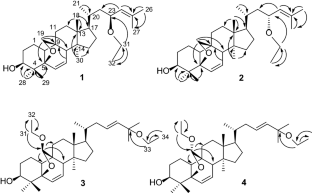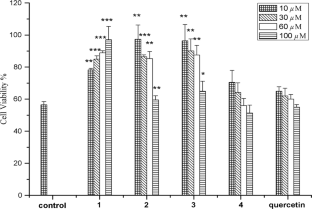 References
1.

Jia S, Shen M, Zhang F, Xie J (2017) Recent advances in Momordica charantia: functional components and biological activities. Int J Mol Sci 18:E2555

2.

Anilakumar KR, Kumar GP, Ilaiyaraja N (2015) Nutritional, pharmacological and medicinal properties of Momordica charantia. Int J Nutr Food Sci 4(1):75–83

3.

Wang HY, Kan WC, Cheng TJ, Yu SH, Chang LH, Chuu JJ (2014) Differential anti-diabetic effects and mechanism of action of charantin-rich extract of Taiwanese Momordica charantia between type 1 and type 2 diabetic mice. Food Chem Toxicol 69:347–356

4.

Lo HY, Ho TY, Li CC, Chen JC, Liu JJ, Hsiang CY (2014) A novel insulin receptor-binding protein from Momordica charantia enhances glucose uptake and glucose clearance in vitro and in vivo through triggering insulin receptor signaling pathway. J Agric Food Chem 62:8952–8961

5.

Blum A, Loerz C, Martin HJ, Staab-Weijnitz CA, Maser E (2012) Momordica charantia extract, a herbal remedy for type 2 diabetes, contains a specific 11β-hydroxysteroid dehydrogenase type 1 inhibitor. J Steroid Biochem 128:51–55

6.

Raina K, Kumar D, Agarwal R (2016) Promise of bitter melon (Momordica charantia) bioactives in cancer prevention and therapy. Semin Cancer Biol 40–41:116–129

7.

Kwatra D, Subramaniam D, Ramamoorthy P, Standing D, Moran E, Velayutham R, Mitra A, Umar S, Anant S (2013) Methanolic extracts of bitter melon inhibit colon cancer stem cells by affecting energy homeostasis and autophagy. Evid Based Complement Altern Med 1:1–14

8.

Manoharan G, Jaiswal SR, Singh J (2014) Effect of α, β momorcharin on viability, caspase activity, cytochrome c release and on cytosolic calcium levels in different cancer cell lines. Mol Cell Biochem 388:233–240

9.

Fang EF, Zhang CZY, Wong JH, Shen JY, Li CH, Ng TB (2012) The MAP30 protein from bitter gourd Momordica charantia seeds promotes apoptosis in liver cancer cells in vitro and in vivo. Cancer Lett 324:66–74

10.

Pongnikorn S, Fongmoon D, Kasinrerk W, Limtrakul PN (2003) Effect of bitter melon (Momordica charantia Linn) on level and function of natural killer cells in cervical cancer patients with radiotherapy. J Med Assoc Thai 86:61–68

11.

Sun Y, Huang PL, Li JJ, Huang YQ, Zhang L, Lee-Huang S (2001) Anti-HIV agent MAP30 modulates the expression profile of viral and cellular genes for proliferation and apoptosis in AIDS-related lymphoma cells infected with Kaposi's sarcoma-associated virus. Biochem Biophys Res Commun 287:983–994

12.

Mwambete KD (2009) The in vitro antimicrobial activity of fruit and leaf crude extracts of Momordica charantia: a Tanzania medicinal plant. Afr Health Sci 9(1):34–39

13.

Gupta S, Raychaudhuri B, Banerjee S, Das B, Mukhopadhaya S, Datta SC (2010) Momordicatin purified from fruits of Momordica charantia is effective to act as a potent antileishmania agent. Parasitol Int 59:192–197

14.

Alessandra B, Tiziana S, Manuela DA, Maria PG (2008) Chemical composition and antimicrobial activity of Momordica charantia seed essential oil. Fitoterapia 79:123–125

15.

Mulholland DA, Sewram V, Osborne R, Pegel KH, Connolly JD (1997) Cucurbitane triterpenoids from the leaves of Momordica foetida. Phytochemistry 45:391–395

16.

Chen JC, Lu L, Zhang XM, Zhou L, Li ZR, Qiu MH (2008) Eight new cucurbitane glycosides, kuguaglycosides A-H, from the root of Momordica charantia L. Helv Chim Acta 91:920–928

17.

Lin KW, Yang SC, Lin CN (2011) Antioxidant constituents from the stems and fruits of Momordica charantia. Food Chem 127:609–614

18.

Hsiao PC, Liaw CC, Hwang SY, Cheng HL, Zhang LJ, Shen CC, Hsu FL, Kuo YH (2013) Antiproliferative and hypoglycemic cucurbitane-type glycosides from the fruits of Momordica charantia. J Agric Food Chem 61:2979–2986

19.

Jiang Y, Peng XR, Yu MY, Wan LS, Zhu GL, Zhao GT, Zhou L, Qiu MH, Liu J (2016) Cucurbitane-type triterpenoids from the aerial parts of Momordica charantia L. Phytochem Lett 16:164–168

20.

Yue JY, Xu J, Cao JQ, Zhang XS, Zhao YQ (2017) Cucurbitane triterpenoids from Momordica charantia L. and their inhibitory activity against α-glucosidase, α-amylase and protein tyrosine phosphatase 1B (PTP1B). J Func Foods 37:624–631

21.

Akihisa T, Higo N, Tokuda H, Ukiya M, Akazawa H, Tochigi Y, Kimura Y, Suzuki T, Nishino H (2007) Cucurbitane-type triterpenoids from the fruits of Momordica charantia and their cancer chemopreventive effects. J Nat Prod 70:1233–1239

22.

Wang XJ, Sun W, Cao JQ, Qu HY, Bi XL, Zhao YQ (2012) Structures of new triterpenoids and cytotoxicity activities of the isolated major compounds from the fruit of Momordica charantia L. J Agric Food Chem 60:3927–3933

23.

Liao YW, Chen CR, Kuo YH, Hsu JL, Shih WL, Cheng HL, Huang TC, Chang CI (2012) Cucurbitane-type triterpenoids from the fruit pulp of Momordica charantia. Nat Prod Commun 7(12):1575–1578

24.

Li QY, Chen HB, Liu ZM, Wang B, Zhao YY (2007) Cucurbitane triterpenoids from Momordica charantia. Magn Reson Chem 45(6):451–456

25.

Zhang LJ, Liaw CC, Hsiao PC, Huang HC, Lin MJ, Lin ZH, Hsu FL, Kuo YH (2014) Cucurbitane-type glycosides from the fruits of Momordica charantia and their hypoglycaemic and cytotoxic activities. J Funct Foods 6:564–574

26.

Liaw CC, Huang HC, Hsiao PC, Zhang LJ, Lin ZH, Hwang SY, Hsu FL, Kuo YH (2014) 5β,19-epoxycucurbitane triterpenoids from Momordica charantia and their anti-inflammatory and cytotoxic activity. Planta Medica 81:62–70

27.

Tuan NQ, Lee DH, Oh J, Kim CS, Heo KS, Myung CS, Na M (2017) Inhibition of proliferation of vascular smooth muscle cells by cucurbitanes from Momordica charantia. J Nat Prod 80:2018–2025

28.

Habtemariam S, Varghese GK (2017) Antioxidant, anti-alpha-glucosidase and pancreatic beta-cell protective effects of methanolic extract of Ensete superbum Cheesm seeds. Asian Pac J Trop Biomed 7:121–125
Acknowledgements
We are glad to acknowledge the Analytical Center of Shenyang Pharmaceutical University for NMR measurements. The research was supported by National Nature Science Foundation of China (Grant No. 81703389), Youth development support plan of Shenyang Pharmaceutical University (ZQN2016023), Liaoning E & T research center for industrial chromatographic preparation of Natural Products (No. 2008402021), Technology Platform of Industrialization Chromatographic Preparation for Standard Extract of Traditional Chinese Medicine (2010ZX09401-304), and Liaoning (FGW) Engineering Technology Research Center for industrial chromatographic preparation of natural innovative drugs materials (2017-1007).
Ethics declarations
Conflict of interest
The authors declare no conflict of interest.
Additional information
Publisher's Note
Springer Nature remains neutral with regard to jurisdictional claims in published maps and institutional affiliations.
Electronic supplementary material
Below is the link to the electronic supplementary material.
About this article
Cite this article
Yue, J., Sun, Y., Xu, J. et al. Four new cucurbitane-type triterpenes from Momordica charantia L. with their cytotoxic activities and protective effects on H2O2-damaged pancreatic cells. J Nat Med 74, 34–40 (2020). https://doi.org/10.1007/s11418-019-01336-1
Received:

Accepted:

Published:

Issue Date:
Keywords
Momordica charantia L.

Cucurbitane-type triterpenoid sapogenins

Cytotoxic activity

Protection of pancreatic cell oxidative injury