Abstract
To date, there are very few effective drugs for liver fibrosis treatment; therefore, it is urgent to develop novel therapeutic targets and approaches. In the present research, we sought to study the protective effect of sweroside contained in Lonicera japonica or blue honeysuckle berries in a mouse model of liver fibrosis and investigate the underlying mechanism. The mouse model of liver fibrosis in was induced by intraperitoneal injections of 10% CCl4 for 6 weeks (three times/week). At the beginning of the fourth week, sweroside was intragastrically administered once a day and at the end of the treatment, biochemical and histological studies were investigated. The expression of FXR, miR-29a and the downstream targets were analyzed as well. Moreover, the effect of sweroside on cell proliferation was observed in human hepatic stellate cells (HSCs) (LX-2), along with using the siRNA for FXR and miR-29a inhibitor to investigate the underpinning of the anti-fibrotic effect of sweroside. Sweroside successfully protected the liver fibrosis in CCl4-induced mouse model, accompanied by miR-29a induction. Furthermore, sweroside also induced miR-29a in HSCs, resulting in the inhibition of COL1 and TIMP1. Our data also showed that either silencing miR-29a or knockdown of FXR in LX-2 cell abolished the inhibition of COL1 and TIMP1 as well as the inhibition of cell proliferation by sweroside treatment. In conclusion, sweroside exerted its anti-fibrotic effect in vivo and in vitro by up-regulation of miR-29a and repression of COL1 and TIMP1, which was at least in part through FXR.
This is a preview of subscription content, log in to check access.
Access options
Buy single article
Instant access to the full article PDF.
US$ 39.95
Tax calculation will be finalised during checkout.
Subscribe to journal
Immediate online access to all issues from 2019. Subscription will auto renew annually.
US$ 99
Tax calculation will be finalised during checkout.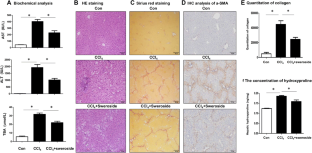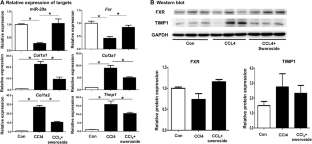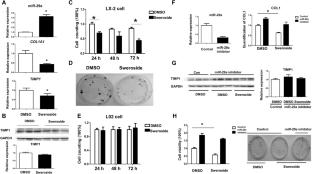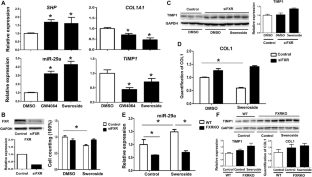 References
1.

Bataller R, Brenner DA (2005) Liver fibrosis. J Clin Invest 115:209–218

2.

Ellis E, Mann DA (2012) Clinical evidence for the regression of liver fibrosis. J Hepatol 56:1171–1180

3.

Tornesello ML, Buonagur L, Izzo F, Buonaguro FM (2016) Molecular alterations in hepatocellular carcinoma associated with hepatitis B and hepatitis C infections. Oncotarget 7:25087–25102

4.

Chen L, Li J, Zhang J, Dai C, Liu X, Wang J, Gao Z, Guo H, Wang R, Lu S, Wang F, Zhang H, Chen H, Fan X, Wang S, Qin Z (2015) S100A4 promotes liver fibrosis via activation of hepatic stellate cells. J Hepatol 62:156–164

5.

Lee CG, Kim YW, Kim EH, Meng Z, Huang W, Hwang SJ, Kim SG (2012) Farnesoid X receptor protects hepatocytes from injury by repressing miR-199a-3p, which increases levels of LKB1. Gastroenterology 142(1206–1217):e1207

6.

Roderburg C, Luedde M, Cardenas DV, Vucur M, Mollnow T, Zimmermann HW, Koch A, Hellerbrand C, Weiskirchen R, Frey N, Tacke T, Trautwein C, Luedde T (2013) miR-133a mediates TGF-beta-dependent derepression of collagen synthesis in hepatic stellate cells during liver fibrosis. J Hepatol 58:736–742

7.

Tao R, Fan XX, Yu HJ, Ai G, Zhang HY, Kong HY, Song QQ, Huang Y, Huang JQ, Ning Q (2017) MicroRNA-29b-3p prevents Schistosoma japonicum-induced liver fibrosis by targeting COL1A1 and COL3A1. J Cell Biochem 119:3199–3209

8.

Li J, Zhang Y, Kuruba R, Gao X, Gandhi CR, Xie W, Li S (2011) Roles of microRNA-29a in the antifibrotic effect of farnesoid X receptor in hepatic stellate cells. Mol Pharmacol 80:191–200

9.

Kogure T, Costinean S, Yan I, Braconi C, Croce C, Patel T (2012) Hepatic miR-29ab1 expression modulates chronic hepatic injury. J Cell Mol Med 16:2647–2654

10.

Fiorucci S, Rizzo G, Antonelli E, Renga B, Mencarelli A, Riccardi L, Morelli A, Pruzanski M, Pellicciari R (2005) Cross-talk between farnesoid-X-receptor (FXR) and peroxisome proliferator-activated receptor gamma contributes to the antifibrotic activity of FXR ligands in rodent models of liver cirrhosis. J Pharmacol Exp Ther 315:58–68

11.

Han XL, Li JD, Wang WL, Yang C, Li ZY (2017) Sweroside eradicated leukemia cells and attenuated pathogenic processes in mice by inducing apoptosis. Biomed Pharmacother 95:477–486

12.

Oszmiański J, Kucharska AZ (2018) Effect of pre-treatment of blue honeysuckle berries on bioactive iridoid content. Food Chem 240:1087–1091

13.

Shang X, Pan H, Li M, Miao X, Ding H (2011) Lonicera japonica Thunb.: ethnopharmacology, phytochemistry and pharmacology of an important traditional Chinese medicine. J Ethnopharmacol 138:1–21

14.

Brownmiller C, Howard LR, Prior RL (2009) Processing and storage effects on procyanidin composition and concentration of processed blueberry products. J Agric Food Chem 57:1896–1902

15.

Liu C, Zheng X, Jia S, Ding N, Gao X (2009) Comparative experiment on hot air and microwave-vacuum drying and puffing of blue honeysuckle snack. Int J Food Eng 5:1–9

16.

Sun C, Teng Y, Li G, Yoshioka S, Yokota J, Miyamura M, Fang H, Zhang Y (2010) Metabonomics study of the protective effects of Lonicera japonica extract on acute liver injury in dimethylnitrosamine treated rats. J Pharm Biomed 53:98–102

17.

Yang CC, Fang JY, Hong TL, Wang TC, Zhou YE, Lin TC (2013) Potential antioxidant properties and hepatoprotective effects of an aqueous extract formula derived from three Chinese medicinal herbs against CCl4-induced liver injury in rats. Int Immunopharmacol 15:106–113

18.

Yang F, Gong J, Wang G, Chen P, Yang L, Wang Z (2016) Waltonitone inhibits proliferation of hepatoma cells and tumorigenesis via FXR-miR-22-CCNA2 signaling pathway. Oncotarget 7:75165–75175

19.

Jeong YT, Jeong SC, Hwang JS, Kim JH (2015) Modulation effects of sweroside isolated from the Lonicera japonica on melanin synthesis. Chem Biol Interact 238:33–39

20.

Xu W, Lu C, Zhang F, Shao J, Zheng S (2016) Dihydroartemisinin restricts hepatic stellate cell contraction via an FXR-S1PR2-dependent mechanism. IUBMB Life 68:376–387

21.

Verbeke L, Farre R, Trebicka J, Komuta M, Roskams T, Klein S, Elst IV, Windmolders P, Vanuytsel T, Nevens F, Laleman W (2014) Obeticholic acid, a farnesoid X receptor agonist, improves portal hypertension by two distinct pathways in cirrhotic rats. J Hepatol 59:2286–2298

22.

Li J, Kuruba R, Wilson A, Gao X, Zhang Y, Li S (2010) Inhibition of endothelin-1-mediated contraction of hepatic stellate cells by FXR ligand. PLoS One 5:e13955

23.

Han H, Zeng W, He C, Bligh A, Liu Q, Yang L, Wang ZT (2014) Characterization of metabolites of sweroside in rat urine using ultra-high-performance liquid chromatography combined with electrospray ionization quadrupole time-of-flight tandem mass spectrometry and NMR spectroscopy. J Mass Spectrom 49:11

24.

Lee J, Padhye A, Sharma A, Song G, Miao J, Mo YY, Wang L, Kemper JK (2010) A pathway involving farnesoid X receptor and small heterodimer partner positively regulates hepatic sirtuin 1 levels via microRNA-34a inhibition. J Biol Chem 285:12604–12611

25.

He J, Zhao K, Zheng L, Xu Z, Gong W, Chen S, Shen X, Huang G, Gao M, Zeng Y, Zhang Y, He F (2015) Upregulation of microRNA-122 by farnesoid X receptor suppresses the growth of hepatocellular carcinoma cells. Mol Cancer 14:163

26.

Yang F, Hu Y, Liu HX, Wan YL (2015) MiR-22-silenced cyclin A expression in colon and liver cancer cells is regulated by bile acid receptor. J Biol Chem 290:6507–6515

27.

Ciechomska M, O'Reilly S, Suwara M, Bogunia-Kubik K, Van Laar JM (2014) MiR-29a reduces TIMP-1 production by dermal fibroblasts via targeting TGF-beta activated kinase 1 binding protein 1, implications for systemic sclerosis. PLoS One 9:e115596

28.

Matsumoto Y, Itami S, Kuroda M, Yoshizato K, Kawada N, Murakami Y (2016) MiR-29a assists in preventing the activation of human stellate cells and promotes recovery from liver fibrosis in mice. Mol Ther 24:P1848–P1859

29.

Bandyopadhyay S, Friedman RC, Marquez RT, Keck K, Kong B, Icardi MS, Brown KE, Burge CB, Schmidt WN, Wang Y, McCaffrey AP (2011) Hepatitis C virus infection and hepatic stellate cell activation downregulate miR-29: miR-29 overexpression reduces hepatitis C viral abundance in culture. J Infect Dis 203:1753–1762

30.

Lin YC, Wang FS, Yang YL, Chuang YT, Huang YH (2018) MicroRNA-29a mitigation of toll-like receptor 2 and 4 signaling and alleviation of obstructive jaundice-induced fibrosis in mice. Biochem Bioph Res Co 496:880–886

31.

Stamatopoulos B, Meuleman N, Haibe-Kains B, Saussoy P, Neste EVD, Michaux L, Heimann P, Martiat P, Bron D, Lagneaux L (2009) MicroRNA-29c and microRNA-223 down-regulation has in vivo significance in chronic lymphocytic leukemia and improves disease risk stratification. Blood 113:5237–5245

32.

Xiong Y, Fang JH, Yun JP, Yang J, Zhang Y, Jia WH, Zhuang SM (2010) Effects of microRNA-29 on apoptosis, tumorigenicity, and prognosis of hepatocellular carcinoma. J Hepatol 51:836–845

33.

Yang QL, Yang F, Gong JT, Tang XW, Wang GY, Wang ZT, Yang L (2016) Sweroside ameliorates alpha-naphthylisothiocyanate-induced cholestatic liver injury in mice by regulating bile acids and suppressing pro-inflammatory responses. Acta Pharmacol Sin 37:1218–1228
Acknowledgements
This work is financially supported by the Natural Science Foundations of China (81573581), the Program of Shanghai Academic/Technology Research Leader (17XD1403500) and the National S&T Major Special Projects (2017ZX09309006 and 2014ZX09301306-007).
Additional information
Publisher's Note
Springer Nature remains neutral with regard to jurisdictional claims in published maps and institutional affiliations.
Electronic supplementary material
Below is the link to the electronic supplementary material.
About this article
Cite this article
Gong, J., Yang, F., Yang, Q. et al. Sweroside ameliorated carbon tetrachloride (CCl4)-induced liver fibrosis through FXR-miR-29a signaling pathway. J Nat Med 74, 17–25 (2020). https://doi.org/10.1007/s11418-019-01334-3
Received:

Accepted:

Published:

Issue Date:
Keywords
Liver fibrosis

Sweroside

miR-29a

FXR

ECM