Abstract
Celastrus orbiculatus is a medicinal plant belonging to the Celastraceae family. In this survey on the secondary metabolites of plants for obtaining antitumor substances, the chemical constituents of the stems of C. orbiculatus were investigated. Nortriptonoterpene (1), a new C19-norabietane diterpenoid, together with six other known abietane-type diterpenoids (2–7) and five known kaurane-type diterpenoids (8–12) were isolated and identified from the EtOAc extract of C. orbiculatus. Their structures were elucidated on the basis of extensive spectroscopic methods, including UV, IR, HR-ESI–MS, ECD, and NMR experiments, and by comparison with literature data. Compound 1 is a new C19-norabietane diterpenoid with 19 carbons. All compounds except for 10 and 11 were isolated from C. orbiculatus for the first time. The NMR data of 9 were reported for the first time. Compounds 1, 7 and 11 showed cytotoxicities against SGC-7901 with IC50 values of 63.2, 80.9 and 56.7 μM, respectively.
This is a preview of subscription content, log in to check access.
Access options
Buy single article
Instant access to the full article PDF.
US$ 39.95
Price includes VAT for USA
Subscribe to journal
Immediate online access to all issues from 2019. Subscription will auto renew annually.
US$ 99
This is the net price. Taxes to be calculated in checkout.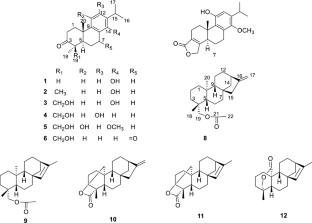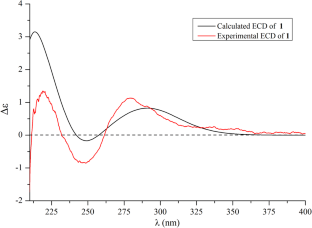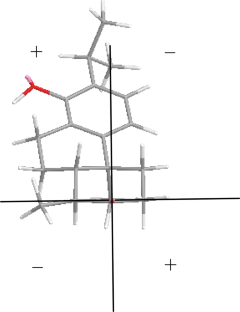 References
1.

Duan HQ, Takaishi Y, Momota H, Ohmoto Y, Taki T, Jia YF, Li D (1999) Immunosuppressive diterpenoids from Tripterygium wilfordii. J Nat Prod 62(11):1522–1525

2.

Chen XL, Liu F, Xiao XR, Yang XW, Li F (2018) Anti-inflammatory abietanes diterpenoids isolated from Tripterygium hypoglaucum. Phytochemistry 156:167–175

3.

Wang MC, Zhang Q, Ren QH, Kong XL, Wang LZ, Wang H, Xu J, Guo YQ (2014) Isolation and characterization of sesquiterpenes from Celastrus orbiculatus and their antifungal activities against phytopathogenic fungi. J Agric Food Chem 62:10945–10953

4.

Wang HB, Tao L, Ni TY, Gu H, Jin F, Dai XJ, Feng J, Ding YB, Xiao WM, Guo SY, Hisamitsu T, Qian YY, Liu YQ (2017) Anticancer efficacy of the ethyl acetate extract from the traditional Chinese medicine herb Celastrus orbiculatus against human gastric cancer. J Ethnopharmacol 205:147–157

5.

Xu J, Xie CF, Jin DQ, Guo YQ, Zhao P, Wang SN, He YS (2012) Three new dihydroagarofuran sesquiterpenoids from Celastrus orbiculatus. Phytochem Lett 5:713–716

6.

Xu J, Guo YQ, Li X, Wei K, Zhao XJ (2008) Cytotoxic sesquiterpenoids from the ethanol extract of fruits of Celastrus orbiculatus. J Ethnopharmacol 117:175–177

7.

Li JJ, Yang J, Wu FH, Wang SS, Wang Q (2014) Kaurane diterpenoids from Celastrus orbiculatus. Chem Nat Compd 49(6):1032–1034

8.

Wang LY, Wu J, Yang Z, Wang XJ, Fu Y, Liu SZ, Wang HM, Zhu WL, Zhang HY, Zhao WM (2013) (M)- and (P)-bicelaphanol A, dimeric trinorditerpenes with promising neuroprotective activity from Celastrus orbiculatus. J Nat Prod 76:745–749

9.

Li JJ, Yang J, Lv F, Tao QY, Liu YQ, Sun Y, Wang Q (2012) Chemical constituents from the stems of Celastrus orbiculatus. Chin J Nat Medicines 10(4):279–283

10.

Chen XQ, Zan K, Wang Q (2012) Olean-type triterpenes of Celastrus orbiculatus. Biochem Syst Ecol 44:338–340

11.

Jin HZ, Hwang BY, Kim HS, Lee JH, Kim YH, Lee JJ (2002) Antiinflammatory constituents of Celastrus orbiculatus inhibit the NF-KB activation and NO production. J Nat Prod 65:89–91

12.

Zhu YD, Hu L, Li P, Zhang M, Liu YQ (2018) Effects of Celastrus orbiculatus on epithelial mesenchymal transition in gastric mucosal epithelial cells by inhibiting Lgr5 expression from rats with gastric precancerous lesions. Am J Chin Med 46(5):1129–1143

13.

Li JL, Wu L, Wu J, Feng HX, Wang HM, Fu Y, Zhang RJ, Zhang HY, Zhao WM (2016) Caffeoyl triterpenoid esters as potential anti-ischemic stroke agents from Celastrus orbiculatus. J Nat Prod 79:2774–2779

14.

Kutney JP, Han K (1996) Studies with plant-cell cultures of the Chinese herbal plant, Tripterygium wilfordii. Isolation and characterization of diterpenes. Recueil des Travaux Chimiques des Pays-Bas 115:77–93

15.

Takaishi Y, Wariishi N, Tateishi H, Kawazoe K, Miyagi K, Li KH, Duan HQ (1997) Phenolic diterpenes from Tripterygium wilfordii var. regelii. Phytochemistry 45(5):979–984

16.

Wang F, Zhang Y, Zhao YQ (2011) Chemical constituents of Tripterygium hypoglaucum. Chin Tradit Herb Drug 42(1):46–48

17.

Hueso-Falcon I, Cuadrado I, Cidre F, Amaro-Luis JM, Ravelo AG, Estevez-Braun A, Heras BD, Hortelano S (2011) Synthesis and anti-inflammatory activity of ent-kaurene derivatives. Eur J Med Chem 46:1291–1305

18.

Gonzalez AG, Fraga BM, Hernandez MG, Luis JG (1973) New diterpenes from Sideritis Candicans. Phytochemistry 12:2721–2723

19.

Mori K, Aki S (1993) Diterpenoid total synthesis, XXX. Synthesis of the racemic form of tripterifordin, a novel anti-HIV diterpene lactone from Tripterygium wilfordii. Eur J Org Chem 1993:97–98

20.

Tanaka N, Ooba N, Duan HQ, Takaishi Y, Nakanishi Y, Bastow K, Lee KH (2004) Kaurane and abietane diterpenoids from Tripterygium doianum (Celastraceae). Phytochemistry 65:2071–2076
Acknowledgements
Financial support from the opening project of the Zhejiang Provincial Top Key Discipline of Pharmaceutical Sciences (201707), the open project of the Key Laboratory of Marine Medicine, Guangdong Province and the Key Laboratory of Tropical Marine Bio-resources and Ecology, Chinese Academy of Sciences (2018011008), the Natural Science Foundation of Jiangsu Province for Youths (BK20180927), and the Administration of Traditional Chinese Medicine of Jiangsu Province (YB201850) are gratefully acknowledged.
Ethics declarations
Conflict of interest
The authors declare that they have no conflict of interest.
Additional information
Publisher's Note
Springer Nature remains neutral with regard to jurisdictional claims in published maps and institutional affiliations.
About this article
Cite this article
Jiang, W., Shan, T., Xu, J. et al. Cytotoxic abietane and kaurane diterpenoids from Celastrus orbiculatus. J Nat Med 73, 841–846 (2019). https://doi.org/10.1007/s11418-019-01326-3
Received:

Accepted:

Published:

Issue Date:
Keywords
Celastrus orbiculatus

Abietane-type diterpenoid

Kaurane-type diterpenoid

Cytotoxic activity