Abstract
Two new compounds, namely 5-hydroxy-7-methoxy-6-methylchromone (1), and sesquiterpene X (6), together with 21 known compounds were isolated from the twigs and leaves of Cephalotaxus fortunei Hook. f. The structures of 1–23 were elucidated on the basis of spectroscopic analysis (1D/2D NMR, HR-ESI–MS and IR) and comparison with literature. The absolute configuration of compound 6 was determined by means of electronic circular dichroism calculation. The in vitro anti-inflammatory activities of all compounds were assayed in RAW 264.7 cells by assessing lipopolysaccharide-induced nitric oxide production. Compounds 1 and 6 exhibited weak effects with percentage inhibitions of 24% and 35.60%, respectively. In addition, compounds 4, 9, and 14 have the potential to be developed as therapeutic agents for inflammatory diseases because of their significant anti-inflammatory activities and high content in C. fortunei.
This is a preview of subscription content, log in to check access.
Access options
Buy single article
Instant access to the full article PDF.
US$ 39.95
Price includes VAT for USA
Subscribe to journal
Immediate online access to all issues from 2019. Subscription will auto renew annually.
US$ 99
This is the net price. Taxes to be calculated in checkout.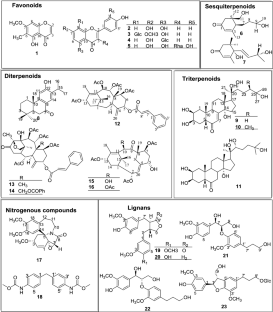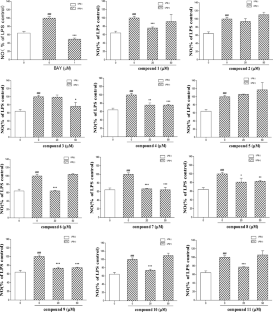 References
1.

Powell RG, Weisleder D Jr, Rohwedder WK (1970) Structures of harringtonine, isoharringtonine, and homoharringtonine. Tetrahedron Lett 11(11):815–818

2.

Yoshinaga M, Morita H, Dota T, Kobayashi J (2004) Bis-cephalezomines A–E from Cephalotaxus harringtonia var. nana. Tetrahedron 60(36):7861–7868

3.

Paulder WW, Kerley GI, Mckay J (1963) The alkaloids of Cephalotaxus drupacea and Cephalotaxus fortunei. J Org Chem 28(9):2194–2197

4.

Laskin DL, Sunil VR, Gardner CR, Laskin JD (2011) Macrophages and tissue injury: agents of defense or destruction. Annu Rev Pharmacol Toxicol 51(51):267–288

5.

Makchuchit S, Rattarom R, Itharat A (2017) The anti-allergic and anti-inflammatory effects of Benjakul extract (a Thai traditional medicine), its constituent plants and its some pure constituents using in vitro experiments. Biomed Pharmacother 89:1018–1026

6.

Zhou HY, Shin EM, Guo LY, Zou LB, Xu GH, Lee SH, Ze KR, Kim EK, Kang SS, Kim YS (2007) Anti-inflammatory activity of 21(α, β)-methylmelianodiols, novel compounds from Poncirus trifoliata Rafinesque. Eur J Pharmacol 572(2–3):239–248

7.

Tao YY, Zheng GH, Zhao L, Wu JG, Zhang XY, Zhang SL, Huang ZJ, Xiong FL, Li CM (2009) Anti-inflammatory effects of ethyl acetate fraction from Melilotus suaveolens Ledeb on LPS-stimulated RAW 264.7 cells. J Ethnopharmacol 123(1):97–105

8.

Matsuda Y, Iwabuchi T, Fujimoto T, Awakawa T, Nakashima Y, Mori T, Zhang H, Hayashi F, Abe I (2016) Discovery of key dioxygenases that diverged the paraherquonin and acetoxydehydroaustin pathways in Penicillium brasilianum. J Am Chem Soc 138(38):12671–12677

9.

Inada A, Fujiwara M, Kakimoto L, Kitamura F, Toya H, Konishi M, Nakanishi T, Murata H (2008) Structure of a new acylated flavonoid glycoside, euryanoside, from flowers of Eurya japonica THUNB. Chem Pharm Bull 37(10):2819–2821

10.

Ren X, Du G, Zhou B, Zong K, Ma B (2008) Study on spectroscopy of two flavonyl glycosides from Andrographis panlculata. Acta Chim Sinica 3(2):178–181

11.

Veit M, Geiger H, Czygan FC, Markham KR (1990) Malonylated flavone 5-O-glucosides in the barren sprouts of Equisetum arvense. Phytochemistry 29(8):2555–2560

12.

Zhou ZH, Zhang YJ, Yang CR (2000) Saluenin, a new flavonol glycoside from Camellia saluenensis. Acta Botanica Yunnanica 22(1):90–96

13.

Siddiqui BS, Kardar MN, Ali ST, Khan S (2010) Two new and a known compound from Lawsonia alba. Helv Chim Acta 86(6):2164–2169

14.

Li WH, Chang ST, Chang SC, Chang HT (2008) Isolation of antibacterial diterpenoids from Cryptomeria japonica bark. Nat Prod Res 22(12):1085–1093

15.

Darwish FMM, Reinecke MG (2003) Ecdysteroids and other constituents from Sida spinosa L. Phytochemistry 62(8):1179–1184

16.

Rharrabe K, Sayan F, Lafont R (2010) Dietary effects of four phytoecdysteroids on growth and development of the Indian meal moth, Plodia interpunctella. J Insect Sci 10(13):1–12

17.

Zhu WM, Zhu HJ, Tian WS, Hao XJ, Pittman CU (2002) The selective dehydroxylation of 20-hydroxyecdysone by Zn power and anhydrous acetic acid. Synth Commun 32(9):1385–1391

18.

Sun ZH, Chen Y, Guo YQ, Qiu J, Zhu CG, Jin J, Tang GH, Bu XZ, Yin S (2015) Isolation and cytotoxicity evaluation of taxanes from the barks of Taxus wallichiana var. mairei. Bioorg Med Chem Lett 25(6):1240–1243

19.

Zhang ZP, Jia ZJ, Zhu ZQ, Cui YZ, Cheng JL, Wang QG (1990) New taxanes from Taxus chinensis. Planta Med 56(3):293–294

20.

Wang FS, Peng LY, Zhao Y, Kun GU, Zhao QS, Sun HD (2003) Taxoids from the leaves and stems of Taxus chinensis. Acta Botanica Yunnanica 25(3):369–376

21.

Petzke TL, Shi QW, Sauriol F, Mamer O, Zamir LO (2004) Taxanes from rooted cuttings of Taxus Canadensis. J Nat Prod 67(11):1864–1869

22.

Yue Q, Fang QC, Liang XT, He CH, Jing XL (1995) Rearranged taxoids from Taxus yunnanensis. Planta Med 61(4):375–377

23.

Wang LW, Su HJ, Yang SZ, Won SJ, Lin CN (2004) New alkaloids from Cephalotaxus wilsoniana. J Nat Prod 67(7):1182–1185

24.

Zhu WF, Wang CL, Ye F, Sun HP, Ma CY, Liu WY, Feng F, Abe M, Akihisa T, Zhang J (2018) Chemical constituents of the seed cake of Camellia oleifera and their antioxidant and antimelanogenic activities. Chem Biodivers 15(7):e1800137

25.

Xie LH, Ahn EM, Akao T, Abdelhafez AM, Nakamura N, Hattori M (2003) Transformation of arctiin to estrogenic and antiestrogenic substances by human intestinal bacteria. Chem Pharm Bull 51(4):378–384

26.

Fang JM, Hsu KC, Cheng YS (1989) Lignans from leaves of Calocedrus formosana. Phytochemistry 28(4):1173–1175

27.

Huang XX, Zhou CC, Li LZ, Li FF, Lou LL, Li DM, Ikejima T, Peng Y, Song SJ (2013) ChemInform abstract: the cytotoxicity of 8-O-4′-neolignans from the seeds of Crataegus pinnatifida. Bioorg Med Chem Lett 23(20):5599–5604

28.

Jung KY, Kim DS, Oh SR, Park SH, Lee IS, Lee JJ (1998) Magnone A and B, novel anti-PAF tetrahydrofuran lignans from the flower buds of Magnolia fargesii. J Nat Prod 61(6):808–811

29.

Wang Z, Yang XD, Zha HY, Guo LN, Shen D, Xu LZ, Yang SL (2017) Lignan glycosides and sucrose esters from roots of Securidaca inappendiculata. Zhongguo Zhong Yao Za Zhi 42(12):2318–2322
Acknowledgements
This work was supported by the young and middle-aged teachers' career development support plan of Shenyang Pharmaceutical University (2017); Laboratory for Marine Drugs and Bioproducts of Qingdao National Laboratory for Marine Science and Technology (LMDBKF201701).
Ethics declarations
Conflict of interest
The authors declare no conflict of interest.
Additional information
Publisher's Note
Springer Nature remains neutral with regard to jurisdictional claims in published maps and institutional affiliations.
Electronic supplementary material
Below is the link to the electronic supplementary material.
About this article
Cite this article
Feng, Q., Li, B., Feng, Y. et al. Isolation and identification of two new compounds from the twigs and leaves of Cephalotaxus fortunei. J Nat Med 73, 653–660 (2019). https://doi.org/10.1007/s11418-019-01308-5
Received:

Accepted:

Published:

Issue Date:
Keywords
Cephalotaxus fortunei Hook. f.

Anti-inflammatory activities

Structure elucidation