Abstract
A new crinine-type alkaloid crijaponine A (1), a new galanthamine-type alkaloid crijaponine B (2), and 11 known alkaloids—ungeremine (3), lycorine (4), 2-O-acetyllycorine (5), 1, 2-O-diacetyllycorine (6), (−)-crinine (7), 11-hydroxyvittatine (8), hamayne (9), (+)-epibuphanisine (10), crinamine (11), yemenine A (12), and epinorgalanthamine (13)—were isolated from the rhizome and fruits of Crinum asiaticum var. japonicum. The structural elucidation of the isolated compounds was performed by spectroscopic methods including 2D NMR. The isolated compounds were evaluated for cytotoxicity against HeLa and HL-60 cells lines and were tested for acetylcholinesterase inhibition activity.
Access options
Buy single article
Instant access to the full article PDF.
USD 39.95
Price includes VAT (USA)
Tax calculation will be finalised during checkout.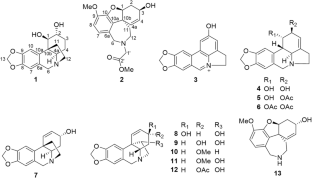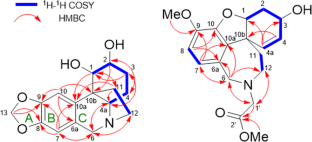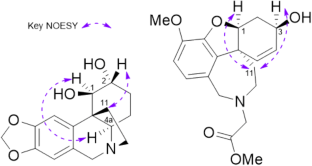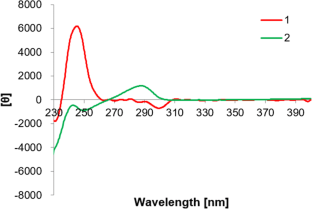 References
1.

Lamoral-Theys D, Andolfi A, Goietsenoven GV, Cimmino A, Le Calvé B, Wauthoz N, Mégalizzi V, Gras T, Bruyère C, Dubois J, Mathieu V, Kornienko A, Kiss R, Evidente A (2009) Lycorine, the main phenanthridine Amaryllidaceae alkaloid, exhibits significant antitumor activity in cancer cells that display resistance to proapoptotic stimuli: an investigation of structure–activity relationship and mechanistic insight. J Med Chem 52:6244–6256

2.

Tam NT, Chang J, Jung E, Cho C (2008) Total syntheses of (±)-crinine and (±)-buphanisine. J Org Chem 73:6258–6264

3.

Abou-Donia AH, Toaima SM, Hammoda HM, Shawky E, Kinoshita E, Takayama H (2008) Phytochemical and biological investigation of Hymenocallis littoralis Salisb. Chem Biodivers 5:332–340

4.

Ochi M, Otsuki H, Nagano K (1976) The structure of hamayne, a new alkaloid from Crinum asiaticum L. var. japonicum Baker. Bull Chem Soc Jpn 49:3363–3364

5.

Viladomat F, Bastida J, Codina C, Campbell WE, Mathee S (1995) Alkaloids from Boophane flava. Phytochemistry 40:307–311

6.

Abdel-Halim OB, Morikawa T, Ando S, Matsuda H, Yoshikawa M (2004) New crinine-type alkaloids with inhibitory effect on induction of inducible nitric oxide synthase from Crinum yemense. J Nat Prod 67:1119–1124

7.

Bastida J, Viladomat F, Bergonon S, Fernandez JM, Codina C, Rubiralta M, Quirion JC (1993) Alkaloids from Narcissus leonensis. Phytochemistry 34:1656–1658

8.

Wagner J, Pham HL, Doepke W (1996) Alkaloids from Hippeastrum equestre Herb.—5. Circular dichroism studies. Tetrahedron 52:6591–6600

9.

DeAngelis GG, Wildman WC (1969) Identification of Amaryllidaceae alkaloids utilizing ORD and CD spectroscopy. Tetrahedron Lett 9:729–732

10.

Shimada M, Ozawa M, Iwamoto K, Fukuyama Y, Kishida A, Ohsaki A (2014) A Lanostane Triterpenoid and three Cholestane Sterols from Tilia kiusiana. Chem Pharm Bull 62:937–941

11.

Ellman GL, Courtney KD, Andres V Jr, Featherstone RM (1961) A new and rapid colorimetric determination of acetylcholinesterase activity. Biochem Pharm 7:88–90
Acknowledgements
This work was supported by JSPS KAKENHI (Grant numbers 2410293, 16K01921 to AO). We are grateful to Mr. Kazuo Sugimura (Shimanto City Hall, Kochi Prefecture, Japan) for his support of the plant collection.
Additional information
Publisher's Note
Springer Nature remains neutral with regard to jurisdictional claims in published maps and institutional affiliations.
About this article
Cite this article
Endo, Y., Sugiura, Y., Funasaki, M. et al. Two new alkaloids from Crinum asiaticum var. japonicum. J Nat Med 73, 648–652 (2019). https://doi.org/10.1007/s11418-019-01304-9
Received:

Accepted:

Published:

Issue Date:
Keywords
Crinum asiaticum var. japonicum

Crinine alkaloid

Galanthamine alkaloid

Cytotoxicity

Acetylcholinesterase inhibitory activity