Abstract
The effectiveness of cancer chemotherapy is often limited by the toxicity to other tissues in the body. Therefore, the identification of non-toxic chemotherapeutics from herbal medicines remains to be an attractive goal to advance cancer treatments. This study evaluated the cytotoxicity profiles of 364 herbal plant extracts, using various cancer and normal cell lines. The screening found occurrence of A549 (human lung adenocarcinoma) specific cytotoxicity in nine species of herbal plants, especially in the extract of Arctium lappa L. Moreover, purification of the selective cytotoxicity in the extract of Arctium lappa L. resulted in the identification of arctigenin as tumor specific agent that showed cytotoxicity to lung cancer (A549), liver cancer (HepG2) and stomach cancer (KATO III) cells, while no cytotoxicity to several normal cell lines. Arctigenin specifically inhibited the proliferation of cancer cells, which might consequently lead to the induction of apoptosis. In conclusion, this study found that arctigenin was one of cancer specific phytochemicals, and in part responsible for the tumor selective cytotoxicity of the herbal medicine.
Access options
Buy single article
Instant access to the full article PDF.
USD 39.95
Price includes VAT (USA)
Tax calculation will be finalised during checkout.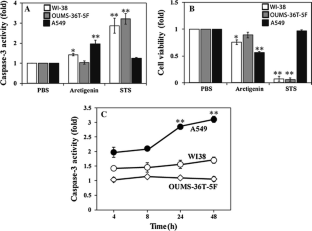 References
1.

Fabricant DS, Farnsworth NR (2001) The value of plants used in traditional medicine for drug discovery. Environ Health Perspect 109(1):69–75

2.

Hoareau L, DaSilva EJ (1999) Medicinal plants: a re-emerging health aid. Electron J Biotechnol 2:56–70

3.

Chia JS, Du JL, Hsu WB, Sun A, Chiang CP, Wang WB (2010) Inhibition of metastasis, angiogenesis, and tumor growth by Chinese herbal cocktail Tien-Hsien Liquid. BMC Cancer 10:175

4.

Ruan WJ, Lai M, Zhou JG (2006) Anticancer effects of Chinese herbal medicine, science or myth? J Zhejiang Univ Sci B 7(12):1006–1014

5.

Alphen JP, Aris A, Dharmananda S (1995) The book oriental medicine: an illustrated guide to the Asian arts of healing. Serindia Publications, London

6.

Cragg GM, Newman DJM, Snader KM (1997) Natural products in drug discovery and development. J Nat Prod 60:52–60

7.

Parkin DM, Muir CS, Whelan SL, Gao YT, Ferlay J, Powell J (2005) Cancer incidence in five continents, vol VIII. IARC Scientific Publication, Lyon

8.

Murphy SL (2000) Deaths: final data for 1998. Natl Vital Stat Rep 48:1–105

9.

Ries LA, Wingo PA, Miller DS, Howe HL, Weir HK, Rosenberg HM, Vernon SW, Cronin K, Edwards BK (2000) The annual report to the nation on the status of cancer, 1973–1997, with a special section on colorectal cancer. Cancer 88:2398–2424

10.

Skeel RT (2003) Handbook of cancer chemotherapy. Lippincott Williams and Wilkins, Philadelphia

11.

Camp-Sorrell D (2000) Chemotherapy: toxicity management. In: Yarbro CH, Frogge MH, Goodman M, Groenwald SL (eds) Cancer nursing: principles and practice, 5th edn. Jones and Bartlett Publishers, Sudbury

12.

Chabner B, Longo DL (2005) Cancer chemotherapy and biotherapy: principles and practice, 4th edn. Lippincott Williams & Wilkins, Philadelphia. ISBN 0781756286

13.

Hirsch J (2006) An anniversary for cancer chemotherapy. J Am Med Assoc 296(12):1518–1520

14.

Joensuu H (2008) Systemic chemotherapy for cancer: from weapon to treatment. Lancet Oncol 9(3):304

15.

Eisenberg DM, Davis RB, Ettner SL, Appel S, Wilkey S, van Rompay M, Kessler RC (1998) Trends in alternative medicine use in the United States, 1990–1997: results of a follow-up national survey. JAMA 280:1569–1575

16.

Buchanan DR, White JD, O'Mara AM, Kalaghan JW, Smith WB, Minasian LM (2005) Research-design issues in cancer-symptom-management trials using complementary and alternative medicine: lesson from the National Cancer Institute Community Clinical Oncology Program experience. J Clin Oncol 23(27):6682–6689

17.

Umehara K, Sugama A, Kuroyanagi M, Ueno A, Taki T (1993) Studies on differentiation-inducers from Arctium fructus. Chem Pharm Bull 41:1774–1779

18.

Wang P, Henning SM, Heber D (2010) Limitation of MTT and MTS-based assays for measurement of antiproliferative activity of green tea polyphenol. PloS ONE 5(4):e10202

19.

Kumar RA, Sridevi K, Kumar NV, Nanduri S, Rajagopal S (2004) Anticancer and immunostimulatory compounds from Andrographis paniculata. J Ethnopharmacol 92:291–295

20.

Park KI, Park HS, Kang SR, Nagappan A, Lee DH, Kim JA, Han DY, Kim GS (2011) Korean Scutellaria baicalensis water extract inhibits cell cycle G1/S transition by suppressing cyclin D1 expression and matrix-metalloproteinase-2 activity in human lung cancer cells. J Ethnopharmacol 133:634–641

21.

Ranga RS, Sowmyalakshmi S, Burikhanov R, Akbarsha MA, Chendil D (2005) A herbal medicine for the treatment of lung cancer. Mol Cell Biochem 280:125–133

22.

Kohno H, Taima M, Sumida T, Azuma Y, Ogawa H, Tanaka T (2001) Inhibitory effect of mandarin juice rich in beta-cryptoxanthin and hesperidin on 4-(methylnitrosamino)-1-(3-pyridyl)-1-butanone induced pulmonary tumorigenesis in mice. Cancer Lett 174(2):41–150

23.

Tanaka T, Yasui Y, Ishigamori-Suzuki R, Oyama T (2008) Citrus compounds inhibit inflammation- and obesity-related colon carcinogenesis in mice. Nutr Cancer 60:70–80

24.

Murakami A, Nakamura Y, Ohto Y, Yano M, Koshiba T, Koshimizu K, Tokuda H, Nishino H, Ohigashi H (2000) Suppressive effects of citrus fruits on free radical generation and nobiletin, and anti-inflammatory polymethoxyflavonoid. Biofactors 12(1–4):187–192

25.

Tanaka T, Kohno H, Murakami M, Shimada R, Kagami S, Sumida T, Azuma Y, Ogawa H (2000) Suppression of azoxymethane-induced colon carcinogenesis in male F344 rats by mandarin juices rich in beta-cryptoxanthin and hesperidin. Int J Cancer 88(1):146–150

26.

Garcia OB, Castillo J, Marin FR, Ortuno A, Del Rio AJ (1997) Uses and properties of Citrus flavonoids. J Agric Food Chem 45(12):4505–4515

27.

Awale S, Lu J, Kalauni SK, Kurashima Y, Tezuka Y, Kadota S, Esumi H (2006) Identification of arctigenin as an antitumor agent having the ability to eliminate the tolerance of cancer cells to nutrient starvation. Cancer Res 66:1751–1757

28.

Cho MK, Jang YP, Kim YC, Kim SG (2004) Arctigenin, a phenylpropanoid dibenzylbutyrolactone lignan, inhibits MAP kinases and AP-1 activation via potent MKK inhibition: the role in TNF-α inhibition. Int Immunopharmacol 4:1419–1429

29.

Tamayo C, Richardson MA, Diamond S, Skoda I (2000) The chemistry and biological activity of herbs used in Flor-Essence™ Herbal Tonic and Essiac™. Phytother Res 14:1–14

30.

Zhao F, Wang L, Liu K (2009) In vitro anti-inflammatory effects of arctigenin, a lignan from Arctium lappa L., through inhibition on iNOS pathway. J Ethnopharmacol 122:457–462

31.

Jeong JB, Hong SC, Jeong HJ, Koo JS (2011) Arctigenin induces cell cycle arrest by blocking the phosphorylation of Rb via the modulation of cell cycle regulatory proteins in human gastric cancer cells. Int Immunopharmacol 11:1573–1577

32.

Moritani S, Nomura M, Takeda Y, Miyamoto KI (1996) Cytotoxic components of Bardanae Fructus (Goboshi). Biol Pharm Bull 19(11):1515–1517

33.

Hausott B, Greger H, Marian B (2003) Naturally occurring lignans efficiently induce apoptosis in colorectal tumor cells. J Cancer Res Clin Oncol 129:569–576

34.

Yoo JH, Lee HJ, Kang K, Jho EH, Kim CY, Baturen D, Tunsag J, Nho CW (2010) Lignans inhibit cell growth via regulation of Wnt/β-catenin signaling. Food Chem Toxicol 48:2247–2252

35.

Matsumoto T, Hosono-Nishiyama K, Yamada H (2006) Anti-proliferative and apoptotic effects of butyrolactone lignans from Arctium lappa on leukemic cells. Planta Med 72:276–278

36.

Bertrand R, Solary E, O'Connor P, Kohn KW, Pommier Y (1994) Induction of a common pathways of apoptosis by Staurosporine. Exp Cell Res 211:314–321

37.

Wang Y, Yang H, Liu H, Huang J, Song X (2009) Effect of staurosporine on the mobility and invasiveness of lung adenocarcinoma A549 cells: an in vitro study. BMC Cancer 9:174. doi:10.1186/1471-2407-9-174

38.

Entschladen F, Drell TL 4th, Lang K, Joseph J, Zaenker KS (2005) Neurotransmitters and chemokines regulate tumor cell migration: potential for a new pharmacological approach to inhibit invasion and metastasis development. Curr Pharm 3(11):403–411

39.

Zhang YX, Yu SB, Ou-Yang JP, Xia D, Wang M, Li JR (2005) Effect of protein kinase C alpha, caspase-3, and survivin on apoptosis of oral cancer cells induced by staurosporine. Acta Pharmacol Sin 26(11):1365–1372

40.

Sherr CJ (1994) G1 phase progression: cycling on cue. Cell 79:551–555

41.

Courage C, Snowden R, Gescher A (1996) Differential effects of staurosporine analogues on cell cycle, growth and viability in A549 cells. Br J Cancer 74:1199–1205

42.

Kim YJ, Hwang JH, Cha M, Yoon MY, Son ES, Tomida A, Ko B, Song SW, Shin-Ya K, Hwang Y, Park HR (2010) Arctigenin blocks the unfolded protein response and shows therapeutic antitumor activity. J Cell Physiol 224:33–40
Acknowledgments
We are grateful to the NMR center of Science Faculty, University of the Ryukyus, for the technical support to determinate the chemical structure of arctigenin.
About this article
Cite this article
Susanti, S., Iwasaki, H., Itokazu, Y. et al. Tumor specific cytotoxicity of arctigenin isolated from herbal plant Arctium lappa L.. J Nat Med 66, 614–621 (2012). https://doi.org/10.1007/s11418-012-0628-0
Received:

Accepted:

Published:

Issue Date:
Keywords
Tumor

Herbal

Extract

Cytotoxicity

Arctigenin