Abstract
This paper outlines the critical role of personal agency in influencing health and development outcomes and presents a framework for implementing non-therapeutic cognitive-behavioral interventions that foster agency, especially for women, in resource-poor settings. The United Nations' Sustainable Development Goals (SDGs) has placed "empowerment" at the center of global targets, particularly to improve individuals' health and development. Despite extensive research on individual and community empowerment, there is limited focus on the role of psychological and behavioral approaches directly fostering individual and collective agency in health programs. Fundamental to this process is the understanding that decision-making is an interaction between mental processes and one's current context. Approaches that allow individuals to understand how their beliefs, values, emotions, and thoughts impact their behaviors and can be modulated to increase their personal agency are needed. This model is illustrated through a pilot behavioral intervention with women engaged in sex work in Pune, India, demonstrating substantive benefits.
This is a preview of subscription content, log in to check access.
Access options
Buy single article
Instant access to the full article PDF.
US$ 39.95
Price includes VAT for USA
Subscribe to journal
Immediate online access to all issues from 2019. Subscription will auto renew annually.
US$ 99
This is the net price. Taxes to be calculated in checkout.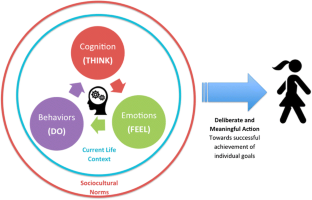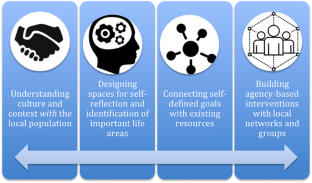 References
1.

Klugman J, Hanmer L, Twigg S, et al. Voice and agency: empowering women and girls for shared prosperity. Washington, DC: World Bank Development Group, 2014.

2.

Kabeer N. Resources, agency, achievements: reflections on the measurement of women's empowerment. In: Discussing women's empowerment: theory and practice, Sida Studies No. 3. Stockholm: Novum Grafiska AB, 2001, pp. 17–54.

3.

Kabeer N. Resources, agency, achievements: reflections on the measurement of women's empowerment. Development and Change 1999;30(3):435–64.

4.

Bandura A. Toward a psychology of human agency. Perspectives on Psychological Science 2006;1:164–180.

5.

Rappaport J. In praise of paradox: a social policy of empowerment over prevention. American Journal of Community Psychology 1981;9:1–25.

6.

Rappaport J. Terms of empowerment/exemplars of prevention: toward a theory for community psychology. American Journal of Community Psychology 1987;15:121–148.

7.

Zimmerman MA. Psychological empowerment: issues and illustrations. American Journal of Community Psychology 1995;23(5):581–599.

8.

Freire P. Pedagogy of freedom: ethics, democracy, and civic courage. Boulder, CO: Rowman and Littlefield Publishers, 1998.

9.

Sen A. Development as freedom. New York, NY: Oxford University Press, 1999.

10.

Perkins DD, Zimmerman MA. Empowerment theory, research, and application: an introduction to a special issue. American Journal of Community Psychology 1995;23:569–579.

11.

Langer A, Meleis A, Knaul FM, et al. Women and health: the key for sustainable development. Lancet 2015;1165–1210.

12.

Loman MM, Gunnar MR. Early experience and the development of stress reactivity and regulation in children. Neuroscience and Biobehavioral Reviews 2010;34(6):867–876.

13.

de Boo HA, Harding JE. The developmental origins of adult disease (Barker) hypothesis. Australian New Zealand Journal of Obstetrics Gynaecology 2006;46(1):4–14.

14.

Thoits PA. Personal agency in the stress process. Journal of Health and Social Behavior 2006;47(4):309–323.

15.

Kim ES, Smith J, Kubzansky LD. Prospective study of the association between dispositional optimism and incident heart failure. Circulation Heart Failure 2014;7(3):394–400.

16.

Trudel-Fitzgerald C, Boehm JK, Kivimaki M, et al. Taking the tension out of hypertension: a prospective study of psychological wellbeing and hypertension. Journal of Hypertension 2014;32(6):1222–1228.

17.

Kim ES, Sun JK, Park N, et al. Purpose in life and the reduced incident of stroke in older adults: the health and retirement study. Journal of Psychosomatic Research 2013;74:427–432.

18.

Wood AM, Maltby J, Gillett R, et al. The role of gratitude in the development of social support, stress, and depression: two longitudinal studies. Journal in Research in Personality 2008;42(4):854–871.

19.

Lightsey OR. Thinking positive as a stress buffer: the role of positive automatic cognitions in depression and happiness. Journal of Counseling Psychology 1994;41(3):325–334.

20.

Mak WW, Ng IS, Wong, CC. Resilience: enhancing well being through the positive cognitive triad. Journal of Counseling Psychology 2011;58(4):610–617.

21.

Agustina R, Shankar AV, Ayuningtyas A, et al. Maternal agency influences the prevalence of diarrhea and acute respiratory tract infections among young Indonesian children. Maternal and Child Health Journal 2015;19(5):1033–1046.

22.

Thorpe S, VanderEnde K, Peters C, et al. The influence of women's empowerment on child immunization coverage in low, lower-middle, and upper-middle income countries: a systematic review of the literature. Maternal and Child Health Journal 2016;20(1):172–186.

23.

Hargreaves JR, Morison LA, Kim JC, et al. The association between school attendance, HIV infection and sexual behaviour among young people in rural South Africa. Journal of Epidemiology and Community Health 2008;62(2):113–119.

24.

Breierova L, Duflo E. The impact of education on fertility and child mortality: do fathers really matter less than mothers? National Bureau of Economic Research. Available online at http://www.nber.org/papers/w10513. Accessed on 15 January 2017.

25.

Baker DP, Leon J, Smith Greenaway EG, et al. The education effect on population health: a reassessment. Population and Development Review 2011;37(2):307–332.

26.

Malhotra A, Pande R, Grown C. Impact of investments in female education on gender equality. Washington, DC: World Bank Development Group, 2003.

27.

Burns K, Keating P, Free C. A systematic review of randomised control trials of sexual health interventions delivered by mobile technologies. BMC Public Health 2016;16(1):778.

28.

O'Malley TL, Burke JG. A systematic review of microfinance and women's health literature: directions for future research. Global Public Health 2016;1–28.

29.

Cummings C, O'Neil T. Do digital information and communications technologies increase the voice and influence of women and girls? A Rapid Review of the Evidence. Overseas Development Institute. Available online at https://www.odi.org/publications/9499-do-digital-information-and-communications-technologies-increase-voice-and-influence-women-and-girls. Accessed on 15 January 2017.

30.

Banerjee A, Duflo E, Goldberg N, et al. A multifaceted program causes lasting progress for the very poor: evidence from six countries. Science 2015;348(6236):772–788.

31.

Banerjee A, Karlan D, Zinman J. Six randomized evaluations of microcredit: introduction and further steps. American Economic Journal: Applied Economics 2015;7(1):1–21.

32.

Diop NJ, Askew I. The effectiveness of a community-based education program on abandoning female genital mutilation/cutting in Senegal. Studies in Family Planning 2009;40(4):307–318.

33.

Prost A, Colbourn T, Seward N, et al. Women's groups practising participatory learning and action to improve maternal and newborn health in low-resource settings: a systematic review and meta-analysis. Lancet 2013;381(9879):1736–1746

34.

Bandura A. Social foundations of thought and action. Englewood Cliffs, New Jersey: Prentice-Hall, 1986.

35.

Ajzen I. The theory of planned behavior. Organizational Behavior and Human Decision Processes 1991;50:179–211.

36.

Frey BS, Heggli B. An ipsative theory of business behaviour. Journal of Economic Psychology 1989;10(1):1–20.

37.

Seligman ME. Learned helplessness. Annual Review of Medicine 1972;23(1):407–412.

38.

Appadurai A. The capacity to aspire: culture and the terms of recognition In: V Rao, M Walton (Eds). Culture and public action. Stanford: Stanford University Press, 2004, pp. 59–84.

39.

Stiglitz J, Sen A, Fitoussi JP. Report by the Commission on the Measurement of Economic Performance and Social Progress. European Commission. Available online at http://ec.europa.eu/eurostat/documents/118025/118123/Fitoussi+Commission+report. Accessed on 15 January 2017.

40.

Lightfoot M, Rotheram-Borus MJ, Tevendale H. An HIV-preventive intervention for youth living with HIV. Behavior Modification 2007;31(3):345–363.

41.

Leventhal KS, Gillham J, DeMaria L, et al. Building psychosocial assets and wellbeing among adolescent girls: a randomized controlled trial. Journal of Adolescence 2015;45:284–295.

42.

Sundar S, Qureshi A, Galiatsatos PA. Positive psychology intervention in a Hindu community: the pilot study of the hero lab curriculum. Journal of Religious Health 2016;55(6):2189–2198.

43.

Campos F, Frese M, Goldstein M, et al. Teaching personal initiative beats traditional training in boosting small business in West Africa. Science 2017;357(6357):1287–1290.

44.

Shankar AV, Onyura M, Alderman J. Agency-based empowerment training enhances sales capacity of female energy entrepreneurs in Kenya. Journal of Health Communications 2015;20(1):67–75.

45.

Shankar AV, Onyura M, Ojode M, et al. Fostering agency and wellbeing in women: an evaluation of the IMAGINE initiative. Development in Practice 2015;25(3):375–388.

46.

Schwarzer R, Jerusalem M. Generalized self-efficacy scale. In: J Weinman, S Wright, M Johnston (Eds). Measures in health psychology: a user's portfolio. causal and control beliefs. Windsor: nferNelson, 1995, pp. 35–37.

47.

Spreng RN, McKinnon MC, Mar RA, et al. The Toronto empathy questionnaire: scale development and initial validation of a factor-analytic solution to multiple empathy measures. Journal of Personality Assessment 2009;91(1):62–71.

48.

Duckworth AL, Peterson C, Matthews MD, et al. Grit: perseverance and passion for long-term goals. Journal of Personality and Social Psychology 2007;9:1087–1101.

49.

Lyubomirsky S, Lepper HS. A measure of subjective happiness: preliminary reliability and construct validation. Social Indicators Research 1999;46:137–155.

50.

Donald A, Koolwal G, Annan J, et al. Measuring women's agency. World Bank Group. Available online at http://documents.worldbank.org/curated/en/333481500385677886/pdf/WPS8148.pdf. Accessed on 20 December 2017.

51.

McGregor A, Coulthard S, Camfield L. Measuring what matters: the role of well-being methods in development policy and practice. Overseas Development Institute. Available online at https://www.odi.org/sites/odi.org.uk/files/odi-assets/publications-opinion-files/9688.pdf. Accessed on January 15, 2017.

52.

Bolton P, Bass J, Neugebauer R, et al. Group interpersonal psychotherapy for depression in rural Uganda: a randomized controlled trial. Journal of the American Medical Association 2003;289(23):3117–3124.

53.

Hall BJ, Bolton PA, Annan J, et al. The effect of cognitive therapy on structural social capital: results from a randomized controlled trial among sexual violence survivors in the Democratic Republic of the Congo. American Journal of Public Health 2014;104(9):1680–1886.

54.

Keegan EM. Empowering vulnerable populations: cognitive-behavioral interventions. Chicago, IL: Lyceum Books, 2008.
Acknowledgements
We would like to thank Tejaswi Sevakari, Director of Saheli Sangh in Pune, India and a Certified Master Trainer in the Empowerment Workshop methodology (Empowerment Institute, USA) for her dedication and efforts on this work. Ms. Sevakari, who conducted the trainings, has generously provided information for the case study. We would also like to thank Mandakini Desale, program manager; Deepa Dandvate, social worker; Shakuntala Pawar, Ffounder and board member of Saheli Sangh; Mahadevi Madar, president of Saheli Sangh; and Meena Koil, secretary of Saheli Sangh for their dedication and untiring efforts for the women living and working in the red light district in Pune.
Ethics declarations
Conflict of Interest
The authors declare that they have no competing interests.
About this article
Cite this article
Shankar, A., Sundar, S. & Smith, G. Agency-Based Empowerment Interventions: Efforts to Enhance Decision-Making and Action in Health and Development. J Behav Health Serv Res 46, 164–176 (2019). https://doi.org/10.1007/s11414-018-9592-0
Keywords
Women's health

Cognitive behavioral approaches

Empowerment

Development

Personal agency