Zusammenfassung
Das kolorektale Karzinom (KRK) stellt in Deutschland die dritthäufigste Krebsart in der Gesamtbevölkerung dar. Bei 3–5 % der Patienten mit einem KRK liegt ein gut definiertes erbliches Syndrom (hereditärer Darmkrebs) vor. Zu den hereditären Darmkrebssyndromen gehören unter anderem das Lynch-Syndrom (auch als HNPCC bezeichnet), die familiäre adenomatöse Polyposis (FAP), die MUTYH-assoziierte Polyposis (MAP) und verschiedene hamartomatöse Polyposissyndrome (Peutz-Jeghers-Syndrom, juvenile Polyposis, Cowden-Syndrom). Ursächlich sind Keimbahnmutationen in verschiedenen Genen, die in der Regel mit einem autosomal-dominanten Erbgang und einer auffälligen individuellen und familiären Tumoranamnese im Sinne eines deutlich erhöhten Risikos für Darmkrebs und andere Karzinome einhergehen. Die Identifikation von Risikopersonen und der Nachweis einer Mutation durch geeignete Gentests sind entscheidend, da hierdurch Betroffenen eine an das jeweilige Tumorrisiko angepasste lebenslange Überwachungsstrategie angeboten werden kann, die neben engmaschigen Vorsorgekoloskopien auch andere Früherkennungsmaßnahmen umfasst.
Abstract
Colorectal cancer is the third most common cancer amongst men and women in Germany. Between 3 and 5% of all colorectal cancer cases are attributed to a well-defined inherited tumor predisposition syndrome (hereditary colorectal cancer), including Lynch syndrome (also called nonpolyposis colorectal cancer, HNPCC), familial adenomatous polyposis (FAP), MUTYH-associated polyposis (MAP), and various hamartomatous polyposis syndromes (Peutz–Jeghers syndrome, juvenile polyposis, Cowden syndrome). Germline mutations in different genes cause these syndromes which are usually associated with an autosomal dominant inheritance and an unusual individual and familial tumor history due to a significantly increased risk of colorectal and other cancers. Identification of individuals at risk and the detection of relevant mutations by appropriate genetic testing are crucial to offer affected individuals a lifelong surveillance strategy addressed to the individual cancer risk. In addition to a repetitive screening colonoscopy, this may also include other preventive interventions.
This is a preview of subscription content, log in to check access.
Access options
Buy single article
Instant access to the full article PDF.
US$ 39.95
Price includes VAT for USA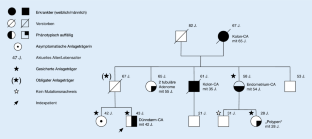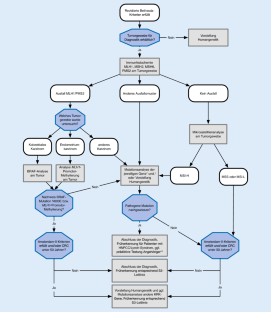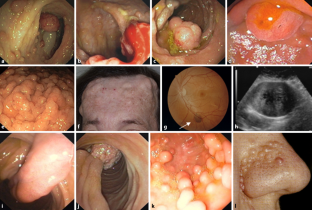 Literatur
1.

Bundesärztekammer (1998) Richtlinien zur Diagnostik der genetischen Disposition für Krebserkrankungen. Dtsch Ärztebl 95: A1396–A1403

2.

Bundesärztekammer (2003) Richtlinien zur prädiktiven genetischen Diagnostik. Dtsch Ärztebl 100: A1297–A1305

3.

GenDG (2009) Gesetz über genetische Untersuchungen bei Menschen (Gendiagnostikgesetz) vom 31. Juli 2009. Bundesgesetzblatt Nr. 50

4.

Giardiello FM, Trimbath JD (2006) Peutz-Jeghers syndrome and management recommendations. Clin Gastroenterol Hepatol 4:408–415

5.

Giardiello FM, Allen JI, Axilbund JE, Boland CR, Burke CA, Burt RW, Church JM, Dominitz JA, Johnson DA, Kaltenbach T, Levin TR, Lieberman DA, Robertson DJ, Syngal S, Rex DK (2014) Guidelines on genetic evaluation and management of Lynch syndrome: a consensus statement by the US multi-society task force on colorectal cancer. Am J Gastroenterology 109:1159–1179

6.

Hüneburg R, Aretz S, Büttner R, Daum S, Engel C, Fechner G, Habermann JK, Heling D, Hoffmann K, Holinski-Feder E, Kloor M, von Knebel-Döberitz M, Loeffler M, Möslein G, Perne C, Redler S, Rieß O, Schmiegel W, Seufferlein T, Siebers-Renelt U, Steinke-Lange V, Tecklenburg J, Vangala D, Vilz T, Weitz J, Wiedenmann B, Strassburg CP, Nattermann J (2019) Empfehlungen zur Früherkennung, Risikoreduktion, Überwachung und Therapie bei Patienten mit Lynch-Syndrom. Z Gastroenterol 57:1309–1320

7.

Jasperson KW, Tuohy TM, Neklason DW, Burt RW (2010) Hereditary and familial colon cancer. Gastroenterology 138:2044–2058

8.

Jelsig AM, Qvist N, Brusgaard K, Nielsen CB, Hansen TP, Ousager LB (2014) Hamartomatous polyposis syndromes: a review. Orphanet J Rare Dis 9:101

9.

Kanth P, Grimmett J, Champine M, Burt R, Samadder NJ (2017) Hereditary colorectal polyposis and cancer syndromes: a primer on diagnosis and management. Am J Gastroenterology 112:1509–1525

10.

van Leerdam ME, Roos VH, van Hooft JE, Dekker E, Jover R, Kaminski MF, Latchford A, Neumann H, Pellise M, Saurin JC, Tanis PJ, Wagner A, Balaguer F, Ricciardiello L (2019) Endoscopic management of polyposis syndromes: European society of gastrointestinal endoscopy (ESGE) guideline. Endoscopy 51:877–895

11.

Leitlinienprogramm Onkologie (Deutsche Krebsgesellschaft, Deutsche Krebshilfe, AWMF) (2018) Diagnostik, Therapie und Nachsorge der Patientinnen mit Endometriumkarzinom, Langversion 1.0, 2018, AWMF Registernummer:032/034-OL. http://www.leitlinienprogramm-onkologie.de/leitlinien/endometriumkarzinom/. Zugegriffen: 01.03.2020

12.

Leitlinienprogramm Onkologie (Deutsche Krebsgesellschaft, Deutsche Krebshilfe, AWMF) (2019) S3-Leitlinie Kolorektales Karzinom, Langversion 2.1, 2019, AWMF Registrierungsnummer:021/007OL. http://www.leitlinienprogramm-onkologie.de/leitlinien/kolorektales-karzinom/. Zugegriffen: 01.03.2020

13.

Lubbe SJ, Di Bernardo MC, Chandler IP, Houlston RS (2009) Clinical implications of the colorectal cancer risk associated with MUTYH mutation. J Clin Oncol 27:3975–3980

14.

Møller P, Seppälä TT, Bernstein I, Holinski-Feder E, Sala P, Gareth Evans D, Lindblom A, Macrae F, Blanco I, Sijmons RH, Jeffries J, Vasen HFA, Burn J, Nakken S, Hovig E, Rødland EA, Tharmaratnam K, de Vos Tot Nederveen Cappel WH, Hill J, Wijnen JT, Jenkins MA, Green K, Lalloo F, Sunde L, Mints M, Bertario L, Pineda M, Navarro M, Morak M, Renkonen-Sinisalo L, Valentin MD, Frayling IM, Plazzer JP, Pylvanainen K, Genuardi M, Mecklin JP, Moeslein G, Sampson JR, Capella G (2018) Cancer risk and survival in path_MMR carriers by gene and gender up to 75 years of age: a report from the prospective Lynch syndrome database. Gut 67:1306–1316

15.

Nakken S, Hovig E, Møller P (2019) Prospective Lynch Syndrome Database (PLSD) - cumulative risk for cancer by age, genetic variant, and gender in carriers subject to colonoscopy. http://lscarisk.org/. Zugegriffen: 23.02.2020

16.

Raedle J, Trojan J, Brieger A, Weber N, Schafer D, Plotz G, Staib-Sebler E, Kriener S, Lorenz M, Zeuzem S (2001) Bethesda guidelines: relation to microsatellite instability and MLH1 promoter methylation in patients with colorectal cancer. Ann Intern Med 135:566–576

17.

Rodriguez-Bigas MA, Boland CR, Hamilton SR, Henson DE, Jass JR, Khan PM, Lynch H, Perucho M, Smyrk T, Sobin L, Srivastava S (1997) A national cancer institute workshop on hereditary nonpolyposis colorectal cancer syndrome: meeting highlights and Bethesda guidelines. J Natl Cancer Inst 89:1758–1762

18.

Sinicrope FA (2018) Lynch syndrome-associated colorectal cancer. N Engl J Med 379:764–773

19.

Spigelman AD, Williams CB, Talbot IC, Domizio P, Phillips RK (1989) Upper gastrointestinal cancer in patients with familial adenomatous polyposis. Lancet 334:783–785

20.

Stoffel EM, Boland CR (2015) Genetics and genetic testing in hereditary colorectal cancer. Gastroenterology 149:1191–1203.e2

21.

Syngal S, Brand RE, Church JM, Giardiello FM, Hampel HL, Burt RW (2015) ACG clinical guideline: genetic testing and management of hereditary gastrointestinal cancer syndromes. Am J Gastroenterology 110:223–262 (quiz 263)

22.

Tan MH, Mester JL, Ngeow J, Rybicki LA, Orloff MS, Eng C (2012) Lifetime cancer risks in individuals with germline PTEN mutations. Clin Cancer Res 18:400–407

23.

Thompson BA, Goldgar DE, Paterson C, Clendenning M, Walters R, Arnold S, Parsons MT, Michael DW, Gallinger S, Haile RW, Hopper JL, Jenkins MA, Lemarchand L, Lindor NM, Newcomb PA, Thibodeau SN, Young JP, Buchanan DD, Tavtigian SV, Spurdle AB (2013) A multifactorial likelihood model for MMR gene variant classification incorporating probabilities based on sequence bioinformatics and tumor characteristics: a report from the colon cancer family registry. Hum Mutat 34:200–209

24.

Umar A, Boland CR, Terdiman JP, Syngal S, de la Chapelle A, Ruschoff J, Fishel R, Lindor NM, Burgart LJ, Hamelin R, Hamilton SR, Hiatt RA, Jass J, Lindblom A, Lynch HT, Peltomaki P, Ramsey SD, Rodriguez-Bigas MA, Vasen HF, Hawk ET, Barrett JC, Freedman AN, Srivastava S (2004) Revised Bethesda guidelines for hereditary nonpolyposis colorectal cancer (Lynch syndrome) and microsatellite instability. JNCIJ 96:261–268

25.

Vangala DB, Cauchin E, Balmana J, Wyrwicz L, van Cutsem E, Guller U, Castells A, Carneiro F, Hammel P, Ducreux M, van Laethem JL, Matysiak-Budnik T, Schmiegel W (2018) Screening and surveillance in hereditary gastrointestinal cancers: recommendations from the European society of digestive oncology (ESDO) expert discussion at the 20th European society for medical oncology (ESMO)/world congress on gastrointestinal cancer, Barcelona, June 2018. Eur J Cancer 104:91–103

26.

Vasen HF, Blanco I, Aktan-Collan K, Gopie JP, Alonso A, Aretz S, Bernstein I, Bertario L, Burn J, Capella G, Colas C, Engel C, Frayling IM, Genuardi M, Heinimann K, Hes FJ, Hodgson SV, Karagiannis JA, Lalloo F, Lindblom A, Mecklin JP, Moller P, Myrhoj T, Nagengast FM, Parc Y, Ponz de Leon M, Renkonen-Sinisalo L, Sampson JR, Stormorken A, Sijmons RH, Tejpar S, Thomas HJ, Rahner N, Wijnen JT, Jarvinen HJ, Moslein G (2013) Revised guidelines for the clinical management of Lynch syndrome (HNPCC): recommendations by a group of European experts. Gut 62:812–823

27.

Vasen HF, Mecklin JP, Khan PM, Lynch HT (1991) The international collaborative group on hereditary non-polyposis colorectal cancer (ICG-HNPCC). Dis Colon Rectum 34:424–425

28.

Vasen HF, Watson P, Mecklin JP, Lynch HT. New clinical criteria for hereditary nonpolyposis colorectal cancer (HNPCC, Lynch syndrome) proposed by the International Collaborative group on HNPCC. Gastroenterology. Juni 1999;116(6):1453–6.

29.

Wimmer K, Kratz CP, Vasen HF, Caron O, Colas C, Entz-Werle N, Gerdes AM, Goldberg Y, Ilencikova D, Muleris M, Duval A, Lavoine N, Ruiz-Ponte C, Slavc I, Burkhardt B, Brugieres L (2014) Diagnostic criteria for constitutional mismatch repair deficiency syndrome: suggestions of the European consortium 'care for CMMRD' (C4CMMRD). J Med Genet 51:355–365

30.

Zentrum für Krebsregisterdaten, Robert Koch-Institut, Berlin, https://www.krebsdaten.de/Krebs/DE/Content/Krebsarten/Darmkrebs/darmkrebs_node.html. Zugegriffen: 01.03.2020
Ethics declarations
Interessenkonflikt
S. Aretz, V. Steinke-Lange und J. Rädle geben an, dass kein Interessenkonflikt besteht.
Für diesen Beitrag wurden von den Autoren keine Studien an Menschen oder Tieren durchgeführt. Für die aufgeführten Studien gelten die jeweils dort angegebenen ethischen Richtlinien.
Additional information
Redaktion
R. Jakobs, Ludwigshafen
F. Kolligs, Berlin
About this article
Cite this article
Aretz, S., Steinke-Lange, V. & Rädle, J. Hereditäre Darmkrebssyndrome: Management und Surveillance-Strategien. Gastroenterologe 15, 259–272 (2020). https://doi.org/10.1007/s11377-020-00449-4
Schlüsselwörter
Lynch-Syndrom

Adenomatöse Polyposis

Hamartomatöse Polyposis

Erbliches kolorektales Karzinom

Prävention
Keywords
Lynch syndrome

Adenomatous polyposis

Harmatomatous polyposis

Hereditary colorectal cancer

Prevention