Abstract
Purpose
The complete ammonia oxidizers (comammox) capable of catalyzing nitrification, oxidizing ammonia to nitrate, via activity of only one type of microbes were recently discovered which has updated our knowledge of traditional two-step nitrification. The extent of contribution of comammox and canonical ammonia oxidizers including ammonia-oxidizing archaea (AOA) and ammonia-oxidizing bacteria (AOB) to soil nitrification, especially in soils with long-term input of nitrogen (N) fertilizers, remains unknown.
Materials and methods
The transcriptional abundance of amoA gene from comammox, AOA, and AOB in soils fertilized for 29 years was investigated in different seasons and soil layers via quantitative PCR.
Results and discussion
The results showed that comammox were detected in all soil samples; however, AOA and AOB had significantly higher transcriptional abundance of amoA gene than comammox. Nitrification activity was most significantly correlated with the transcriptional abundance of AOA amoA gene (Pearson correlation, r = 0.217, P < 0.05) suggesting AOA were the dominant contributors to soil potential nitrification. Lower abundances of amoA gene transcripts were observed in July than in April and November. The application of high level of mineral N fertilizer decreased the abundance of both AOA and AOB; however, long-term input of organic manure combined with mineral N fertilizer stabilized the abundances of ammonium-oxidizing microbes in soils. Seasonal variation and fertilization regimes substantially affected the abundance of both AOA and AOB, but AOB were not as sensitive in responding to the seasonal variation and fertilization as AOA. The analysis of RDA and VPA demonstrated that sampling month, soil depth, and fertilization regime explained 30.20%, 11.46%, and 5.40% of the variation in nitrification microorganism amoA gene composition, respectively. Seasonal variation exerted the most influences on the nitrifiers' composition, and soil depth and fertilization regime were also important factors in shaping the nitrifier communities. According to the correlation analysis, NO3−–N content was the most important soil property in impacting the transcriptional abundance of amoA gene, and the amoA gene transcript abundance decreased with increasing NO3−–N content.
Conclusions
The results suggest that the activity of comammox may be more inhibited by the long-term nitrogen fertilization than canonical ammonia oxidizers in agricultural soils. This study provides insights into the different responses of comammox and canonical ammonia oxidizers to fertilization, seasonal variation, and soil depth and their relative contributions to nitrification in agricultural soil.
Access options
Buy single article
Instant access to the full article PDF.
US$ 39.95
Tax calculation will be finalised during checkout.
Subscribe to journal
Immediate online access to all issues from 2019. Subscription will auto renew annually.
US$ 119
Tax calculation will be finalised during checkout.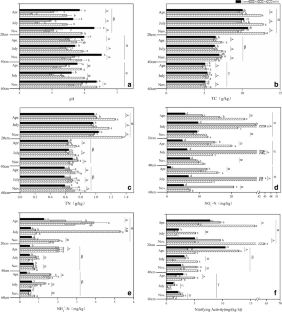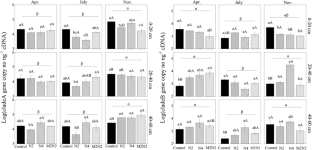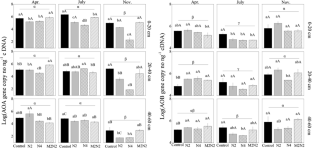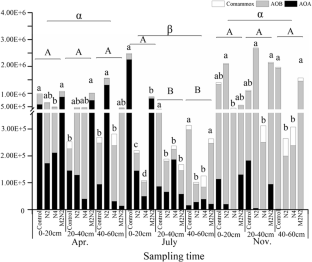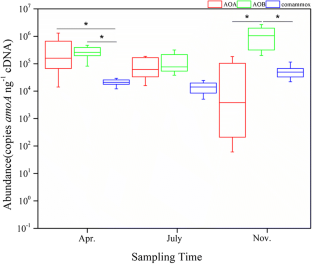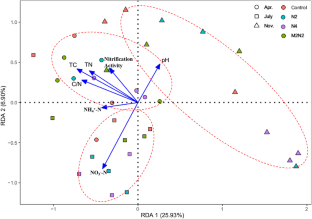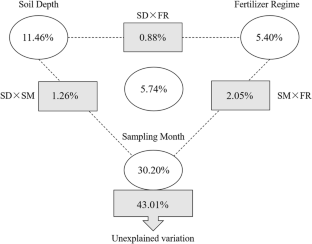 Funding
This study has been funded by the Basic Scientific Research Project of University in Liaoning, Grant numbers: LSNZD201705; and the Natural Science Foundation of Liaoning Province, Grant numbers: 2019-MS-271; the National Natural Science Foundation of China, Grant number: 31101504.
Ethics declarations
Ethics approval
Not applicable.
Consent to participate
The manuscript is approved by all the authors for participate.
Consent for publication
The manuscript is approved by all the authors for publication.
Competing interests
The authors declare no competing interests.
Additional information
Publisher's note
Springer Nature remains neutral with regard to jurisdictional claims in published maps and institutional affiliations.
Responsible editor: Yuan Ge
Supplementary Information
About this article
Cite this article
Wang, F., Liang, X., Ma, S. et al. Ammonia-oxidizing archaea are dominant over comammox in soil nitrification under long-term nitrogen fertilization. J Soils Sediments (2021). https://doi.org/10.1007/s11368-021-02897-z
Received:

Accepted:

Published:
Keywords
Comammox

Ammonia-oxidizing archaea

Ammonia-oxidizing bacteria

Nitrification

Transcriptional abundance

Agricultural soil