Abstract
Purpose
Organic matter (OM) in reservoir sediment consists of a range of biomolecules, but their individual contribution to the biogeochemical cycling of carbon and nitrogen nutrients is not documented. This work proposes to investigate whether the nature of the OM determines its accessibility in lacustrine sediment matrix.
Materials and methods
We adapted an OM chemical sequential method developed for soils (particle size ≤ 20 μm) for use on sediments collected from four reservoirs (particle size ≤ 2 mm), coupled with a carbon and nitrogen elementary analysis and colorimetric quantification.
Results
This method allowed for the extraction of more than 70% of carbon and 61% of nitrogen. This OM includes exchangeable, extractable, free particulate, and residual OM, whose carbon content represented < 2%, 64 to 86%, 4 to 16%, and 9 to 24%, respectively. The sum of chemically extracted biochemical molecules that recover the extracted elementary carbon and nitrogen represents the chemically extracted OM. Phenols are the main carbon contributor (55 to 60%), followed by carbohydrates and proteins (14 to 18% and 21 to 29%, respectively). Nitrogen is mainly composed of proteins, amino acids, and ammonium (46 to 56%, 20 to 34%, and 8 to 28%, respectively). Among the four reservoir sediment samples, this same trend applies to the exchangeable and extractable phases: phenols, carbohydrates, and proteins are similarly distributed along the extracted phases, whereas nitrogen, forming as ammonium, amino acids, and nitrogen oxides, exhibits specific distributions.
Conclusion
In reservoir sediments, the nature of the carbon does not impact its physicochemical accessibility; nitrogen material presents more varied profiles depending on its accessibility.
Access options
Buy single article
Instant access to the full article PDF.
US$ 39.95
Tax calculation will be finalised during checkout.
Subscribe to journal
Immediate online access to all issues from 2019. Subscription will auto renew annually.
US$ 119
Tax calculation will be finalised during checkout.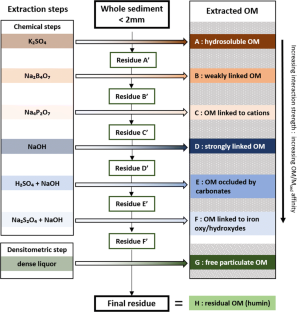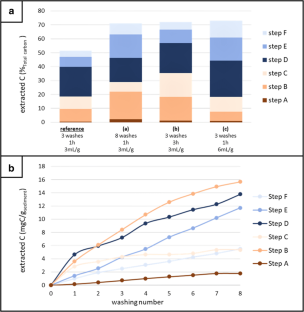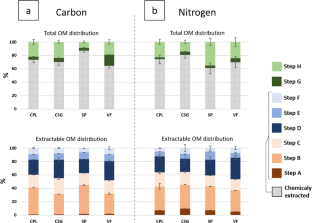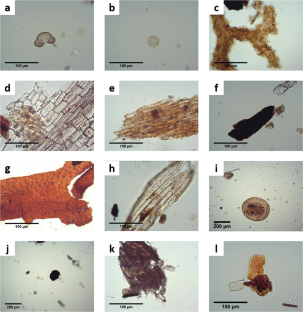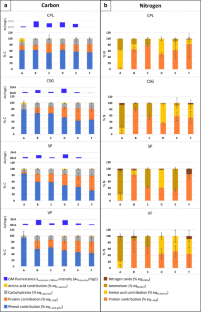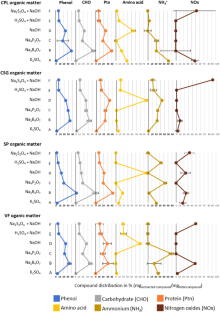 References
Alekseev YE, Garnovskii AD, Zhdanov YA (1998) Complexes of natural carbohydrates with metal cations. Russ Chem Rev 67:649–669. https://doi.org/10.1070/RC1998v067n08ABEH000343

Amelung W, Brodowski S, Sandhage-Hofmann A, Bol R (2008) Combining biomarker with stable isotope analyses for assessing the transformation and turnover of soil organic matter. In: Advances in Agronomy. Academic Press, pp 155–250. https://doi.org/10.1016/S0065-2113(08)00606-8.

Arndt S, Jørgensen BB, LaRowe DE, Middelburg JJ, Pancost RD, Regnier P (2013) Quantifying the degradation of organic matter in marine sediments: a review and synthesis. Earth-Sci Rev 123:53–86

Belzile N, Joly HA, Li H (1997) Characterization of humic substances extracted from Canadian lake sediments. Can J Chem 75:14–27. https://doi.org/10.1139/v97-003

Bingham AH, Cotrufo MF (2016) Organic nitrogen storage in mineral soil: Implications for policy and management. Sci Total Environ 551–552:116–126. https://doi.org/10.1016/j.scitotenv.2016.02.020

Bremner JM, Lees H (1949) Studies on soil organic matter: Part II. The extraction of organic matter from soil by neutral reagents. J Agric Sci 39:274–279. https://doi.org/10.1017/S0021859600004214

Bremner JM, Shaw K (1954) Studies on the estimation and decomposition of amino sugars in soil. J Agric Sci 44:152–159. https://doi.org/10.1017/S0021859600046232

Burdige DJ (2007) Preservation of organic matter in marine sediments: controls, mechanisms, and an imbalance in sediment organic carbon budgets? Chem Rev 107(2):467–485

Cabrera ML, Kissel DE, Vigil MF (2005) Nitrogen mineralization from organic residues. J Environ Qual 34:75–79. https://doi.org/10.2134/jeq2005.0075

Canfield DE, Glazer AN, Falkowski PG (2010) The evolution and future of Earth's nitrogen cycle. Sci 330:192–196. https://doi.org/10.1126/science.1186120

Carstea EM, Bridgeman J, Baker A, Reynolds DM (2016) Fluorescence spectroscopy for wastewater monitoring: A review. Water Res 95:205–219. https://doi.org/10.1016/j.watres.2016.03.021

Chen M, Hur J (2015) Pre-treatments, characteristics, and biogeochemical dynamics of dissolved organic matter in sediments: A review. Water Res 79:10–25. https://doi.org/10.1016/j.watres.2015.04.018

Chen W, Westerhoff P, Leenheer JA, Booksh K (2003) Fluorescence excitation−emission matrix regional integration to quantify spectra for dissolved organic matter. Environ Sci Technol 37:5701–5710. https://doi.org/10.1021/es034354c

Coble PG, Lead J, Baker A et al (2014) Aquatic organic matter fluorescence. Cambridge University Press, Cambridge

Colombo JC, Silverberg N, Gearing JN (1996) Biogeochemistry of organic matter in the Laurentian Trough, II. Bulk composition of the sediments and relative reactivity of major components during early diagenesis. Mar Chem 51:295–314. https://doi.org/10.1016/0304-4203(95)00060-7

Cui Y, van Duijneveldt JS (2010) Adsorption of polyetheramines on montmorillonite at high pH. Langmuir 26:17210–17217. https://doi.org/10.1021/la103278v

Delmas D (1980) Minéralisation de la matière organique et échanges ioniques à l'interface eau-sédiment de l'étang de Berre, Méditerranée. Oceanol Acta 3:347–356

Dijkgraaf PJM, Verkuylen MECG, van der Wiele K (1987) Complexation of calcium ions by complexes of glucaric acid and boric acid. Carbohydr Res 163:127–131. https://doi.org/10.1016/0008-6215(87)80172-6

Dorodnikov M, Kuzyakov Y, Fangmeier A, Wiesenberg GLB (2011) C and N in soil organic matter density fractions under elevated atmospheric CO2: Turnover vs. stabilization. Soil Biol Biochem 43:579–589. https://doi.org/10.1016/j.soilbio.2010.11.026

Dubois M, Gilles KA, Hamilton JK et al (1956) Colorimetric method for determination of sugars and related substances. Anal Chem 28:350–356. https://doi.org/10.1021/ac60111a017

Elser JJ, Bracken MES, Cleland EE, Gruner DS, Harpole WS, Hillebrand H, Ngai JT, Seabloom EW, Shurin JB, Smith JE (2007) Global analysis of nitrogen and phosphorus limitation of primary producers in freshwater, marine and terrestrial ecosystems. Ecol Lett 10:1135–1142. https://doi.org/10.1111/j.1461-0248.2007.01113.x

Estes ER, Pockalny R, D'Hondt S, Inagaki F, Morono Y, Murray RW, Nordlund D, Spivack AJ, Wankel SD, Xiao N, Hansel CM (2019) Persistent organic matter in oxic subseafloor sediment. Nat Geosci 12(2):126–131

Fanin N, Fromin N, Buatois B, Hättenschwiler S (2013) An experimental test of the hypothesis of non-homeostatic consumer stoichiometry in a plant litter-microbe system. Ecol Lett 16:764–772. https://doi.org/10.1111/ele.12108

Flaig W, Beutelspacher H, Rietz E (1975) Chemical composition and physical properties of humic substances. In: Gieseking JE (ed) Soil Components: Vol. 1: Organic Components. Springer, Berlin, Heidelberg, pp 1–211

Frølund B, Palmgren R, Keiding K, Nielsen PH (1996) Extraction of extracellular polymers from activated sludge using a cation exchange resin. Water Res 30:1749–1758. https://doi.org/10.1016/0043-1354(95)00323-1

Gale PM, Reddy KR, Graetz DA (1992) Mineralization of sediment organic matter under anoxic conditions. J Environ Qual 21:394–400. https://doi.org/10.2134/jeq1992.00472425002100030015x

Gleyzes C, Tellier S, Astruc M (2002) Fractionation studies of trace elements in contaminated soils and sediments: a review of sequential extraction procedures. Trends Anal Chem 21:451–467. https://doi.org/10.1016/S0165-9936(02)00603-9

Hedges JI, Keil RG (1995) Sedimentary organic matter preservation: an assessment and speculative synthesis. Mar Chem 49:81–115. https://doi.org/10.1016/0304-4203(95)00008-F

Hedges JI, Oades JM (1997) Comparative organic geochemistries of soils and marine sediments. Org Geochem 27:319–361. https://doi.org/10.1016/S0146-6380(97)00056-9

Hobson RP, Page HJ (1932) Studies on the carbon and nitrogen cycles in the soil. VII. The nature of the organic nitrogen compounds of the soil: "Humic" nitrogen. J Agric Sci 22:497. https://doi.org/10.1017/S0021859600054058

Keiluweit M, Kleber M (2009) Molecular-level interactions in soils and sediments: The role of aromatic π-systems. Environ Sci Technol 43:3421–3429. https://doi.org/10.1021/es8033044

Kerré B, Bravo CT, Leifeld J, Cornelissen G, Smolders E (2016) Historical soil amendment with charcoal increases sequestration of non-charcoal carbon: a comparison among methods of black carbon quantification: Historical charcoal enhances soil carbon sequestration. Eur J Soil Sci 67:324–331. https://doi.org/10.1111/ejss.12338

Kim D, Min KJ, Lee K, Yu MS, Park KY (2016) Effects of pH, molar ratios and pre-treatment on phosphorus recovery through struvite crystallization from effluent of anaerobically digested swine wastewater. Environ Eng Res 22:12–18. https://doi.org/10.4491/eer.2016.037

Kleber M, Sollins P, Sutton R (2007) A conceptual model of organo-mineral interactions in soils: self-assembly of organic molecular fragments into zonal structures on mineral surfaces. Biogeochem 85:9–24. https://doi.org/10.1007/s10533-007-9103-5

Klok J (1984) Composition and origin of complex organic matter in recent marine sediments. Delft University Press, Delft, p 126

Knicker H, Hatcher PG (1997) Survival of protein in an organic-rich sediment: Possible protection by encapsulation in organic matter. Naturwissenschaften 84:231–234. https://doi.org/10.1007/s001140050384

Kögel-Knabner I, Amelung W (2014) Dynamics, chemistry, and preservation of organic matter in soils. In: Treatise on Geochemistry. Elsevier, pp 157–215.

Lehmann J, Kleber M (2015) The contentious nature of soil organic matter. Nat 528:60–68. https://doi.org/10.1038/nature16069

Leinweber P, Schulten H-R (2000) Nonhydrolyzable forms of soil organic nitrogen: Extractability and composition. J Plant Nutr Soil Sci 163:433–439. https://doi.org/10.1002/1522-2624(200008)163:4<433::AID-JPLN433>3.0.CO;2-F

Leong LS, Tanner PA (1999) Comparison of methods for determination of organic carbon in marine sediment. Mar Pollut Bull 38:875–879. https://doi.org/10.1016/S0025-326X(99)00013-2

Lima IBT, Ramos FM, Bambace LAW, Rosa RR (2007) Methane emissions from large dams as renewable energy resources: A developing nation perspective. Mitig Adapt Strateg Glob Chang 13:193–206. https://doi.org/10.1007/s11027-007-9086-5

Liu Z, Lee C (2007) The role of organic matter in the sorption capacity of marine sediments. Mar Chem 105:240–257. https://doi.org/10.1016/j.marchem.2007.02.006

Lopez-Sangil L, Rovira P (2013) Sequential chemical extractions of the mineral-associated soil organic matter: An integrated approach for the fractionation of organo-mineral complexes. Soil Biol Biochem 62:57–67. https://doi.org/10.1016/j.soilbio.2013.03.004

Marchand C (2003) Origine et devenir de la matière organique des sédiments de mangroves de Guyane française. - Précurseurs, environnements de dépôt, processus de décomposition et relation avec les métaux lourds. 287

Mattei P, Pastorelli R, Rami G, Mocali S, Giagnoni L, Gonnelli C, Renella G (2017) Evaluation of dredged sediment co-composted with green waste as plant growing media assessed by eco-toxicological tests, plant growth and microbial community structure. J Hazard Mater 333:144–153. https://doi.org/10.1016/j.jhazmat.2017.03.026

Mayer L, Schick L, Setchell F (1986) Measurement of protein in nearshore marine sediments. Mar Ecol Prog Ser 30:159–165. https://doi.org/10.3354/meps030159

McLauchlan KK, Hobbie SE (2004) Comparison of labile soil organic matter fractionation techniques. Soil Sci Soc Am J 68:1616–1625. https://doi.org/10.2136/sssaj2004.1616

Meyers PA, Ishiwatari R (1995) Organic matter accumulation records in lake sediments. In: Lerman A, Imboden DM, Gat JR (eds) Physics and Chemistry of Lakes. Springer, Berlin Heidelberg, pp 279–328

Meyers PA, Teranes JL (2001) Sediment organic matter. In: Last WM, Smol JP (eds) Tracking Environmental Change Using Lake Sediments: Physical and Geochemical Methods. Springer Netherlands, Dordrecht, pp 239–269

Michel MC, Hannequart G (1968) Dosage des acides aminés et amines par la ninhydrine. Amélioration pratique Ann Biol anim Bioch Biophys 8:557–563. https://doi.org/10.1051/rnd:19680408

Mikutta R, Kleber M, Torn MS, Jahn R (2006) Stabilization of soil organic matter: association with minerals or chemical recalcitrance. Biogeochem 77:25–56. https://doi.org/10.1007/s10533-005-0712-6

Nakhli SAA, Panta S, Brown JD, Tian J, Imhoff PT (2019) Quantifying biochar content in a field soil with varying organic matter content using a two-temperature loss on ignition method. Sci Total Environ 658:1106–1116. https://doi.org/10.1016/j.scitotenv.2018.12.174

Nicora CD, Anderson BJ, Callister SJ, Norbeck AD, Purvine SO, Jansson JK, Mason OU, David MM, Jurelevicius D, Smith RD, Lipton MS (2013) Amino acid treatment enhances protein recovery from sediment and soils for metaproteomic studies. Proteom 13:2776–2785. https://doi.org/10.1002/pmic.201300003

Olk DC, Cassman KG, Fan TWM (1995) Characterization of two humic acid fractions from a calcareous vermiculitic soil: Implications for the humification process. Geoderma 65:195–208. https://doi.org/10.1016/0016-7061(95)94048-9

Ortueta M, Celaya A, Mijangos F, Muraviev D (2015) Ion exchange synthesis of struvite accompanied by isothermal supersaturation: influence of polymer matrix and functional groups type. Solvent Extr Ion Exch 33:65–74. https://doi.org/10.1080/07366299.2014.951283

Pansu M, Gautheyrou J (2007) Handbook of soil analysis: Mineralogical, organic and inorganic methods. Springer Science & Business Media, Berlin

Patience RL, Baxby M, Bartle KD, Perry DL, Rees AGW, Rowland SJ (1992) The functionality of organic nitrogen in some recent sediments from the Peru upwelling region. Org Geochem 18:161–169. https://doi.org/10.1016/0146-6380(92)90126-I

Paul EA (2016) The nature and dynamics of soil organic matter: Plant inputs, microbial transformations, and organic matter stabilization. Soil Biol Biochem 98:109–126. https://doi.org/10.1016/j.soilbio.2016.04.001

Purvaja R, Ramesh R, Ray AK, Rixen T (2008) Nitrogen cycling: A review of the processes, transformations and fluxes in coastal ecosystems. Curr Sci 94:1419–1438

Qafoku NP, Sumner ME (2001) Retention and transport of calcium nitrate in variable charge subsoils. Soil Sci 166:297–307. https://doi.org/10.1097/00010694-200105000-00001

Qian P, Schoenau JJ (2002) Availability of nitrogen in solid manure amendments with different C:N ratios. Can J Soil Sci 82:219–225. https://doi.org/10.4141/S01-018

Quiquampoix H, Burns RG (2007) Interactions between proteins and soil mineral surfaces: Environmental and health consequences. Elem 3:401–406. https://doi.org/10.2113/GSELEMENTS.3.6.401

Rice JA, MacCarthy P (1991) Statistical evaluation of the elemental composition of humic substances. Org Geochem 17:635–648. https://doi.org/10.1016/0146-6380(91)90006-6

Rillig MC, Caldwell BA, Wösten HAB, Sollins P (2007) Role of proteins in soil carbon and nitrogen storage: Controls on persistence. Biogeochem 85:25–44. https://doi.org/10.1007/s10533-007-9102-6

Roudaut J-P, Gaspard M, Boyer G (2011) Guide des produits organiques utilisables en Languedoc-Roussillon - Tome 1. Lattes

Rowell DM, Prescott CE, Preston CM (2001) Decomposition and nitrogen mineralization from biosolids and other organic materials: Relationship with initial chemistry. J Environ Qual 30:1401–1410. https://doi.org/10.2134/jeq2001.3041401x

Sawlowicz Z (1993) Pyrite framboids and their development: A new conceptual mechanism. Geol Rundsch 82:148–156. https://doi.org/10.1007/BF00563277

Schjønning P, Thomsen IK, Møberg JP, de Jonge H, Kristensen K, Christensen BT (1999) Turnover of organic matter in differently textured soils: I. Physical characteristics of structurally disturbed and intact soils. Geoderma 89:177–198. https://doi.org/10.1016/S0016-7061(98)00083-4

Schnitzer M (1991) Soil organic matter - The next 75 years. Soil Sci 151:41–58

Schnitzer M, Kodama H (1992) Interactions between organic and inorganic components in particle-size fractions separated from four soils. Soil Sci Soc Am J 56:1099–1105. https://doi.org/10.2136/sssaj1992.03615995005600040015x

Schulten H-R, Schnitzer M (1998) The chemistry of soil organic nitrogen: A review. Biol Fertil Soils 26:1–15. https://doi.org/10.1007/s003740050335

Sowden FJ, Chen Y, Schnitzer M (1977) The nitrogen distribution in soils formed under widely differing climatic conditions. Geochim Cosmochim Acta 41:1524–1526. https://doi.org/10.1016/0016-7037(77)90257-5

Springsteen G, Wang B (2002) A detailed examination of boronic acid–diol complexation. Tetrahedron 58:5291–5300. https://doi.org/10.1016/S0040-4020(02)00489-1

Stratful I, Scrimshaw MD, Lester JN (2001) Conditions influencing the precipitation of magnesium ammonium phosphate. Water Res 35:4191–4199. https://doi.org/10.1016/S0043-1354(01)00143-9

Tissot BP, Welte DH (1984) Petroleum formation and occurrence, 2nd edn. Springer-Verlag, Berlin, Heidelberg

Van Kessel JS, Reeves JB, Meisinger JJ (2000) Nitrogen and carbon mineralization of potential manure components. J Environ Qual 29:1669–1677. https://doi.org/10.2134/jeq2000.00472425002900050039x

Wada S-I (1997) A rapid and sensitive method for on-site estimation of small amount of carbonate in soils. Soil Sci Plant Nutr 43:45–50. https://doi.org/10.1080/00380768.1997.10414713

Wagener V, Faltz A-S, Killian MS, Schmuki P, Virtanen S (2015) Protein interactions with corroding metal surfaces: comparison of Mg and Fe. Faraday Discuss 180:347–360. https://doi.org/10.1039/C4FD00253A

Wang X-C, Lee C (1993) Adsorption and desorption of aliphatic amines, amino acids and acetate by clay minerals and marine sediments. Mar Chem 44:1–23. https://doi.org/10.1016/0304-4203(93)90002-6

Wang WW, Jiang X, Zheng BH, Chen JY, Zhao L, Zhang B, Wang SH (2018) Composition, mineralization potential and release risk of nitrogen in the sediments of Keluke lake, a Tibetan plateau freshwater lake in China. R Soc Open Sci 5:180612. https://doi.org/10.1098/rsos.180612

Wershaw R (1993) Model for humus in soils and sediments. Environ Sci Technol 27:814–816. https://doi.org/10.1021/es00042a603

Zang X, van Heemst JDH, Dria KJ, Hatcher PG (2000) Encapsulation of protein in humic acid from a histosol as an explanation for the occurrence of organic nitrogen in soil and sediment. Org Geochem 31:679–695. https://doi.org/10.1016/S0146-6380(00)00040-1

Zarfl C, Lumsdon AE, Berlekamp J, Tydecks L, Tockner K (2014) A global boom in hydropower dam construction. Aquat Sci 77:161–170. https://doi.org/10.1007/s00027-014-0377-0

Zepp RG, Sheldon WM, Moran MA (2004) Dissolved organic fluorophores in southeastern US coastal waters: correction method for eliminating Rayleigh and Raman scattering peaks in excitation–emission matrices. Mar Chem 89:15–36. https://doi.org/10.1016/j.marchem.2004.02.006

Zocatelli R, Lavrieux M, Disnar J-R, le Milbeau C, Jacob J, Bréheret JG (2012) Free fatty acids in Lake Aydat catchment soils (French Massif Central): sources, distributions and potential use as sediment biomarkers. J Soils Sediments 12:734–748. https://doi.org/10.1007/s11368-012-0505-1
Acknowledgment
We thank to Roland Redon, Stéphane Mounier, and Houssam Hajjoul from PROTEE laboratory of Toulon University for PARAFAC calculations. The authors would like to thank the Limoges University Foundation and EDF Hydro Center for their financially support.
Additional information
Publisher's note
Springer Nature remains neutral with regard to jurisdictional claims in published maps and institutional affiliations.
Responsible editor: Haihan Zhang
Supplementary Information
About this article
Cite this article
Bascle, S., Bourven, I. & Baudu, M. Nature and accessibility of organic matter in lacustrine sediment. J Soils Sediments 21, 1504–1522 (2021). https://doi.org/10.1007/s11368-021-02888-0
Received:

Accepted:

Published:

Issue Date:
Keywords
Lacustrine sediment;

Organic matter;

Sequential extraction;

Nitrogen and carbon nature;

Organo-mineral interactions