Abstract
Purpose
Clay-humic substance complexes play a major role in controlling the mobility of elements and colloids in natural soils. The purpose of the present study is to explore the different reaction mechanisms induced by cations on the humic acid (HA) and montmorillonite (Mt) heteroaggregation and to analyze the binding mechanism of HA-Mt.
Materials and methods
HA is extracted from soil and colloidal Mt are prepared as K+-saturated. The aggregation kinetics of HA-Mt composite nanoparticles in Ca(NO3)2, Mg(NO3)2, and Cu(NO3)2 solutions were detected by dynamic light scattering. Furthermore, FT-IR spectroscopy was used to characterize the reactive sites involved in interaction with the metal ions.
Results and discussion
The results revealed that the order of reaction of these three metal cations with the HA-Mt composite was Cu2+ > Ca2+ > Mg2+, as evident from the total average aggregation rate, critical coagulation concentration, and activation energy. The heteroaggregation process was sensitive to the 1% mass percentage of HA; however, more HA (4% mass percentage) did not significantly affect this process compared with 1% HA. Higher cation concentration and higher HA content (10% mass percentage) were two necessary conditions for promoting HA-Mt heteroaggregation. The vibration peak intensities of the carboxyl group C-O bonds and hydroxyl group O-H bonds of HA were affected by the formation of coordinate bonds with different metal ions.
Conclusions
Metal cations were preferentially complexed by the carboxyl groups of HA, and due to its polarization-induced and electric field–enhanced oxidizing properties, Cu2+ has the strongest aggregation ability for HA-Mt, followed by Ca2+ and Mg2+. The HA-Mt heteroaggregation is partially reversible by adjusting electrostatic repulsion. The results of this study improve our understanding of the roles of cations and HA in clay-humic substance interactions.
Access options
Buy single article
Instant access to the full article PDF.
US$ 39.95
Tax calculation will be finalised during checkout.
Subscribe to journal
Immediate online access to all issues from 2019. Subscription will auto renew annually.
US$ 119
Tax calculation will be finalised during checkout.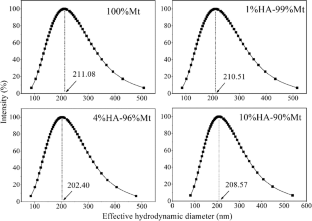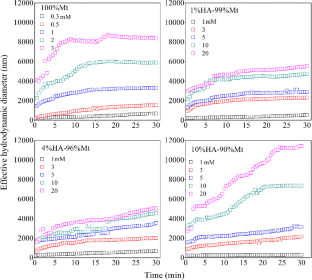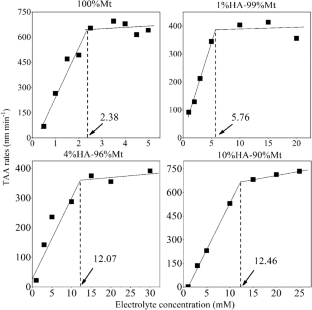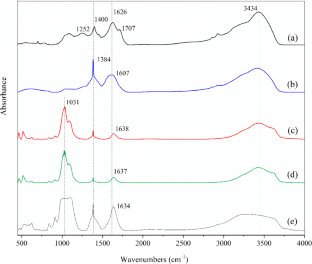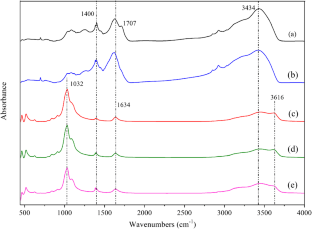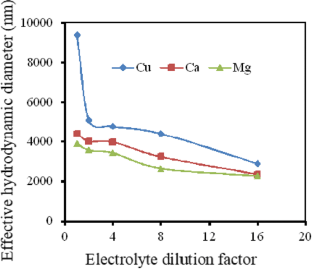 References
Abollino O, Giacomino A, Malandrino M, Mentasti E (2008) Interaction of metal ions with montmorillonite and vermiculite. Appl Clay Sci 38:227–236. https://doi.org/10.1016/j.clay.2007.04.002

Ahmat AM, Thiebault T, Guégan R (2019) Phenolic acids interactions with clay minerals: a spotlight on the adsorption mechanisms of gallic acid onto montmorillonite. Appl Clay Sci 180:10588. https://doi.org/10.1016/j.clay.2019.105188

Balomenou G, Stathi P, Enotiadis A, Gournis D, Deligiannakis Y (2008) Physicochemical study of amino-functionalized organosilicon cubes intercalated in montmorillonite clay: H-binding and metal uptake. J Cloid and Iterf Sci 325:74–83. https://doi.org/10.1016/j.jcis.2008.04.072

Benjamin MM, Leckie JO (1981) Multiple-site adsorption of Cd, Cu, Zn, and Pb on amorphous iron oxyhydroxide. J Colloid Interface Sci 79:209–221. https://doi.org/10.1016/0021-9797(81)90337-4

Bhattacharyya KG, Gupta SS (2008) Adsorption of a few heavy metals on natural and modified kaolinite and montmorillonite: a review. Adv Colloid Interface 140:114–131. https://doi.org/10.1016/j.cis.2007.12.008

Borgnino L (2013) Experimental determination of the colloidal stability of Fe (III)-montmorillonite: effects of organic matter, ionic strength and pH conditions. Colloid Surfaces A 423:178–187. https://doi.org/10.1016/j.colsurfa.2013.01.065

Chen HF, Koopal LK, Xiong J, Avena M, Tan WF (2017) Mechanisms of soil humic acid adsorption onto montmorillonite and kaolinite. J Colloid Interface Sci 504:457–467. https://doi.org/10.1016/j.jcis.2017.05.078

Chenu C, Le Bissonnais Y, Arrouays D (2000) Organic matter influence on clay wettability and soil aggregate stability. Soil Sci Soc Am J 64:1479–1486. https://doi.org/10.2136/sssaj2000.6441479x

Cheshire MV, Dumat C, Fraser AR, Hillier S, Staunton S (2000) The interaction between soil organic matter and soil clay minerals by selective removal and controlled addition of organic matter. Eur J Soil Sci 51:497–509. https://doi.org/10.1111/j.1365-2389.2000.00325.x

de Pablo L, Chávez ML, Abatal M (2011) Adsorption of heavy metals in acid to alkaline environments by montmorillonite and Ca-montmorillonite. Chem Eng J 171:1276–1286. https://doi.org/10.1016/j.cej.2011.05.055

Derrendinger L, Sposito G (2000) Flocculation kinetics and cluster morphology in illite/NaCl suspensions. J Colloid Interface Sci 222:1–11. https://doi.org/10.1006/jcis.1999.6606

Dong HR, Lo IMC (2013) Influence of humic acid on the colloidal stability of surface-modified nano zero-valent iron. Water Res 47:419–427. https://doi.org/10.1016/j.watres.2012.10.013

Dupuy N, Douay F (2001) Infrared and chemometrics study of the interaction between heavy metals and organic matter in soils. Spectrochim Acta A 57:1037–1047. https://doi.org/10.1016/S1386-1425(00)00420-0

Evanko CR, Dzombak DA (1998) Influence of structural features on sorption of NOM-analogue organic acids to goethite. Environ Sci Technol 32:2846–2855. https://doi.org/10.1021/es980256t

Fletcher P, Sposito G (1989) The chemical modeling of clay/electrolyte interactions for montmorillonite. Clay Miner 24:375–391. https://doi.org/10.1180/claymin.1989.024.2.14

Gao XD, Yang G, Tian R, Ding WQ, Hu FN, Liu XM, Li H (2015) Formation of sandwich structure through ion adsorption at the mineral and humic interfaces: a combined experimental computational study. J Mol Struct 1093:96–100. https://doi.org/10.1016/j.molstruc.2015.03.060

Gao XD, Tian R, Liu XM, Zhu HL, Tang Y, Xu CY, Shah GM, Li H (2019) Specific ion effects of Cu2+, Ca2+ and Mg2+ on montmorillonite aggregation. Appl Clay Sci 179:105154. https://doi.org/10.1016/j.clay.2019.105154

González Pérez M, Martin-Neto L, Saab SC, Novotny EH, Milori DMBP, Bagnato VS, Colnago LA, Melo WJ, Knicker H (2004) Characterization of humic acids from a Brazilian Oxisol under different tillage systems by EPR, 13C NMR, FTIR and fluorescence spectroscopy. Geoderma 118:181–190. https://doi.org/10.1016/s0016-7061(03)00192-7

Gossart P, Semmoud A, Ouddane B, Huvenne JP (2003) Study of the interaction between humic acids and lead: exchange between Pb2+ and H+ under various chemical conditions followed by FTIR. Phys Chem News 9:101–108

Gu SQ, Kang XN, Wang L, Lichtfouse E, Wang CY (2019) Clay mineral adsorbents for heavy metal removal from wastewater: a review. Environ Chem Lett 17:629–654. https://doi.org/10.1007/s10311-018-0813-9

Huang PM, Berthelin J, Bollag JM, McGill WB (1995) Environmental impacts of soil component interactions: land quality, Natural and Anthropogenic Organics. CRC Press. https://doi.org/10.1039/B406989G

Jia MY, Li H, Zhu HL, Tian R, Gao XD (2013) An approach for the critical coagulation concentration estimation of polydisperse colloidal suspensions of soil and humus. J Soils Sediments 13:325–335. https://doi.org/10.1007/s11368-012-0608-8

Kaiser M, Zederer DP, Ellerbrock RH, Sommer M, Ludwig B (2016) Effects of mineral characteristics on content, composition, and stability of organic matter fractions separated from seven forest topsoils of different pedogenesis. Geoderma 263:1–7. https://doi.org/10.1016/j.geoderma.2015.08.029

Kang SH, Xing BS (2007) Adsorption of dicarboxylic acids by clay minerals as examined by in situ ATR-FTIR and ex situ DRIFT. Langmuir 23:7024–7031. https://doi.org/10.1021/la700543f

Kleber M, Mikutta R, Torn MS, Jahn R (2005) Poorly crystalline mineral phases protect organic matter in acid subsoil horizons. Eur J Soil Sci 56:717–725. https://doi.org/10.1111/j.1365-2389.2005.00706.x

Kloster N, Brigante M, Zanini G, Avena M (2013) Aggregation kinetics of humic acids in the presence of calcium ions. Colloid Surface Physicochem Eng Aspect 427:76e82. https://doi.org/10.1016/j.colsurfa.2013.03.030

Lishtvan II, Yanuta YG, Abramets' AM, Monich GS, Glukhova NS, Aleinikova VN (2012) Interaction of humic acids with metal ions in the water medium. J Water Chem Technol 34:211–217. https://doi.org/10.3103/s1063455x12050013

Logan EM, Pulford ID, Cook GT, Mackenzie AB (1997) Complexation of Cu2+ and Pb2+ by peat and humic acid. Eur J Soil Sci 48:685–696. https://doi.org/10.1111/j.1365-2389.1997.tb00568.x

Lützow MV, Kögel-Knabner I, Ekschmitt K, Matzner E, Guggenberger G, Marschner B, Flessa H (2006) Stabilization of organic matter in temperate soils: mechanisms and their relevance under different soil conditions–a review. Eur J Soil Sci 57:426–445. https://doi.org/10.1111/j.1365-2389.2006.00809.x

Madejová J (2003) FTIR techniques in clay mineral studies. Vib Spectrosc 31:1–10. https://doi.org/10.1016/s0924-2031(02)00065-6

Majzik A, Tombácz E (2007) Interaction between humic acid and montmorillonite in the presence of calcium ions I. interfacial and aqueous phase equilibria: adsorption and complexation. Org Geochem 38:1319–1329. https://doi.org/10.1016/j.orggeochem.2007.04.002

Martinez RE, Sharma P, Kappler A (2010) Surface binding site analysis of Ca2+-homoionized clay–humic acid complexes. J Colloid Interface Sci 352:526–534. https://doi.org/10.1016/j.jcis.2010.08.082

Pashley RM, Israelachvili JN (1984) DLVO and Hydration Forces between Mica Surfaces in Mg2+ , Ca2+, Sr2+, and Ba2+ Chloride Solutions. J Colloid Interface Sci 97:446–455. https://doi.org/10.1016/0021-9797(84)90316-3

Piccolo A, Conte P, Cozzolino A (1999) Effects of mineral and monocarboxylic acids on the molecular association of dissolved humic substances. Eur J Soil Sci 50:687–694. https://doi.org/10.1046/j.1365-2389.1999.00276.x

Séquaris JM (2010) Modeling the effects of Ca2+ and clay-associated organic carbon on the stability of colloids from topsoils. J Colloid Interface Sci 343:408–414. https://doi.org/10.1016/j.jcis.2009.12.014

Sevink J, Verstraten JM, Jongejans J (1998) The relevance of humus forms for land degradation in Mediterranean mountainous areas. Geomorphology 23:285–292. https://doi.org/10.1016/S0169-555X(98)00010-5

Shim Y, Lee HJ, Lee S, Moon SH, Cho J (2002) Effects of natural organic matter and ionic species on membrane surface charge. Environ Sci Technol 36:3864–3871. https://doi.org/10.1021/es015880b

Šolc R, Gerzabek MH, Lischka H, Tunega D (2014) Radical sites in humic acids: a theoretical study on protocatechuic and gallic acids. Comput Theor Chem 1032:42–49. https://doi.org/10.1016/j.comptc.2014.01.015

Tan LQ, Yu ZW, Tan XL, Fang M, Wang XX, Wang JF, Xing JL, Ai YJ, Wang XK (2019) Systematic studies on the binding of metal ions in aggregates of humic acid: aggregation kinetics, spectroscopic analyses and MD simulations. Environ Pollut 246:999–1007. https://doi.org/10.1016/j.envpol.2019.01.007

Tang Z, Cheng T, Fisher-Power LM (2018) Influence of aggregation on nanoscale titanium dioxide (nTiO2) deposition to quartz sand. Chemosphere 209:517–524. https://doi.org/10.1016/j.chemosphere.2018.06.112

Terkhi MC, Taleb F, Gossart P, Semmoud A, Addou A (2008) Fourier transform infrared study of mercury interaction with carboxyl groups in humic acids. J Photoch Photobio A 198:205–214. https://doi.org/10.1016/j.jphotochem.2008.03.018

Tian R, Yang G, Li H, Gao XD, Liu XM, Zhu HL, Tang Y (2014) Activation energies of colloidal particle aggregation: towards a quantitative characterization of specific ion effects. Phys Chem Chem Phys 16:8828–8836. https://doi.org/10.1039/c3cp54813a

Tisdall JM, Oades JM (1982) Organic matter and water-stable aggregates in soils. J Soil Sci 33:141–163. https://doi.org/10.1111/j.1365-2389.1982.tb01755.x

Tremblay L, Gagné JP (2009) Organic matter distribution and reactivity in the waters of a large estuarine system. Mar Chem 116:1–12. https://doi.org/10.1016/j.marchem.2009.09.006

Wang KJ, Xing BS (2005) Structural and sorption characteristics of adsorbed humic acid on clay minerals. J Environ Qual 34:342–349. https://doi.org/10.2134/jeq2005.0342

Xiong J, Koopal LK, Weng L, Wang M, Tan W (2015) Effect of soil fulvic and humic acid on binding of Pb to goethite–water interface: linear additivity and volume fractions of HS in the stern layer. J Colloid Interface Sci 457:121–130. https://doi.org/10.1016/j.jcis.2015.07.001

Xu CY, Li H, Hu FN, Li S, Liu XM, Li Y (2015) Non-classical polarization of cations increases the stability of clay aggregates: specific ion effects on the stability of aggregates. Eur J Soil Sci 66(3):615–623. https://doi.org/10.1111/ejss.12252

Xu Z, Pan DQ, Sun YL, Wu WS (2018) Stability of GMZ bentonite colloids: aggregation kinetic and reversibility study. Appl Clay Sci 161:436–443. https://doi.org/10.1016/j.clay.2018.05.002

Zhang SQ, Hou WG (2008) Adsorption behavior of Pb (II) on montmorillonite. Colloid Surface A 320:92–97. https://doi.org/10.1016/j.colsurfa.2008.01.038

Zhang LC, Luo L, Zhang SZ (2012) Integrated investigations on the adsorption mechanisms of fulvic and humic acids on three clay minerals. Colloid Surface A 406:84–90. https://doi.org/10.1016/j.colsurfa.2012.05.003

Zhang XY, Zhang L, Zou X, Han FY, Yan ZP, Li Z, Hu SJ (2018) Semi-quantitative analysis of microbial production of oxalic acid by montmorillonite sorption and ATR-IR. Appl Clay Sci 162:518–523. https://doi.org/10.1016/j.clay.2018.07.006

Zhu LH, Li ZY, Tian R, Li H (2019) Specific ion effects of divalent cations on the aggregation of positively charged goethite nanoparticles in aqueous suspension. Colloid Surface A 565:78–85. https://doi.org/10.1016/j.colsurfa.2018.12.040
Acknowledgments
Xiaodan Gao and Yingde Xu would like to thank China Scholarship Council for the financial support from the State Scholarship Fund (201808210128, 201808210259).
Funding
This work was supported by the National Natural Science Foundation of China (41601230, 41701255), Postdoctoral Science Foundation of China (2017 M611265), and Basic Scientific Research Project of University in Liaoning (LSNZD201705).
Ethics declarations
Conflict of interest
The authors declare that there is no conflict of interest.
Informed consent
The manuscript is approved by all authors for publication, and research does not involve human participants and/or animals.
Additional information
Publisher's note
Springer Nature remains neutral with regard to jurisdictional claims in published maps and institutional affiliations.
Responsible editor: Heike Knicker
Supplementary Information
About this article
Cite this article
Gao, X., Xu, Y., Li, Z. et al. Heteroaggregation of humic acid with montmorillonite in divalent electrolytes: effects of humic acid content and ionic concentration. J Soils Sediments 21, 1317–1328 (2021). https://doi.org/10.1007/s11368-020-02858-y
Received:

Accepted:

Published:

Issue Date:
Keywords
Clay-humic substance complexes

Activation energy

Complexation mechanism

Infrared spectroscopy

Metal ions

Organic-mineral complexes