Abstract
Purpose
For the sake of risk assessment for arsenic-contaminated sites, the purpose of this study is to estimate the bioavailable arsenic fractions in soil by using the three arsenic-specific sequential extraction procedures (SEPs) and distinguish which SEP can reliably identify and estimate the bioavailable arsenic, so as to screen the most suitable SEP for the risk assessment of arsenic-contaminated sites.
Materials and methods
The arsenic uptake by spinach and amaranth was used to evaluate bioavailability of arsenic fractions defined by the SEPs proposed by Shiowatana, Larios, and Wenzel, respectively, as well as the ability of these three SEPs to identify and estimate bioavailable arsenic.
Results and discussion
The results showed that besides the highly mobile arsenic fractions defined by each SEP, the less mobile HCl-extractable arsenic (mainly carbonate-bound arsenic) in Shiowatana SEP was also the source of bioavailable arsenic, and their contribution to bioavailable arsenic depended not only on their mobility but also on their content, suggesting that the independent extraction of carbonate-bound arsenic should be considered in the design of arsenic-specific SEPs.
Conclusions
All three SEPs could provide approximate estimation of bioavailable arsenic fractions. Although Wenzel SEP performed slightly worse than Larios SEP and Shiowatana SEP, all three SEPs had acceptable accuracy and reproducibility in arsenic fractionation. However, the Shiowatana SEP performed more comprehensive in extracting potential bioavailable arsenic fractions and identifying the source of bioavailable arsenic, indicating that it might be more suitable for the risk assessment of arsenic-polluted sites based on arsenic fractionation.
This is a preview of subscription content, log in to check access.
Access options
Buy single article
Instant access to the full article PDF.
US$ 39.95
Price includes VAT for USA
Subscribe to journal
Immediate online access to all issues from 2019. Subscription will auto renew annually.
US$ 199
This is the net price. Taxes to be calculated in checkout.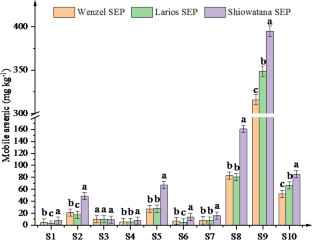 References
Adamo P, Zampella M (2008) Chapter nine – chemical speciation to assess potential toxic metals' (PTMs') bioavailability and geochemical forms in polluted soils. Environment Geochem 91:175–212

Adamo P, Iavazzo P, Albanese S, Agrelli D, De Vivo B, Lima A (2014) Bioavailability and soil-to-plant transfer factors as indicators of potentially toxic element contamination in agricultural soils. Sci Total Environ 500-501:11–22

Alan M, Kara D (2019) Assessment of sequential extraction methods for the prediction of bioavailability of elements in plants grown on agricultural soils near to boron mines in Turkey. Talanta 200:41–50

Alborés AF, Cid BP, Gómez EF, López EF (2000) Comparison between sequential extraction procedures and single extractions for metal partitioning in sewage sludge samples. Analyst 125:1353–1357

Alexander M (1995) How toxic are toxic chemicals in soil? Environ Sci Technol 29:2713–2717

Alexander M (2000) Aging, bioavailability, and overestimation of risk from environmental pollutants. Environ Sci Technol 34:4259–4265

Anawar HM, Garcia-Sanchez A, Santa Regina I (2008) Evaluation of various chemical extraction methods to estimate plant-available arsenic in mine soils. Chemosphere 70:1459–1467

Bacon JR, Davidson CM (2008) Is there a future for sequential chemical extraction? Analyst 133:25–46

Bagherifam S, Brown T, Fellows C, Naidu R (2019) Bioavailability of arsenic and antimony in terrestrial ecosystems: a review. Pedosphere 29:681–720

Bashir F, Kashmiri MA, Shafiq T, Tariq M (2009) Heavy metals uptake by vegetables growing in sewage irrigated soil: relationship with heavy metal fractionation in soil. Chem Speciat Bioavailab 21:199–209

Batjargal T, Otgonjargal E, Baek K, Yang JS (2010) Assessment of metals contamination of soils in Ulaanbaatar, Mongolia. J Hazard Mater 184:872–876

Bergqvist C, Herbert R, Persson I, Greger M (2014) Plants influence on arsenic availability and speciation in the rhizosphere, roots and shoots of three different vegetables. Environ Pollut 184:540–546

Berthelot Y, Valton E, Auroy A, Trottier B, Robidoux PY (2008) Integration of toxicological and chemical tools to assess the bioavailability of metals and energetic compounds in contaminated soils. Chemosphere 74:166–177

Caussy D (2003) Case studies of the impact of understanding bioavailability: arsenic. Ecotoxicol Environ Saf 56:164–173

CCME (2007) A protocol for the derivation of water quality guidelines for the protection of aquatic life 2007. CCME (Canadian Council of Ministers of the Environment), Winnipeg

Chakraborty P, Chakraborty S, Ramteke D, Chennuri K (2014) Kinetic speciation and bioavailability of copper and nickel in mangrove sediments. Mar Pollut Bull 88:224–230

Chakraborty K, Bishi SK, Goswami N, Singh AL, Zala PV (2016) Differential fine-regulation of enzyme driven ROS detoxification network imparts salt tolerance in contrasting peanut genotypes. Environ Exp Bot 128:79–90

Dong H, Lin Z, Wan X, Feng L (2017) Risk assessment for the mercury polluted site near a pesticide plant in Changsha, Hunan, China. Chemosphere 169:333–341

Ehlers GA, Loibner AP (2006) Linking organic pollutant (bio)availability with geosorbent properties and biomimetic methodology: a review of geosorbent characterisation and (bio)availability prediction. Environ Pollut 141:494–512

Ehlers LJ, Luthy RG (2003) Contaminant bioavailability in soil and sediment. Environ Sci Technol 37:295A–302A

EuropeanCommission (2009) European Union risk assessment report. Voluntary risk assessment of copper and its compounds. Environmental part. Scientific Committee of Health and Environmental Risks. CAS No. 7440-50-8, EINECS No: 231-159-6

Filgueiras AV, Lavilla I, Bendicho C (2002) Chemical sequential extraction for metal partitioning in environmental solid samples. J Environ Monit 4:823–857

Gleyzes C, Tellier S, Astruc M (2002) Fractionation studies of trace elements in contaminated soils and sediments: a review of sequential extraction procedures. Trac-Trend Anal Chem 21:451–467

Hartley W, Edwards R, Lepp NW (2004) Arsenic and heavy metal mobility in iron oxide-amended contaminated soils as evaluated by short- and long-term leaching tests. Environ Pollut 131:495–504

Ianni C, Bignasca A, Magi E, Rivaro P (2010) Metal bioavailability in marine sediments measured by chemical extraction and enzymatic mobilization. Microchem J 96:308–316

Islam S, Rahman MM, Duan L, Islam MR, Kuchel T, Naidu R (2017) Variation in arsenic bioavailability in rice genotypes using swine model: an animal study. Sci Total Environ 599-600:324–331

Jomova K, Jenisova Z, Feszterova M, Baros S, Liska J, Hudecova D, Rhodes CJ, Valko M (2011) Arsenic: toxicity, oxidative stress and human disease. J Appl Toxicol 31:95–107

Kalnicky DJ, Singhvi R (2001) Field portable XRF analysis of environmental samples. J Hazard Mater 83:93–122

Kapaj S, Peterson H, Liber K, Bhattacharya P (2006) Human health effects from chronic arsenic poisoning--a review. J Environ Sci Health A Tox Hazard Subst Environ Eng 41:2399–2428

Kar S, Das S, Jean J-S, Chakraborty S, Liu C-C (2013) Arsenic in the water–soil–plant system and the potential health risks in the coastal part of Chianan Plain, Southwestern Taiwan. J Asian Earth Sci 77:295–302

Keshavarzifard M, Moore F, Sharifi R (2019) The influence of physicochemical parameters on bioavailability and bioaccessibility of heavy metals in sediments of the intertidal zone of Asaluyeh region, Persian Gulf, Iran. Geochemistry 79:178–187

Kumpiene J, Giagnoni L, Marschner B, Denys S, Mench M, Adriaensen K, Vangronsveld J, Puschenreiter M, Renella G (2017) Assessment of methods for determining bioavailability of trace elements in soils: a review. Pedosphere 27:389–406

Larios R, Fernandez-Martinez R, Rucandio I (2012) Comparison of three sequential extraction procedures for fractionation of arsenic from highly polluted mining sediments. Anal Bioanal Chem 402:2909–2921

Larios R, Fernández-Martínez R, Rucandio I (2013) Assessment of a sequential extraction procedure for arsenic partitioning and application to samples from different pollution sources. Anal Methods 5:4096–4104

Lee SH, Park H, Koo N, Hyun S, Hwang A (2011) Evaluation of the effectiveness of various amendments on trace metals stabilization by chemical and biological methods. J Hazard Mater 188:44–51

Mandal BK, Suzuki KT (2002) Arsenic round the world: a review. Talanta 58:201–235

Marrugo-Negrete J, Durango-Hernandez J, Pinedo-Hernandez J, Olivero-Verbel J, Diez S (2015) Phytoremediation of mercury-contaminated soils by Jatropha curcas. Chemosphere 127:58–63

Martínez-Sánchez MJ, Martínez-López S, García-Lorenzo ML, Martínez-Martínez LB, Pérez-Sirvent C (2011) Evaluation of arsenic in soils and plant uptake using various chemical extraction methods in soils affected by old mining activities. Geoderma 160:535–541

Masscheleyn PH, Delaune RD, Patrick WH (1991) Effect of redox potential and pH on arsenic speciation and solubility in a contaminated soil. Environ Sci Technol 25:1414–1419

Masto RE, Sarkar E, George J, Jyoti K, Dutta P, Ram LC (2015) PAHs and potentially toxic elements in the fly ash and bed ash of biomass fired power plants. Fuel Process Technol 132:139–152

Mester Z, Cremisini C, Ghiara E, Morabito R (1998) Comparison of two sequential extraction procedures for metal fractionation in sediment samples. Anal Chim Acta 359:133–142

Müller G, Gastner M (1971) The 'Karbonat-Bombe', a simple device for the determination of carbonate content in sediment, soils, and other materials. Neues Jahrbuch Minearalogie 10:466–469

Perin G, Fabris R, Manente S, Wagener AR, Hamacher C, Scotto S (1997) A five-year study on the heavy-metal pollution of Guanabara Bay sediments (Rio de Janeiro, Brazil) and evaluation of the metal bioavailability by means of geochemical speciation. Water Res 31:3017–3028

Rehman ZU, Khan S, Qin K, Brusseau ML, Shah MT, Din I (2016) Quantification of inorganic arsenic exposure and cancer risk via consumption of vegetables in southern selected districts of Pakistan. Sci Total Environ 550:321–329

Reis AT, Rodrigues SM, Davidson CM, Pereira E, Duarte AC (2010) Extractability and mobility of mercury from agricultural soils surrounding industrial and mining contaminated areas. Chemosphere 81:1369–1377

Remon E, Bouchardon JL, Le Guedard M, Bessoule JJ, Conord C, Faure O (2013) Are plants useful as accumulation indicators of metal bioavailability? Environ Pollut 175:1–7

Rosado D, Usero J, Morillo J (2016) Ability of 3 extraction methods (BCR, Tessier and protease K) to estimate bioavailable metals in sediments from Huelva estuary (southwestern Spain). Mar Pollut Bull 102:65–71

Semple KT, Doick KJ, Jones KC, Peter B, Andrew C, Hauke H (2004) Defining bioavailability and bioaccessibility of contaminated soil and sediment is complicated. Environ Sci Technol 38:228A–231A

Shiowatana J, McLaren RG, Chanmekha N, Samphao A (2001) Fractionation of arsenic in soil by a continuous-flow sequential extraction method. J Environ Qual 30:1940–1949

Silva V, Loredo J, Fernandez-Martinez R, Larios R, Ordonez A, Gomez B, Rucandio I (2014) Arsenic partitioning among particle-size fractions of mine wastes and stream sediments from cinnabar mining districts. Environ Geochem Health 36:831–843

Singh R, Singh S, Parihar P, Singh VP, Prasad SM (2015) Arsenic contamination, consequences and remediation techniques: a review. Ecotoxicol Environ Saf 112:247–270

Smolinska B, Szczodrowska A (2017) Antioxidative response of Lepidium sativum L. during assisted phytoremediation of Hg contaminated soil. New Biotechnol 38:74–83

Srithongkul C, Wongsaipun S, Krongchai C, Santasup C, Kittiwachana S (2019) Investigation of mobility and bioavailability of arsenic in agricultural soil after treatment by various soil amendments using sequential extraction procedure and multivariate analysis. Catena 181:104084. https://doi.org/10.1016/j.catena.2019.104084

Srithongkul C, Krongchai C, Santasup C, Kittiwachana S (2020) An investigation of the effect of operational conditions on a sequential extraction procedure for arsenic in soil in Thailand. Chemosphere 242:125230. https://doi.org/10.1016/j.chemosphere.2019.125230

Sundaray SK, Nayak BB, Lin S, Bhatta D (2011) Geochemical speciation and risk assessment of heavy metals in the river estuarine sediments--a case study: Mahanadi basin, India. J Hazard Mater 186:1837–1846

Sungur A, Soylak M, Yilmaz S, Ozcan H (2016) Heavy metal mobility and potential availability in animal manure: using a sequential extraction procedure. J Mater Cycles Waste Manag 18:563–572

Tauqeer HM, Ali S, Rizwan M, Ali Q, Saeed R, Iftikhar U, Ahmad R, Farid M, Abbasi GH (2016) Phytoremediation of heavy metals by Alternanthera bettzickiana: growth and physiological response. Ecotoxicol Environ Saf 126:138–146

Tessier A, Campbell PGC, Bisson M (1979) Sequential extraction procedure for the speciation of particular trace elements. Anal Chem 51:844–851

Turner A, Olsen YS (2000) Chemical versus enzymatic digestion of contaminated estuarine sediment: relative importance of Iron and manganese oxides in controlling trace metal bioavailability. Estuar Coast Shelf Sci 51:717–728

U.S. EPA (2007) Aquatic life ambient freshwater quality criteria - copper. 2007 revision, EPA-822-T-07-001, Office of Water

Ure AM, Quevauviller P, Muntau H, Griepink B (1993) Speciation of heavy metals in soils and sediments. An account of the improvement and harmonization of extraction techniques undertaken under the auspices of the BCR of the Commission of the European Communities. Int J Environ Anal Chem 51:135–151

Vaananen K, Leppanen MT, Chen X, Akkanen J (2018) Metal bioavailability in ecological risk assessment of freshwater ecosystems: from science to environmental management. Ecotoxicol Environ Saf 147:430–446

Wan X, Dong H, Feng L, Lin Z, Luo Q (2017) Comparison of three sequential extraction procedures for arsenic fractionation in highly polluted sites. Chemosphere 178:402–410

Wang S, Mulligan CN (2006) Occurrence of arsenic contamination in Canada: sources, behavior and distribution. Sci Total Environ 366:701–721

Wang H, Liu R, Wang Q, Xu F, Men C, Shen Z (2016) Bioavailability and risk assessment of arsenic in surface sediments of the Yangtze River estuary. Mar Pollut Bull 113:125–131

Warren GP, Alloway BJ, Lepp NW, Singh B, Bochereau FJM, Penny C (2003) Field trials to assess the uptake of arsenic by vegetables from contaminated soils and soil remediation with iron oxides. Sci Total Environ 311:19–33

Wenzel WW, Kirchbaumer N, Prohaska T, Stingeder G, Lombi E, Adriano DC (2001) Arsenic fractionation in soils using an improved sequential extraction procedure. Anal Chim Acta 436:309–323

Whitacre S, Basta N, Stevens B, Hanley V, Anderson R, Scheckel K (2017) Modification of an existing in vitro method to predict relative bioavailable arsenic in soils. Chemosphere 180:545–552

Xie JJ, Yuan CG, Shen YW, Xie J, He KQ, Zhu HT, Zhang KG (2019) Bioavailability/speciation of arsenic in atmospheric PM2.5 and their seasonal variation: a case study in Baoding city, China. Ecotoxicol Environ Saf 169:487–495

Yang S, Zhou D, Yu H, Wei R, Pan B (2013) Distribution and speciation of metals (Cu, Zn, Cd, and Pb) in agricultural and non-agricultural soils near a stream upriver from the Pearl River, China. Environ Pollut 177:64–70

Yao LX, Li GL, Dang Z, He ZH, Zhou CM, Yang BM (2009) Arsenic uptake by two vegetables grown in two soils amended with as-bearing animal manures. J Hazard Mater 164:904–910

Zhang W, Wang WX (2018) Arsenic biokinetics and bioavailability in deposit-feeding clams and polychaetes. Sci Total Environ 616-617:594–601

Zhang S, Wang Y, Pervaiz A, Kong L, He M (2018) Comparison of diffusive gradients in thin-films (DGT) and chemical extraction methods for predicting bioavailability of antimony and arsenic to maize. Geoderma 332:1–9
Ethics declarations
No conflict of interest exists in the submission of this manuscript, and all authors approve extremely of the publication of this manuscript and the research not involving Human Participants or Animals. All the authors listed have known and approved the manuscript that is enclosed. I would like to declare on behalf of my co-authors that the work described was original research that has not been previously submitted to the Journal of Soils and Sediments and not under consideration for publication elsewhere, in whole or in part.
Additional information
Publisher's note
Springer Nature remains neutral with regard to jurisdictional claims in published maps and institutional affiliations.
Responsible editor: Maria Manuela Abreu
Electronic supplementary material
About this article
Cite this article
Du, X., Gao, L., Xun, Y. et al. Comparison of different sequential extraction procedures to identify and estimate bioavailability of arsenic fractions in soil. J Soils Sediments (2020). https://doi.org/10.1007/s11368-020-02694-0
Received:

Accepted:

Published:
Keywords
Arsenic

Bioavailability

Sequential extraction procedure

Risk assessment