Abstract
Purpose
The microstructure of a given soil is neither unique nor fixed as it evolves during deformation of the soil. Quantitative characterization of the microstructural evolution is crucial for interpretation of the soil mechanical behavior and development of the mechanical model taking account of the structural effect. This study aims to investigate the pore-size distribution (PSD) evolution of a compacted loess during deformation associated with consolidation and shearing.
Materials and method
The studied loess was a low-plasticity clay and collected from Xi'an, China. Compacted loess specimens having the same initial condition were loaded in triaxial cells to different final stress–strain states. Investigations of the initial and final microstructures were carried out using the mercury intrusion porosimetry (MIP) and scanning electron microscopy (SEM) techniques. The PSD evolution during consolidation was examined by comparing the PSDs of the specimens consolidated to different confining stresses, and the PSD evolution during shearing was examined by comparing the PSDs of the specimens sheared at the same confining stress to a series of increasing axial strains.
Results and discussion
Inter-aggregate pores (those greater than 1 μm in particular) were compressed from the larger to the smaller as the soil specimen contracts, intra-aggregate pores were almost unaffected, irrespective of the stress path. According to these findings, the inter-aggregate pore-size density function (PSDF) evolution is suggested to be depicted using two scaling factors (α and β). The inter-aggregate PSDF is assumed as a normal distribution function for simplicity and the empirical relationship between the cumulative intrusion void ratio, ein, and the dominant macro pore diameter, dmacro, is used, α and β can be related to ein. Thus, the PSD of compacted loess in any deformed state can be predicted from the reference PSD provided that ein in the deformed state is estimated by a mechanical model.
Conclusions
Aggregates would not be destroyed due to loading, and the mechanical responses of compacted loess are the interactions among aggregates. The proposed model assumes the inter-aggregate PSDF scales along the horizontal axis, which is consistent with the experimental findings; and it provides a simple way to predict the PSD variation using two scaling factors.
This is a preview of subscription content, log in to check access.
Access options
Buy single article
Instant access to the full article PDF.
US$ 39.95
Price includes VAT for USA
Subscribe to journal
Immediate online access to all issues from 2019. Subscription will auto renew annually.
US$ 199
This is the net price. Taxes to be calculated in checkout.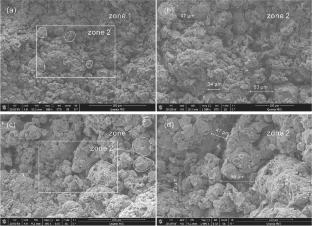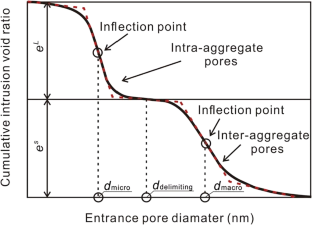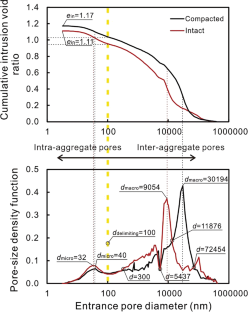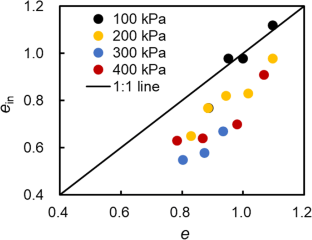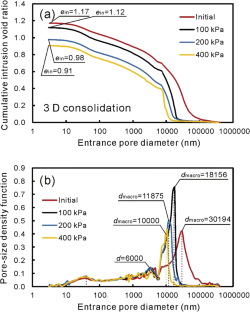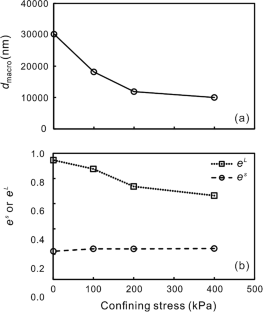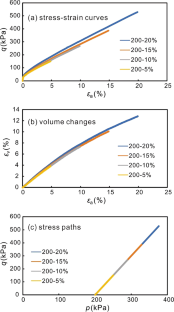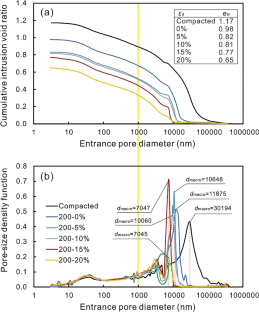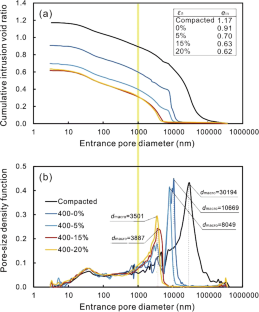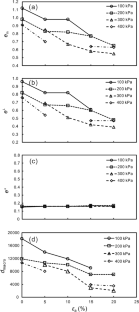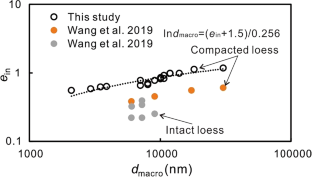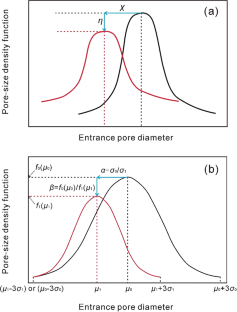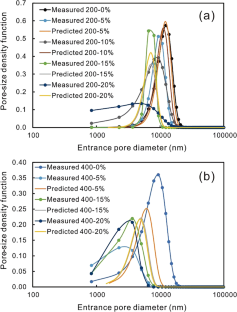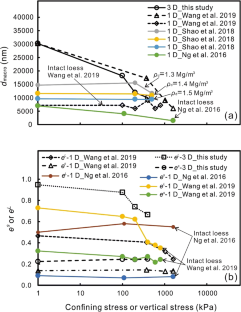 References
ASTM (2013) Annual book of ASTM standards. ASTM International, West Conshohocken, Pennsylvania, United States

Azizi A, Musso G, Jommi C (2019) Effects of repeated hydraulic loads on microstructure and hydraulic behavior of a compacted clayey silt. Can Geotech J. https://doi.org/10.1139/cgj-2018-0505

Chen ZH (2014) On basic theories of unsaturated soils and special soils. Chin J Geotech Eng 36(2):201–273 (in Chinese)

Cheng Q, Ng CWW, Zhou C, Tang CS (2019) A new water retention model that considers pore non-uniformity and evolution of pore size distribution. Bull Eng Geol Environ 78, 5055–5065

Collins K, McGown A (1974) The form and function of microfabric features in a variety of natural soils. Géotechnique 24(2):223–254

Costantini EA, Carnicelli S, Sauer D, Priori S, Andreetta A, Kadereit A, Lorenzetti R (2018) Loess in Italy: genesis, characteristics and occurrence. Catena 168:14–13

Delage P, Lefebvre G (1984) Study of the structure of a sensitive Champlain clay and of its evolution. Can Geotech J 21(1):21–35

Derbyshire E, Mellors TW (1988) Geological and geotechnical characteristics of some loess and loessic soils from China and Britain: a comparison. Eng Geol 25(2–4):135–175

Diamond S (1970) Pore size distribution in clays. Clay Clay Miner 18:7–23

Fredlund DG, Xing A (1994) Equations for the soil-water characteristic curve. Can Geotech J 31(4):521–532

Gao GR (1988) Formation and development of the structure of collapsing loess in China. Eng Geol 25(2–4):235–245

Hu R, Chen YF, Liu HH, Zhou CB (2013) A water retention curve and unsaturated hydraulic conductivity model for deformable soils: consideration of the change in pore-size distribution. Géotechnique 63(16):1389–1405

Jiang MJ, Zhang FG, Hu HJ, Cui YJ, Peng JB (2014) Structural characterization of natural loess and remolded loess under triaxial tests. Eng Geol 181:249–260

Li X, Zhang LM, Wu LZ (2014) A framework for unifying soil fabric, suction, void ratio, and water content during the dehydration process. Soil Sci Soc Am J 78(2):387–399

Li XA, Li LC, Song YX, Hong B, Wang L, Sun JQ (2019a) Characterization of the mechanisms underlying loess collapsibility for land-creation project in Shaanxi Province, China—a study from a micro perspective. Eng Geol 249:77–88

Li P, Xie WL, Pak RY, Vanapalli SK (2019b) Microstructural evolution of loess soils from the Loess Plateau of China. Catena 173:276–288

Ma RM, Cai CF, Li ZX, Wang JG, Xiao TQ, Peng GY, Yang W (2015) Evaluation of soil aggregate microstructure and stability under wetting and drying cycles in two ultisols using synchrotron-based x-ray micro-computed tomography. Soil Tillage Res 149:1–11

Manca D, Ferrari A, Laloui L (2015) Fabric evolution and the related swelling behavior of a sand/bentonite mixture upon hydro-chemo-mechanical loadings. Géotechnique 66(1):41–57

Mees F, Swennen R, Geet MV, Jacobs P (2003) Applications of x-ray computed tomograpy in the geosciences. Geol Sco Spec Publ 215(1):1–6

Menon M, Jia X, Lair G, Faraj P, Blaud A (2015) Analyzing the impact of compaction of soil aggregates using x-ray microtomography and water flow simulations. Soil Tillage Res 150(3):147–157

Monroy R, Zdravkovic L, Ridley A (2010) Microstructural evolution in compacted London clay during wetting and loading. Géotechnique 60(2):105–119

Ng CWW, Sadeghi H, Hossen SB, Chiu CF, Alonso EE, Baghbanrezvan S (2016) Water retention and volumetric characteristics of intact and re-compacted loess. Can Geotech J 53(8):1258–1269

Ng CWW, Kaewsong R, Zhou C, Alonso EE (2017) Small strain shear moduli of unsaturated natural and compacted loess. Géotechnique 67(7):646–651

Peth S, Horn R, Beckmann F, Donath T, Smucker AJM, Fischer J (2008) Three-dimensional quantification of intra-aggregate pore-space features using synchrotron-radiation-based microtomography. Soil Sci Soc Am J 72:897–907

Phadnis HS, Santamarina JC (2011) Bacteria in sediments: pore size effects. Géotechnique Lett 1:91–93

Sadeghi H, Kiani M, Sadeghi M, Jafarzadeh F (2019) Geotechnical characterization and collapsibility of a natural dispersive loess. Eng Geol 250:89–100

Shao X, Zhang H, Tan Y (2018) Collapse behavior and microstructural alteration of compacted loess under graded wetting tests. Eng Geol 233:11–22

Sun H, Mašín D, Najser J, Neděla V, Navrátilová E (2018) Bentonite microstructure and saturation evolution in wetting–drying cycles evaluated using ESEM, MIP and WRC measurements. Géotechnique 1-14

Tanaka H, Shiwakoti DR, Omukai N, Rito F, Locat J, Tanaka M (2003) Pore size distribution of clayey soils measured by mercury intrusion porosimetry and its relation to hydraulic conductivity. Soils Found 43(6):63–73

Thom R, Sivakumar R, Sivakumar V, Murray EJ, Mackinnon P (2007) Pore size distribution of unsaturated compacted kaolin: the initial states and final states following saturation. Géotechnique 57(5):469–474

Wang YH, Siu WK (2006) Structure characteristics and mechanical properties of kaolinite soils. I Surface charges and structural characterizations. Can Geotech J 43(6):587–600

Wang YH, Xu D (2007) Dual porosity and secondary consolidation. J Geotech Geol Eng 133(7):793–801

Wang JD, Li P, Ma Y, Vanapalli SK (2019) Evolution of pore-size distribution of intact loess and compacted loess due to consolidation. J Soils Sediments 19(3):1226–1238

Wen BP, Yan YJ (2014) Influence of structure on shear characteristics of the unsaturated loess in Lanzhou, China. Eng Geol 168:46–58

Yates K, Fenton CH, Bell DH (2018) A review of the geotechnical characteristics of loess and loess-derived soils from Canterbury, South Island, New Zealand. Eng Geol 236:11–21

Yu CY, Chow JK, Wang YH (2016) Pore-size changes and responses of kaolinite with different structures subject to consolidation and shearing. Eng Geol 202:122–131

Zhang Y, Song Z, Weng X, Xie Y (2019) A new soil-water characteristic curve model for unsaturated loess based on wetting-induced pore deformation. Geofluids. https://doi.org/10.1155/2019/1672418

Zhao JB, Luo XQ, Ma YD, Shao TJ, Yue YL (2017) Soil characteristics and new formation model of loess on the Chinese Loess Plateau. Geosci J 21(4):607–616

Zhou H, Peng X, Peth S, Xiao TQ (2012) Effects of vegetation restoration on soil aggregate microstructure quantified with synchrotron-based micro-computed tomography. Soil Tillage Res 124:17–23
Funding
This work was supported by the National Key Research and Development Plan of China under grant number 2018YFC1504703; the National Natural Science Foundation of China under grant number 11572245; the Key Laboratory of Loess Mechanics and Engineering of Shaanxi, China, under grant number LME201803; and the Postdoctoral Science Foundation of China under grant number 2019M653883XB.
Ethics declarations
The authors declare that there is no conflict of interest. The research did not involve human participants and/or animals. All authors agreed with the content and that all gave explicit consent to submit.
Additional information
Publisher's note
Springer Nature remains neutral with regard to jurisdictional claims in published maps and institutional affiliations.
Ping Li and Shengjun Shao contributed equally to this work.
About this article
Cite this article
Li, P., Shao, S. & Vanapalli, S.K. Characterizing and modeling the pore-size distribution evolution of a compacted loess during consolidation and shearing. J Soils Sediments 20, 2855–2867 (2020). https://doi.org/10.1007/s11368-020-02621-3
Received:

Accepted:

Published:

Issue Date:
Keywords
PSD evolution

MIP

Consolidation

Shearing

Scaling factors

Normal distribution function