Abstract
With the rise of the China Model, China's sharp power has infringed upon the exercise of liberal democracy in other nations. A concern for governments of the Taiwan Strait and other democratic countries is whether visits to Mainland China alter the national identity of Taiwanese youth. This research conducted a panel study of 331 Taiwanese youths who had visited Mainland China. Social contact, rational choice, and political socialization theories were introduced to establish hypotheses; a questionnaire was employed to collect panel data, and statistical regression models were utilized to test the hypotheses. Following visits to Mainland China, the number of participants perceiving themselves as only Taiwanese decreased by 4.59%; those perceiving themselves as both Taiwanese and Chinese increased by 3.98%, and those perceiving themselves as Chinese increased by 0.61%. According to the mean survey results, the average change to national identity was 0.05, indicating that visiting Mainland China slightly negatively influenced participants' Taiwanese identity. Following visits to Mainland China, participants' impression of China improved, their preference for an independent Taiwan reduced, they seemed less satisfied with Taiwan's democratic government, and their personal sense of being Taiwanese was reduced.
This is a preview of subscription content, log in to check access.
Access options
Buy single article
Instant access to the full article PDF.
US$ 39.95
Price includes VAT for USA
Subscribe to journal
Immediate online access to all issues from 2019. Subscription will auto renew annually.
US$ 99
This is the net price. Taxes to be calculated in checkout.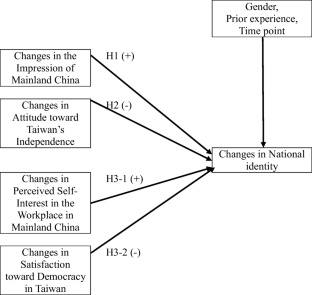 References
1.

Abdelal, Rawi, Yoshiko M. Herrera, Alastair Iain Johnston, and Rosa McDermott. 2006. Identity as a variable. Perspectives on Politics 4 (4): 695–711.

2.

Abramson, Paul R., and Ronald Inglehart. 1994. Education, security, and Postmaterialism: A comment on Duch and Taylor's 'postmaterialism and the economic condition'. American Journal of Political Science 38 (3): 797–814.

3.

Akerlof, George A., and Rachel E. Kranton. 2000. Economics and identity. The Quarterly Journal of Economics 115 (3): 715–753.

4.

Allport, Gordon W. 1954. The nature of prejudice. Cambridge, MA: Addison-Wesley.

5.

Ambrosio, Thomas. 2010. Constructing a framework of authoritarian diffusion: Concepts, dynamics, and future research. International Studies Perspectives 11: 375–392.

6.

Ashforth, Blake E., and Fred Mael. 1989. Social identity theory and the organization. Academy of Management Review 14 (1): 20–39.

7.

Bobo, Lawrence, and James R. Kluegel. 1993. Opposition to race-targeting: Self-interest, stratification ideology, or racial attitudes? American Sociological Review 58 (4): 443–464.

8.

Castells, Manuel. 2010. The power of identity: The information age: Economy, society, and culture. Malden, Mass: Wiley-Blackwell.

9.

Cerulo, Karen A. 1997. Identity construction: New issues, new directions. Annual Review of Sociology 23: 385–409.

10.

Chaffee, H. Steven, L. Scott Ward, and Leonard P. Tipton. 1970. Mass communication and political socialization. Journalism Quarterly 47 (4): 647–659.

11.

Chang, Wen-Chun. 2017. Media use, democratic values, and political participation: Empirical evidence from Taiwan. Japanese Journal of Political Science 18 (3): 385–406.

12.

Chen, Ling, and Barry Naughton. 2017. A dynamic China model: The co-evolution of economics and politics in China. Journal of Contemporary China 26 (103): 18–34.

13.

Chen, Lu-huei, Shu Keng, Tu Ping-Lan, and Kuan-Bo Huang. 2009. Interest-driven or identity-based? An analysis of Taiwanese people's positions on cross-strait economic exchanges. Soochow Journal of Political Science 27 (2): 87–125.

14.

Chen, Lu-huei, Ying-nan Chen, and Hsin-hsien Wang. 2012. Economic interest and symbolic attitudes: Analyzing the dynamics of Taiwan identity. Soochow Journal of Political Science 30 (3): 1–51.

15.

Chen, Rou-lan. 2012. Beyond national identity in Taiwan: A multidimensional and evolutionary conceptualization. Asian Survey 52 (5): 845–871.

16.

Davies, James C. 1965. The family's role in political socialization. The Annals of the American Academy of Political and Social Science 361 (1): 10–19.

17.

Druckman, Daniel. 1994. Nationalism, patriotism, and group loyalty: A social psychological perspective. Mershon International Studies Review 38 (1): 43–68.

18.

Economist Intelligence Unit. 2018. Democracy index 2017. London: The Economist Intelligence Unit Ltd..

19.

Greenstein, Fred. 1968. Political socialization. In International encyclopedia of the social sciences, ed. David L. Sills, vol. 14, 550–556. New York: The Macmillan Company and the Free Press.

20.

Guan, Wuyuan. 2018. Tianrandu shidai qiangshua zhongguo luli [the generation born supporting an independent Taiwan now fights to include work experience in mainland China on their personal resumes]. Business Weekly 1067: 42–53.

21.

Gudykunst, William B. 2004. Bridging differences: Effective intergroup communication. Thousand Oaks, CA: Sage.

22.

Hamberger, Jürgen, and Miles Hewstone. 1997. Inter-ethnic contact as a predictor of prejudice: Tests of a model in four west European nations. British Journal of Social Psychology 36 (2): 173–190.

23.

Hayes, Bernadette C., and Lizanne Dowds. 2006. Social contact, cultural marginality or economic self-interest? Attitudes towards immigrants in Northern Ireland. Journal of Ethnic and Migration Studies 32 (3): 455–476.

24.

Huang, Haifeng. 2015. International knowledge and domestic evaluations in a changing society: The case of China. American Political Science Review 109 (3): 613–632.

25.

Huntington, Samuel P. 2004. Who are we? : The challenges to America's national identity. New York: Simon & Schuster.

26.

Jennings, M. Kent, and Richard G. Niemi. 1981. Generations and politics: A panel study of youth adults and their parents. Princeton, N.J: Princeton University Press.

27.

Jiang, Yi-huah. 1997. National identity in liberal democracy. Taiwan: A Radical Quarterly in Social Studies 25: 83–121.

28.

Kelman, Herbert C. 2006. Interests, relationships, identities: Three central issues for individuals and groups in negotiating their social environment. Annual Review of Psychology 57: 1–26.

29.

Shu, Keng, and Gunter Schubert. 2010. Agents of Taiwan-China unification? The political roles of Taiwanese business people in the process of cross-strait integration. Asian Survey 50 (2): 287–310.

30.

Shu, Keng, and Jean Yu-chen Tseng. 2010. The political implications of cross-strait youth contacts: Student visits as China's policy to promote unification. Issues & Studies 49 (3): 29–70.

31.

Keng, Shu, Jean Yu-Chen Tseng, and Yu. Qiang. 2017. The strengths of China's charm offensive: Changes in the political landscape of a southern Taiwan town under attack from Chinese economic power. The China Quarterly 232: 956–981.

32.

Keng, Shu, Lu-Huei Chen, and Kuan-Po Huang. 2006. Sense, sensitivity, and sophistication in shaping the future of cross-strait relations. Issues & Studies 42 (4): 23–66.

33.

Kuan, Hung-chang. 2018. Exploring the attitudes of Taiwan's young generation towards unification-independence and cross-strait economic exchanges. Prospect Quarterly 19 (2): 1–40.

34.

Langton, Kenneth. 1967. Peer group and school and the political socialization process. The American Political Science Review 61 (3): 751–758.

35.

Langton, Kenneth. 1969. Political socialization. New York: Oxford University Press.

36.

Lau, Richard R., and Caroline Heldman. 2009. Self-interest, symbolic attitudes, and support for public policy: A multilevel analysis. Political Psychology 30 (4): 513–537.

37.

Li, Keqiang (2018) Report on the work of the government. People's Daily Online, 6 April 2018. Accessed 20 May 2018. http://en.people.cn/n3/2018/0403/c90000-9445262.html.

38.

Li, Zhonglu, and Shizheng Feng. 2018. Overseas study experience and students' attitudes toward China: Evidence from the Beijing college students panel survey. Chinese Sociological Review 50 (1): 27–52.

39.

Lin, Chong-Pin. 2008. More carrot than stick: Beijing's emerging Taiwan policy. China Security 4 (1): 3–29.

40.

Liu, Frank C.-S., and Yitan Li. 2017. Generation matters: Taiwan's perceptions of mainland China and attitudes towards cross-strait trade talks. Journal of Contemporary China 26 (104): 263–279.

41.

Liu, Jie-yan, and Xiao-qi Tan (2019) Guo tai ban huiying tai dangju zurao Taiwan qingnian fu dalu chuangye: Jianta renmin fuzhi [the responses of the Taiwan Affairs Office of the State Council to Taiwanese authorities' obstruction of young Taiwanese seeking entrepreneurship opportunities in mainland China: Trampling the People's well-being]. People's Daily Online, 10 April. Accessed 19 February 2020. http://tw.people.com.cn/n1/2019/0410/c14657-31022524.html.

42.

Mishler, William, and Richard Rose. 2007. Generation, age, and time: The dynamics of political learning during Russia's transformation. American Journal of Political Science 51 (4): 822–834.

43.

Patrick, John J. 1977. Political socialization and political education in school. In Handbook of political socialization:Theory and research, ed. Stanley Allen Renshon, 190–222. New York: Free Press.

44.

Pei, Minxin. 2016. China's crony capitalism: The dynamics of regime decay. Cambridge: Harvard University Press.

45.

Pettigrew, Thomas F., and Linda R. Tropp. 2006. A meta-analytic test of intergroup contact theory. Journal of Personality and Social Psychology 90 (5): 751–783.

46.

Pettigrew, Thomas F. 1998. Intergroup contact theory. Annual Review of Psychology 49 (1): 65–85.

47.

Phillips, Steven. 2016. Democracy and national destinies on Taiwan. Nations and Nationalism 22 (4): 666–685.

48.

Plattner, Marc F. 2015. Is democracy in decline? Journal of Democracy 26 (1): 5–10.

49.

Powers, Daniel A., and Christopher G. Ellison. 1995. Interracial contact and black racial attitudes: The contact hypothesis and selectivity bias. Social Forces 74 (1): 205–226.

50.

Qi, Dongtao. 2012. Divergent popular support for the DPP and the Taiwan independence movement, 2000–2012. Journal of Contemporary China 21 (78): 973–991.

51.

Ringen, Stein. 2016. The perfect dictatorship: China in the 21st century. Hong Kong: Hong Kong University Press.

52.

Rousseau, David L., and Rocio Garcia-Retamero. 2007. Identity, power, and threat perception: A cross-national experimental study. The Journal of Conflict Resolution 51 (5): 744–771.

53.

Sears, David O., Richard R. Lau, Tom R. Tyler, and Harris M. Allen Jr. 1980. Self-interest vs. symbolic politics in policy attitudes and presidential voting. American Political Science Review 74 (3): 670–684.

54.

Settle, Jaime E., Robert Bond, and Justin Levitt. 2011. The social origins of adult political behavior. American Politics Research 39 (2): 239–263.

55.

Smith, Anthony D. 1992. National identity and the idea of European unity. International Affairs 68 (1): 55–76.

56.

Smith, Anthony D. 2010. Nationalism: Theory, ideology, history, concepts. Cambridge: Polity Press.

57.

Tajfel, Henri. 1978. Differentiation between social groups: Studies in the social psychology of intergroup relations. London, UK: Academic Press.

58.

Tajfel, Henri. 1981. Human groups and social categories: Studies in social psychology. Cambridge & New York: Cambridge University Press.

59.

Tang, Wenfang. 2007. Nationalism and electoral outcome in Taiwan: The impact of identity fence-sitting on voting behaviour. Chinese Journal of International Politics 1 (4): 481–496.

60.

Thananithichot, Stithorn. 2011. Understanding Thai nationalism and ethnic identity. Journal of Asian and African Studies 46 (3): 250–263.

61.

Turner, John C. 1982. Towards a cognitive redefinition of the social group. In Social identity and intergroup relations, ed. Henri Tajfel, 15–36. Cambridge & New York: Cambridge University Press.

62.

Tyler, Tom R., and Regina A. Schuller. 1991. Aging and attitude change. Journal of Personality and Social Psychology 61 (5): 689–697.

63.

Verba, Sidney, Kay Lehman Schlozman, and Nancy Burns. 2005. Family ties: Understanding the intergenerational transmission of participation. In The social logic of politics, ed. Alan S. Zuckerma, 95–114. Philadelphia: Temple University Press.

64.

Walker, Christopher, and Jessica Ludwig. 2017. Sharp power: Rising authoritarian influence. Washington, D.C.: National Endowment for Democracy.

65.

Wang, Austin Horng-En. 2017. The waning effect of China's carrot and stick policies on Taiwanese people clamping down on growing national identity? Asian Survey 57 (3): 475–503.

66.

Wang, Chia-chou. 2012. A pilot study on attitude change toward unification of Chinese students studying in Taiwan. Taiwan Democracy Quarterly 9 (3): 85–118.

67.

Wang, Chia-chou. 2017. Regime identification change of Chinese students studying in Taiwan: A field research note. China: An International Journal 15 (3): 163–183.

68.

Wang, Chia-Chou. 2018. Primordialism, instrumentalism, constructivism: Factors influencing Taiwanese people's regime acceptance of mainland China's government. Journal of Contemporary China 27 (109): 137–150.

69.

Wu, Chung-li, Yen-chieh Liao, and Ho-chin Yang. 2016. Friend or foe? The Taiwanese image of a rising China. Review of Social Sciences 10 (2): 61–95.

70.

Wu, Chung-li. 2017. Do contacts matter? Public impressions of a rising China in Taiwan. Journal of Electoral Studies 24 (1): 1–31.

71.

Xi, Jinping (2017) Secure a decisive victory in building a moderately prosperous society in all respects, and strive for the great success of socialism with Chinese characteristics for a new era. Xinhuanet, 18 October. Accessed 4 October 2018. http://www.xinhuanet.com/english/download/Xi_Jinping's_report_at_19th_CPC_National_Congress.pdf.

72.

Yang, Dali L. 2017. China's troubled quest for order: Leadership, organization and the contradictions of the stability maintenance regime. Journal of Contemporary China 26 (103): 35–53.

73.

Yang, Kai-huang, and Hsiang-te Liu. 2011. The influence of social contact and political attitude on mainland China's image, perception and policy evaluation. Prospect Quarterly 12 (3): 45–94.

74.

Yang, Qing, and Wenfang Tang. 2010. Exploring the sources of institutional trust in China: Culture, mobilization, or performance? Asian Politics & Policy 2 (3): 415–436.

75.

Yu, Eric Chen-hua, and Kah-yew Lim. 2013. Analyzing Taiwanese public opinion toward future cross-strait relations: Choice under ambiguity and uncertainty. The Taiwanese Political Science Review 17 (2): 165–230.

76.

Zhong, Yang. 2016. Explaining national identity shift in Taiwan. Journal of Contemporary China 25 (99): 336–352.
About this article
Cite this article
Wang, C. Do Social Contacts Alter the National Identity? Evidence from a Panel Study among Taiwanese Students that Visited Mainland China. J OF CHIN POLIT SCI (2020). https://doi.org/10.1007/s11366-020-09673-9
Keywords
Attitudes toward unification and Independence

Cross-Strait relations

Satisfaction with democracy

Self-interest

Social contact