Abstract
University–Industry (U-I) cooperation is defined as "the interaction between any parts of the higher educational system and industry aiming mainly to encourage knowledge and technology exchange" (Ankrah and Al-Tabba 2015). In recent years, we have observed an intensification of this phenomenon based on the common belief that collaborative research by academia and industry may be a powerful source of innovation (Ambos et al. 2008; Mansfield 1998) and generate advantages for both partners. Consequently, in recent years, the phenomenon of U-I cooperation has increased greatly and has begun to include regions that are not at the frontier of innovation and sectors that are not traditionally high-tech. Nevertheless, extant studies overlook the important role of regional contexts in shaping the patterns of U-I cooperation in different regional contexts, including the analysis of how U-I cooperation patterns vary across low-tech and high-tech industries. This paper attempts to fill this gap by exploring patterns of U-I cooperation in four industry-specific clusters in the low-innovative region of Campania (Italy) with regard to three specific aspects (i.e., motivations, barriers and cooperation channels). Overall, our findings contrast the arguments made by previous literature focused on the sectoral effect of U-I collaboration in highly innovative regions by showing that in low-innovative regions, sectoral differences in motivations, channels and barriers of U-I cooperation are less clear-cut or come in different forms than in highly innovative regions. We believe that our study provides an original contribution to the existing literature by providing a more comprehensive view of of the phenomenon's complexity by assessing the sectoral effect on three dimensions, considering both the perspectives of the university and the firm and by contextualizing the research in a low-innovative region, while mainstream literature tends to privilege the focus on highly innovative regions.
This is a preview of subscription content, log in to check access.
Access options
Buy single article
Instant access to the full article PDF.
US$ 39.95
Price includes VAT for USA
Subscribe to journal
Immediate online access to all issues from 2019. Subscription will auto renew annually.
US$ 99
This is the net price. Taxes to be calculated in checkout.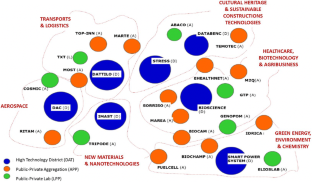 References
Acs, Z. J., Audretsch, D. B., & Feldman, M. P. (1994). R&D spillovers and recipient firm size. The Review of Economics and Statistics, 76, 336–340.

Ambos, T. C., Mäkelä, K., Birkinshaw, J., & d'Este, P. (2008). When does university research get commercialized? Creating ambidexterity in research institutions. Journal of management Studies, 45(8), 1424–1447.

Ankrah S and AL-Tabba O (2015) Universities-industry collaboration: a systematic review. Scandinavian Journal of Management, 31(3), 387–408.

Ankrah, S., & Omar, A. T. (2015). Universities–industry collaboration: A systematic review. Scandinavian Journal of Management, 31(3), 387–408.

Ankrah, S. N., Burgess, T. F., Grimshaw, P., & Shaw, N. E. (2013). Asking both university and industry actors about their engagement in knowledge transfer: What single-group studies of motives omit. Technovation, 33(2–3), 50–65.

Arza, V. (2010). Channels, benefits and risks of public—Private interactions for knowledge transfer: Conceptual framework inspired by Latin America. Science and Public Policy, 37(7), 473–484.

Bania, N., Eberts, R. W., & Fogarty, M. S. (1993). Universities and the startup of new companies: Can we generalize from route 128 and silicon valley? The Review of Economics and Statistics, 75, 761–766.

Bekkers, R., & Bodas Freitas, I. M. B. (2008). Analysing knowledge transfer channels between universities and industry: To what degree do sectors also matter? Research Policy, 37(10), 1837–1853.

Bengtsson, M., & Kock, S. (2014). Coopetition—Quo vadis? Past accomplishments and future challenges. Industrial Marketing Management, 43(2), 180–188.

Bianchi, M., Cavaliere, A., Chiaroni, D., Frattini, F., & Chiesa, V. (2011). Organisational modes for open innovation in the bio-pharmaceutical industry: An exploratory analysis. Technovation, 31(1), 22–33.

Bodas Freitas, I. M., Geuna, A., & Rossi, F. (2013). Finding the right partners: Institutional and personal modes of governance of university–industry interactions. Research Policy, 42(1), 50–62.

Bonardo, D., Paleari, S., & Vismara, S. (2011). Valuing University–based firms: The effects of academic affiliation on IPO performance. Entrepreneurship Theory and Practice, 35(4), 755–776.

Bruneel, J., d'Este, P., & Salter, A. (2010). Investigating the factors that diminish the barriers to university–industry collaboration. Research Policy, 39(7), 858–868.

Camuffo, A., & Grandinetti, R. (2011). Italian industrial districts as cognitive systems: Are they still reproducible? Entrepreneurship & Regional Development, 23(9–10), 815–852.

Chatterton, P., & Goddard, J. (2000). The response of higher education institutions to regional needs. European Journal of Education, 35(4), 475–496.

Cohen, W. M., Nelson, R. R., & Walsh, J. P. (2002). Links and impacts: The influence of public research on industrial R&D. Management Science, 48(1), 1–23.

Cunningham, J. A., & Link, A. N. (2014). Fostering university-industry R&D collaborations in European Union countries. International Entrepreneurship and Management Journal, 11(4), 849–860.

Cunningham, J. A., & Link, A. N. (2016). Exploring the effectiveness of research and innovation policies among European Union countries. International Entrepreneurship and Management Journal, 12(2), 415–425.

D'Este, P., & Patel, P. (2007). University–industry linkages in the UK: What are the factors underlying the variety of interactions with industry? Research Policy, 36(9), 1295–1313.

De Fuentes, C., & Dutrénit, G. (2012). Best channels of academia-industry interaction for long-term benefit. Research Policy, 41(9), 1666–1682.

Du, J., Leten, B., & Vanhaverbeke, W. (2014). Managing open innovation projects with science-based and market-based partners. Research Policy, 43(5), 828–840.

Eisenhardt, K. M. (1989). Building theories from case study research. Academy of Management Review, 14(4), 532–550.

Eisenhardt, K. M., & Graebner, M. E. (2007). Theory building from cases: Opportunities and challenges. Academy of Management Journal, 50(1), 25–32.

Emami, A. (2018). Joao Ferreira, Alain Fayolle, Vanessa Ratten and Mario Raposo (Eds) Entrepreneurial Universities: Collaboration, Education, and Policies, Cheltenham, UK: Edward Elgar Publishing 2018. 288 pp. International Entrepreneurship and Management Journal, 14(4), 1131–1133.

Etzkowitz, H., & Leydesdorff, L. (1997). Introduction to special issue on science policy dimensions of the triple Helix of university-industry-government relations.

Etzkowitz, H., & Leydesdorff, L. (1999). The future location of research and technology transfer. The Journal of Technology Transfer, 24(2–3), 111–123.

Franco, M., & Haase, H. (2015). University–industry cooperation: Researchers' motivations and interaction channels. Journal of Engineering and Technology Management, 36, 41–51.

Gehman, J., Glaser, V. L., Eisenhardt, K. M., Gioia, D., Langley, A., & Corley, K. G. (2018). Finding theory–method fit: A comparison of three qualitative approaches to theory building. Journal of Management Inquiry, 27(3), 284–300.

Gilsing, V., Bekkers, R., Freitas, I. M. B., & Van der Steen, M. (2011). Differences in technology transfer between science-based and development-based industries: Transfer mechanisms and barriers. Technovation, 31(12), 638–647.

Giuliani, E., & Arza, V. (2009). What drives the formation of 'valuable'university–industry linkages?: Insights from the wine industry. Research Policy, 38(6), 906–921.

Giuliani, E., & Bell, M. (2005). The micro-determinants of meso-level learning and innovation: Evidence from a Chilean wine cluster. Research Policy, 34(1), 47–68.

Grant, A. M., & Pollock, T. G. (2011). Publishing in AMJ—Part 3: Setting the hook.

Greitzer, E. M., Pertuze, J. A., Calder, E. S., & Lucas, W. A. (2010). Best practices for industry-university collaboration. MIT Sloan Management Review, 51(4), 83.

Hagedoorn, J. (2002). Inter-firm R&D partnerships: An overview of major trends and patterns since 1960. Research Policy, 31(4), 477–492.

Huston, L., & Sakkab, N. (2006). P&G's new innovation model. Harvard Business Review, 84(3), 58–66.

Kirschbaum, R. (2005). Open innovation in practice. Research-Technology Management, 48(4), 24–28.

Laursen, K., & Salter, A. (2006). Open for innovation: The role of openness in explaining innovation performance among UK manufacturing firms. Strategic Management Journal, 27(2), 131–150.

Levin, R. C. (1988). Appropriability, R&D spending, and technological performance. The American Economic Review, 78(2), 424–428.

Locke, K., & Golden-Biddle, K. (1997). Constructing opportunities for contribution: Structuring intertextual coherence and "problematizing" in organizational studies. Academy of Management Journal, 40(5), 1023–1062.

Maietta, O. W. (2015). Determinants of university–firm R&D collaboration and its impact on innovation: A perspective from a low-tech industry. Research Policy, 44(7), 1341–1359.

Mansfield, E. (1998). Academic research and industrial innovation: An update of empirical findings. Research Policy, 26(7–8), 773–776.

Manzini, R., & Lazzarotti, V. (2016). Intellectual property protection mechanisms in collaborative new product development. R&D Management, 46(S2), 579–595.

Marsili, O. (2001). The anatomy and evolution of industries. Cheltenham, UK and Northampton, MA: Edward Elgar.

Martin, J. A., & Eisenhardt, K. M. (2010). Rewiring: Cross-business-unit collaborations in multibusiness organizations. Academy of Management Journal, 53(2), 265–301.

McCann, P., & Ortega-Argilés, R. (2015). Smart specialization, regional growth and applications to European Union cohesion policy. Regional Studies, 49(8), 1291–1302.

Meyer-Krahmer, F., & Schmoch, U. (1998). Science-based technologies: University–industry interactions in four fields. Research Policy, 27(8), 835–851.

Moraes Silva, D. R. D., Lucas, L. O., & Vonortas, N. S. (2019). Internal barriers to innovation and university-industry cooperation among technology-based SMEs in Brazil. Industry and Innovation, 1-29.

Mowery, D. C. (1998). The changing structure of the US national innovation system: Implications for international conflict and cooperation in R&D policy. Research Policy, 27(6), 639–654.

Pavitt, K. (1984). Sectoral patterns of technical change: Towards a taxonomy and a theory. Research Policy, 13(6), 343–373.

Perkmann, M., & Walsh, K. (2009). The two faces of collaboration: Impacts of university-industry relations on public research. Industrial and Corporate Change, 18(6), 1033–1065.

Perkmann, M., Tartari, V., McKelvey, M., Autio, E., Broström, A., D'Este, P., & Krabel, S. (2013). Academic engagement and commercialisation: A review of the literature on university–industry relations. Research Policy, 42(2), 423–442.

Philpott, K., Dooley, L., O'Reilly, C., & Lupton, G. (2011). The entrepreneurial university: Examining the underlying academic tensions. Technovation, 31(4), 161–170.

Pisano, G. P., & Verganti, R. (2008). Which kind of collaboration is right for you. Harvard Business Review, 86(12), 78–86.

Piva, E., & Rossi-Lamastra, C. (2013). Systems of indicators to evaluate the performance of university-industry alliances: A review of the literature and directions for future research. Measuring Business Excellence, 17(3), 40–54.

Rees, J. (1991). State technology programs and industry experience in the United States. Review of Urban & Regional Development Studies, 3(1), 39–59.

Roijakkers, N., & Hagedoorn, J. (2006). Inter-firm R&D partnering in pharmaceutical biotechnology since 1975: Trends, patterns, and networks. Research policy, 35(3), 431–446.

Salter, A. J., & Martin, B. R. (2001). The economic benefits of publicly funded basic research: A critical review. Research Policy, 30(3), 509–532.

Schartinger, D., Rammer, C., Fischer, M. M., & Fröhlich, J. (2002). Knowledge interactions between universities and industry in Austria: Sectoral patterns and determinants. Research Policy, 31(3), 303–328.

Schmitz, A., Urbano, D., Dandolini, G. A., de Souza, J. A., & Guerrero, M. (2017). Innovation and entrepreneurship in the academic setting: A systematic literature review. International Entrepreneurship and Management Journal, 13(2), 369–395.

Siggelkow, N. (2007). Persuasion with case studies. Academy of Management Journal, 50(1), 20–24.

Sutz, J. (1997). The new role of the university in the productive sector. Universities and the global knowledge economy, 11-20.

Uyarra, E. (2010). What is evolutionary about 'regional systems of innovation'? Implications for regional policy. Journal of Evolutionary Economics, 20(1), 115–137.

van den Biesen, J. (2008). Open innovation@ Philips research. Open Innovation in Global Networks, 25–26.

Yin, R. (1990). Case Study Research. Design and methods (éd. 2e).
Additional information
Publisher's note
Springer Nature remains neutral with regard to jurisdictional claims in published maps and institutional affiliations.
About this article
Cite this article
Parmentola, A., Ferretti, M. & Panetti, E. Exploring the university-industry cooperation in a low innovative region. What differences between low tech and high tech industries?. Int Entrep Manag J (2020). https://doi.org/10.1007/s11365-020-00671-0
Keywords
University-industry cooperation
low tech versus high tech industry
Campania region