Abstract
A long-term measurement on rainfall was conducted in urban Xi'an, China, from 2009 to 2016. The seasonal and annual variations of major inorganic components and their chemical properties in the rainfall were studied. The annual rainfall ranged from 165.3 to 916.3 mm. The pH value of the rainfall ranged from 6.36 to 7.19, with an average value of 6.70. The electric conductivity (EC) in the rainfall was in a range of 55.91 to 227.44 μS·cm−1. Ammonium (NH4+), calcium (Ca2+), nitrate (NO3−), and sulfate (SO42−) were the four major components, accounting for 88.5% of the total quantified inorganic ion concentration. Neutralization factors were determined for Ca2+ (1.03), NH4+ (0.57), Mg2+ (0.10), Na+ (0.06), and K+ (0.04). The high abundance of NH4+ that formed from its precursor of ammonia gas (NH3) suggested the contribution of agricultural fertilization. Ca2+ in the rainfall was mainly from natural sources such as soil dust, while anions of NO3− and SO42− originated from fossil fuel combustion. Source apportionment was conducted with positive matrix factorization (PMF) which identified that secondary inorganic formation, crustal dust, coal combustion, and biomass burning are the contributors to the rainfall. In between, secondary inorganic formation was the largest contributor, which accounted for 27.8–58.1% of the total sources, followed by crustal dust of 0.4–42.6%. The results of this long-term study demonstrated the decreasing trends of contributions from coal combustion and biomass burning under a series of air pollution control measures implemented by the government. However, continuous urbanization and development of the city caused substantial increases of the construction activities, inducing more crustal dusts to the environment in urban Xi'an.
Access options
Buy single article
Instant access to the full article PDF.
US$ 39.95
Tax calculation will be finalised during checkout.
Subscribe to journal
Immediate online access to all issues from 2019. Subscription will auto renew annually.
US$ 79
Tax calculation will be finalised during checkout.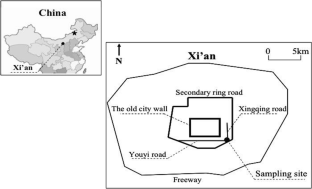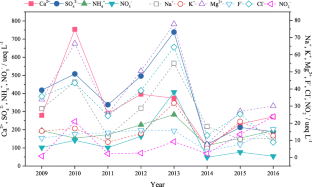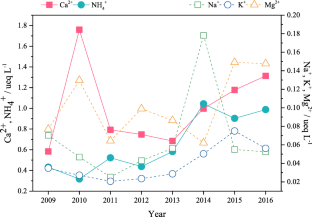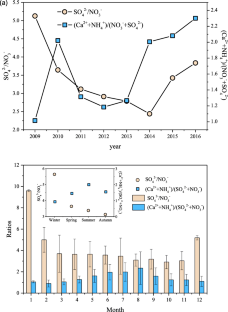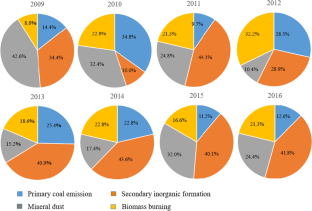 Data availability
All data generated and analyzed during this study are included in the manuscript.
References
Ai DS, Zheng XM, Zhou LW, Zhang GY, Ren SF, Wang YJ, Zhou H (2010) Study on geochemical characteristics of summer rainfall in Shanghai in the past two years. Environ Sci 31(09):2002–2009

Aikawa M, Hiraki T, Eiho J (2008) Study on the acidification and pollution of precipitation based on a data set collected on a 0.5-mm precipitation basis. Atmos. Environ. 42(30):7043–7049

Alkhashman O (2005) Study of chemical composition in wet atmospheric precipitation in Eshidiya area, Jordan. Atmos Environ 39(33):6175–6183

Apsimon HM, Kruse M, Bell JNB (1987) Ammonia emissions and their role in acid deposition. Atmos Environ 21(9):1939–1946

Arsene C, Olariu R, Mihalopoulos N (2007) Chemical composition of rainwater in the northeastern Romania, Iasi region (2003-2006). Atmos Environ 41(40):9452–9467

Baez A, Belmont R, Garcia R, Padilla H, Torres MC (2007) Chemical composition of rainwater collected at a southwest site of Mexico City, Mexico. Atmos Res 86(1):61–75

Bisht DS, Srivastava AK, Joshi H, Ram K, Singh N, Naja M, Srivastava MK, Tiwari S (2017) Chemical characterization of rainwater at a high-altitude site "Nainital" in the central Himalayas, India. Environ Sci Pollut Res 24(4):3959–3969

Brugnone FD, Alessandro W, Calabrese S, Li Vigni L, Bellomo S, Brusca L, Prano V, Saiano F, Parello F (2020) A christmas gift: Signature of the 24th December 2018 eruption of Mt. Etna on the chemical composition of bulk deposition in eastern Sicily. Ital J Geosci 139(3):341–358

Calabrese S, Aiuppa A, Allard P, Bagnato E, Bellomo S, Brusca L, D'Alessandro W, Parello F (2011) Atmospheric sources and sinks of volcanogenic elements in a basaltic volcano (Etna, Ttaly). Geochim Cosmochim Acta 75:7401–7425

Cheng MC, You CF, Cao JJ, Jin ZD (2012) Spatial and seasonal variability of water-soluble ions in PM2.5 aerosols in 14 major cities in China. Atmos Environ 60:182–192

Ding G, Xu X, Fang X, Jin S, Xu X, Tang J, Liu Q, Wang S, Wang W (1997) The status and trend of acidic rain in China. Chin Sci Bull 42:169–173 (in Chinese)

Dokiya Y, Miyakoshi N, Hirooka T, Yamashita J, Ishikawa S, Ohya M, Sugaya J (1995) Long range transport of sulfur compounds over the western North Pacific: deposition samples obtained on islands. J Meteorol Soc Jpn 73(5):873–881

Feng ZW, Huang YZ, Feng YW, Ogura N, Zhang FZ (2001) Chemical composition of precipitation in Beijing area, Northern China. Water Air Soil Pollut 125:345–356

Fujita S, Takahashi A, Weng JH, Huang LF (2000) Rainwater chemistry in East Asia. Atmos Environ 34:525–537

Galloway J, Likens G, Edgerton E (1976) Acid precipitation in the northeastern United States: pH and acidity. Sci. 194(4266):722–734

Galloway JN, Townsend AR, Erisman JW, Bekunda M, Cai ZC, Freney JR, Martinelli LA, Seitzinger SP, Sutton MA (2008) Transformation of the nitrogen cycle: recent trends, questions, and potential solutions. Science. 320:889–892

Grodzinska-Jurczak M, Godzik B (1999) Air pollution and atmospheric precipitation chemistry in Poland - a review. Environ Rev 7:69–79

Ho KF, Lee SC, Chak KC, Yu CJ, Chow JC, Yao XH (2003) Characterization of chemical species in PM2.5 and PM10 aerosols in Hong Kong. Atmos Environ 37:31–39

Hu M, Zhang H, Wu ZJ (2005) Characteristics of the chemical composition of precipitation in Beijing and its effect on the removal of atmospheric particles. Sci China (Chem Series B) 02:169–176

Huang K, Zhuang GS, Xu C, Wang Y, Tang A (2008a) The chemistry of the severe acidic precipitation in Shanghai, China. Atmos Res 89:149–160

Huang Y, Wang Y, Zhang L (2008b) Long-term trend of chemical composition of wet atmospheric precipitation during 1986-2006 at Shenzhen City, China. Atmos Environ 42(16):3740–3750

Jenkinson DS, Andrew SPS, Lynch JM, Goss MJ, Tinker PB (1990) The turnover of organic carbon and nitrogen in soil. Philosop Transac Royal Soci B Biol Sci 329:361–368

Jia J, Zhang Y, Cai X (2009) A dynamic changes of wet deposition of nitrogen in southeast Tibet: taking Linzhi experiment station as an example. Acta Ecol Sin 29:1907–1913 (in Chinese)

Kim YH, Krantz QT, McGee J, Kovalcik KD, Duvall RM, Willis RD, Kamal AS, Landis MS, Norris GA, Gilmour MI (2016) Chemical composition and source apportionment of size fractionated particulate matter in Cleveland, Ohio, USA. Environ Pollut 218:1180–1190

Lei YL, Shen ZX, Wang QY, Zhang T, Cao JJ, Sun J, Zhang Q, Wang LQ, Xu HM, Tian J, Wu JM (2018) Optical characteristics and source apportionment of brown carbon in winter PM2.5 over Yulin in Northern China. Atmos Res 213:27–33

Li HZ, Wang ML (1984) A preliminary study on the acidity of precipitation in my country. Acta Meteorol Sin 42(3):332–339

Li M, Liu H, Geng GN, Hong CP, Liu F, Song Y, Tong D, Zheng B, Cui HY, Man HY, Zhang Q, He KB (2017) Anthropogenic emission inventories in China: a review. Nat Sci Rev 4:834–866

Li LL, Li J, Yu RC (2020) Characteristics of summer regional rainfall events over Ili River Valley in Northwest China. Atmos Res 243:104996

Likens GE, Bormann FH (1974) Acid Rain: A Serious Regional Environ. Protein Sci 184(4142):1176–1189

Logan J (1983) Nitrogen-oxides in the troposphere - global and regional budgets. J Geophys Res Oceans 88(15):785–807

Lynch J, Grimm J, Bowersox V (1995) Trends in precipitation chemistry in the United States: a national perspective, 1980-1992. Atmos Environ 29:1231–1246

Mariani R, Mello W (2007) PM2.5-10, PM2.5 and associated water soluble inorganic species at a coastal urban site in the metropolitan region of Rio de Janeiro. Atmos Environ 41:2887–2892

Niu YW, He LY, Hu M (2008) Characteristics of chemical composition of atmospheric precipitation in Shenzhen. Environ Sci 4:1014–1019

Okuda T, Iwase T, Ueda H, Suda Y, Tanaka S, Dokiya Y, Fushimi K, Hosoe M (2005) Long-term trend of chemical constituents in precipitation in Tokyo metropolitan area, Japan, from 1990 to 2002. Sci Total Environ 339:127–141

Ouyang W, Guo BB, Cao GQ, Li Q, Han S, Liu B (2015) The washing effect of precipitation on particulate matter and the pollution dynamics of rainwater in downtown Beijing. Sci Total Environ 505:306–314

Ozsoy T, Turker P, Ornektekin S (2008) Precipitation chemistry as an indicator of urban air quality in Mersin, North-Eastern Mediterranean Region. Water Air Soil Pollut 189:69–83

Pan YP, Wang YS, Xin JY, Tang GQ, Song T, Wang YH, Li XR, Wu FK (2010) Study on dissolved organic carbon in precipitation in Northern China. Atmos Environ 44(19):2350–2357

Park SS, Ondov JM, Harrison D, Nair NP (2005) Seasonal and shorter term variations in particulate atmospheric nitrate in Baltimore. Atmos Environ 39:2011–2020

Rao PSP, Tiwari S, Matwale JL, Pervez S, Tunved P, Safai PD, Srivastava AK, Bisht DS, Singh S, Hopke PK (2016) Sources of chemical species in rainwater during monsoon and non-monsoonal periods over two mega cities in India and dominant source region of secondary aerosols. Atmos Environ 146:90–99

Sakihama H, Ishiki M, Tokuyama A (2008) Chemical characteristics of precipitation in Okinawa Island, Japan. Atmos Environ 42(10):2320–2335

Seinfeld JH, Pandis SN (2006) Atmospheric chemistry and physics: from air pollution to climate change. John Wiley & Sons, New York

Seitzinger SP, Styles RM, Lauck R, Mazurek MA (2003) Atmospheric pressure mass spectrometry: a new analytical chemical characterization method for dissolved organic matter in rainwater. Environ Sci Technol 37(1):131–137

Shen ZX, Arimoto R, Cao JJ, Zhang RJ, Li X, Du N, Okuda T, Nakao S, Tanaka S (2008) Seasonal variations and evidence for the effectiveness of pollution controls on water-soluble inorganic species in total suspended particulates and fine particulate matter from Xi'an, China. Air Waste Manag Assoc 58:1560–1570

Shen ZX, Cao JJ, Liu SX, Zhu CS, Wang X, Zhang T, Xu HM, Hu TF (2011) Chemical composition of PM10 and PM2.5 collected at ground level and 100 meters during a strong winter-time pollution episode in Xi'an, China. Air & Waste Manage Assoc 61:1150–1159

Shen ZX, Zhang LM, Cao JJ, Tian J, Liu L, Wang GH, Zhao ZZ, Wang X, Zhang RJ, Liu SX (2012) Chemical composition, sources, and deposition fluxes of water-soluble inorganic ions obtained from precipitation chemistry measurements collected at an urban site in northwest China. J Environ Monit 14:3000–3008

Shen ZX, Sun J, Cao JJ, Zhang LM, Zhang Q, Lei YL, Gao JJ, Huang RJ, Liu S, Huang Y, Zhu CS, Xu HM, Zheng CL, Liu PP, Xue ZG (2016) Chemical profiles of urban fugitive dust PM2.5 samples in Northern Chinese cities. Sci Total Environ 569-570:619–626

Stelson W, Seinfeld J (1982) Relative humidity and temperature dependence of the ammonium nitrate dissociation constant. Atmos Environ 16:983–992

Tang AH, Zhuang GS, Wang Y, Yuan H, Sun YL (2005) The chemistry of precipitation and its relation to aerosol in Beijing. Atmos Environ 39(19):3397–3406

Vitousek PM, Aber JD, Howarth RW, Likens GE, Matson PA, Schindler DW, Schlesinger WH, Tilman D (1997) Human alteration of the global nitrogen cycle: Sources and consequences [J]. Ecol Appl 7(3):737–750

Wang WX, Yue YZ (1993) Research on the factors affecting the acidity of precipitation in my country. China Environ Sci 06:401–406

Wang Y, Zhuang GS, Zhang XY, Huang K, Xu C, Tang AH, Chen JM, An ZS (2006) The ion chemistry; seasonal cycle; and sources of PM2.5 and TSP aerosol in Shanghai. Atmos Environ. 40(16):2935–2952

Wang G, Zhang R, Gomez ME, Yang L, Levy Zamora M, Hu M, Lin Y, Peng J, Guo S, Meng J (2016) Persistent sulfate formation from London fog to Chinese haze. Proc Natl Acad Sci U S A 113:13630–13635

Wang LQ, Shen ZX, Lu D, Zhang Q, Zhang T, Lei YL, Xu HM (2019a) Water-soluble components in rainwater over Xi'an in northwest China: source apportionment and pollution controls effectiveness evaluation. Atmos Poll Res 10:395–403

Wang LQ, Shen ZX, Lu D, Xu HM, Zhang NN, Lei YL, Zhang Q, Wang X, Wang QY, Cao JJ (2019b) Water-soluble ions and oxygen isotope in precipitation over a site in northeastern Tibetan Plateau, China. J Atmos Chem 76:229–243

Xi'an Bureau of Statistics/National Bureau of Statistics Xi'an Investigation Team (2016) Xi'an Statistical Yearbook. 2009-2016 [M]. China Statistics Press, Beijing, p 2009

Xiao J (2016) Chemical composition and source identification of rainwater constituents at an urban site in Xi'an. Environ Earth Sci 75(3):1–12

Xie ZQ, Du Y, Zeng Y, Li YC, Yan ML, Jiao SM (2009) Effects of precipitation variation on severe acid rain in southern China. Geogr Sci 19:489–501

Xiong JL, Shi RX, Li YE, Liu LL, Zhu WJ, Chen WG (1984) Study on the chemical composition and distribution of snowfall in Guiyang City. China Environ Sci 3:31–36

Xu HM, Cao JJ, Chow JC, Huang RJ, Shen ZX, Chen LWA, Ho KF, Watson JG (2016) Inter-annual variability of wintertime PM2.5 chemical composition in Xi'an, China: evidences of changing source emissions. Sci Total Environ 545-546:546–555

Yang FM, He KB, Lei Y, Ma YL, Yu XC, Tian ZM, Okuda T, Tanaka S (2004) Chemical characteristics of atmospheric precipitation in Beijing from 2001 to 2003. China Environ Sci 05:27–30

Yang FM, Tan J, Zhao Q, Du Z, He K, Ma Y, Duan F, Chen G, Zhao Q (2011) Characteristics of PM2 .5 speciation in representative megacities and across China. Atmos Chem Phys 11:5207–5219

Yang FM, Tan J, Shi ZB, Cai Y, He K, Ma Y, Duan F, Okuda T, Tanaka S, Chen G (2012) Five-year record of atmospheric precipitation chemistry in urban Beijing, China. Atmos Chem Phys 12:2025–2035

Zeng J, Yue FJ, Li SL, Wang ZJ, Wu QX, Qin CQ, Yan ZL (2020) Determining rainwater chemistry to reveal alkaline rain trend in Southwest China: evidence from a frequent-rainy karst area with extensive agricultural production. Environ Pollut 266(3):115–166

Zhang Q, Geng GN (2019) Impact of clean air action on PM2.5 pollution in China. Earth Sci 62(12):1845–1846

Zhang MY, Wang SJ, Wu FC, Yuan XH, Zhang Y (2007) Chemical compositions of wet precipitation and anthropogenic influences at a developing urban site in southeastern China. Atmos Res 84(4):311–322

Zhang YL, Kang SC, Li CL, Cong ZY, Zhang QG (2012) Wet deposition of precipitation chemistry during 2005-2009 at a remote site (Nam Co Station) in central Tibetan Plateau. J Atmos Chem 69(3):187–200

Zhang XY, Wang Z, Cheng MM, Wu XD, Zhan N, Xu JF (2020) Long-term ambient SO2 concentration and its exposure risk across China inferred from OMI observations from 2005 to 2018. Atmos Res 247(2021):105150

Zhao D, Sun B (1986) Air pollution and acid rain in china. AMBIO 15(1):2–5

Zhao M, Li L, Liu Z, Chen B, Huang J, Cai J, Deng S (2013) Chemical composition and sources of rainwater collected at a semi-rural site in Ya'an, Southwestern China. Atmos & Clim Sci 3:486–496

Zheng B, Tong D, Li M, Liu F, Hong CP, Geng GN, Li HY, Li X, Peng LQ, Qi J, Yan L, Zhang YX, Zhao HY, Zheng YX, He KB, Zhang Q (2018) Trends in China's anthropogenic emissions since 2010 as the consequence of clean air actions. Atmos Chem Phys 18:14095–14111

Zunckel M, Saizar C, Zarauz J (2003) Rainwater composition in northeast Uruguay. Atmos Environ 37:1601–1611
Funding
This research is financially supported by the grant from State Key Laboratory of Loess and Quaternary Geology, Chinese Academy of Sciences (SKLLQG1919).
Ethics declarations
Consent to participate
Not applicable.
Consent to publish
Not applicable.
Conflict of interest
The authors declare no competing interests.
Additional information
Publisher's note
Springer Nature remains neutral with regard to jurisdictional claims in published maps and institutional affiliations.
Responsible Editor: Gerhard Lammel
Supplementary Information
About this article
Cite this article
Wang, L., Shen, Z., He, K. et al. A long-term chemical characteristics and source apportionment of atmospheric rainfall in a northwest megacity of Xi'an, China. Environ Sci Pollut Res (2021). https://doi.org/10.1007/s11356-021-13015-4
Received:

Accepted:

Published:
Keywords
Atmospheric rainfall

PM2.5

Water-soluble inorganic ions

Sources apportionment